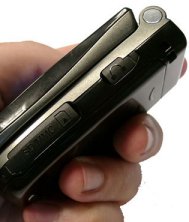 There's a small preview of the Motorola V700 Smartphone over at mobile-review.com. The phone appears to have two batteries, which at first sight addresses the battery-life issue head-on – however the back-up battery only supplies enough power to keep data alive on the phone. It also seems to have more memory than the first Smartphone (HTC Canary / Orange SPV).
According to the review, Motorola will ship the updated version of the Motorola v700 in February. The phone will have an integrated camera and will support bluetooth – plus it will be using Smartphone 2003.
Picture right is Copyright mobile-review.com.
There's also more pictures over at idnes.cz