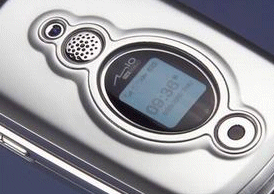 MiTAC have revealed that the Mio 8380 (seen in detail here) is to be released in Europe in September.
Stated here on MiTAC's website is the Q3 release date, although it doesn't mention what network it will be available on or which parts of Europe it will be available in. Let's hope that the Code-Signing issues have been sorted out by then. There are quite a few games and apps which simply fail to run on this handset for no clear reason – signed or not, they appear to fail due to insufficient permissions. MiTAC is aware of the issue, and Microsoft have also done due diligence on explaining the importance of the issue being resolved. It is in MiTAC's hands to provide a resolution.
The MiTAC Mio 8380 uses a 200MHz Intel PXA255 processor with 16MB of PC100 SDRAM and is a "clamshell" design. See more about this handset here. It is also believed that MiTAC will release the another Smartphone – possibly the Mio 8390 in the far east, to be followed by a third Smartphone model at the end of Q4.
More details and info – The Register and MiTAC