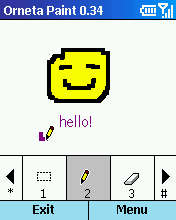 Yup, sounds crazy doesn't it ? But you can… just check out orneta.com and download Paint4Smartphone! Before you know it you could be coming up with something like this !

It includes…



– Creating / editing / saving of images in formats: BMP, JPG
– Single handed interface
– Sending of images through e-mail as an attachment
– Pen and paint selections
– Built-in mini file browser to open and save files to/from any location
– Copy/Paste/Clear/Copy To../Paste from.. functions
– Installation program so that after installation the program appears in "Accessories"

….plus much more!

Download Paint4Smartphone by clicking here!