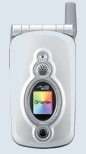 The Mitac Mio, which we have raved about quite a bit here, is now available to buy on…. Orange! Surprised? Well… yes, we were to. In fact, you can get this phone just by clicking here! The catch ? Well, it's not Europe – or the USA – it's Orange Hong Kong. Orange HK is slightly different in that they don't have much to do with Orange S.A (The Orange we know in Europe etc) Hutchison licensed the brand after they sold Orange to Mannesmann/Vodafone.
Still, this is great news – and shows that the strong link between Orange and Microsoft is as solid as ever. Let's hope that Orange UK, Orange France and the other Orange territories take it up too! 🙂
If you want to see the Mitac in action, click here for some video footage.
More details and source – Orangehk.com