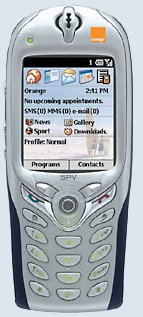 An "Exclusive" review of the "most wanted" Smartphone of the moment is available now in WebUser magazine. WebUser – The UK's Best Selling Internet Magazine, has the test on page 34 and 35 of their June 26 – July 9th issue. (See picture of cover here)
The magazine states that the SPV E100 comes….
– Complete with a roll-up keyboard (Eleksen)
– Expected retail price of £200 inc VAT + Orange Contract
The review is currently only available in their magazine off the shelf, however it will probably become available here after July 9th.
£200 – will you pay ? Check the poll on the left panel. Don't forget to check out our reviews of the SPV E100 – AKA the Tanager here and here.
WebUsers' verdict ? Well, they say it's "bulky" and "slow to start up", but they also say that it has "tons of features", "easier to use" and has a "wonderfully crisp" screen. Overall, they liked it – and so they should, it's an excellent phone.
Matt Chapman, the man behind the SPV E100 review is also on page 18 – 21 "road-testing" the original SPV in a real-life challenge. Check it out.