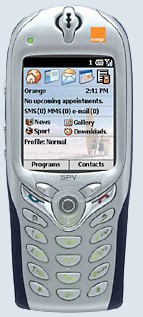 The SPV E100 is about to start shipping in Denmark for kr. 3299. It has a dark blue – almost black trim and the letters "SPV" across the top of the keypad. Want to see a mega-close-up of the SPV E100 that you can buy soon? Click here!!
The new E100 is the second addition to Oranges own-brand phone range, which may soon include Motorola products too! Orange like the SPV range, because it is easy to add the "Orange look and feel" – something that companies like Nokia would never allow or tolerate. Sure, the odd case tweak (like an Orange logo) is easy on any phone, but adding special shortcuts for network services like Backup / Restore, News and Sport services etc is a lot easier with an MS Smartphone. This is a major strength for the SmartPhone, which keeps both Microsoft and the mobile networks very happy. Add to that the fact that each Smartphone uses the same OS (which means support is easier) and you're onto a winner!
Pictured right is the exact SPV E100 that Orange are to sell.
Find out more info by clicking here. (Orange.dk)
Download the Tanager manual, which was given to the FCC by clicking here.