Although it was meant to be announced yesterday (it was mentioned during the Orange presentation, but to say "announced" would be a bit of an overstatement), the Orange SPV E100 has been announced to retailers in a recent Orange bulletin.
We're not supposed to see this so feast your eyes before Orange do! 😉 The SPV E100 appears to have a deep-red trim, although I believe that this is simply a "stock" picture taken from another source, and I doubt it will be this colour in shops.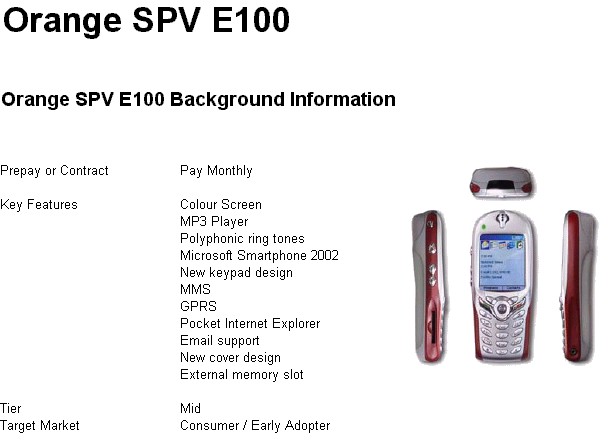 What is really interesting is that Orange is informing Retailers that the target market should be the "consumer / early adopter" – a definite change from the original pitch for the SPV which was clearly aimed at the small or corporate business user. Although this might sound completely at odds after yesterdays' Orange Presentation which sought to target the business user more, it seems that the original SPV did best for leisure / gadget users. Orange appear to be targetting people in the exact opposite way this time – i.e. Getting the early adpoters' in first, the gadget people and young businessmen – then that will slowly propate up to the wider business world naturally. Whether Orange is to quietly drop the original SPV remains unknown at present.