Microsoft Surface 2 price reduction at Tesco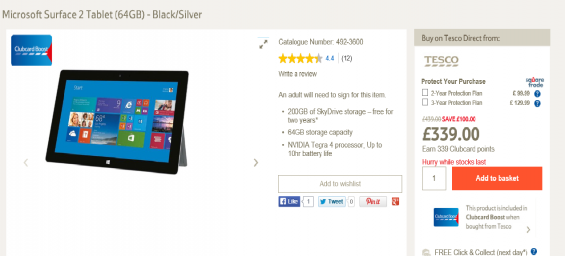 One of the great things about supermarkets nowadays is that you might simply pop in with the intention of buying a pint of milk and some scampi fries, but you can easily leave having spent lots of money on electronic bargains.  Case in point, Tesco has reduced the price of the Microsoft Surface 2 by £100.  This means that the 32Gb version is now down to £259, and the 64Gb is reduced to £339.  You can also earn clubcard points and if you have any unspent vouchers, these can be doubled up to get the price down further still.  The 32GB version is currently showing as sold out, but the 64Gb variant is still showing that it is in stock, though as you can see from the screenshot above, not many are left.
The Surface 2, you will recall, is the RT version of Windows 8.  It was reviewed favourably by James here when released. Although you cannot do everything on it that you would with a normal PC, it's well worth a look at this price.  Both models can be found online here.