LG announce a kid friendly wristband
It had to happen, but we really didn't think it would be so soon. A new wearable has been announced by LG which is designed for pre-school and primary school children. It's designed to help parents keep track of the child's location at all times, presumably should they misplace them.
The KizON wristband is equipped with GPS and Wi-Fi, plus kids can dial a preset number in case of emergencies.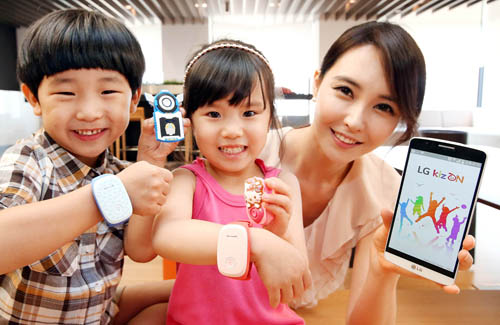 We're sitting on the fence on this one. Whilst the safety aspect and that terrible moment when you lose your child in a crowded supermarket are both admirable reasons for getting one, it might mean that some parents rely too much on systems like this and allow pre-school kids to venture further afield without someone being present. That and the fact that kids will probably just remove the tag, sorry, wristband.
The launch details state…
With One Step Direct Call, parents can easily communicate with their children as well as providing them with information on the location of their children throughout the day.
The device is to launch in South Korea on July 10th and boasts a 36 hour battery life, 64MB RAM / 125MB ROM and will be available in blue, pink and green. Pricing is yet to be announced and it'll be offered up in America and Europe later in the year.
[showhide]
INTRODUCING LG KIZON, A WEARABLE DESIGNED FOR KIDS
LG's Newest Wearable Gives Parents Peace of Mind
London, UK, 9th July, 2014 — LG Electronics (LG) will extend the wearable experience to parents with children with its new KizON wristband. KizON is LG's new wearable designed exclusively for pre-school and primary school children that offers parents a convenient way to keep track of their young children's whereabouts. Utilising GPS and Wi-Fi, KizON provides real-time location information allowing parents to track their children's whereabouts on a compatible smartphone.
With One Step Direct Call, parents can easily communicate with their children as well as providing them with information on the location of their children throughout the day. Parents aren't the only ones who can use KizON to communicate with a loved one, with one press of the One Step Direct Call button, children can also dial a pre-configured phone number, which can be changed at any time through a smartphone running Android 4.1 or higher. If the child fails to answer a call from any of the pre-configured numbers within ten seconds, KizON will automatically connect the call to let the parents listen through the built-in microphone. Another important function of KizON is Location Reminder, which gives adults the ability to pre-set the device to provide location alerts at specific times throughout the day.
Battery life is rated for 36 hours and parents will be alerted via their smartphones when the battery in KizON needs to be recharged. The band is constructed of eco-friendly polythiourethane (PTU) material that is water-resistant as well as stain resistant. A wide range of accessoriesfeaturing popular animation characters will be available for KizON, which comes in three attractive colours: blue, pink and green.
"Children as well as the elderly are ideal customers for wearable technologies," said Dr. Jong-seok Park, president and CEO of LG Electronics Mobile Communications Company. "Wearables allow us to stay connected without the worry of losing a device or the inconvenience of having to carry a large item in a pocket. At LG, we're committed to exploring more ways to incorporate wearable devices into consumers lives in line with our vision to become a leader in wearables."
KizON will make its public debut in South Korea on 10th July before its introduction in North America and Europe later this year. LG will be working with its partners to introduce KizON to the UK market, which is set to offer parents greater peace of mind through a simple and easy way to connect with their children. Pricing and availability information will be released in due course.
Key Specifications:
Ÿ  Memory: 64MB RAM / 125MB ROM
Ÿ  Battery: 400mAh
Ÿ  Size: 34.7 x 55.2 x 13.9mm
Ÿ  Colour: Blue / Pink / Green
Ÿ  Network: 2G / 3G
[/showhide]