Let's face it, batteries are rubbish
At Mobile World Congress I'd love to see someone announce a phone battery that actually lasts more than a day. I mean, Duracell have the Powermat and we all have chargers in the car… at home.. at the office.
Now we're even seeing more of these mobile device charging stations popping up in shopping centres. Whack your phone into one of the lockers and see if you can handle the inevitable "come down" of having no phone to fiddle with while your other half drags you around some expensive clothes shops.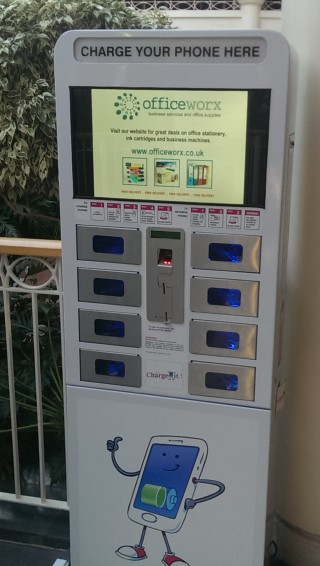 The lovely people at Charge-it have secured the exclusive UK rights to the market leading RiCharge stations. These basically give secure public phone charging with fingerprint locking and a big screen up front for advertising stuff.
So, we've got mobile chargers, solar chargers, chargers that sit in shopping centres… I'll give five whole British pounds to the first person who can invent me up a thin smartphone battery that'll last a week. Come on, it can't be too hard.
Ahem.. :)
[showhide]
Charge-it Expands To Keep Britain's Mobile Users Connected on the Go
Shoppers frustrated with the inconvenience of mobile phones running low on battery power while on the hunt for bargains can take heart this month as Charge-it confirms an exciting new distribution deal that will see it rolling out even more of its exceptional free public charging stations at locations around the country this year.
Charge-it mobile device charging stations can already be found in several shopping centres, with Friars Square in Aylesbury, Beechwood Centre in Cheltenham and The Treaty Centre in Hounslow the latest to add the ultra convenient service to their centres.
To further add to its distribution network and to bring more of its accessible blend of high-tech, high-quality convenience to the nation's mobile users, Charge-it has secured the exclusive UK rights to the market leading RiCharge stations, which offer secure public phone charging with fingerprint locking for total peace of mind and unparalleled convenience.
The stations are streamlined, vending-style machines for charging devices such as mobile phones, PDAs, iPods, PSPs, and other small, mobile electronics. As well as in shopping centres, they can be situated in locations such as hotels and airports. Each features securable lockers, so devices can be safely charged at the owner's convenience.
The new RiCharge stations couple performance with panache and have been developed with state of the art security systems to guarantee user confidence. Each of the eight lockable charging compartments feature high security fingerprint secure technology, meaning the owner of the phone must swipe their digit to open the compartment, insert their device, and then retrieve it the same way when the charge is complete. The charge time frame is wholly customisable with streamlined touch screen technology adding to the seamless user experience.
A gas station for mobiles, public charging stations are increasingly in demand by savvy consumers plagued with short battery life – an inconvenient fact of life that Charge-it is committed to making a distant memory, one station at a time. Richard Brewster, Charge-it Managing Director said, "With messaging, internet, video and images, it's no real surprise that mobile phones are not able to hold their charge for long periods of time but, there are few things more inconvenient than being out and about and realising that your battery is about to go dead.
"Quick, convenient and free, public charging stations are as essential as petrol stations for those of us who rely on our device on a daily basis. With our cutting-edge RiCharge units, the huge inconvenience of battling a dying battery is a thing of the past. This service is essential and with many public places now offering recharge points for cars, it's hard to believe that mobile phone chargers are still very much in their infancy."
The groundbreaking Charge-it stations are designed to be exceptionally easy for facilities managers to contain while keeping users effortlessly mobile. They are increasingly indispensable and promise to offer added value to public spaces; A recent YouGov survey found that 61% of under 30-year olds have run out of battery power on their mobiles while out and about while 48% of respondents also confirmed that they had been in situations when they had wanted to use the features on their phones, but had refrained from doing so for fear of running out of battery.
Utterly unique, reassuringly flexible, the Charge-it stations don't just keep mobile users connected. They also offer a quick and easy way to up user satisfaction ratings and generate additional revenue. Each unit comes complete with a 23" LED screen for advertising purposes with a remotely updated media screen and content management system offering complete brand control.
To find out more about the Charge-it stations, visit http://www.charge-it.org.uk
[/showhide]