Windows Phone Friday deals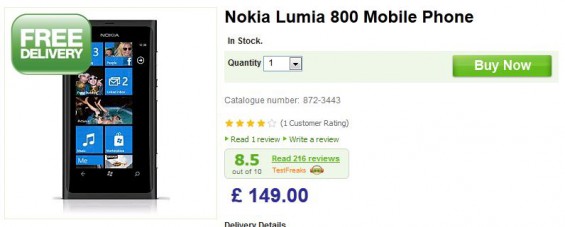 We've spied a couple of pretty great deals if you're up for a new Windows Phone handset. First up, down at Asda, they've got the Nokia Lumia 800 for just £149. I mean sure, the Windows Phone 7 OS is going to be replaced in a matter of days but hey, there's no contract and it's got an 8 megapixel camera, 3.7″ screen and 16GB of on-board storage.
Meanwhile, if you'd prefer to take a slight dip in specs but get the latest Windows Phone 8 OS, the newly-announced Windows Phone 8S by HTC is up for pre-order from unlocked-mobiles.com for £224.98. That should be arriving early in November and you can get all the details in our earlier story.
Links – Nokia Lumia 800 (Asda) – Windows Phone 8S by HTC (unlocked-mobiles.com)