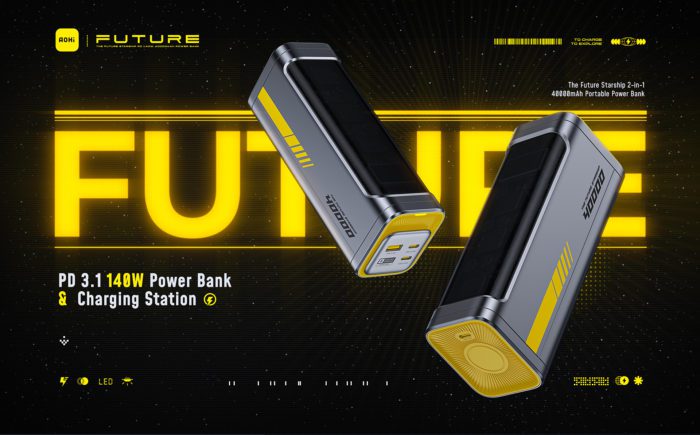 AOHi has launched a Kickstarter campaign for its STARSHIP 2-in-1 Charging Station + Power Bank, which can quickly charge devices with 140W of power through two different charging modes. This product is designed to help users stay powered up on the go, making outdoor activities more enjoyable and convenient.
2-in-1 combo: Power bank and charging station in a compact design at a mere 900g.
40000mAh Capacity: Ensure your devices stay powered up all day long.
Intelligent Power Distribution: Optimal power allocation for efficient charging.
PD 3.1 Protocol Support: Experience a sum of 140W lightning-fast charging.
Simultaneous Charging: Power up laptops, phones, and more with one device.
LED Full-Color Screen: Clear view of charging speed, mode, and power at a glance.
Versatile Powerbank & Charging Station
Electronic devices are essential for productivity in our daily lives, but keeping them charged can be a challenge. AOHi has developed a 40000mAh charging system that addresses all charging needs with its two distinct modes. The Starship can be used as a portable power bank to charge multiple devices simultaneously while you're on the go, or as a powerful 140W charging station on your desktop at home. Simply press the button on the side to switch between modes. AOHi's innovative ideas and strong R&D capabilities empower people to live their lives to the fullest, regardless of their individual needs.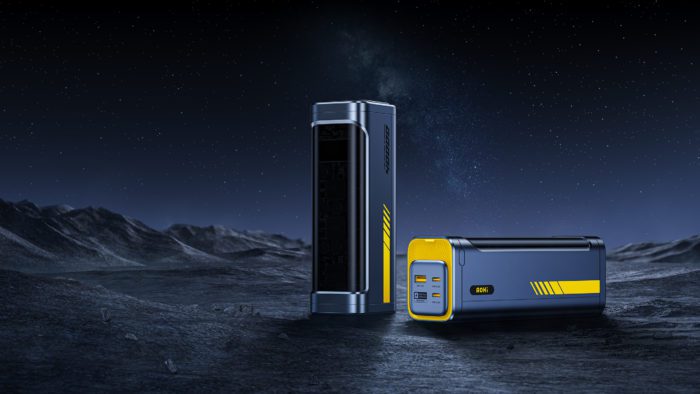 AOHi's Intelligent Power Distribution technology allows it to deliver up to 140W of power from both USB-C ports, while also intelligently allocating charging power according to the needs of different devices. This means that the Starship can charge even the most demanding devices quickly and efficiently, without sacrificing the battery life of the power bank itself.
Fast Charging 
The latest fast-charging technology from AOHi, the Future Starship, is set to revolutionise the way we use our devices. With its support for PD 3.1 protocol and 140W of power delivery, the Starship can charge your favorite devices faster than ever before. This means no more searching around the house for an outlet or having to sacrifice speed for convenience.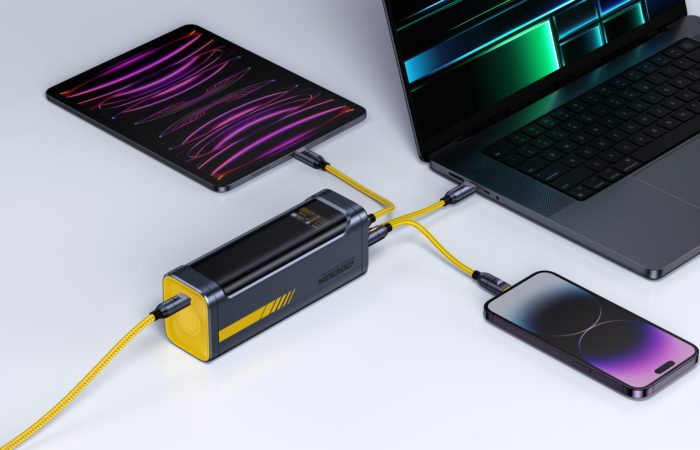 Simultaneous Charging
The PD 3.1 140W 2-in-1 Fast Charging Power Bank is a versatile device that can charge a wide range of digital devices, from laptops and tablets to smartphones and gaming consoles. Its powerful 140W output can charge a MacBook Pro 16″ up to 56% in just 30 minutes, making it the perfect solution for on-the-go users. The power bank also features a slim and lightweight design, making it easy to carry with you wherever you go.
The AOHi Starship is a cyberpunk-inspired power bank that looks like it came straight out of a sci-fi movie. It is slim and portable, yet it packs enough power to charge your devices quickly and efficiently. The Starship is made of premium PC+ABS material and has a metallic texture with a semi-transparent panel. This gives it a sleek and stylish look that is sure to turn heads. One of the standout features of the Starship is its LED full-color screen. This screen provides a clear and concise view of the current charging speed, charging mode, and remaining power. The Starship is also engineered to protect the battery against potential harmful currents when in desktop charging mode. This helps to extend the battery life and keep your devices safe. Overall, the AOHi Starship is a powerful and stylish power bank that is perfect for anyone who wants a reliable way to charge their devices on the go.
Availability
Currently, AOHi's Starship is available on Kickstarter with shipments expected to begin in December 2023. Early bird pricing for a single Starship is available starting at $159.