Allowing users to connect most devices from macOS and Windows, it expands the capabilities of a home or office workspace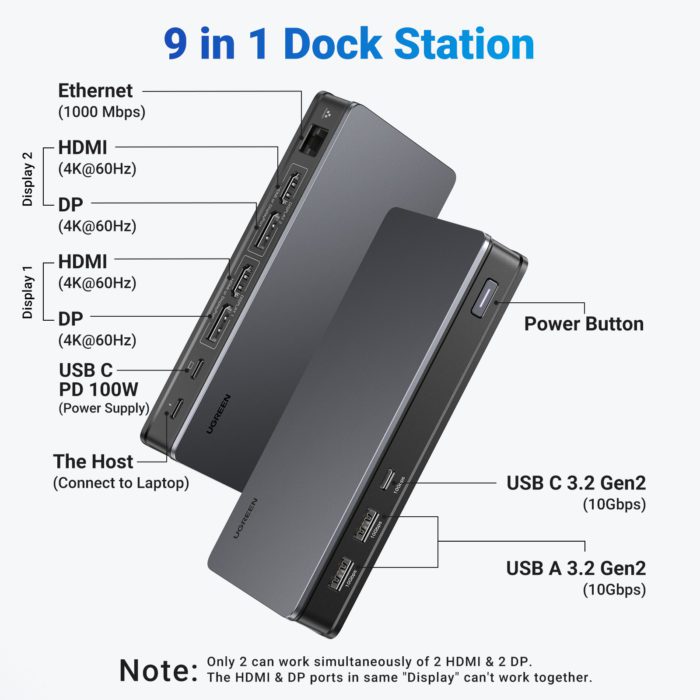 The docking station provides users with 100W power delivery, 9 commonly used ports to meet most needs including super-fast file transfer and support for multiple monitors in both Windows and MacOS. When using the DisplayLink technology, the docking station can extend up to two monitors at [email protected], which can really help productivity for users that need plenty of Windows open simultaneously.
Specs:
Power Input: 100W
Data Transfer Speed: 10Gbps
Video Output: [email protected]
Dimensions: 7.87 x 4.53 x 2.05 inches
Product weight: 1.12 pounds
Ugreen, the award-winning manufacturer of quality and affordable electronic accessories and consumer technology products, has announced the launch of its new 9-in-1 USB-C Docking Station. Providing users with 100W fast charging, 9 different ports to meet most needs, quick file transfer and the ability to extend to up to 2 extra displays, it is a handy and compact gadget to help to work more efficiently.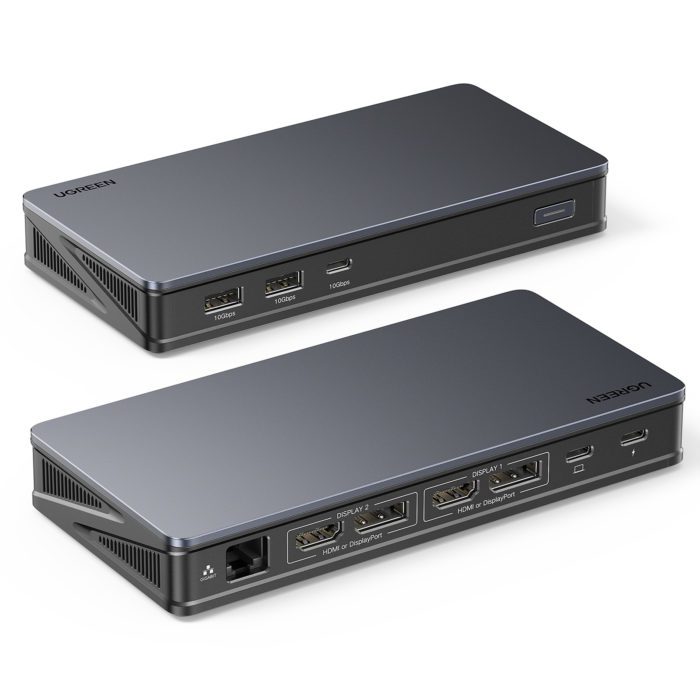 Featuring a huge 9 ports, the Docking Station simplifies and clears a workstation effectively as it is able to meet most expansion needs alone. Equipped with 2 HDMI 4K, 2 DP 4K, 1 PD 3.0 100W, 2 USB-A 3.2 (10Gbps), 1 USB-C 3.2 (10Gbps) and 1 Gigabit Ethernet, it can cope with almost any daily work that a user might need from it. It is also compatible with multiple systems and devices so can easily slot into an existing setup whether it is Windows or MacOS.
Using the DisplayLink technology, the docking station can extend up to two [email protected] monitors smoothly. The monitors can freely choose to use either the extended mode or the mirror mode as a display depending on the preference. This allows three options as both additional monitors can be in extend mode, both in mirror mode or one of each. Able to be used to create the perfect and personal setup for each job, it is ideal for boosting productivity.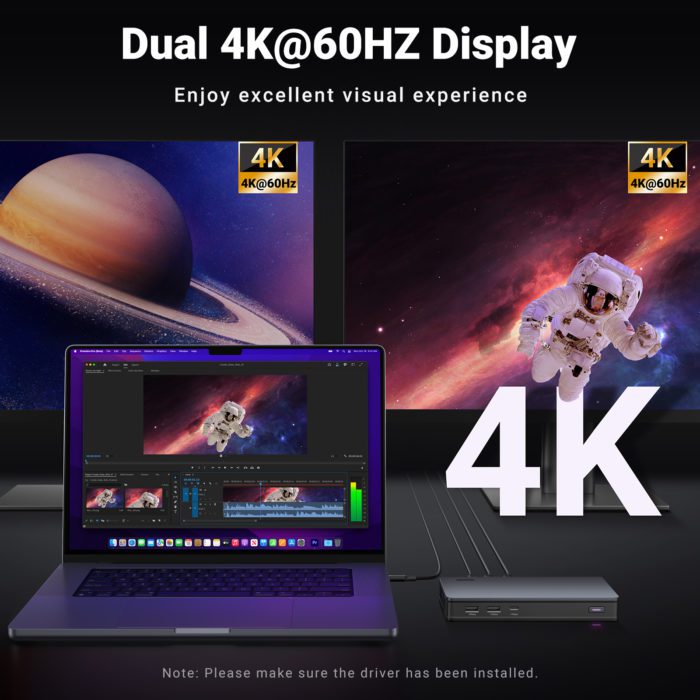 Not only great for viewing and extending the screen, the 2 USB-A 3.2 Gen 2 and 1 USB-C 3.2 Gen 2 ports allow a user to transfer files in just seconds. The station supports up to 10Gbps data transfer speed and so there will be no waiting around for documents anymore. In addition, the 100W PD 3.0 charging port means that it takes just 1.5 hours to fully charge a MacBook Pro 15" laptop without needing to take up another port of the laptop.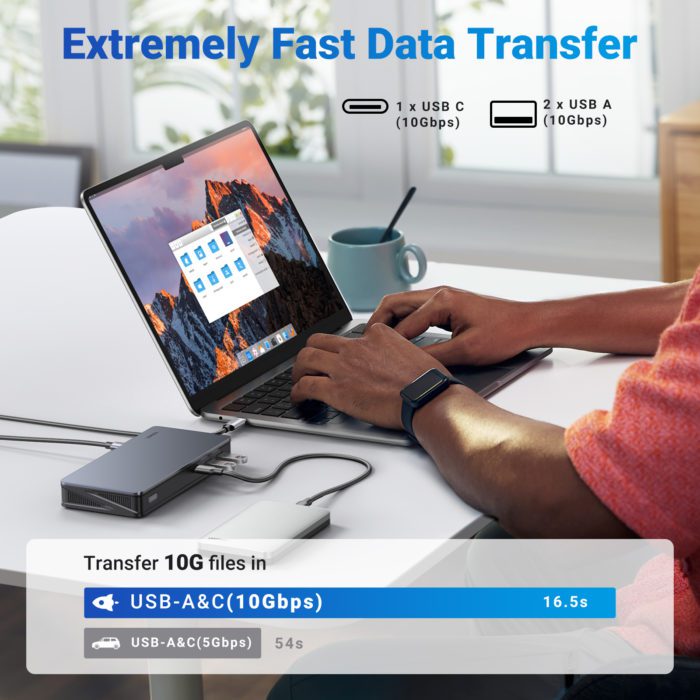 With safety features included, the docking station has an excellent cooling performance to ensure it remains stable. Using an upgraded cooling system featuring dual vents, cooling silica gel, a cooling aluminium shell and heightening pads, it will not overheat when in use.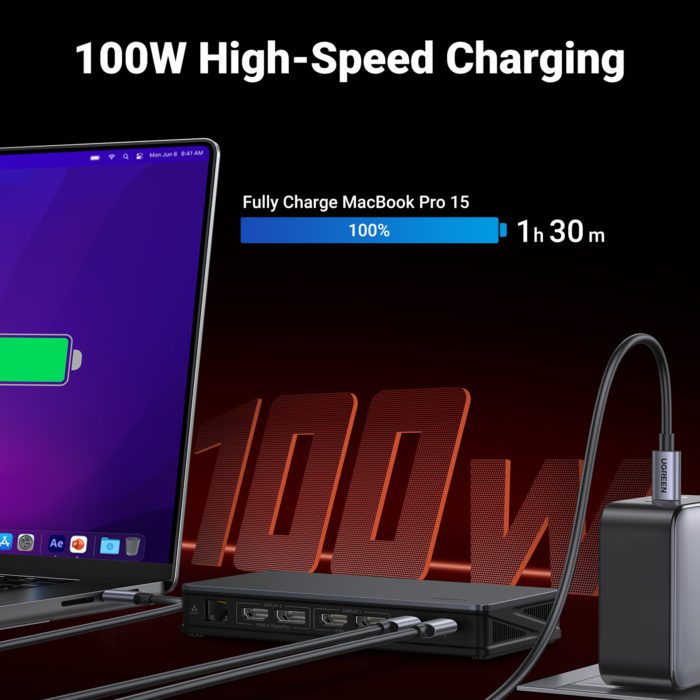 Pricing and Availability
The Ugreen 9-in-1 USB-C Docking Station is available for £199.99/$199.99 on Amazon UK, Amazon US and the Ugreen website.