JLab Go Air Pop Wireless Earbuds Bluetooth, True Wireless Ear buds with USB Charging Case, Bluetooth Earbuds Pocket Size with Dual Connect, Custom EQ3 Sound – Wireless Earphones with Microphone, Black – RRP £19.99 – SAVE 10% – NOW £17.99 (4th Jan – 31st Jan) from AMAZON UK, Argos, John Lewis and Currys.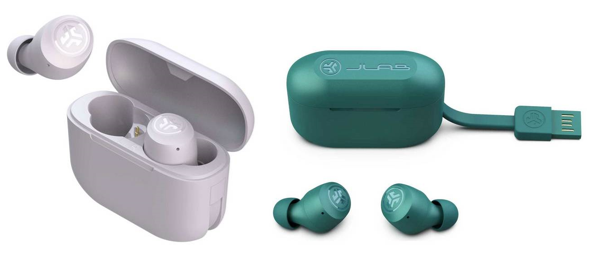 JLab's GO Air Pop provides a class-leading 32+ hours of playtime, dual connect technology so each earbud can be used independently for calls or audio, as well as touch controls compatible with both Android and Apple devices. Unlike the competition, as with all JLab true wireless products, it's backed with an industry 2-year warranty vs. the standard 1 year. In the event that an earbud is lost or misplaces, replacement earbuds are also available to purchase at a fraction of the cost.
JLab Go Air Pop Sport True Wireless Headphones – Available in Black, Teal and Neon Yellow – RRP £29.99 – JAN DEAL SAVE £5 – NOW £24.99 (4th Jan – 31st Jan) from AMAZON UK, Argos, John Lewis and Currys.
The Go Air Sport from JLab Audio are both mighty and fun – combining great sound with the freedom of true wireless listening, feature simple touch controls, and with Dual Connect, each earbud can be used independently. Take calls with ease, and they last for up to 32 hours with the included charging case. Auto-connect to your Bluetooth device to add music to your walk, run, HIIT session …whatever exercise floats your boat.
With two independent earbuds fitting comfortably and securely in your ears, not a single wire gets in your way. Connect wirelessly with your smart device via a high-quality, stable Bluetooth connection and enjoy rich and crisp JLab Audio quality sound with 6mm drivers. And, with just a few taps on their touch sensors, you can tune to your preference with three EQ settings; Signature, Balanced, and Bass Boost, all without an app.
The Go Air Sport connect automatically to your device once paired, and you'll get a seamless connection, whether you're using the earbuds independently or together. And you can take phone calls with ease with the built-in mic in either earbud.
Featuring a secure sport fit with IP55 moisture-resistance, the earbuds hold up against sweat, rain and dirt, so you can hit the running trails or the gym. Their ergonomic earhooks fit even the smallest ears and ensure they stay securely and comfortably in place. Find the right size of gel ear-tips from the variety included, get a secure fit, and GO!
Providing 32-hours battery life, they last for up to 8 hours off a single charge, with the power for an additional 24 hours in the included pocket-sized charging carry case.
JLab JBuds Air Pro True Wireless Earbuds – RRP £69.99 – JAN SALE DEAL – NOW £49.99 (4 JAN – 31 JAN) at Argos, Currys, John Lewis, Amazon and Very.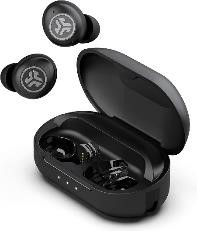 The JBuds Air Pro true wireless earbuds feature 9 hours of playtime in each earbud with an extra 27 hours from the charging case (36 hours in total). With wear detect sensors, the music will automatically pause when removed from ears.
Featuring Bluetooth Multipoint, users can enjoy the versatility of transitioning seamlessly from device to device and have multiple connected. Whether switching from a podcast on a laptop to a call on mobile, it is easy and quick with two devices simultaneously connected.
The earbuds provide a safe listening experience with the Be Aware mode that lets outside noises in. Designed to be safe for a run, walk or conversation whilst listening to music, it allows users to hear the world around them.
Sweatproof and dustproof, the earbuds have an IP55 rating so can be used on the go or in the gym with no worries. In addition, the earbuds can be used independently or together and both include a built-in MEMS microphone so calls will be clear every time.
With just a few taps, it is easy to personalise the sound with the touch sensors. Users can choose their sound preference from the EQ3 settings: JLab Signature, Balance and Bass Boost with no need for an app.
JLab Epic Air Sport ANC True Wireless Earbuds – RRP £99.99 – JAN SALE DEAL 4 JAN – 31 JAN – NOW £69.99 at Argos, Currys, John Lewis, Amazon and Very.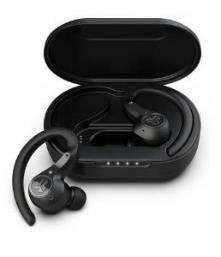 The first true wireless earbuds to utilise JLab's new Smart ANC technology and the JLab Air ANC app, with three noise control modes and the ability to fine tune the sound by adjusting the equalizer settings.
Users can customise the active noise control level, pass-through audio, equaliser settings, and touch controls for each earbud. This means users can truly adjust and design the earphones to suit their exact tastes and preferences with both ease and convenience of the controls and the sound. Once the perfect sound is set, it will be saved on the app and remain on the earbuds, every time they are used from then onwards.
In addition users can utilize the Be Aware audio mode, which allows ambient noise in through the earbuds when turned on making the earbuds ideal for situations such as running or cycling outdoors to hear cars and other safety noises, or talking to friends or colleagues without having to pause the music and take the earbuds out.
The Jlab Epic Air ANC True Wireless Earbuds offer 48+ Hours of Playtime (12+ hours of Bluetooth playtime in each earbud and 36+ additional hours from the charging case). Touch controls for easy operation. Six interchangeable eartips and it has a IP55 water resistance rating.
JLab GO Work Headset – RRP £49.99 – JANUARY DEAL – NOW £44.99 at Argos, Currys, Amazon and Very.
Meet the GO Work wireless on-ear headset, perfect for everyday office life. Enjoy clear calls and video calls and never forget to un-mute with the mute-indicator-light at the end of the boom mic. The powerful boom mic can be rotated up, when you're focused independently or down to allow colleagues to hear just you (not the dog barking or the doorbell). Transition from mobile to laptop without touching any settings and enjoy GO Work wired while stationary at your computer or wireless for more mobility to multitask.
Connect wirelessly via Bluetooth to your PC, Mac, mobile and more. Or plug-in with the included USB-C to 3.5mm cable. Plus with Bluetooth multipoint technology you can connect to any two devices simultaneously. Transition from mobile to laptop without touching any settings.
C3 Calling uses dual microphones: One mic picks up your voice and the other eliminates environmental sounds around you so that your voice remains crystal clear anytime, anywhere.
You'll get a full 45+-hour work week on one charge and all-day comfort with Cloud Foam earcups. Rotate the boom microphone for listening only and back down to take a call or video conference.