Complete with 4 ports, the USB-C Desktop Chargers allows users to charge all their devices in the same place, simultaneously.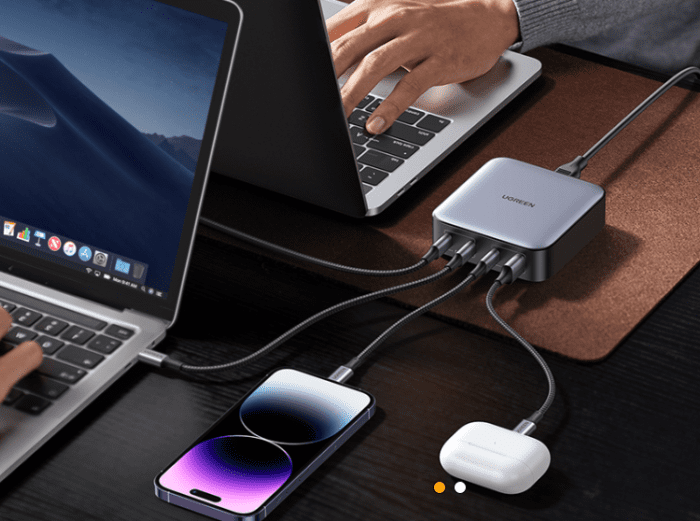 Ugreen, has announced the launch of its new 100W and 65W Desktop Chargers. With broad compatibility, these 4-port desktop chargers support Power Delivery 3.0 and Quick Charge 4+ charging protocols to allow users to access ultra-fast power ups for their devices. Compatible with MacBook Pro, MacBook Air, Dell XPS, iPhone 14/13/12 series, Galaxy S22/S21 series, iPad, Steam Deck and more, the chargers are the ideal product for individuals who own lots of devices across several operating systems
Ugreen Nexode 100W USB C Charging Station
The Ugreen 100W Nexode 4-in-1 Charging Station includes three USB-C ports and 1 USB-A port to provide 100W across phones, tablets, laptops, and more, all at the same time. This means that a MacBook Air with M2 chip for example if connected alone, can be charged to safely to 100% in less than 1.5 hours.
Featuring dynamic temperature sensors and an intelligent PMW chip which adjusts power outputs to safeguard users' devices, the Ugreen Charging Station is a safe but powerful tool. The UL94-V0 rated shell along with a heat dissipation design also ensures safe overnight charging, so users may have peace of mind whilst powering up their devices for the next day.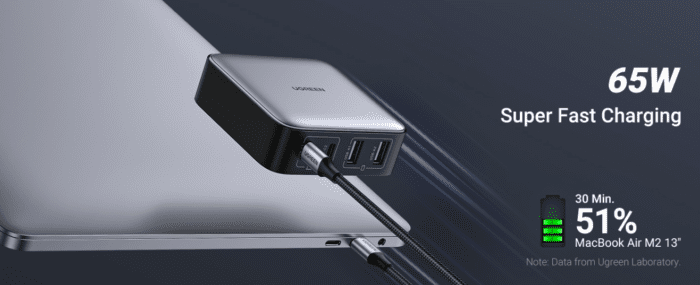 Ugreen Nexode 65W USB C Charging Station
The 4-in-1 Multiport Charger is complete with 2 USB-C ports and 2 USB-A ports to supply up to 65W of power to phones, tablets, laptops, and more all at the same time, the Charging Station is the perfect desktop accessory for anyone wishing to powerful up several devices simultaneously.
Thanks to the 65W Max Fast Charging, it is possible for users to connect a single USB-C device to the charger for quick and powerful charging. Like the 100W model, it can also charge a MacBook Air with M2 chip up to 100% in less than 1.5 hours, making it ideal for quick charges at the airport or during travel. Matching the 100W model, it also features the same dynamic temperature sensors for ultimate piece of mind.
Features of both products:
Advanced GaN II Technology
Power Delivery 3.0/Quick Charge 4+/PPS/AFC/5V2.4A/BC1.2 charging protocols
Input Voltage: 110 Volts
USB Type C, USB Type A Connector Types
Intelligent PMW Chip
UL94-V0 rated shell
Thermal Guard Technology.
Pricing and Availability
The 65W Charger is available for £49.99 on Amazon UK. The 100W Charger is £99.99 on Amazon UK.