ESR Rebound Magnetic Case for iPad Pro 12.9 delivers on Apple's Magnetic attachment technology at a much lower price than comparable Apple products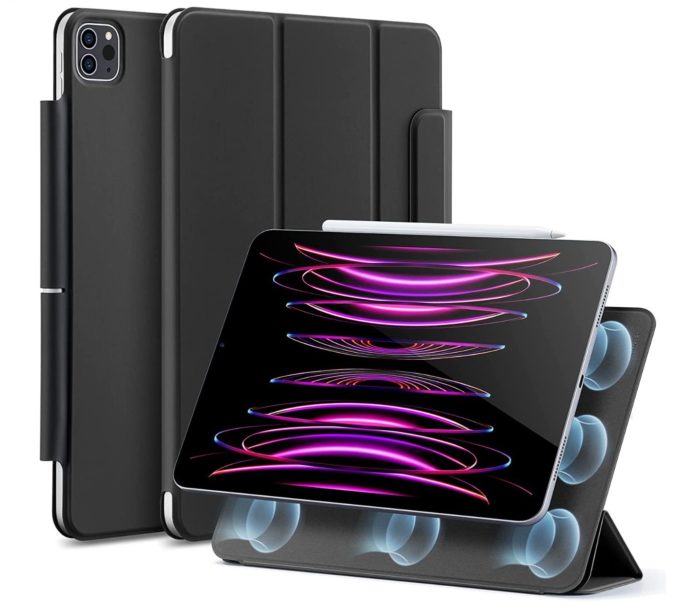 Besides the Apple Folio keyboard cases, I have not seen many magnetic cases, but I have to say I like the design of the Rebound Magnetic Slim Case as it hugs the iPad Pro tightly, protecting the front and back of the device while hugging the Apple Pencil securely when the cover is closed.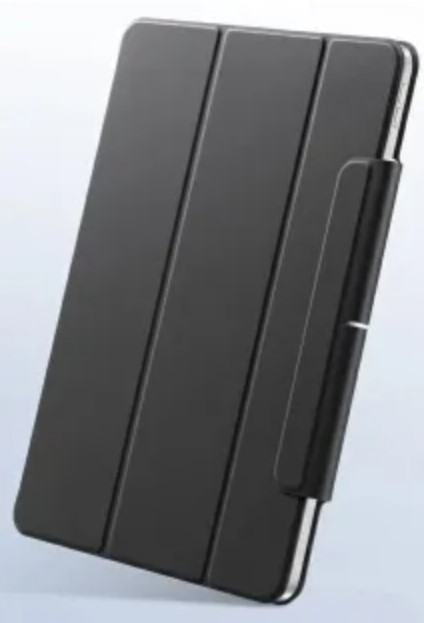 The Magnetic Slim Case does not protect the side of the iPad Pro as well as other cases available, but it does offer some protection as it extends slightly beyond the bezels. It will absorb small wide bumps, but will not likely protect from an edge-on drop from a significant height.
The most impressive feature of the Magnetic Slim Case comes from its ease of removal. Just unsnap it from the back of the iPad and it's off. No fiddling with covers or prying up two interlocking pieces.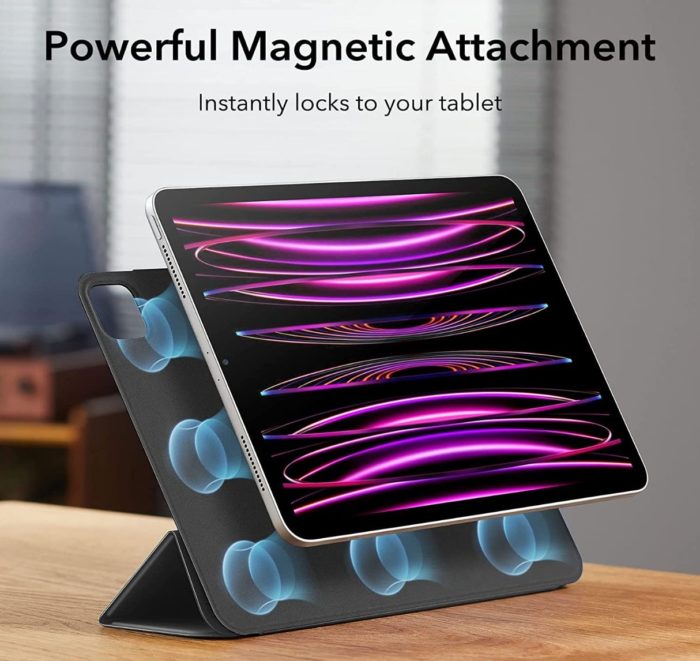 I have been using the case over the last couple of weeks, it has kept my iPad Pro light and accessible, The case is slim and feels not quite like – but really close to – Apple's folio. And unlike that one, this ESR folio has a flap on the front to hold a pencil (it works nicely with and without one). My pencil is in a thin sleeve and it connects / charges just fine. I just needed to wiggle it a bit to get it seated correctly, and then I flip the flap over it to hold it in place. The magnets on the back cover are great. My iPad snapped right in. And when I fold the flap back, it's held back by the magnets. Plus, there's a thin "lip" on the cover, which makes it easy to open.  On the durability front, So far, so good, the case doesn't use any rigid materials that might crack over time.
Because this case doesn't "wrap around" the sides of the you do loose some edge protection but when it came to connecting a hub (as most are made for a naked ipad) the case doesn't get in the way and the hub fitted nice and snugly.
ESR makes very good cases, and at their price, you can't go wrong with the iPad Pro 12.9 Rebound Magnetic Slim Case for £24.99 from Amazon which is a quarter the price of the Apple offering.
Paper-Feel Magnetic Screen Protector for the 12.9 Ipad pro.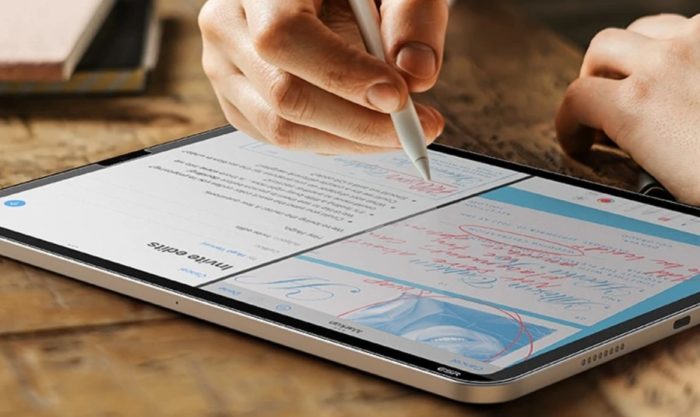 The ESR Paper-Like Screen Protector delivers on its promises. Writing or drawing on your iPad with your finger or stylus does indeed have a more paper-like feel. This screen protector gives the screen more friction so you have more control. It also protects your screen from scratches and reduces fingerprints significantly. But unlike other paper like screen protectors the ESR version attaches magnetically so you snap on to your screen when it's time to create then take it off when you're finished to admire your new masterpiece or catch up on your favourite show with the iPad's glorious Liquid Retina screen clarity.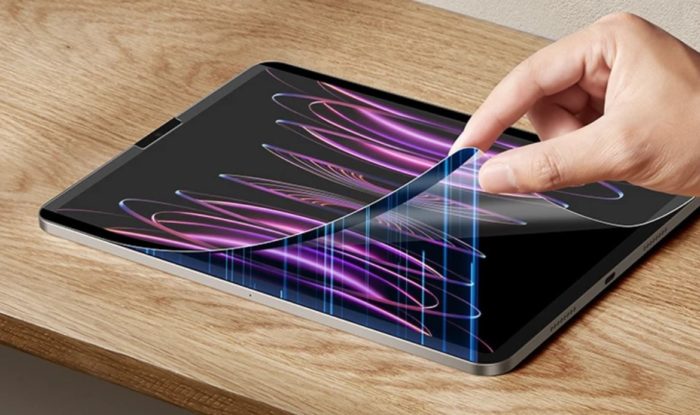 As with the Rebound case I've been using the screen protector for a couple of weeks now. It does look more like paper, with its matte anti-glare appearance. More importantly, it feels more like paper, especially when using a stylus. It's very thin and adds no noticeable weight or bulk to the iPad. It doesn't decrease the screen's sensitivity enough for me to notice. Perhaps my favorite thing about it is that it slows down the accumulation of fingerprints. I put lotion on my hands frequently, so my iPad is usually a fingerprint-covered mess and needs to be wiped down daily. I wouldn't say this screen protector prevents fingerprints entirely, but it certainly cuts way down on how frequently I need to clean my screen. I can go weeks without cleaning it (though perhaps I shouldn't, for sanitary reasons anyway.) Though I wouldn't say the ESR Paper-Like Screen Protector would prevent a dropped iPad from shattering, it certainly protects against scratches.
Due to the protector attaching magnetically I was able to attach it over the top of my fitted tempered glass screen protector giving me the best of both worlds. Also supplied is a protective enevlope which keeps the screen protector safe when not in use.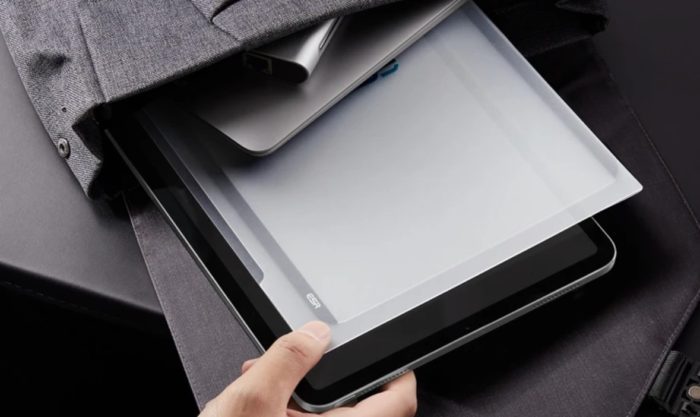 The ESR Paper like screen protector is available from the ESR website for £23.39
Conclusion:- 
These two products really do feel premium, in the hand and to be honest if they had a certain fruit logo on them you would hard pressed to tell the difference, both products are certainly worth a view now that Christmas is not that far away.