Complete with 13 different ports, the USB-C Docking Station allows users to connect several external devices to their laptops.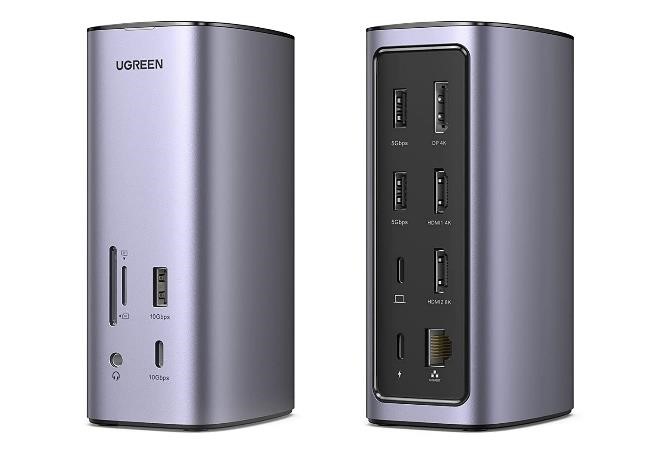 Ugreen, the award-winning manufacturer of quality and affordable electronic accessories and consumer technology products is expanding its range by welcoming its latest product, the USB-C Docking Station designed for use with MacBook M1s and Windows laptops. The docking Station is equipped with 13 ports, enabling users to access 8K video output, triple display, SuperSpeed data transfer, powerful charging, USB-Connectivity, ethernet, and audio connectivity.
Specs:-
2x HDMI Port.
1x DP.
1x PD 3.0 100w.
1x USB A 3.2.
1x USB-C 3.2.
2X USB 3.0.
1x Ethernet port.
1x SD/Micro SD card slots.
3.5 mm AUX port.
Compatibility Information:-
Ugreen USB-C Docking Station is compatible with Windows OS and Mac OS systems (Including M1 laptops).
Does not support Linux.
Note: DisplayLink software must be installed to ensure media display functionality and network port can be used correctly.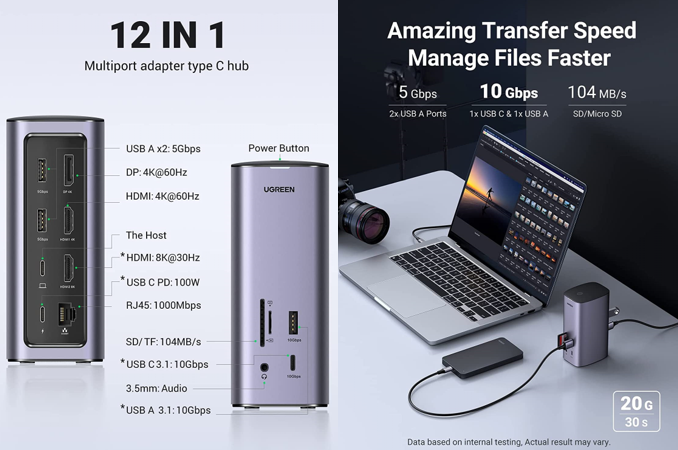 Facilitating a complete expansion of the capabilities of users' laptops, the Docking Station is the perfect product for those who wish to download content from other devices, such as cameras, when their laptops do not already possess the ports to do so. With 1x USB A 3.2 Gen 2 port and 1x USB-C 3.2 port with Flash Transmission speed up to 10Gbps, and 2x USB 3.0 ports, the docking station will meet most data transferring needs. The PD 3.0 port provides a maximum of 100W to pass-through charge laptops while in use, allowing the Docking Station to be used free from any worries of users' laptops running out of battery.
The Docking Station also supports 8K crystal-clear streaming, allowing users to access high-definition, vibrant colour playback of content easily. The HDMI2 port supports up to [email protected] in Windows, and up to [email protected] in Mac OS.Connect, and conveniently, all three HDMI ports can simultaneously support crystal-clear streaming or mirroring across three external displays.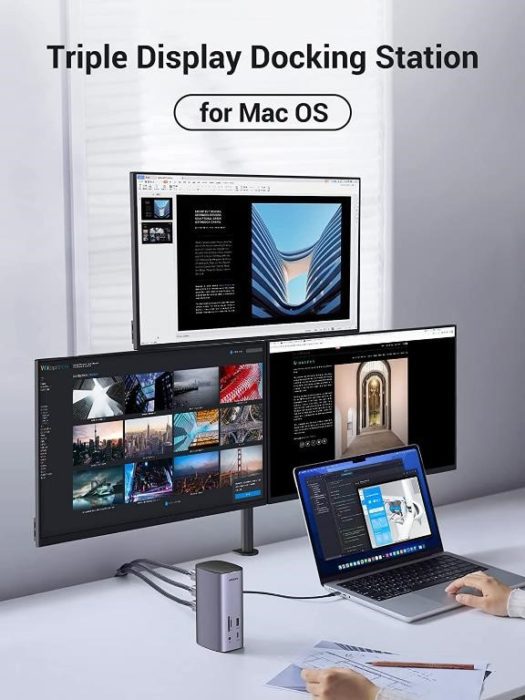 The triple display function is especially handy for users wishing to utilise the docking station as a means of mirroring or extending their display and a useful tool for those who work from home. Suitable for programming, stock trading, and design work, amongst other activities, the Ugreen 13-in-1 Docking Station is the perfect tool for users who wish to easily connect external devices to their laptops.
The Ugreen Nexode USB-C Docking Station is available for $329.99 on Amazon and £349.99 on Amazon UK using the £20 discount coupon.