Powered by the new PD 3.1 charging protocol, the Nexode 140W can charge as fast as any charger currently on the market, while also being able to fast charge three devices at once such as two laptops and a phone. An example of this is a MacBook Pro 16' which it can charge from 0 to 56% in just 30 mins!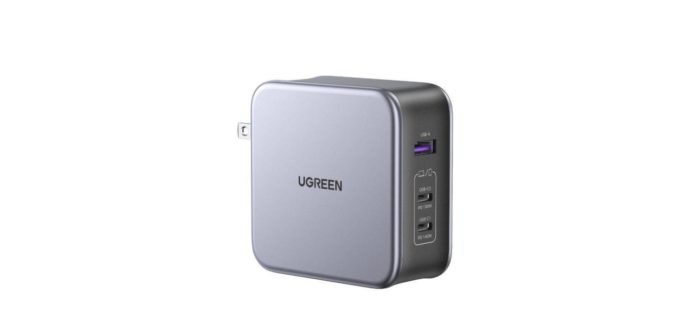 The Ugreen Nexode 140W is a fast-charging workhorse, but with more utility than other laptop chargers. With three ports and 140W of total charging power, the PD3.1 fast charging protocol allows the Nexode 140W can charge a MacBook Pro 16' from 0 to 56% in 30 mins. It also has additional flexibility due to its two Type-C ports and single Type-A port. It can fast charge two laptops and a phone at the same time to meet the needs of a two-person office, and can easily charge a phone and tablet while working on a laptop and take multitasking and productivity to new levels.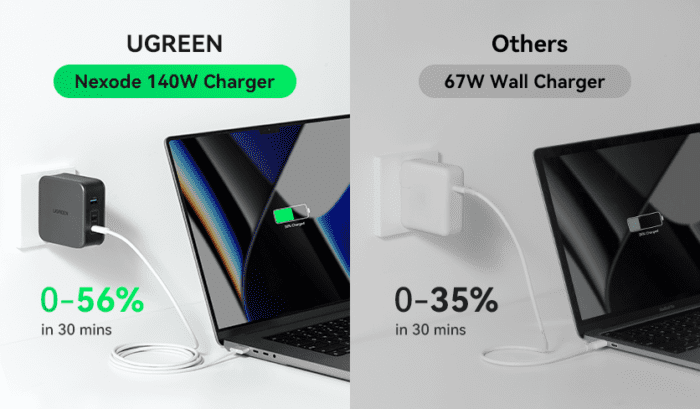 The Nexode 140W charger is 22% smaller than the Apple 140W MacBook Pro charger. Bag space is important when you are working remotely or going on a business trip, and taking 3 bulky chargers can be a deal-breaker. One sleek powerful charger with a folding prong and smooth edges is the perfect solution for a multitasker on the go.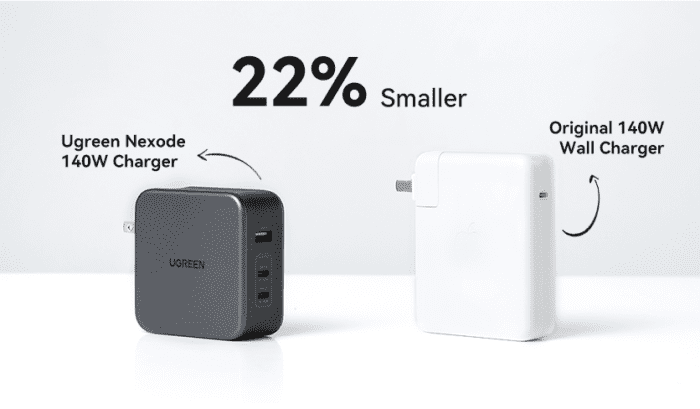 Ugreen's new Nexode 140W has such extraordinary charging ability because of the revolutionary GaN chip that allows it to be more efficient at charging and at heat dissipation. With a game-changing GaN chip, Ugreen's Nexode chargers are able to deliver more than 92% of the energy from the wall directly to your device. This means that less electricity is wasted as heat, and the charger will charge cooler than devices that use silicon ICs. The Ugreen Power Dispenser system also intelligently adjusts the power output to protect your product's battery, so it will last longer. And to protect your charger from overheating, the Thermal Guard system takes 200 temperature readings every second.
Additionally, GaN technology is doing a lot to reduce carbon emissions. According to Ugreen's GaN chip partner, Navitas, GaN chips produce 4kg less carbon per chip compared to silicon chips. They anticipate the GaN chips in the Nexode chargers will save 5,503 tons of carbon from going into the atmosphere.
With the full gambit of fast charging protocols, the Nexode 140W will be able to fast charge nearly all USB devices. Whether charging an Apple, Samsung, Dell, Lenovo, Huawei, or Xiaomi device, the Nexode 140W charger has the proper protocols to charge at full speed.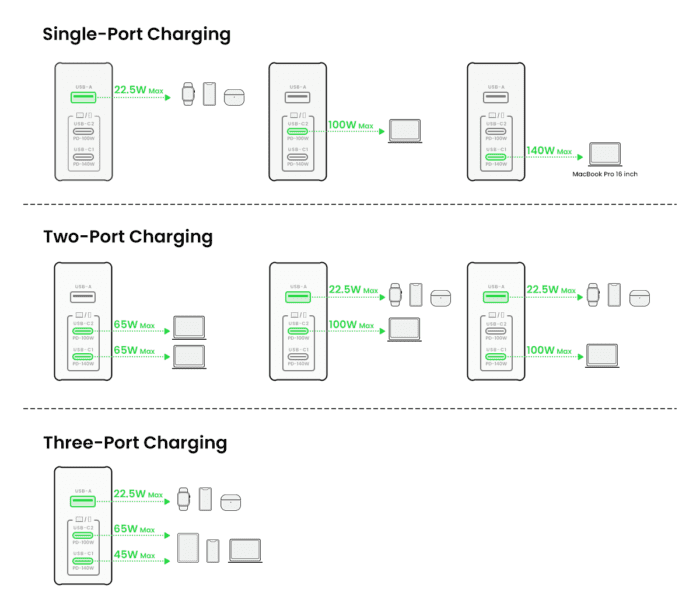 Pricing and Availability: 
The Ugreen Nexode 140W will be available on Amazon and the Ugreen website on September 13 at a recommended retail price of $149.99. A UK version will also be coming soon, and hopefully we will get one in for a full review.