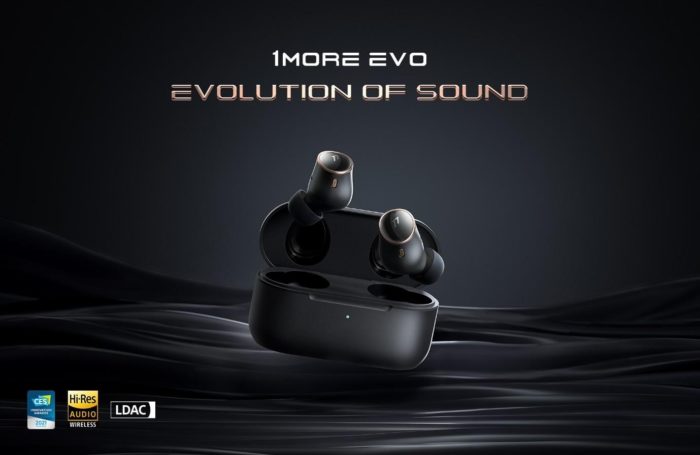 1MORE, consumer audio company, has today announced EVO buds, Including features such as 1MORE's proprietary QuietMax hybrid active noise cancellation technology to achieve up to 42dB of noise suppression and a total of six microphones backed up by an intelligent deep neural network algorithm to deliver crisp call clarity, these earbuds also boast both a 10mm DLC dynamic driver and a low distortion balanced armature that are precisely tuned by a 4-time Grammy award-winning sound engineer. Add to this a personalized sound from Sonarworks using their smart algorithm SoundID software and the EVO truly do deliver in every audio aspect.
1MORE's 'Evolution of Sound' thinking is ever prevalent in the company's new earbuds with its pursuit of delivering powerful studio sound via its trademark dual driver design that gave 1MORE a THX Certification back with the company's last flagship wireless earbuds. This acoustic design allows the 1MORE EVO to reach a frequency response of 40KHz and deliver extreme audio quality, handing the earbuds a Hi-Res Audio certification.
Specs:-
10mm Driver + Balanced Armature drivers
LDAC, Hi-Res certified codec
Adaptive Active Noise Cancellation
Bluetooth 5.2
Dual-Mode Transparency
Six Microphones + DNN Algorithm
AI SoundID for customised sound
28H Battery Life with case + Quick Charge. 8 hours earbuds
Dual-Device Connection, Seamless Swapping
Five silicone ear tips for the perfect fit
Dual-Device Connection, Seamless Swapping
Intuitive touch controls
IPX4 water and sweat resistance rating
Together with 4-time Grammy award-winning sound engineer, Luca Bignardi, and 1MORE's continued partnership with Sonarworks, the 1MORE EVO is the new kid on the block delivering incredible clarity, punchy bass, crispy vocals, unrivalled details and a wide soundstage which are excellent even at low volumes. With the support of the LDAC codec, the EVO provides a decoding rate up to 990Kbps to deliver a fully enriched detailed soundscape and accurate music reproduction. This is high-fidelity sound, but evolved into something much more.

Sound should be shaped around human ears' needs", said 1MORE's Luca Bignardi. He went on to say, "sound shouldn't have flat lines to only make laboratory engineers happy… by personalizing the sound for everyone, the 1MORE EVO makes it true more than ever".
The ultimate wireless audio experience commands an equally immersive noise cancellation suite to allow audiophiles and casual listeners alike to enjoy the accurate reproduction of any selected medium for their auditory pleasure. The 1MORE EVO adopts its renowned QuietMax technology by combining both a feedforward and feedback microphone on each of the earbuds that can capture the ambient frequencies both outside the earbuds as well as inside the acoustic cavity to cancel unwanted frequencies and deliver the signature sound that 1MORE is well-known for, restoring the music to its original brilliance. This is thanks in-part to the 10mm DLC dynamic driver that furthermore generates accurate anti-noise signals to cancel out the ambient noise. All in all, the 1MORE EVO can achieve an astonishing 42dB of total noise cancellation for not only outstanding resolution, but a tranquil sound experience too.
As well as these impressive features and specifications, 1MORE also provides what it calls 'Adaptive ANC' that can be toggled on or off via the 1MORE MUSIC App or at a long finger press of the Intuitive touch controls offered by the buds. This mode can intelligently detect the ambient noise via an algorithm that will remove the surrounding noise. The buds will then automatically change the levels of the noise suppression accordingly for the best possible listening experience as sometimes a full-on block on the world isn't always needed.

Along with an Adaptive ANC mode, the 1MORE QuietMax suite is further bolstered by multiple noise cancelling options to switch between, including, but not limited to, a milder ANC experience that provides a more delicate balance between ambient noise and in-ear pressure ideal for a relaxing break at the local coffee shop and, a Wind Noise Resistant mode where the microphones will pick up any wind noise that may enter via the microphonics and automatically suppress it to provide more musical enjoyment when, for example, cycling on a bike.

It's not all about blocking the world out. Sometimes we need to 'hear more'. Something 1MORE is synonymous with. The 1MORE EVO ups the ante by including not one, but two transparency modes to switch between, depending on the scenario. A more traditional Pass-through mode allows the user to let in the ambient sound around them, which can be particularly useful in situations such a heavy traffic to be more aware of the surroundings. If this wasn't enough, 1MORE now includes an additional Voice Enhancement mode that amplifies frequencies such as those of human voices to stand out even better in situations such as spontaneous encounters with passing commuters or to listen out for important announcements on a train platform.
In a world where talking is key, these earbuds provide the means to talk in abundance. A total of six microphones – 3 per earbud – and an AI-powered DNN (Deep Neural Network) algorithm seamlessly work together to filter out surrounding noises and direct the users voice when they are on the phone to provide crystal-clear, quality conversations that will change the world. A feedforward mic catches the environmental noise and cancels out higher pitch sounds, while the feedback mic can adapt to variations to self-correct lower pitch sounds. The talking microphone will then accurately pick up the human voice frequency and amply it with the aid of DNN that adds an extra layer of clarity to recognise the human voice and boost it further so that every word is heard.
Combing all the above and other little touches, the 1MORE EVO True Wireless earbuds are sure to be a new (audiophile) fan favourite. The good news for those die-hard music lovers that like to listen to their playlists over an extended period of time is that the buds offer both a 15-minute fast charge for 4-hours of musical enjoyment for those people in a hurry, and support also for Qi wireless charging for sheer convenience.
In total, the buds truly are a pair of earbuds to go anywhere with, offering up to 28-hours of playtime and up to 8-hours on a single charge. Dual-device connection support is also available via the 1MORE MUSIC App for seamless swapping so there's zero need to travel with two separate True Wireless earbuds as the 1MORE EVO buds can connect to two devices simultaneously with the strong Bluetooth 5.2 technology.

For that extra piece of mind, the EVO buds' 3D panel is crafted out of smooth, durable ceramic that can also effectively reduce electromagnetic signal interference, keeping a stable audio transmission wherever they are being used.
The 1MORE EVO LDAC wireless earbuds are available from Amazon and the 1MORE website for $169.99 and Amazon UK for £159.99
To celebrate the launch, 1MORE are offering $30/£25/€30 off for the first 30 days using coupons on All Amazon Marketplaces or the discount code 'EVO30' redeemable on the 1MORE USA website.
Hopefully we will get a review sample through of these Earbuds to give them a full review, against the bold claims made.