Have you just purchased a nice new shiny 5G handset, or looking for a  SIM only plan ?
Well we have just found a cracking deal from mobile phone provider Three
Three's famous unlimited data, minutes and texts is back for just £16 a month (was £22, then £18), on a 12 month plan with 5G and free roaming in 71 destinations.  Now that's all the data you'll ever need, for all your streaming, web surfing and social media needs.  View this offer here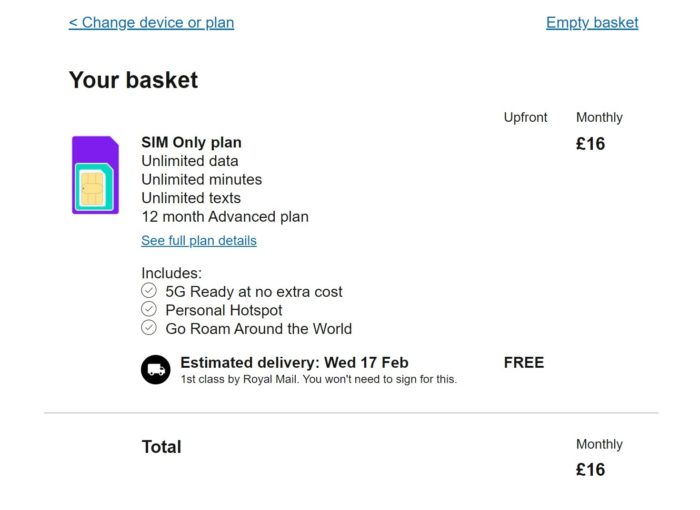 Other providers are offering some tempting deals as well
O2 are offering a SIM only deal giving 150GB data, plus unlimited minutes and texts, priced at £20 a month. That's a good deal of data on a 12-month setup, and with a choice of free Disney+, Amazon Prime Video and more, available here.
EE has a time limited deal of 160GB data also priced at £20 a month. This too, has unlimited minutes and texts on a two-year  contract.  available here
As always if we hear of any more deals we will let you know . the plan here
EE has a time limited deal of 160GB data also priced at £20 a month. This too, has unlimited minutes and texts on a two-year setup. View the plan hereEE has a time limited deal of 160GB data also priced at £20 a month. This too, has unlimited minutes and texts on a two-year setup. View the plan hereEE has a time limited deal of 160GB data also priced at £20 a month. This too, has unlimited minutes and texts on a two-year setup. View the plan hereEE has a time limited deal of 160GB data also priced at £20 a month. This too, has unlimited minutes and texts on a two-year setup. View the plan hereEE has a time limited deal of 160GB data also priced at £20 a month. This too, has unlimited minutes and texts on a two-year setup. View the plan hereEE has a time limited deal of 160GB data also priced at £20 a month. This too, has unlimited minutes and texts on a two-year setup. View the plan hereSee the deal