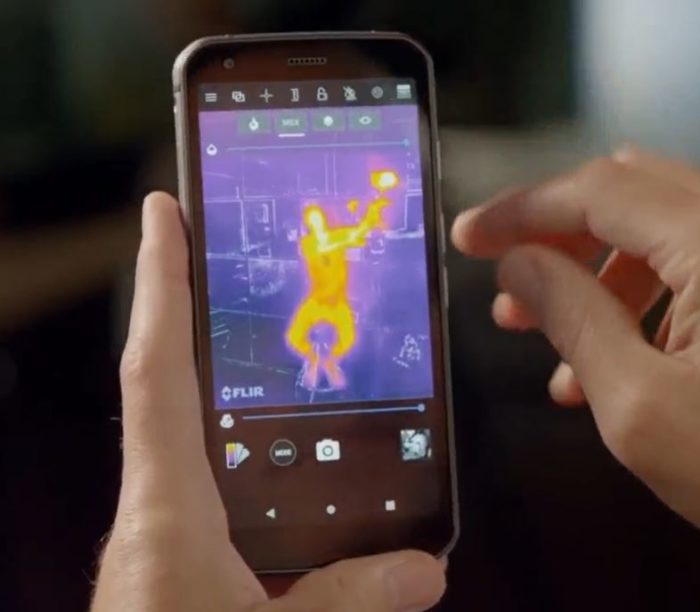 If you want rugged, and you want properly useful extra gadgets, the Cat S62 Pro is the phone to go for. It meets the highest military spec (Mil-Spec 810H) so you can whack the lovely screen with a hammer or drop it repeatedly from 1.8 metres. It's also IP68 so is waterproof, dustproof, vibration, sand, salt mist and pressure resistant.

Selling for £599, there's no 5G and they've also taken out the air-quality sensor and laser-assist measurement (as found on the S61), but it does get a new thermal camera which is said to be the best available in a smartphone. It's highly sensitive to minute temperature differences thanks to the FLIR Lepton 3.5 sensor and a 4x increase in the number of thermal pixels. You can also overlay the "normal" photograph on top of your thermal image, sliding between the two. The MSX linear overlay can now be adjusted, and there's a -20℃ to 400℃ measurable range.

In addition, the screen is now upgraded to a 5.7″ FHD+ (18:9 – 1080 x 2160) TFT LCD with wet finger / glove-on technology. There's 6GB RAM, 128GB of storage and an added a fingerprint sensor. You can also whack a microSD card in.

Powered by a Qualcomm Snapdragon 660 (2GHz octa-core) processor, it runs Android 10 and comes with a 4000mAh optimised battery to deliver up to two days general use.

The thermal camera lets you "see the invisible" and previous models have proved a hit with plumbers, electricians, healthcare professionals and DIY enthusiasts. When you're not using that, there's a Sony IMX 363 12 megapixel dual pixel lens on the back and an 8 megapixel selfie lens up front.

In addition to all that, you get all the Google goodness including Google Play. There's also Bluetooth 5, dual-band WiFi, NFC for your contactless payments, USB-C (waterproof) charging with quick charge 4, GPS and that screen is protected with Corning Gorilla Glass 6.
More information is available on the CatPhones website and you can get on the pre-order list here. It's priced at €649 / £599 / $749.