Want the Samsung Galaxy S20+ 5G but you want it in red?
Easy fix, my friend, just get some red paint and…
Nah, maybe not. Perhaps the best way is to go to Vodafone. They've got the phone exclusively available in Aura Red and, if you get it in this colour before July 30th, you get a free pair of Galaxy Buds+, which are wworth £159 alone.
The Samsung Galaxu S20+ 5G is available on Vodafone's unlimited data plans and, as usual, you can whack on Amazon Prime Video, Spotify Premium, Sky Sports Mobile TV or a NOW TV Entertainment Pass for an additional amount.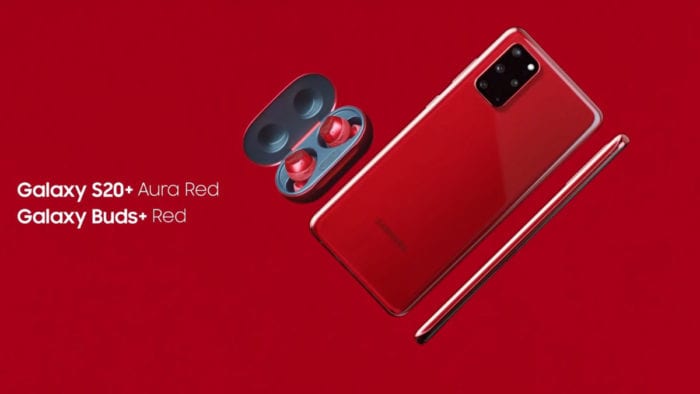 The Samsung Galaxy S20+, which we looked at here, has a readr triple camera set-up, featuring a 64 megapixel lens and two 12 megapixel cameras. It has a 4,500mAh battery, a 6.7″ Quad HD+ Dynamic AMOLED screen and a 10 megapixel in-screen selfie shooter.
As you know by now, Voda have different limits on their Unlimited plans. The Galaxy S20+ 5G has a £29 upfront cost on all the details we're about to mention. The cheapest "Lite" plan holds speeds at 2Mbps and you can get the phone for £58 per month. The "unlimited" deal delivers speeds up to 10Mbps and you can get the phone for £62 per month. For everything, the "Max" deal sees the phone cost £67 per month.