It's hard to believe that part one of this project was back in October, but hey – life gets in the way and other things have had to take priority. Our aim was to get this done by Christmas and we very nearly hit that date – just missing it because the carpet fitter was busy at Christmas time.
So, once the carpet is in next week, I'll post another update. To bring you up to speed though, do have a read of part two and part three or get the whole story here. The basic idea was to try and get near (but not totally replicate) this Pinterest image for our spare room…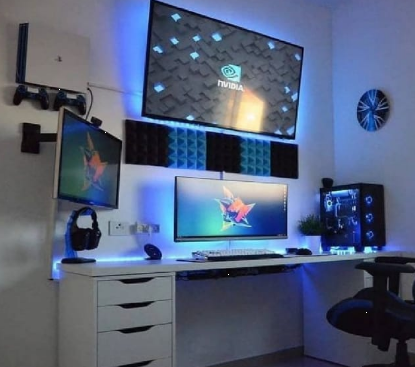 I've learned many lessons. First, if you're planning to do this and you really want to hide the cabling, be prepared for a lot of mess. I'm doing all the work on an outside wall. This is brick and I'm glad in a way because I'm not massively fond of putting big TV's on stud walls. Yes, you can have an easier time hiding cables on stud walls, but you need to ensure that anything hefty that's hung off it is mounted properly.
I've got me a big bolster chisel, a massive hammer and a lot of stubbornness. My lovely wife didn't want to see any cables, so I started smashing the plaster and the walls to bits to create a channel up the wall. Then I bought lots of boxes, cabling and faceplates before getting it all plastered.
The room as a whole needed plastering anyway. We moved in with the intention of just living here a couple of years, doing it up and moving on. Things changed along the way, so we ended up doing quick fixes and we're only now getting the time to do things properly. The walls were proper rubbish, but we'd hidden them with wallpaper. In the end, and after 12 (!) years living here, we're choosing to paint instead, so it's important to get that finish right.
So, lesson number two then. The finish is all important. I messed up with the boxes that sit behind the sockets and the faceplates. The socket installation boxes I bought were these LAP 25mm ones. What I should have bought were the 35mm ones. These give you an extra centimeter of depth and it means that – especially in my case where I've got 4 or 5 HDMI leads behind one plate – you get more room.
It also meant that I had to do away with these…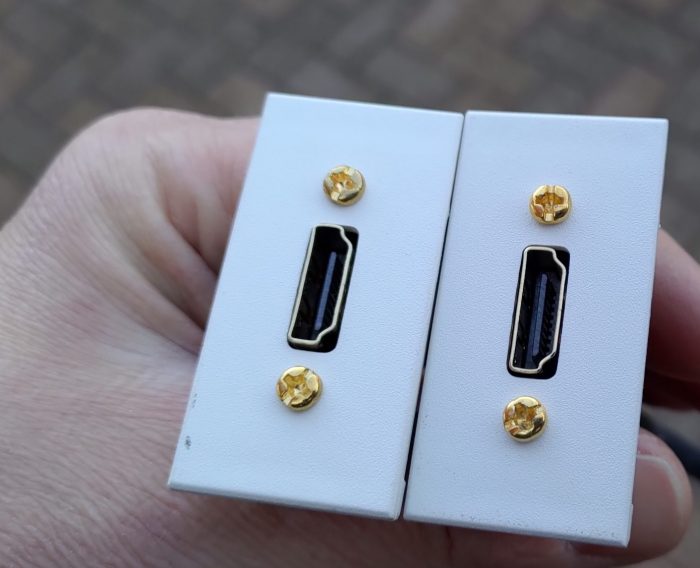 As I was using faceplate modules, I had decided to have nice, neat HDMI outputs like this. It would mean you could plug a HDMI directly in. Job done. However, when they arrived I noticed a rather long section of cabling that I somehow had to get in that socket box…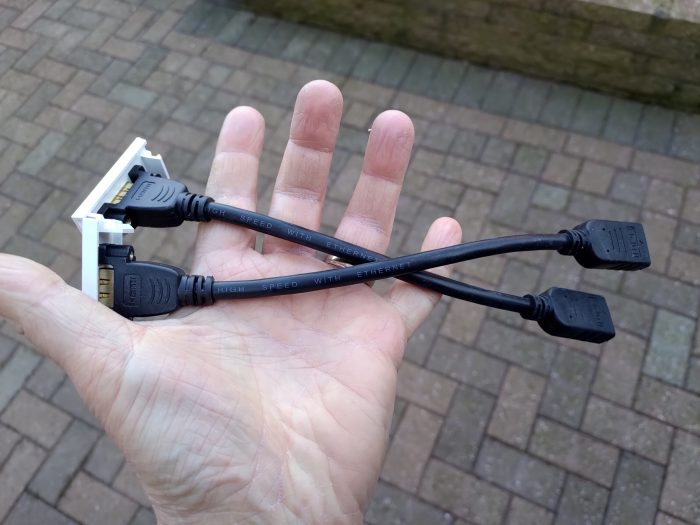 I had a really good look around for shorter versions, or stumpier right-angled ones, but I couldn't find a replacement which included those mounting points. No amount of bending or squashing would solve my problem either..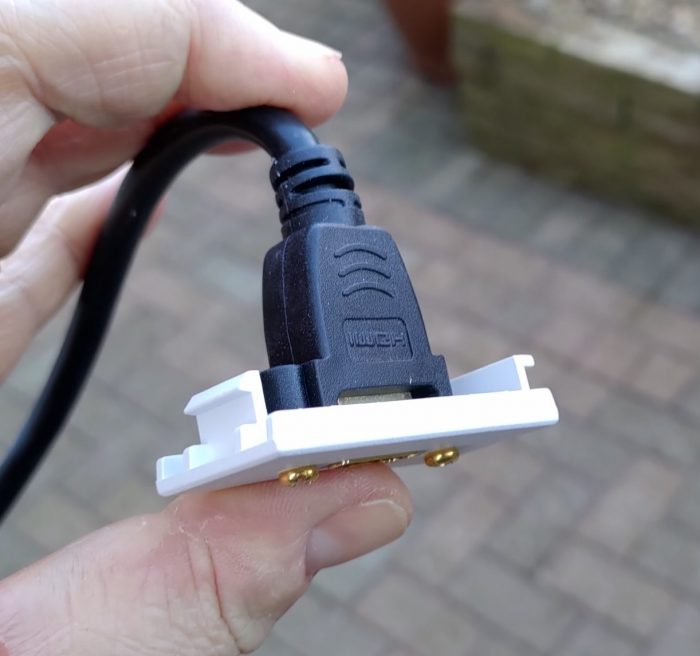 So, I ended up getting the "brush outlets" that the wife told me not to get. Still, it's made it easier and it still looks pretty neat..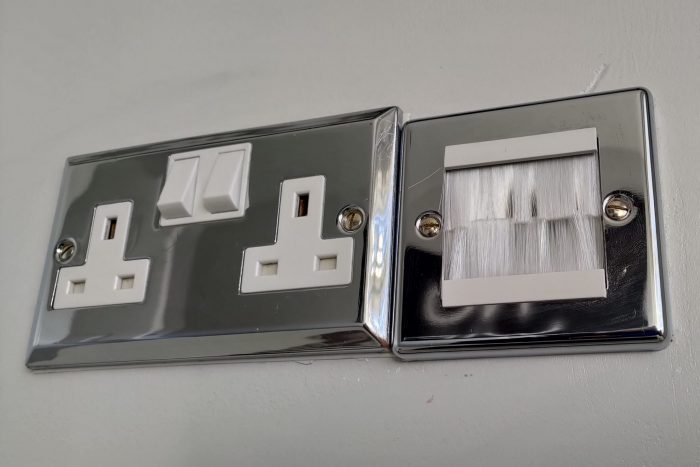 The picture above annoys me a bit. I've got a double socket on the left which we've had for a while now. We have the same sockets throughout the house but they don't sell them any longer, so I had to get a similar-but-not-the-same faceplate on the right. This isn't aligned and weirdly sits lower than the other despite the screws being the same height.
There's also a few nicks in the wall that I need to sort too – one from my screwdriver and a few strange bits below. Grr… The only good thing about this is that they'll be hidden by a monitor or monitors.
I'm trying to save for one of those ultra-wide curved monitors but I might just bin that idea and go for a couple of 24″ monitors.
Sadly, I had to spend some of the cash on a blind. That was a pain in the backside to put up, I can tell you! Hammer-drilling into fresh plaster, watching it crack, hitting the lintel and busting a drill-bit, then having to re-fill the top of the window again, then touch-up the paint. What a faff.
Below you can see that I need those funky plastic radiator pipe covers to give the radiator chrome-finished pipes. Then we need the carpet to arrive, the desk, the big TV for up top and the monitor or monitors for the middle section.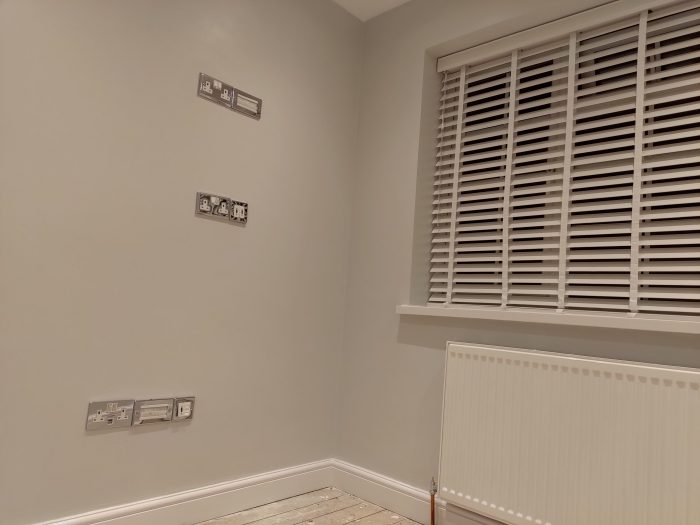 The shot above is from about a week ago. You'll maybe notice that I was still using the HDMI modules… I can't really zoom in any tighter on the below shot, but you may notice that the one on the right was "bulging" somewhat. It was really rammed in there, so out they went.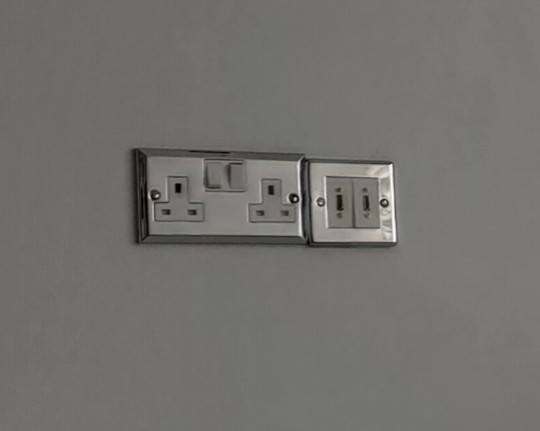 The electrical sockets have all been done by me. They're fairly easy to do – just ensure that you get the right colour in the right hole on the back of that double socket. Back in the day (and throughout our 1970's house) it was black for neutral and red for live. Now, and as you'll see in your plugs, it's blue for neutral and brown for live. If you're not confident about this stuff – get an electrician to do it.


I'm on a budget though, so the plumbing (I had to move the radiator a bit) and most of the electrics were done by me to keep the costs down. I did have to call an electrician mate in to help with the spotlights though. This was because, once I took the old light fitting down, there were three sets of cables coming in and nearly all the cables were black. Confusing as heck.
A few days later, and after a particularly fractious visit to the ever-so-lovely Ikea to get the desk, we could start covering up those sockets I'd spent sooooo long sorting out! 🙂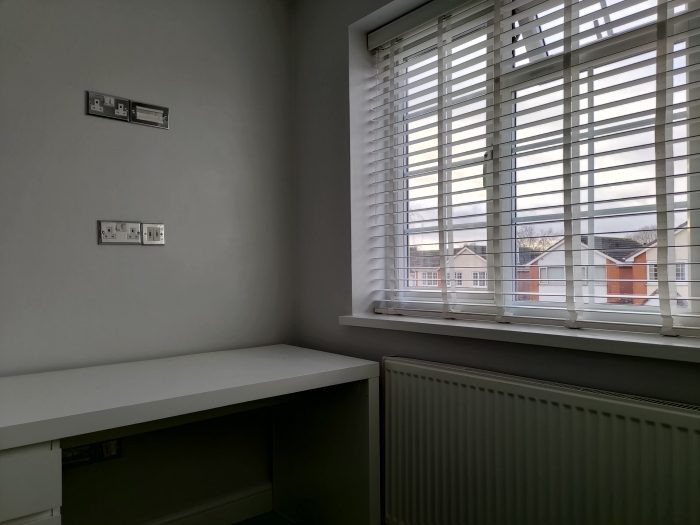 The desk has one draw and a door below. This is for the PS4 and any other related gubbins. Hide that away.
Then, the TV. This involved a mounting bracket and some special mounting bolts. Definitely always use the bolts / screws / spacers that your TV manufacturer supply as they know their TV better than the random Chinese manufacturer who made the mounting plate.
Again, little note here – take the mounting bracket into your equations when you're positioning your sockets. We looked at the best position for the TV and found that the bracket was most ideally suited right in front of the electrical sockets at the top. Annoying. In the end I put the bracket right on top of the sockets. Again, more dust, more drilling, hefty rawlplugs, bolts and a spirit level to make sure that the TV is horizontal.
Edit – OK, I've just been told that some people don't know what a rawlplug is. Turns out that different places / people call them different things. Its also called a rawlbolt, a wall plug, a screw anchor, a dowel or a peg! Either way, I used 6 hefty ones for this and I was screwing directly into a brick wall, so its definitely going to hold.
Right, so we don't have those central monitors just yet, but I'm hopefully going for something like this when I next get paid. Just as long as it's fairly flush against the wall..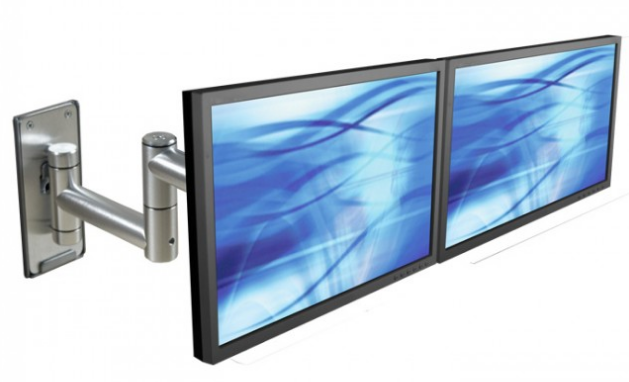 Here, after 2 months of hammering, sanding, plastering, painting, re-wiring and swearing, is where things are right now..
The cabling below can just be seen. The Ikea desk comes with a cable-tidy, which is handy right now as my laptop power cable and headset tend to be a bit messy.
Santa brought a gaming chair…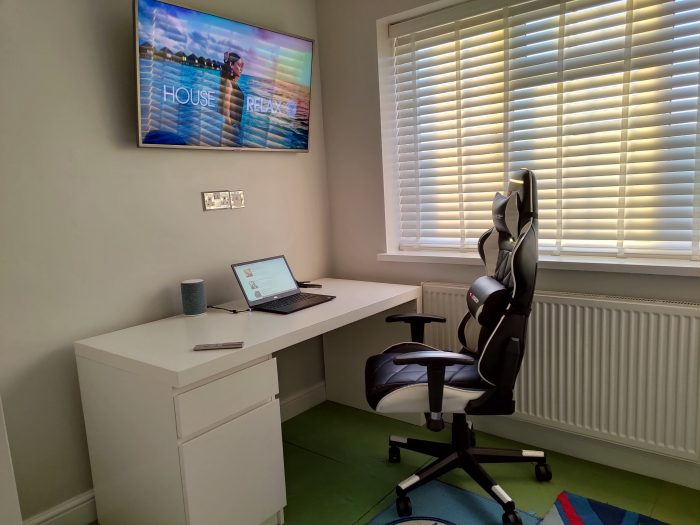 Ignore the green floor. I've put some wood fibre underlay sheets down that were left over from a previous project (wood flooring in the hall). Just so that the floorboards don't scratch the desk etc etc.
I must admit, I'm properly impressed so far. This isn't a big room. We've always called it the "box room" and I've gone as minimalistic as possible to make the most of the space. Yes, it's a gaming room, but I wanted the TV up and out of the way plus monitors for when I'm working and a big desk so that my son can do his homework. Hopefully it ticks all the boxes.
Next up, the final part! If you've missed anything, read the whole story of this project right here.