So I have been doing this for a while now and in that time I have seen some very cool and very powerful phone's come across my desk. However, today is a big day as this is the day that I get the chance to unbox one of the most powerful phones I have ever used, it is also a day I have been looking forward to for a while as well.

I unbox the Asus ROG Phone 2 Ultimate edition! Now I have played with gaming-focused phones before, I reviewed both the Razer Phone and the Honor Play when they first came out and they were both impressive in their respective market segments. The ROG Phone 2, on the other hand, is going big and intends to not just be impressive but it intends to excel.
So what gives the makers back at ASUS the confidence to make the claims that this will be the best gaming phone ever and why should you believe them. Well, this answer is too fold and it is something that iI will look at more in the actual review. For now, though let's summarize, They know how to make very powerful and effective gaming rigs and they have thrown the highest spec components at this phone in respect to gaming that they could find!
So before we delve into the unboxing let's look at those specs on paper
6.59-inch 19.5:9 aspect ratio AMOLED display, 1080 x 2340 resolution
120Hz refresh rate, 240Hz touch responsiveness
Snapdragon 855+ processor, 8GB or 12GB RAM
128/256/512 GB or 1TB storage
3.5mm port
6,000mAh battery capacity
Quick Charge 4.0 – 30W HyperCharge
Dual camera rear setup

48MP primary f/1.8
13MP secondary ultrawide

24MP front camera
Dedicated port for add-on mods
ROG Kunai gamepad
Touch-sensitive panels on edge
Control mapping for unsupported games
Measures: 171 x 78 x 9.5mm
Weight: 240 grams
Pretty nifty I am sure you will agree. Without further ado, let's unbox this beast
In the video above I didn't want to dwell on the specs as much as that would have taken away from the initial experience. What I did want to do is get a feel of how this will work in my life as my phone and after using it for a bit longer I can say that it is not that bad and quite useable.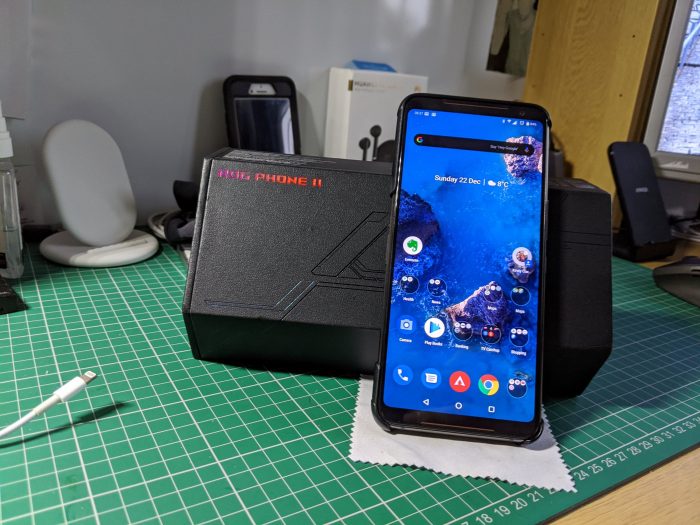 The screen is glorious to view and use and I like that the UI has not been messed about with too much. I have also been using a Pixel 3 XL whilst working on this unboxing and I have to say that so far I am favouring the layout of the UI on the Asus which surprised me, to be honest. I think my main issue is that on the Pixel UI you cannot move the search bar to the top of the screen any more which bugs me. However, we are not here to talk about Pixel 3 XL!
I was also given another item to check out which if you watched through to the end you will have seen me reveal. If not then here is another little video for you.
This is a great option to add to this phone as it really brings the gaming aspect of the phone back to forefront by adding theose physical controls that real gamers crave. Sadly this not currently available to buy directly in the UK but I will enquire as to when this will be for the full review.

However, this phone is not just a gaming brute it is also a powerhouse for productivity and getting stuff done. I have been using this for the past few days before posting this and I have to say that I have been very impressed with certain aspects of the phone one of which surprised me. The battery life on this is immense and with some very light use, I was able to get this thing to last for nearly 5 days which I have never known a phone to do in the past.

The sound quality is awesome thanks to the punchy front-facing speakers. The screen really pops thanks to the AMOLED tech it has onboard along with the refresh rate that can be cranked up to 120hz if needed!
The bit that surprised me the most was the camera especially in bright conditions where it was really good. The reason i was surprised it that this is a gaming phone first and foremost and normally that means the camera is left lagging behind but as you may be able to see in the images below that doesn't seem to be the case here.
I will be doing some more testing in the full review though so be sure to come back and check that out.
For the meantime, I am going to get into the nitty-gritty of using this phone as my daily driver over the next week or so and then get back to you with my thoughts.
I hope you all have a good Christmas and I will see you on the other side.