Put the word "Lite" into the name of your next smartphone and, well, it doesn't help with your expectations. It's like when you're buying a car. If it's a Vauxhall Corsa "Life" or a base model Kia Rio, you're not going to get all the kit and toys that you'd see on the latest Mercedes.
So, when I get a device with "Lite" in the name, I really don't expect much.
This one then is from Vodafone. It's available right here with plans starting from £23 a month with £99 upfront. You can get a full 30GB for £34 per month with lots of extras (unlimited minutes, texts, global roaming etc) or you can pay £34 per month and get yourself 15GB per month. There's £9 upfront on both of those plans and they're for 2 years.
Buy outright (from one of many retailers including Argos, Amazon, Littlewoods, Very etc) and you can pay a mere £279.95. It's available in black, peacock blue or white. Vodafone only appear to be selling the black one right now.
Out of the box and this has a thin, smooth and very well designed feel to it. It's pebbled-like and easy to hold – almost enjoyable to spin round in your hand. It's 7.4mm thick but doesn't feels thinner. I think that's due to the lightness – weighing in at just 159 grams.
The screen is a 6.14″ 2312×1080 pixel panel at 415ppi. It's bright, clear and sharp – performing well in the daylight. The LCD screen does however mean that you get some slight fading when you tilt the phone – it's not quite as polished as an AMOLED. Also the glass seems to smudge a little too well.
These are small things though.

The dewdrop notch at the top is well executed though and, with the skinny borders around the screen you get a 90% screen-to-body radio.
The CPU behind this is, as usual, a Kirin processor made by Huawei under the HiSilicon branding. It's a Kirin 710 octa-core chip and performs far better than the MediaTek CPU's we've seen in devices like the Honor 8A and the Honor 7S. Here the octa-core chip pumps out 4 cores at 2.2GHz and 4 at 1.7GHz. I've got to say, this did really quite well in tests – no real issues or stress from it and the Mali 1GHz GPU performed admirably too. The one minor issue is the battery life, which wasn't quite as spectacular as I've seen on other Huawei devices. That said, it'll last a day easily and charges very quickly thanks to the support of fast charging – only 105 minutes from flat.

Another thing to consider here is that it's not water, splash or dust resistant – take a bit of care or put the phone in a case. We didn't have a case in the box, but I'd advise getting yourself one.
OK, so it runs Android 9 with the EMUI skin and you've got a "Phone Manager" to help elongate that battery time (Power Saving, Ultra Power Saving and so on), plus there's the option to adjust and monitor data usage and spam calls. A "Cleanup" option will also let you free up some space on your phone – removing junk files and old apps that you may not be using any more.
Talking storage, we've got 128GB on-board and a slot at the top for a microSD slot or, if you wish, you can stick a second SIM card in there. It's got 4GB of RAM which again, unless you're running some high-end games on this, will cope with most everything else you throw at it.

No 5G here but 4G, GPS, WiFi (dual band, which is nice on a budget phone like this), Bluetooth 4.2 and USB-C charging (again, nice to see that here). Next to that port you've also got a 3.5mm audio port, which will be good news for those of you with your favourite headphones. There's a set of headphones in the box too.

Again, I've mentioned the fact that we've got dual-band WiFi and a USB-C charging system – these are things that tend to get removed from cheaper handsets, but they're here. One thing that is missing is NFC, which is a tad disappointing – this means that you're not able to do Google contactless payments or any other type of payment which involves you using your phone to pay.

Inside the phone is a lot of the functionality from other Huawei phones – the familiar Themes system is here, which means you can choose between artistically designed themes with matching icons, backgrounds and colour schemes. No more disjointed appearances as you try to create one yourself – here there's a big range of themes to choose from. Categories include cartoon, creative, cool and "lovely" to name just a few.
A stylish Audio and Video experience is included, with the audio app pulsating as tunes are played. It also adds album art, 3D audio and other sound modes.
The entire Google suite of apps is here – Google Play of course for your apps, plus Play Music, Duo, Photos, Play Music and TV, Drive, YouTube Maps and Gmail.
The Gallery system does, if you enable it, include GPS tagging. This lets you collate images by location. You can also see separate albums and – with the aid of an AI system – it'll automatically create highlights when your phone is charging. The Discover system will attempt to use that clever AI to categorize and sort photos based on content.

Other additions include the usual clock, alarm system, Google-connected calendar, email, Notepad, Tips (to help you get around) and the Huawei Health system to keep track of your fitness.

A number of tools are included – you can use the FM radio if you've got the supplied (or any) headphones plugged in, plus there's the familiar flashlight, calculator, mirror, audio recorder, contacts and weather system.

In the settings system you can adjust which SIM card you want to use for various functions, adjust system sounds, app behaviour and permissions plus whether they can send notifications.
A digital balance option let's you control scree time and usage plus there's motion control for answering calls simply by raising the phone to your ear etc.
On the back is a fingerprint sensor which is controlled from within the security and privacy system. This works pretty well and I'm still won over by a physical sensor rather than an on-screen one.
Cameras
Camera tech, then. You've got a triple lens system on the back – a 48 megapixel main lens with f/1.8, an 8 megapixel ultra-wide angle and a 2 megapixel Bokeh lens for all those arty perspective shots.

There's a number of shooting modes here – HDR (perhaps my favourite), the wide-angle mode, night, portrait, slow-mo, panorama, light painting, time-Lapse, 3D Panorama and so on. You can also capture smiles, documents and add stickers to shots for a bit of fun. For the more advanced users there's a Pro mode.

I took a number of shots in varying lighting conditions – the one in my super-tidy garage did involve me having to hold the camera quite still, so some care has to be taken if you're in the near dark as I was there. I took a couple of other shots in the garden where the white balance looked a bit "off" on the actual preview window, but when I snapped the shot it cleverly tidied the shot up.
The AI also does scene recognition, adjusting photos to be as good as they can be depending on whatever you're snapping. You can see on some of these shots how it has detected a "flower" etc. I also liked using the "Moving picture" mode, which brings a small video preview when you've snapped a shot.

Up front, a fixed focus 24 megapixel selfie shooter captures smiles and does AR fun too. You also get that clever Huawei shopping system which will go online for similar products of whatever you're looking at.
All in all, the camera tech on this phone is really rather good. Especially when you consider the price point. A triple rear camera and a decent front camera at this price? Impressive.
Conclusion
OK, the bad points. The fingerprint-magnet screen, the LCD display, the lack of NFC. These are going to be my major concerns. However, when I say, "major", for sub-£270 they're really not that major. The wide-angle shots I took on this weer impressive, as were the normal shots. The phone design itself, the processor, the storage, the addition of two SIM slots (or one slot and a microSD card) ticked some big boxes for me and, I have to say, Huawei have done it again – a very well-made phone which features a lot of kit for the budget.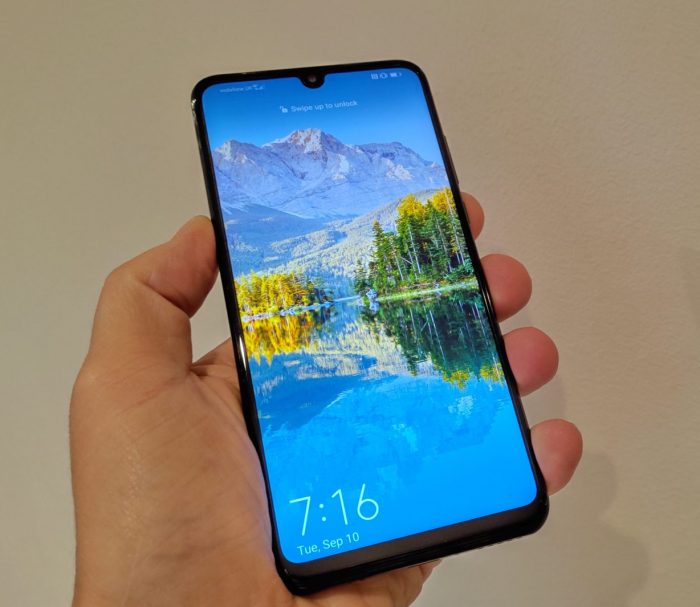 Design? Great. Love the look and feel of this. It's got a quick recharge system and chugs along. I have a long memory, and I still remember phones costing this amount being far worse.
A very good budget phone. This is a very good Huawei phone. Heck, it's a very good phone full stop.
Huawei P30 Lite Review
Camera - 90%
Build and design - 92%
Screen - 79%
Battery - 80%
Value for money - 88%
Another beautiful handset from Huawei which packs a lot for the money.