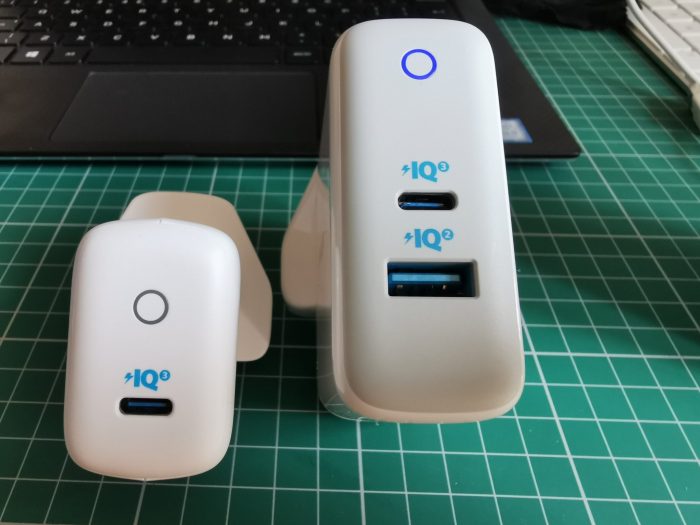 I love things that make life easier and allow you to travel lighter. The USB Type-C standard is definitely one of those things. It is a great connection – compact, multipurpose and intelligent.
I've got a laptop which only has USB Type-C as a means of connecting peripherals. Whilst this can indeed be a drag and sometimes annoying, once you have bit the bullet and embraced the dongle lifestyle there are very few drawbacks.
However, there is one area where laptop manufacturers have been napping and that is when Power Supply Units are considered. It would be great if, when we are toting around our fantastic thin and light laptops, we didn't need to carry around a PSU that is about half the weight of the laptop as well. Below is a picture of the PSU for my laptop which does genuinely weigh about half the amount of said laptop.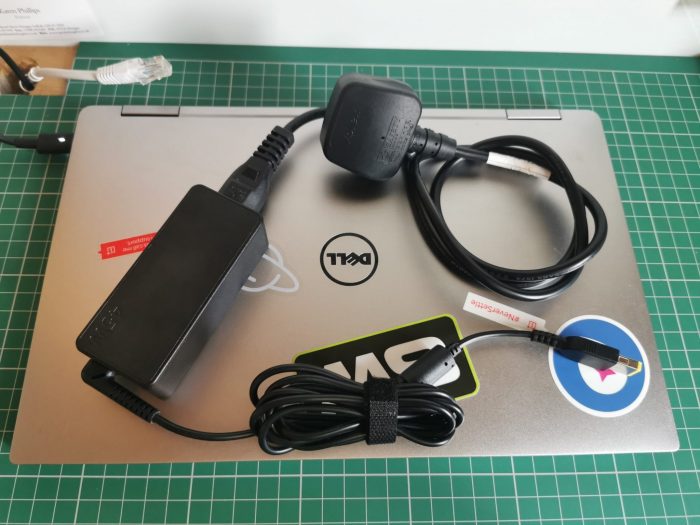 Whilst I have been able to do the occasional day trip by running the laptop from a Powerbank, (Anker's PowerCore +26800), that is only good for an overnight trip and you can get yourself stuck when you need a bit more juice. Invariably the smartphone PSU that you have brought will not give enough "oomph" to charge your battery pack, so you're stuck.
Would it not be nice if you could have one plug that will do it all? The laptop, the phone and the power bank?
Well, we do live in enlightened times and thanks to a friend over at Anker we now can do just that. The chargers in question come in the form of the PowerPort+ Atom III 2 and PowerPort III Mini. Both of these PSU's will give enough kick to charge all the above. The Atom III 2 will also give you a secondary port that will allow you to charge a second device at the same time.
So let's have a look at these PSU's/Charger's in more detail then shall we?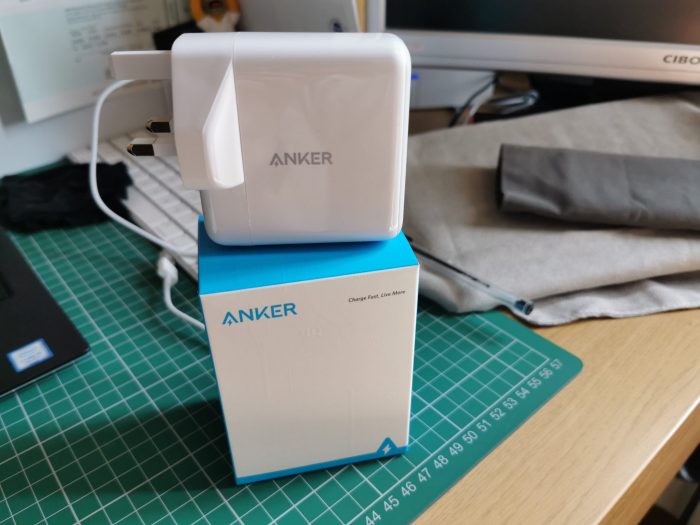 This is the Anker PowerPower+ Atom III 2 and it is the bigger of the two units that I have got to test. It has one USB Type-C output port that is rated as IQ3 and one Type-A output port that is rated at IQ2. You may be wondering what I am talking about concerning IQ rating. Well, put simply, the higher the IQ rating, the better. It will allow more Watts to be delivered via the charger. Now, as we all now from Physics at school, Watt's are the amount of power being delivered by a source of electricity. This can be calculated by Amps multiplied by Volts. So in the case of the Atom III 2, we have a maximum output voltage of 20V at 2,25A meaning our Watts are 45W. At the other end of the spectrum, we have a 5V output at 2,4A giving 12W See below for all the possible outputs.
| Volts | Amps | Watts |
| --- | --- | --- |
| 5 | 2.4 | 12 |
| 9 | 3 | 27 |
| 15 | 3 | 45 |
| 20 | 2.25 | 45 |
These numbers are only for the Type C connection when we look at the Type A connection then we get a slightly different story as this port is an IQ2 port.
| Volts | Amps | Watts |
| --- | --- | --- |
| 5 | 2.4 | 12 |
| 9 | 1.66 | 14.94 |
| 12 | 1.25 | 15 |
This means that this port would be more likely to be used for charger less power-hungry devices such as Bluetooth headphones/speakers and phones (albeit at a slower rate).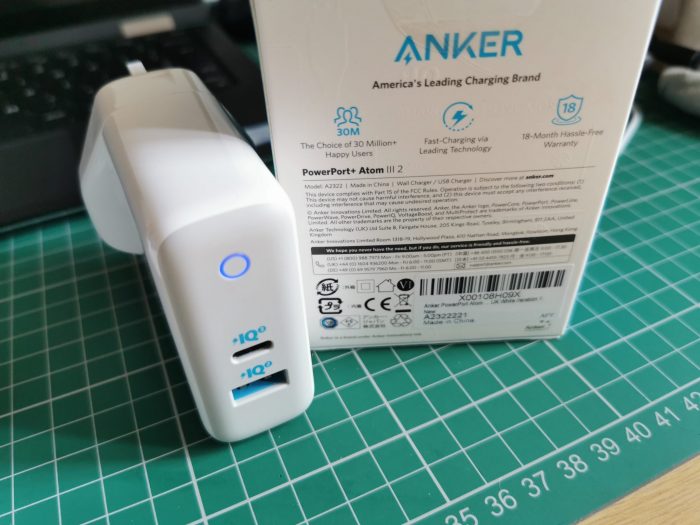 The magic that allows this all to work are special component's called GaN (gallium nitride) semiconductors. These are used instead of the more traditional silicon which in turn allows for a much smaller charger. The Atom III 2 is 15% smaller than a MacBook 60W stock charger. It is also substantially smaller than the normal style laptop PSU which is a good thing as it means less weight and more space can be saved.
Another really cool thing is that the AtomIII 2 will kick out enough power to allow for me to use the Anker premium 7 – 1 USB – C Hub that I have had for a little while. Now, of course, I have been able to use this bit of kit without any problem, however, what the new PSU allows me to is to utilise something called Power delivery pass though. This means that as well as supplying power to the Hub it will also charge the laptop. So I can essentially start to use this as a sort of docking station when I get back to my desk.
This is really for me where the power of USB type starts to come into its own. I will not go into depth too much about the Hub as I will save that for another review later down the road.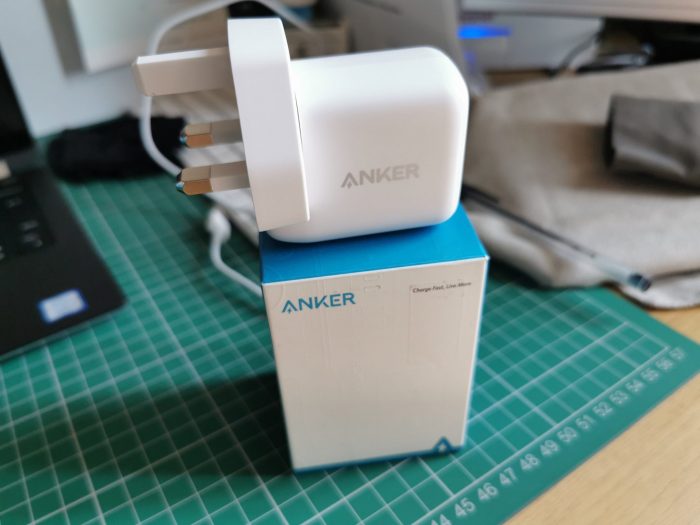 Now that we have had a look a the bigger of the family let's look at the PowerPort Mini version.
I'm not going to try and hide it – this thing is so freaking cool. Admittedly it is a lot smaller than the bigger AtomIII 2 but it is absolutely meant to be, hence why it is called the MINI! Being that is is smaller the amount of juice that this charger can put out is a bit lower but not that much when you look at them in terms of size.
| Volts | Amps | Watts |
| --- | --- | --- |
| 5 | 2.4 | 12 |
| 9 | 3 | 18 |
| 15 | 2 | 30 |
| 20 | 1.5 | 30 |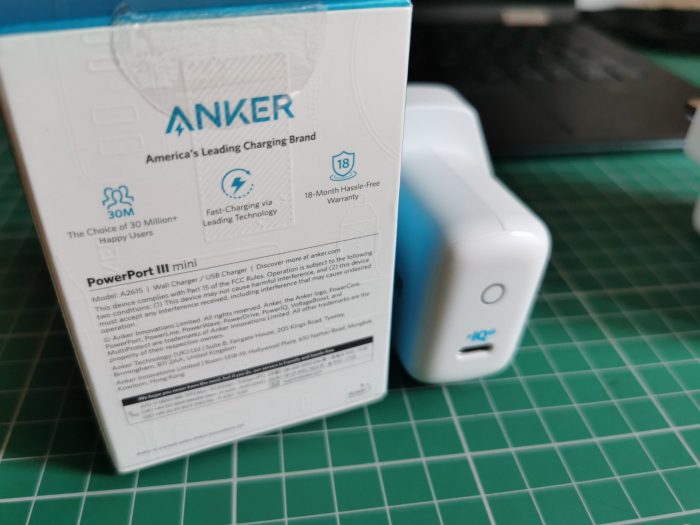 So a much smaller package but still enough juice to power my laptop when I am on the road. It will also allow me to quick charge my Huawei P30 Pro. Yes this is one step down from the SuperCharge 40W that is capable on the newest SuperCharge 40W (the one that Huawei is doing for the P30 and Mate 20X 5G range), but take a look at the size comparisons in the picture below. Interestingly, the 3rd charger in the below image is for the OnePlus 6T and that is maxing out at 20W output and it is again quite a bit bigger than the Mini.
The really important thing here is not just what the output is. Instead it is how that output is achieved. So if, we refer back to the table above then we can see that the Mini will provide a high Voltage with lower Amps to get to the Watts that are being provided. Where this becomes important is when you are charging things like laptops and power banks. These batteries are typically larger and will take longer to charge than the battery in a mobile phone. It means that you don't need the high Amps that are provided by phone chargers. This is why you can use the Mini to charger and power a laptop but you cannot use the OnePlus or Huawei chargers.
That is the science bit done then. But how effective are these chargers when it comes to actually charging stuff ? To test this out I ran my Laptop down to near empty and then plugged it in to get an estimate of how long it would take to reach a full charge on each of the chargers. I also did the same with my P30 Pro and I got some quite interesting results which can be seen below.
| Laptop with Atom III 2 | Laptop with Mini | P30 Pro with Atom III 2 | P30 Pro with Mini |
| --- | --- | --- | --- |
| 1 hr 58 | 1 hr 54 | 2 hr 32 | 2 hr 32 |
Here are the images of the charging screen on the devices.
I was not able to charge from 0% (as I wouldn't have had a screen to grab) but it does give a good indication of what the charging capabilities for the PSU's/Chargers are.
It is clear that when I am using the charger on the laptop it is drawing a much higher wattage than when I am using it on the phone. This is the full effect of the IQ technology at work as it will deliver the power that the device needs to get the charge into that device as fast as it is capable. I find that this is a really neat solution.
I am writing this review in a hotel room at the moment and I have been able to bring with me just two plugs, which is a lot less than I would have had to travel with in the past. I recall when I was on a trip only last year and I had to take a four plug extension lead with me to ensure that I would have sufficient charging capability.
The other charger I have brought with me is one that was recommended by a colleague a while ago – the USB Charger 5.4A/27W 4-Port also from Anker. This has also proved to be invaluable and I can see why Garry was impressed with it.
Summary
Overall I have found the new PowerPorts very useful and they are great for travelling with especially when space is at a premium. They are also reasonably inexpensive for what they can do, I would recommend getting either of them but if you want the ultimate in flexibility and weight to power delivery then go with the Atom III 2. I can safely say that this will now be a permanent featured item in my gear bag for travel.
You can get either device from Ankers store on Amazon at the following links.
PowerPort Mini for £28.99
PowerPort Atom III 2 for £44.99
These prices are also incidentally cheaper than the manufacturers own charging solutions and infinitely more usable.
Incidentally, if you want to win one of the awesome chargers then you can alongside a whole load of other kit on Anker's Website now
Anker PowerPort + Atom III 2 and PowerPort III Mini - Review.
Weight - 95%
Ease of use - 93%
Power output range - 97%
Value for money - 93%
A clever bit of kit and one that is highly recommended for the weight conscious traveller.