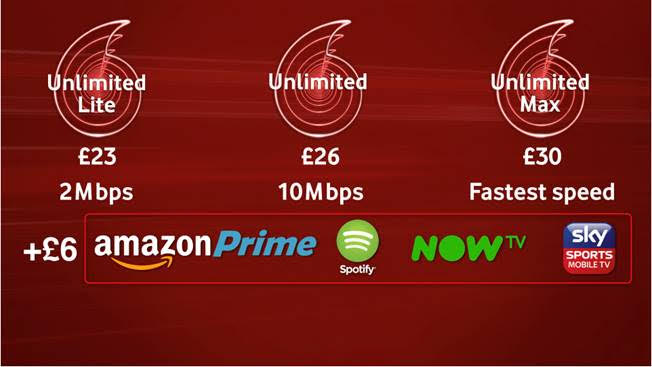 With all these 5G launches happening, it's easy for things to get lost in the fog somewhat. However, what Vodafone announced recently is really rather interesting.
Instead of offering yet more packages with present limits, they've instead announced packages which let you grab as much data as you want. The only catch is the speed you get. This speed restriction is then bundled into one of these packages…
– Vodafone Unlimited Max – Their top-end package. For £30 per month you'll get unlimited data at the fastest possible speed. Great for heavy streaming, Live TV and 4K Sport.
– Vodafone Unlimited – This is £26 per month and tops out at 10 Mbps. Get streaming or playing music and don't worry about the data you're using.
– Vodafone Unlimited Lite – Limited at 2 Mbps it's ideal for those social media fans who might not want super HD video but do like listening to music and browsing lots. This is £23 per month.
Even better is the fact that these prices are the same whether you're 5G or 4G. Sure, it might leave you feeling a little strange being locked into a 2 Mbps connection on your brand new 5G signal, but from £23 per month – if you don't necessarily need the full beans – this might be just the ticket.
You can bolt on entertainment addition, with prices for that starting at just £6 a month. Choose from Spotify, Amazon Prime Video, Sky Sports Mobile or Now TV.
Everything kicks off today and you get free access for three months to Hatch – the world's first cloud-based mobile gaming platform built for the 5G network.
Head to the Vodafone website for more information.