I find myself asking the question sometimes. Why do I spend so much money on expensive flagships? Maybe something a bit cheaper would suffice?

When I try to answer this question there is one company that always springs forward as the optimum candidate. That company, if you haven't guessed already, is Honor. I have used a few Honor phones in the past and my wife is using one at the moment. So, when the new Honor 20 Series was announced I was very intrigued by this particular proposition. The rumour suggested similar camera quality to that of the P30 Series from big brother Huawei.
Now, if you have read my Huawei P30 Pro review you will be aware of how impressed I was with the camera on that phone. This means that the Honor 20 has got a lot to live up.
Can it do it? Well that is what we intend to find out over the course of this review.
Design and Hardware
I would like to kick off by encouraging you to have a look at my unboxing video. This was posted earlier and it will give you a good idea of the device before we tour it body more intricately.
On with the tour of the device
The usual glass and metal slate design has been adopted here, with some very nice curves to the top and the bottom corners. The screen is an all-flat affair – unlike the Pro version of the phone. It also does not have the same AMOLED screen tech that the Pro version has (Ed note. Honor 20 Pro version is also LCD), which is a shame as it does make it hard to see in direct sunlight. However, these compromises do help keep the cost down so I understand the reasoning behind them.
The actual size of the screen is 6.26″ across, with a Full HD+ resolution of 1080 x 2340.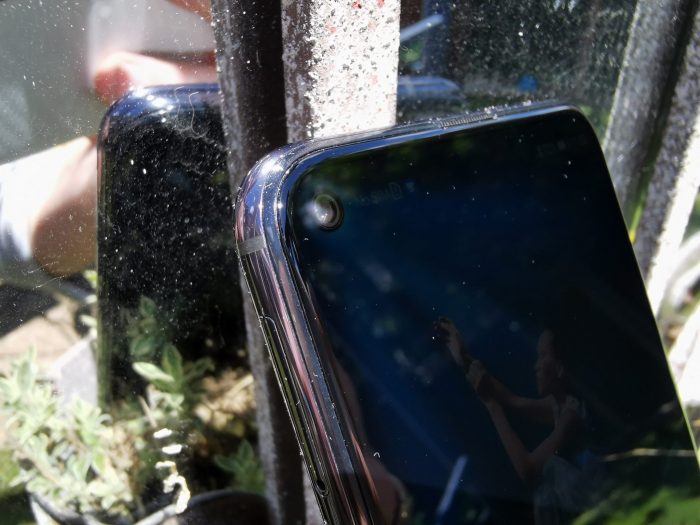 We also have a hole-punch cutout for the forward facing camera instead of the more common notch. This houses a very good 32 MP camera. If it's the same as the one found on the Huawei P30 Pro, then I expect good things.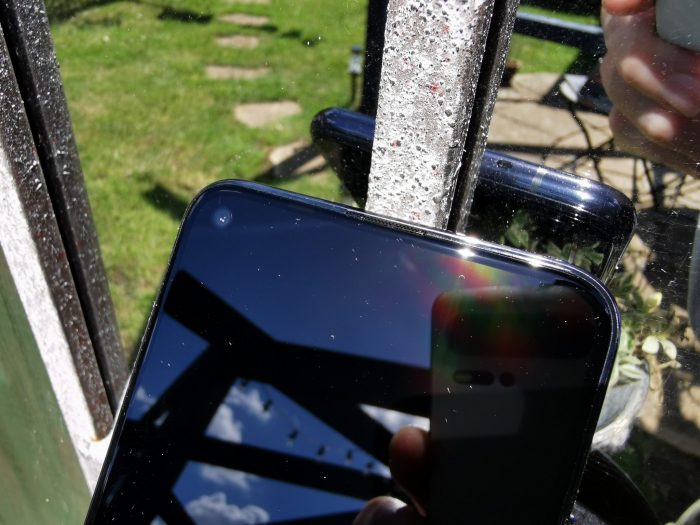 Having the camera off to the side allows the Honor 20 to have a separate earpiece speaker instead of having to use the screen vibration system of the P30 Pro devices. This will please people who sometimes have difficulty hearing, so it is good to see that being used for a phone of this type.
Onto the right-hand side, which is where we will find the volume rocker and the very clever power switch/sleep-wake/fingerprint reader.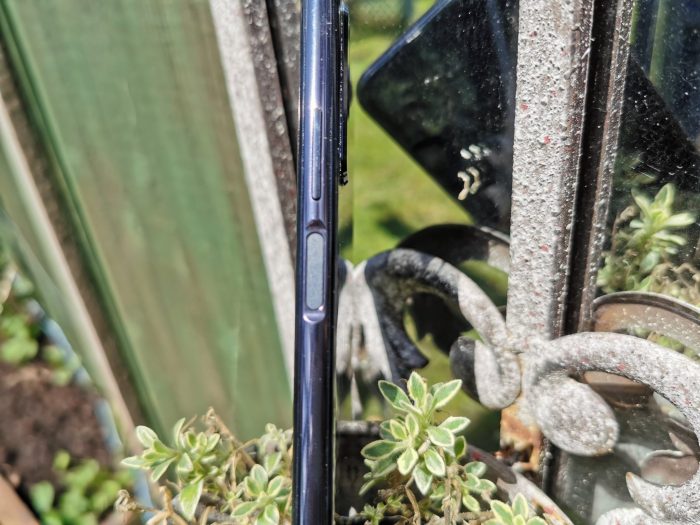 I am really pleased to see this being used here as I did like this style of a button from the Xperia some years ago. The speed with which the fingerprint sensor reacts is up there with the best rear mounted readers we know and love. I have to say that going back to using the oft-underrated side mounted reader has been a joy and I would like to see more companies adopting this standard moving forward. It is cheaper than the under-screen one and has a nice feeling to it.
For what is essentially a mid-tier device this should be a standard thing now.
On the left-hand side, we have got a dual SIM tray and SIM eject pinhole. Basically, nothing else to see here.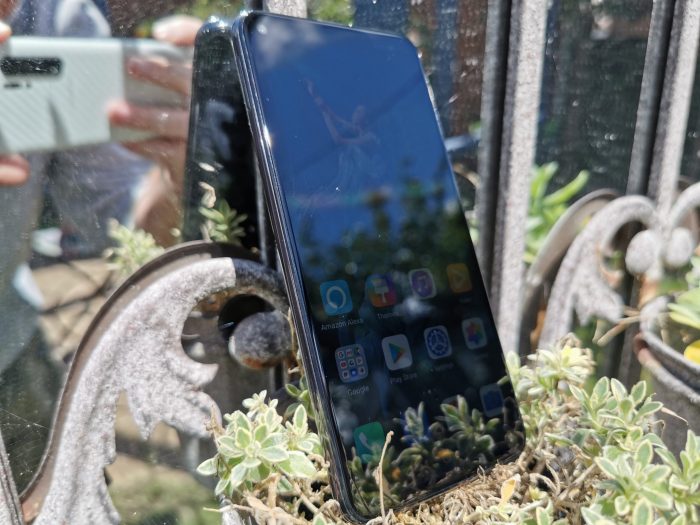 By placing the fingerprint reader on the side of the phone, it allowed designers to open up what could be done with the back of the phone. This is not just a simple glass back here folks, however before we explore that further – let's talk cameras.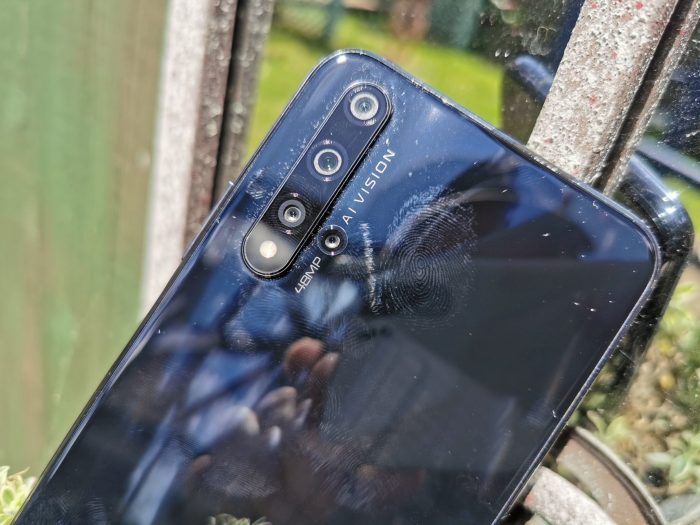 There is plenty to talk about here as we have got a number of cameras to look at. The first one is the primary camera and this is a 48MP sensor from Sony. In fact, this camera uses the same Sony IMX 586 sensor as the Pro, only without optical image stabilization and behind a slightly slower f/1.8 lens. This lens system is now being used by many devices across the board and has been found to largely be reliable.
Next up is a 16-megapixel f/2.2 ultrawide camera, which is the same as the one being used on both Huawei and Honor's more expensive phones, so we know that is a good one. This is in turn supported by the 3rd camera, which is a 2MP depth camera to assist with getting those depths of field shots. Last up is a 2MP Macro lens.
Alongside all of these is a flash for helping to illuminate your indoor and nighttime shots, not that you will need it with the sensors and the Honor AI systems in place.
The last place to look at before we explore that back panel is the bottom of the phone. Here you'll find a USB Type-C port which is capable of Honor's 22.5W SuperCharge standard, meaning you should be able to juice the phones 3750 mAh battery pretty quickly when using the included charger. This where you will also find a downward firing speaker which is loud and clear. This will be tested more over the course of the review.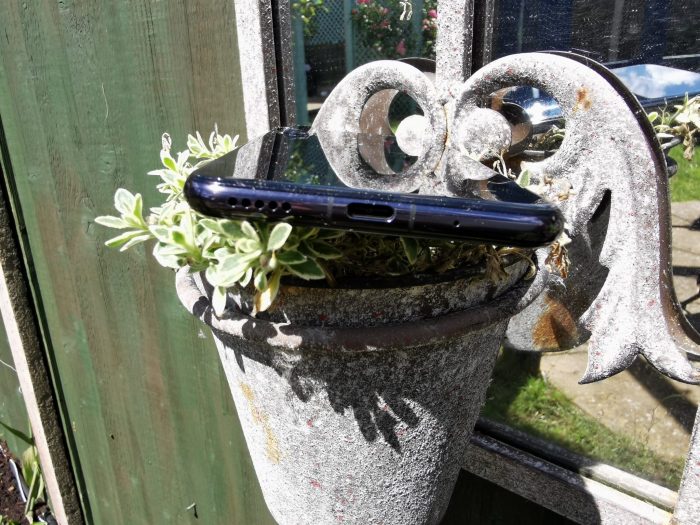 That about finishes up the handset tour.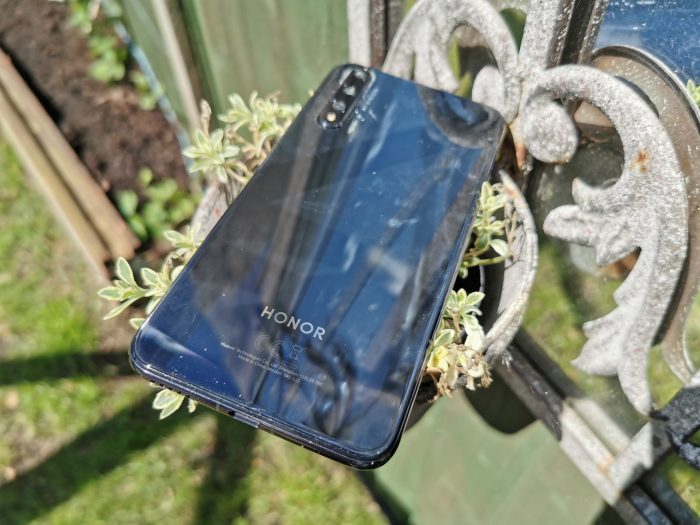 The last thing I want to cover is the rear of the phone. This is a specially crafted glass backed which will reflect the light back in different colours and tones creating a more fluid like look to the phone.
Well, that is the marketing speak bit done.
In reality, it is an absolute fingerprint magnet of a back panel and is about as slippery as butter on a sunny day. Whilst I can appreciate the design and the detail that has gone into making it look the way it does I am most likely to cover it as I have done with my previous 3 phones that all had the same slippery finish. What is good to know is that the back is made of Gorilla Glass so at least it should be durable!
Internally we have got the same all-powerful Kirin 980 processor that is being used in the P30 Series and this is ably supported by 6GB of RAM and 128GB of storage. This doesn't seem to be expandable at all, which is a shame. There is not an option for another variant of this with more memory.
We also have the workings of quite a powerful gaming phone as the phone will allow you to utilise GPU Turbo 3. So what is this magic? Well in a nutshell, the GPU Turbo increases processor performance when demanding games are launched, improving the graphics and reducing latency for slicker gameplay. It works really well and makes for much better gaming experience and will limit interruptions as well. The phone will take full advantage of the Mali-G76 MP10 alongside some of the power from the Kirin 980 Chip to ramp up the frame rates and performance of the device when using certain games that are optimised for the GPU Turbo 3.0 processor. As things currently stand not all games can take advantage of this system but the list is growing on a monthly basis and now includes 25 games including some big titles such as Fortnite, Real racing 3 and PES 2019. If gaming is your thing you will be well served by the Honor 20.
The Kirin 980 also adds a lot of AI computational power to the party and this means that you will rarely notice any sort of lag in the normal day to day running of the phone. That despite it having lower RAM than that of the P30 series. I certainly didn't notice any appreciable power shortage or lag in my time with the phone, and my daily driver is the P30 Pro.
As for the phone's connectivity, you are very well catered for in this department as well. Voice and data calls were absolutely fine with the phone picking up service from my O2 SIM card fine and allowed a fast connection to the network. The phone is only capable of using up to 4G for its data throughput as it does not have the necessary hardware for 5G on board, that will most likely come to the Honor range of devices later this year.
You also have pretty much all the other standard connectivity features one would expect.here is a list of all the connectivity options on board
WLAN Wi-Fi 802.11 a/b/g/n/ac, dual-band, Wi-Fi Direct, hotspot. Bluetooth 5.0, A2DP, aptX HD, LE. GPS with A-GPS, GLONASS, BDS, GALILEO, QZSS. Infrared port.
As for mobile connectivity, as I mentioned above up to 4G is supported on the following bands, 4G LTE TDD: B38/B40/B41(2545-2655MHz), 4G LTE FDD: B1/B2/B3/B4/B5/B7/B8/B18/B19/B20/B26/B28, 3G WCDMA: B1/B2/B4/B5/B6/B8/B19, 2G GSM: B2/B3/B5/B8. What this means is that the phone will be capable of being used in pretty much any country. Roaming with your device will not be a problem, especially as you will be able to use a secondary SIM in the additional SIM slot whilst you are on your summer holidays or business trips abroad.
Here are all the specs of the phone for you to peruse..
Display
Size: 6.26″
Resolution: FHD 2340p x 1080p
Processor
Type: Kirin 980 Octa-Core
Frequency: 2 x Cortex-A76 2.6 GHz+ 2 x Cortex-A76 1.92 GHz + 4 x Cortex-A55 1.8 GHz
Operating System
Android™ 9.0, EMUI 9.0.1
Memory
Internal: 6GB RAM, 128GB ROM
External: micro SD TM card up to 512GB
Camera
Rear: Quad 48MP+16MP Super Wide Angle+2MP Depth Assist+2MP Macro
Front: 32MP
Buttons
Power key, volume up button, volume down button
Battery
Capacity: 3,750mAh (typical value)
Standby: 505 hours
Talk time: up to 1260 minutes*
SIM
slot 1: Nano-SIM card
slot 2: Nano-SIM card or micro SD TM card
Sensors
Gravity sensor
Ambient light sensor
Proximity sensorFingerprint sensor
Compass
Phone status indicator
Connectivity
Wifi: 802.11b/g/n, 2.4GHz
Bluetooth®: BT4.2+BLE
NFC: supported USB connector: Micro USB-C
USB type: USB-C
USB features: OTG, tethering, charging
Weight: 174g (Including the battery)
Network: 4G LTE: Band1//3/5/7/8/20, 3G UMTS: 850/900/1900/2100MHz, GSM/EDGE: 850/900/1800/1900MHz
With regard to hardware that is all she wrote, now time to get onto the software side of things.
Software
Before I delve into the software for the phone too much I want to just tick one big thing off. There has been a lot of mention in the press recently that this phone would be an inherently risky purchase with the current situation between Huawei and the government in the USA. This has caused Google to stop supporting certain Huawei/Honor devices. Well, at the time of writing this article it has been confirmed by Honor that the Honor 20 series will receive updates to the next Android OS in the form of Android Q. Here is the statement from Honor..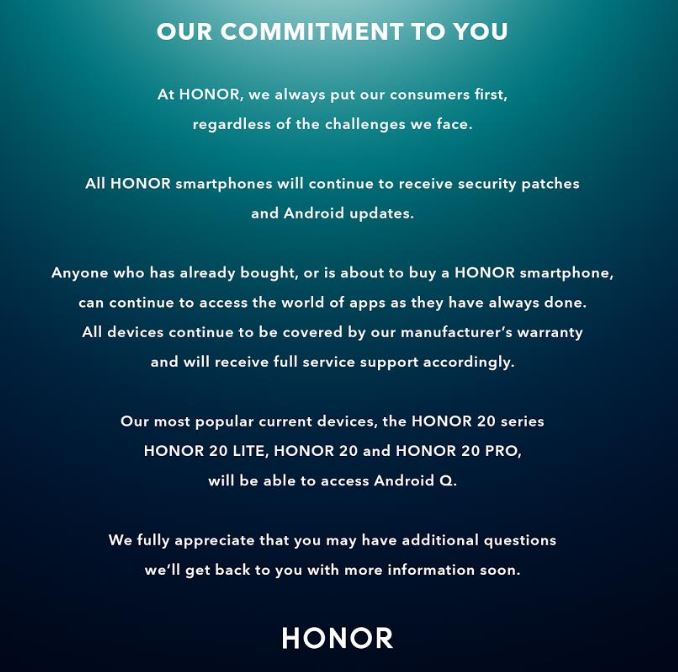 Further to this statement being released the USA Government and the Chinese government have been in talks about this matter as it pertains to trade and more info can be found in this article.  Hopefully, in light of this current development, we will see the support for Android be reinstated but, as the statement above indicates, the phones will be fine in regards to future updates for the time being. at least. We promise to keep you apprised of any future developments as and when we learn more.
Now that we have discussed the rather large elephant in the room we can proceed with the review.
The UI is made up of the Magic UI 2.1 which is Honor's version of EMUI 9.1 and it is essentially the same albeit with some rebranded applications and iconography differences. This is still very much a skin that sits on top of Android N/9.1 As such all the usual features of Android are present and correct.

Unfortunately, there are some elements of the UI Skin that have been put in place that do make this a slightly frustrating experience, such as when pulling down on the upper half of the home screen you will not get the notification bar as you would on a Pixel UI. Instead you get a phone-wide search called HiSearch. This can be annoying, to say the least, but it does have some functionality that some user may appreciate. As you may be able to tell I am not one of those users!

Other areas where the differences are most notable are the share menu which adopts and iOS esque appearance. Again it is functional but I would prefer the stock Android experience if I had the choice.
Truth be told though, once you get past these relatively minor annoyances, the UI is smooth and useble. Actually I have grown quite used to its eccentricities and I am happy working in the UI space.
What does come as part of the UI though is the extremely active battery management. This is quite common with Huawei/Honor devices. I use a smartwatch with my phone with Android Wear and the app for this is continually being indicated as a power-intensive app by the battery management software. What is happening is that the phone is telling me that Wear OS app is using excessive power for syncing to my watch. Now, in order for my watch to work correctly, this ongoing syncing does need to happen, this is something I am happy with and I would prefer not be continually reminded about it. Yes, you can "hide" the notification but my point still stands. I have made the decision to use this app and I don't feel that I need to be constantly reminded about the negative effect that it will have on my battery, so why do it?
Truth be told I am making mountains out of molehills here but I need to do this in order to find fault with the software as for the most part, it is very good and helpful. Android has got to a point where bad software is not really an issue anymore and it is very difficult to pull it apart. Yes, there will always be little teething problems as is the case with all software but we can and I have learned to live with these things.
Another big area where software plays its part is within the camera which is an aspect that Honor has been very vocal about so let's have a look at what they can do.
Camera
So the camera on the Honor 20 has received a lot of hype and for the most part, this is truly deserved. It is not just a given that you get a DXO score in the low 100s without being a bit special (at the time of writing the Honor 20 has not been officially tested but the Honor 20 Pro scores 111 on the test). I have been using the camera for a few days and I have been very impressed with the results. Coming from a P30 Pro, I had a good idea of what the phone was going to be capable of as a lot of the hardware and software is, in fact, the same. The Quad Camera setup is slightly toned down from the P30 Pro as would be the case for any phone of this price range. That being said if you don't need the awesome 5x optical zoom then the Honor 20 will tick most of your boxes. Here are some examples of the quality of photos from the rea camera.
The above pictures were taken on a fairly overcast day during the last week and used the full auto mode with AI turned on. You can see at the various zoom levels that there is very little detail being lost as you zoom in. Now it is indeed capable of zooming in further than the 3x Zoom which is a hybrid Zoom however when you do you start to lose definition and quality.
Here are some sunnier shots..
The landscape shots are very well catered for, as you would expect of this level of camera. There is a tiny bit of colour shift that can be seen when you changing from the Wide Angle lens to the standard lens but this is only really detectable once you look at them side by side, as can be seen above with the colour of the sand above.
How about close-ups? Another area where I expect I high performance..
I am pleased to say that once again I am not disappointed. In fact, I would go as far as saying that I am impressed with these shots as the fine detail is captured very well , even down to the tiny storm flies on the yellow leaves. These shots are very reminiscent of some of the pictures that I have captured on my P30 Pro. One thing I did notice was the camera did not automatically switch to using Super Macro Mode. This is something that I have noticed that the P30 Pro does automatically. It is not an issue as I can manually switch to that mode should it be required. It was just something I noticed.
As for the front-facing camera well it is very good as can be seen in the obligatory selfie below

I did also have a play with using the aperture setting which, as with all Huawei/Honor phones from the past few years, allows adjustment after the fact.

Although this is not necessarily the best "bokeh" shot, it gives you an idea of what to expect.
Last up is video recording and the phone can indeed record at 720p, 1080p and 4k. All of which are very much appreciated. It does not share the option to record in a Dual screen mode as this requires a little more "oomph" from the camera's AI to accomplish. Here are a few clips below. The video of the boats is a 1080p clip and the later is 4k
I really like the fact that in both clips you can see the subtleties in the movement of the sailcloth or the leaves in great detail. I don't tend to do much in the way of videos outwith my regular unboxing pieces for Coolsmartphone but this may encourage me to do more in the future.
Overall I am very impressed with what the phone is able to offer in the camera area and I think that most people looking for a point and shoot camera will be as well. If however, you are looking for extra zoom capabilities then you may wish to check out the Honor 20 Pro or indeed the phone I use – the P30 Pro – as they both offer better zoom capabilities albeit with the same primary lens setup.
Summary
So here we have a very capable and nice phone that comes into the market with a very competitive price of £399. It will do pretty much anything that its more expensive stablemates will do, bar some of what I am going to refer to as the more "premium features". These being things like Periscope Zoom, reverse wireless charging, wireless charging, under screen fingerprint technology and AMOLED screen tech.
If you absolutely must have these "extras" then you will need to look elsewhere. if you are happy to live without these things and I have a feeling that most people will be (with the possible exception of the AMOLED screen), then the Honor 20 will make for a great phone. If you demand these "extras" then you will need to look elsewhere.
It is very much a case of getting what you pay for with the Honor 20 and that is a very good thing in this scenario. For me, I have grown accustomed to the flagship life and I will most likely continue down that road, however, I am open to the change that phones like the Honor 20 make possible. I would certainly consider it, perhaps in the guise of the Honor 20 Pro, as it does offer a little bit extra in terms of the camera and style. Hopefully, we will be able to put one through its paces soon.
Honor used to have this area of the market pretty much to themselves however the playing field has become a lot more populated recently with some other big players such as Xioami, OnePlus and Asus all wanting a piece of the pitch. Even Google has now realised that this mid-tier is an important area for them so it will be interesting to see who comes out on top. I am confident that Honor will be either at the top or very near with the Honor 20. Only time will tell on that one and I for one am excited at the prospect of the ensuing battle of the midtier device that will no doubt continue to run for the rest of the year if not longer.
Thanks for reading this and I hope you take the time to check out some of our other reviews while you are here.
Want one? Head to the Honor website.
Honor 20 - Review
A very good phone for the price, just make sure you get a case as it is a slippery little bugger! Will serve the mid-tier cost focused buyer admirably.