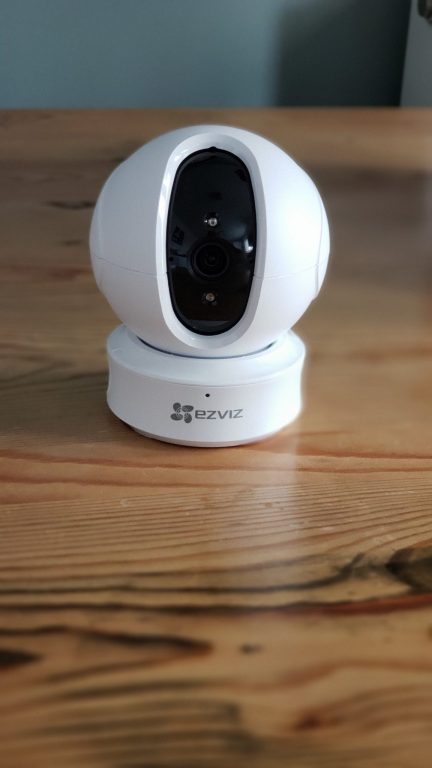 Have a look at most UK homes and there is normally an alarm box situated at the front with the blinking LED. Let's be honest though, how many of us actually go and investigate if the alarm starts blaring? Truth be told, not many.
"Well my alarm sends me a message when it activates", some may say. Great. You know your alarm is going off, but why ?
False alarm ?
Unsavoury characters stealing your prized possessions ?
You'll just have to wait until you're home or someone can check on your behalf, all of which takes time.
Well this is where a smart home security camera comes in. It has the ability to send your phone a push notification. Then you can check the live feed from your home instantly and either dismiss the notification or call the police to say, "Errm… someone is in my house". You'll have the evidence right there, ready available.
I've been sent through the latest home wireless security camera from Ezviz for review.
Good Points:
Easy to set up.
Both local (microSD card) and cloud storage for your footage.
Full 1080p HD recordings.
Night vision
Motion tracking
Ability to pan and tilt to allow a much-increased area of coverage.
Motion detection notification to phone.
Privacy Mode.
Bad Points:
Cloud Storage a little expensive.
Movement can be a bit noisy.
Micro USB charging port rather than USB Type C
Features:
Smart Motion Tracking.
Pan & Tilt.
Privacy Mode.
Night Vision up to 33ft/10m.
2 way talk 16 ft/5m mic pick up.
Link to alarm sensors.
SD card support up to 128GB.
340 degrees of horizontal rotation.
105 degrees upward and 15 degrees downward vertical rotation.
Design:
In the box comes the camera, a nice and long micro USB charging lead, charging plug, mounting plate, screws and raw plugs and instructions.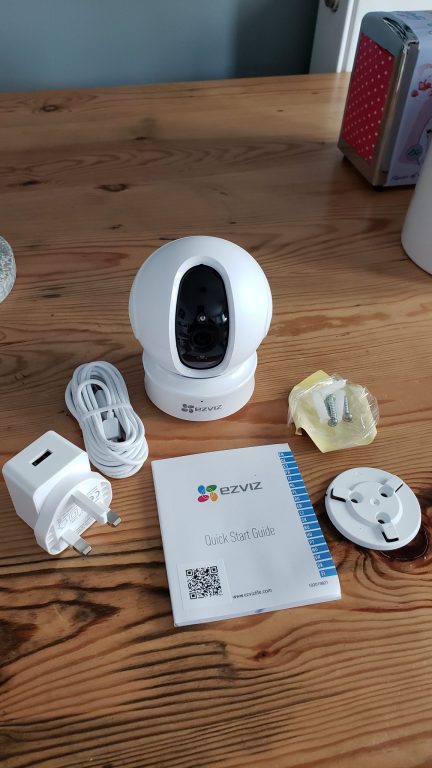 Size-wise, the Ezviz C6T is 113 mm high, with a diameter of 87mm and weighs just 220g. Unlike traditional pan and tilt cameras, this one is a nice and compact affair, not much larger than a good-sized orange. This camera does look more like a security camera, unlike the Ezviz C6T camera I looked at last year – that looked more like an air freshener.
The Ezviz CTQ6C offers Full HD 1080P recording at 15FPS and 720P recording at 30FPS. It has a lens that is 4mm at F2.2, featuring a horizontal view angle of 72° and a diagonal viewing angle of 92°. The camera can tilt upwards by 105° but downwards by only 15°, with a panning angle up to 340°. It includes a built-in speaker and microphone for two-way communication, and the night vision has a range up to 10 metres via the infrared LEDs.
If you're worried about being "spied on whilst at home" the CTQ6C offers a one-touch privacy option and once activated the camera lens rotates completely out of view and no footage produced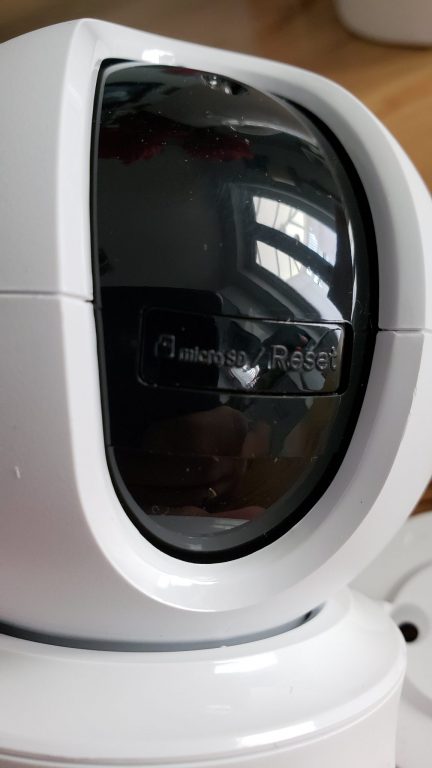 Round the back of the device is a micro USB charging port, which is an improvement on the previous camera from Ezviz, ( that one came with a proprietary charging port) but it would have been nice to see a USB Type-C charging port, also there's an ethernet port if you want to use a wired connection to the internet.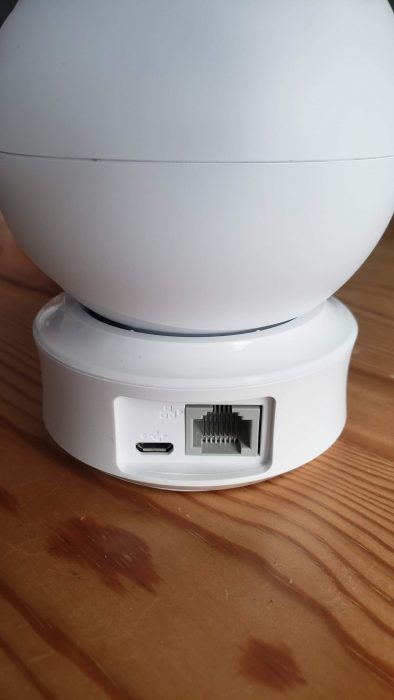 In Use:
Set up of the CTQ6C is a really simple affair; install the Ezviz app (iOS or Android), create a user account, turn on the camera, register the camera using the barcode stickers on the base of the camera, and then connect it to your home WiFi… and that's it – you're all set up. I just wished my outdoor home security cameras were as easy to set up. The app can be secured to use fingerprint login in order to restrict to stop any unwanted access.
Unlike a traditional fixed IP camera, the CTQ6C can pan and tilt, so there are no motion detection zones to set up within the app. The camera will pan and tilt to track any movement, which would render setting up any motion zones pointless. The app allows for a good level of customisation, such as setting up a notification schedule, motion detection sensitivity and notification sound levels.
Storage of footage is of two flavours: local storage via a cicroSD card, and a separate cloud-based service. A nice surprise coming from Ezviz is 30 days of free trial of the cloud storage when you first install the CTQ6C. This is unlike the usual 7 day trial offered by other suppliers, but to continue to have the cloud option enabled, you either need to pay £4.99 per month, per camera. For this you get 7 days of storage, or £9.99 per month, per camera for 30 days storage. Videos can be downloaded to your phone at any time but a subscription will be needed for recording. It's a tad pricey, given that if you choose the £9.99 option you will have paid more than the camera itself in just 9 months. But with such a low RRP, it's no surprise Ezviz is looking at alternative sources of revenue.
One of the most important features in any sort of connected home security setup is a decent notification system: with the Ezviz CTQ6C, you will receive an alert on your phone within a couple of seconds after motion has been detected. The video is available to view just a few seconds later, which does mean you can very quickly check if the intrusion is cause for concern or just the cat wandering around.
I found that the motion tracking was particularly good, and the camera will instantly pick you up and track your movements as you walk across the room. Be aware that anything more than a walk means that the panning motor is a little slow to keep up, and was a little noisy in operation.
The CTQ6C provides impressive 1080p recordings in both daylight and night vision, with a good switch between the two. In good light conditions or with night vision, the recorded image quality is excellent and is more than capable enough to identify faces at a distance, or any other detail that might be relevant.
One good feature is the ability to record footage straight from the app and then upload it to YouTube. Below this are a couple of examples of both day and night vision (allowing for YouTube compression) I just placed the camera on the side in the conservatory.
Conclusion:
The CTQ6C is a superb home security camera packed with features and options, and it is at an excellent price point currently available from Amazon for just £44.99. The camera is easy to set up and use, with the only limitation I could find was the speed of which the camera was able to pan in some situations. But if you after a connected camera that gives more than a limited view, the Ezviz CTQ6C is well worth a look.
Ezviz C6C Security Camera Review
Features - 90%
Price - 95%
Build Quality - 85%
Recording Quality - 95%
Notifications - 95%
Easy Of Use - 90%