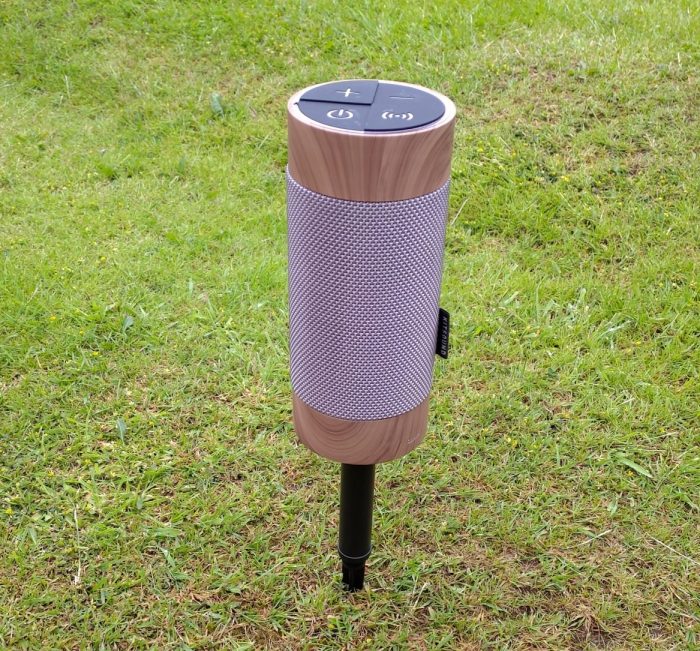 Given the delightful summer we're having this year, testing this one has been somewhat tricky. It doubles as a garden / outdoor speaker and has a detachable stake which lets you plonk it into the ground. It's ideal for the beach, a garden party, a barbeque or on a camping trip. Plus, to add to the fun, you can actually connect more Diggit XL speakers to this one and create a full-on outdoor party with more than 100 Diggit XL speakers operating together for a wider sound coverage.
The video!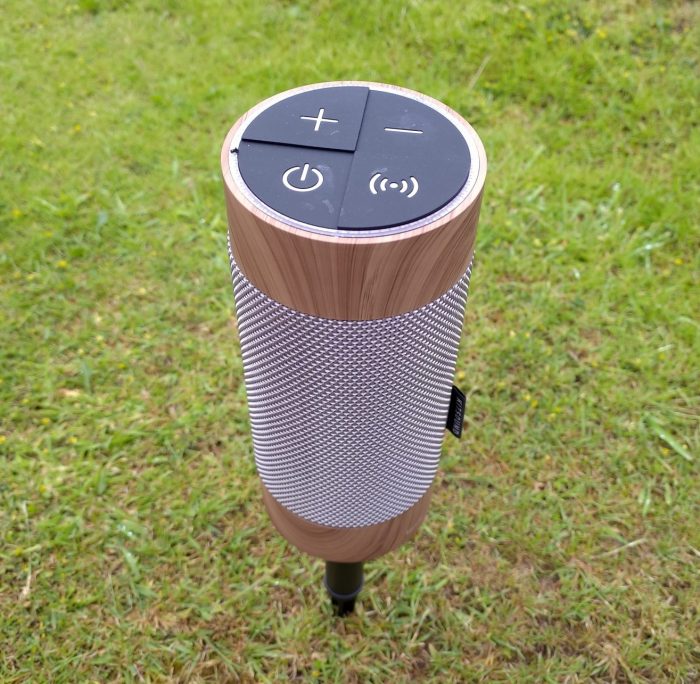 We've only got the one on review though, so we'll just use that.
Just on that point.. imagine that you do have 100 of these connected together in your (huge) garden. That's going to be a charging nightmare, surely?! 🙂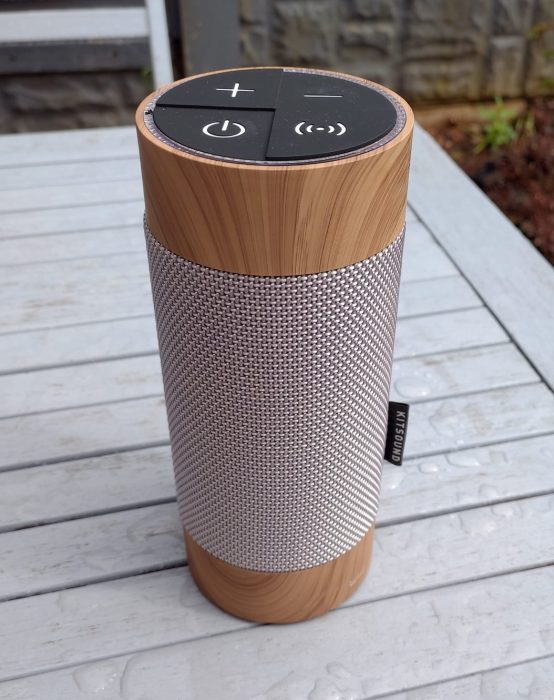 First impressions are very good, and I'm now getting familiar with the KitSound build quality. It's a tube-shaped device weighing in at 614 grams. It's also IP 66 waterproof, which means that it'll be fine in a dusty environment and also with water jets being blasted at it. It'll be fine in the rain, but not fine if you chuck it in a pool.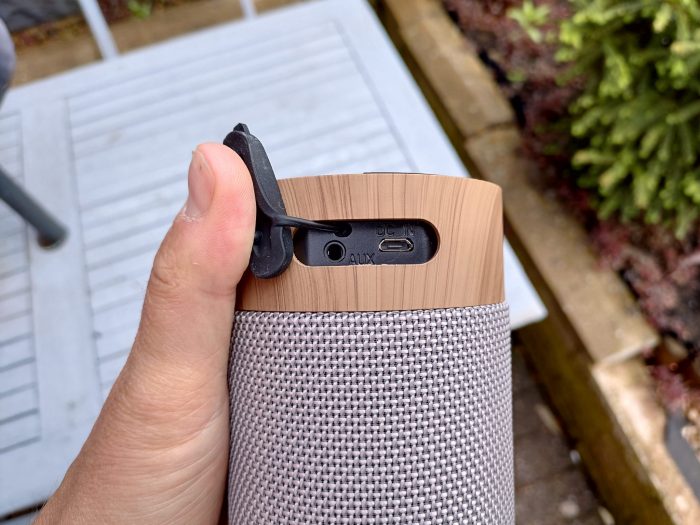 The top and bottom have a wooden finish which isn't actually wood at all. It's more of a soft-touch rubber. The upper section has, behind a waterproof flap, the microUSB charge point and a 3.5mm audio input.
Up top, four solid rubber buttons with heavy, clear identifying symbols. They're also easy to locate if you have an evening barbeque thanks to LED back-lighting, which also goes around the top and bottom edging, meaning that they're easy to find in your garden at night.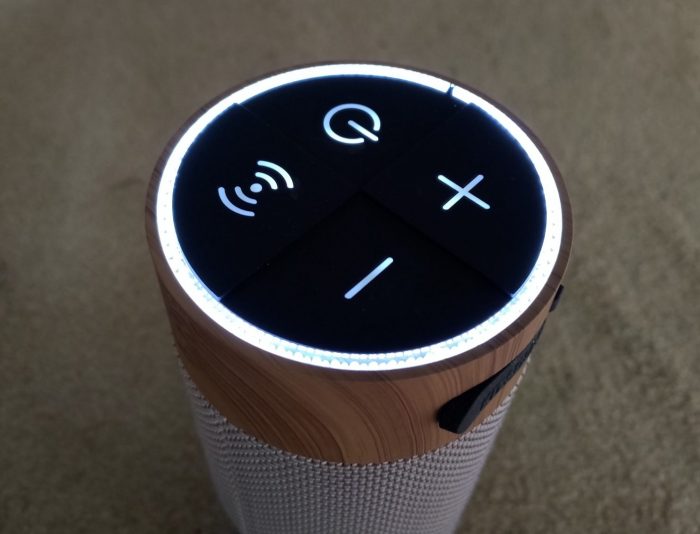 The silver meshing is a nice touch and the sound comes out from all angles, so you don't need to be overly concerned with which way the speaker is pointing.
Charging, via the microUSB port, takes around 4 hours. Then you're good for a full 24 hours of music depending on how loud you have the speaker. You can stick it into the ground via the removable stake, but you need to ensure that the stake is placed in the ground first before plonking the speaker itself on top. Push the speaker down onto the stake can cause issues.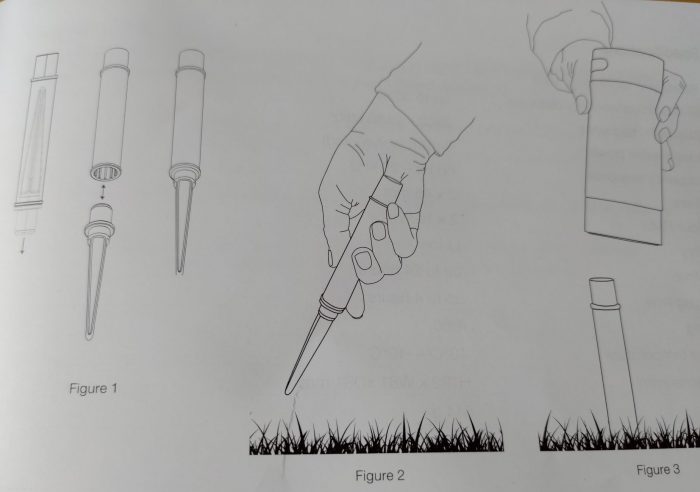 Pairing is simply a matter of long-pressing the "multi function button" (MFB) – which is basically the power button. The LED indicator will flash white slowly and then you can pair it with your phone and fire music at it from up to 30 metres away. Other devices can be paired by double-tapping that button and you can also use the "multi-pair" button (which looks a bit like a WiFi symbol) to add additional speakers.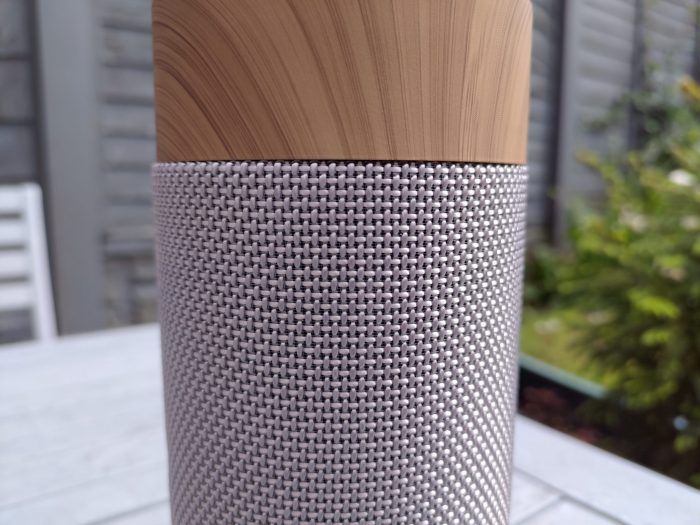 The volume buttons, when "long-pressed", act as a track changer control, skipping forward or backward. You can also play and pause with that multi-function button.
Sound quality, well, it's definitely got enough "oomph" to play in your garden, but there's a lack of really deep bass and it gives a more "middle range" sound. This is despite the fact that there's dual passive radiators.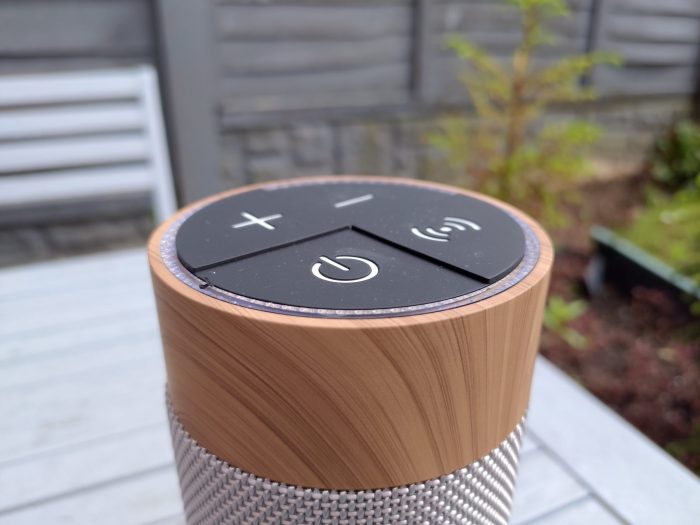 The speaker also has 2 x 45 mm drivers and all of this means that you get quite a encompassing and surround-sound, rather than a meaty hard-hitting bass-filled one.
Overall
Available for £79.99 from the KitSound website, or from Amazon, I've no doubt that it's louder than the existing Diggit, but it is double the price. When I tried it in the garden I found that the one speaker was very loud and could easily fill the space with a powerful sound. The battery life was fantastic and the look of it is certainly very appealing. It's well designed and, despite the lack of really hefty bass, has a good all-round sound quality with simple controls, real-weather protection and great build quality.
KitSound Diggit XL Speaker Review
Battery life - 95%
Sound quality - 81%
Sound volume - 93%
Build quality - 94%
Value for money - 76%
Fantastic weather protection, build quality, battery life and implementation. An encompassing but not overly bass-heavy sound for your outdoor parties.