Here at Coolsmartphone Towers, we do still like our wearables. It has been a rocky road for them though since their inception a few years back. They were expensive, and people didn't really know what they were for. I have used a few different ones over the years from various manufacturers and using various OS's. I felt that it was time to take another look at what Google is offering and Ticwatch had some appealing devices in their line up.
Introduction
In this review, we are going to have a look at their latest device, the Ticwatch S2 and which is promising to be a smartwatch for the outdoor enthusiast.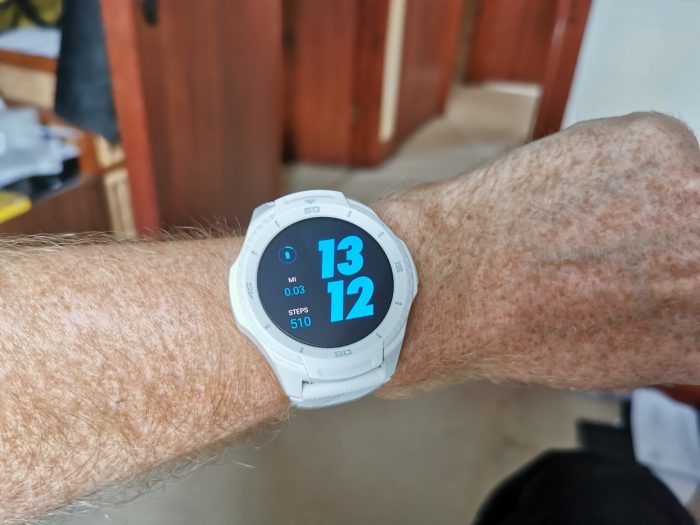 Let's see if it can fulfil its goal.
First, here is a reminder of the unboxing video
Design
First things first this watch is big but big in a confidence-inspiring way. I mean if you are used to using watches along the lines of the Casio G-Shock line up then you will not find this to be much larger but if you are more inclined to go with a slimline fashion focused watch then you will find that this is a bit chunky.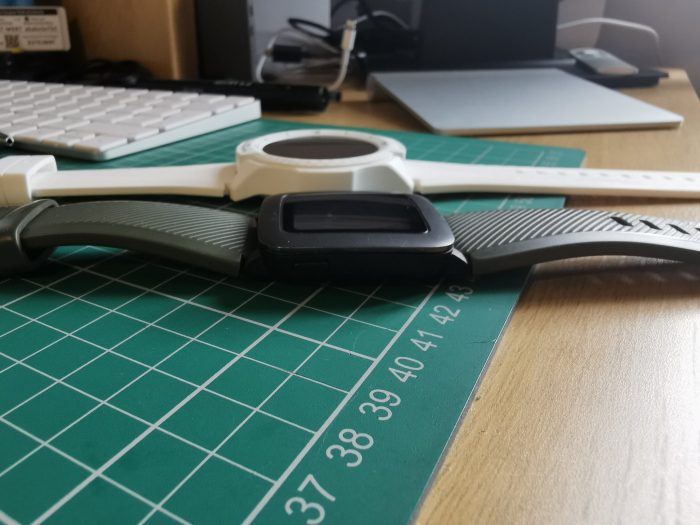 I personally don't mind the size as it hits the sweet spot for me and it also makes it feel solid. I love the Glacier White finish to the watch however it is very easy to mark it if you accidentally rub it up on something a bit harder than the polycarbonate body.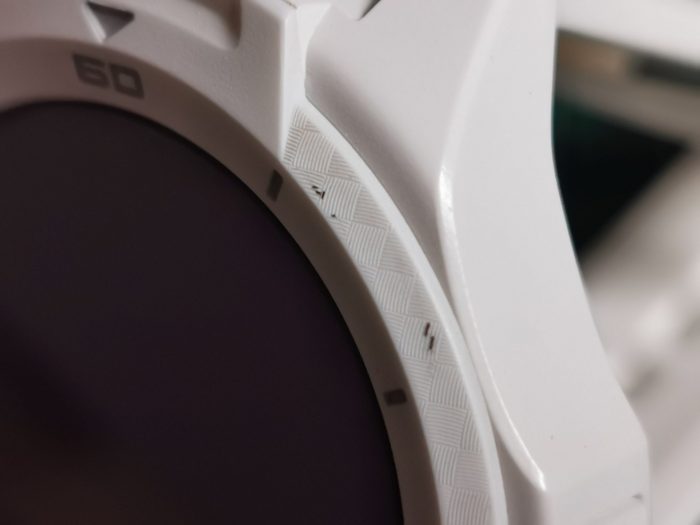 I have got one or two small minor blemishes on the bezel which I cannot get rid of. If this worries you then the watch is also available in a more subtle black. I have never worn a watch that is quite so out there in terms of colour and I found it a bit weird at first but have not got used to it.
In terms of functionality, the bezel is there as a decorative feature and it does not move like the ones on the Galaxy S3 Active which is a shame but it is also one less thing to worry about damaging.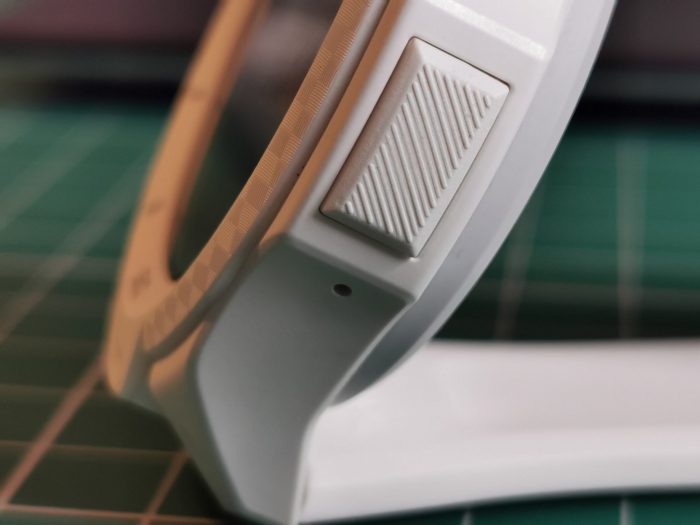 The right-hand side of the watch presents a single button which is used for power alongside triggering launching the app menu, more on that later though.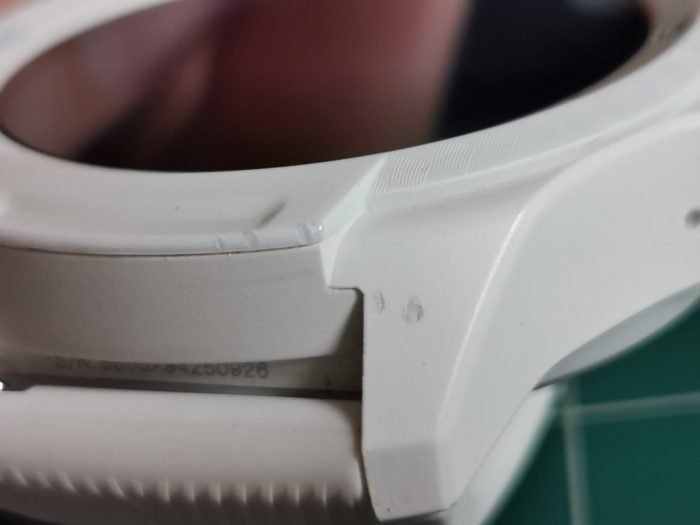 The lugs for the straps are solid and chunky like the rest of the watch and extend quite low to allow for it fit even the skinniest of wrists (my wrist is tiny at 7.5″ diameter!) This means that the strap is on one of the smaller holes as can be seen below.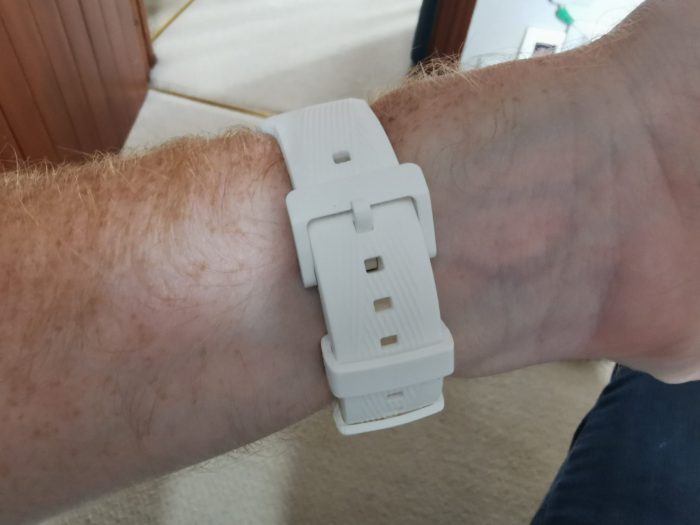 If you are someone with a larger wrist then you will still have plenty of scope for a good fit however bear in mind that only one strap length is included in the box. The good news is that the watch uses a standard 22mm strap as you can see by the pictures of it with some other straps below.
Just underneath the button on the watch is where we can find the microphone.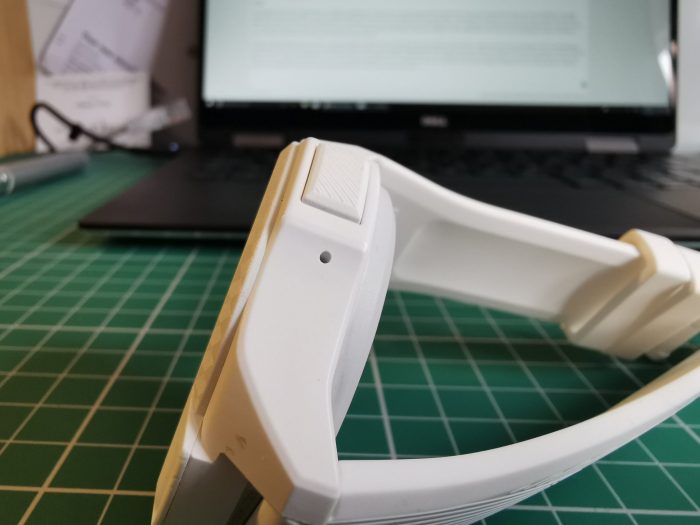 This allows you to use the voice functionality of Wear OS when it is applicable. However, due to the water ingress protection of the watch, which incidentally is 5ATM or 50m, the watch has no speaker output at all. This means that you will not get any audio feedback for the Google Assistant feature which comes on the watch. It is not something that has bothered me in particular as I don't use this functionality very much yet, it may change over time though depending on how easy it is and also how quick.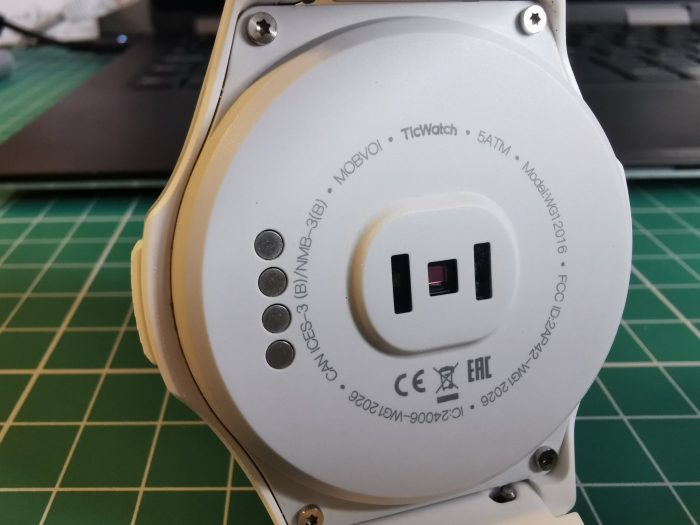 Around the back, we have all the usual manufacturing info and CE approval logos in a ring around the central element which is the optical sensor used for heart rate monitoring. This is lightly raised up to get better contact with the skins which is essential for accurate measurements. I have found that the heart rate reasonable accurate say to within a 10% margin for error. Next to this sensor and laid out vertically on the side, this will connect to the pogo pins on the charging pad to allow the watch the get some much-needed juice. It is all handily held in place by a magnet. This, in turn, makes for easy positioning at night when you don't want to wake your partner.
Onto the straps, there is a little nice feature on one of the loops that hold the strap tail in place. Underneath the strap, we find a little nubbin that will fit in one of the holes, genius. That about covers everything that I can think of with regard to the design details of the watch.
Here are the full specs of the watch
| | |
| --- | --- |
| Model | TicWatch S2 |
| Dimensions (mm) | 46.6 * 51.8 *12.9 |
| Colours | Black, White |
| Watch case | Polycarbonate |
| Watch strap | Silicon (interchangeable), 22mm |
| Operating system | Wear OS by Google |
| Phone compatibility | Android, iPhone |
| Platform | Qualcomm® Snapdragon Wear™ 2100 |
| Display | 1.39″ AMOLED (400 x 400 px) |
| Connectivity | Bluetooth v4.1, WiFi 802.11 b/g/n |
| Built-in GPS | GPS + GLONASS + Beidou + Galileo |
| Sensors | Accelerometer, Gyroscope, Heart-rate sensor, low latency off body sensor |
| NFC payments | No |
| Battery capacity | 415mAh |
| US Military Standard (MilSpec) | US Military Standard-810G: Withstands -30℃ to 70℃ temperature shock, operational between -20℃ to 55℃, 57 kpa pressure, 44℃ solar radiation, 95% humidity, salt fog, sand and dust, shock |
| Waterproof rating | 5 ATM (swim and surf ready) |
Next up is the interaction methods. which will require a video demo!
Interaction (gestures)
I have prepared a small video below to demonstrate the gestures on the watch UI. Now, this being a Wear OS device most of this is actually applicable for any Wear OS device so if you have another type of watch it may also be worth a look.
Fitness
This is by far and above one of the least important things for me in a smartwatch, as I don't really do much in the way of proactive fitness however for thoroughness I thought it best to make an effort. There is a large tie in with Google Fit on your phone which is available on both Android and iOS devices at the time of writing. I have prefered to use the standard Google Fit options for this testing as I have got tracking history within Google Fit from my previous watch (Pebble Time).
So there are three sections of the Google Fit suite, Fit, Fit Breathe and Fit Workout.
The standard Fit App will give you two metrics on which your activity is measured by default. Both of these things are measured automatically. The first is Heart Points, which are measured by calculating the number of steps and intensity of the activity. The more intense the activity the more heart points you get. The second metric is Move points, these are accounted for by the amount of movement detected by the watch and again factor in the intensity of the movement. This metric will take into account your actual exercise type as well so if you are actively partaking in exercise then you will get a higher score. The goal is to try and get to your predetermined target each day by default these are set to the World Health Organisations recommended settings who Google have tied the app into.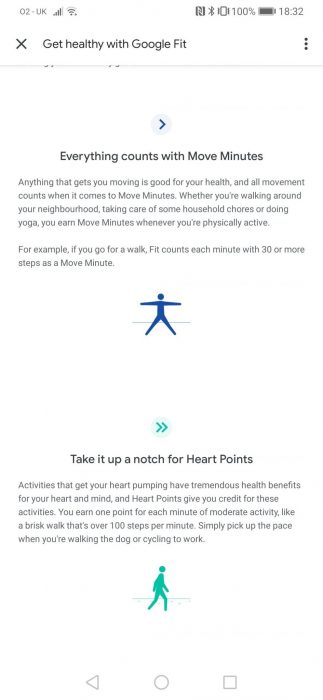 You can, of course, adjust these if you wish to do. You can also choose a watch face that displays these metrics so you can monitor them throughout the day. Another thing that can be done from within this app is the initiation of Heart rate Monitoring manually.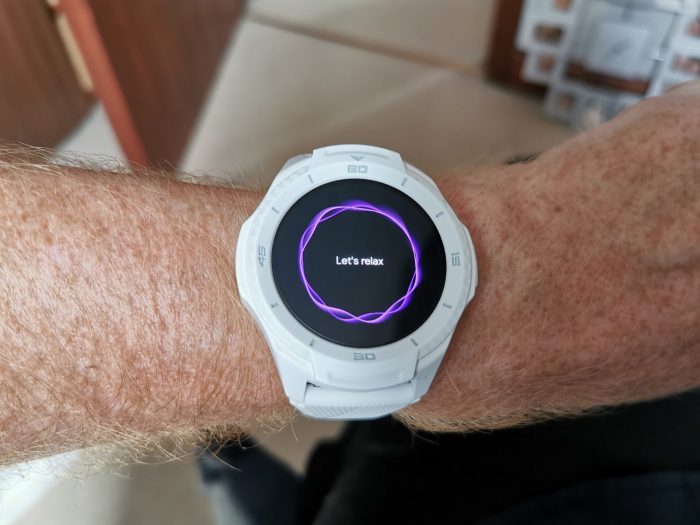 Fit Breathe is a bit easier to explain as it just gives you the option to some breathing exercises and can be used to help de-stress and also as part of a warm down process. the app will guide you through suggested patterns of inhaling and exhaling, whilst monitoring your heart rate to see if it is taking the appropriate action and calming down your heart rate after exercise or when stressed out. This is one I have found useful to do before I go to sleep at night as it helps me wind down from the day!
Fit Workout is a little bit more involved in that it will give you various options for exercise. These exercises can be intense or moderate depending on what you want to achieve and if I am honest I should be using it a lot more than I am! So there are two main categories, Strength training and Challenges. these are pretty much what they say on the tin. The challenges will give you a challenge depending on your level which you can do daily to help build up your core such as press-ups, sit-ups and squats. A really nice feature is that the challenges have little videos built into the relevant option to guide you through the appropriate exercise. Strength training, on the other hand, will give you a rep counter for whatever exercise you are doing at the time. There are also a wide varietyof other exercises which I have shown a sample of in the pictures below.
As I mentioned this is only half of what is on offer from the TicWatch as Mobvoi has created their own version of the above apps which will offer very similar modes. it also includes both indoor and outdoor running, walking, cycling and for this watch the swimming option. It also includes a freestyle weights option which will again count the number of reps that you do. In the swimming mode, you can set the pool size, target distance, target time, target trips (laps) and target calories. This activity is also widely referred to as SWOLF or Swim Golf for some bizarre reason. it is something that is becoming more and more relevant as smart watches become water resistance so it is good to see this on board. You will also find that there is a shortcut for Pool Swim on the main menu of the apps which makes it easier to use. TicExercise as the app that contains all of these options is called also has an auto-detect feature so it will try and identify the sports that you are doing from the way that the watch is moving. This is something that I have used before on a Gear S3 Active from Samsung with little success but it is handy to have.
I have not used the TicHealth options as I am happy with Google Fit offering but it is good to have alternate options if you want them
I have also taken some screenshots of the phone Google Fit app to show you what all the information looks like once it has been fed back to the phone.
All of the exercise modes will work without the watch being in the range of the phone which is very useful for when you are going on a run or going for swim etc and don't want to have your phone nearby or on your person. The demo videos will even work when you are not connected to your phone which is a nice touch.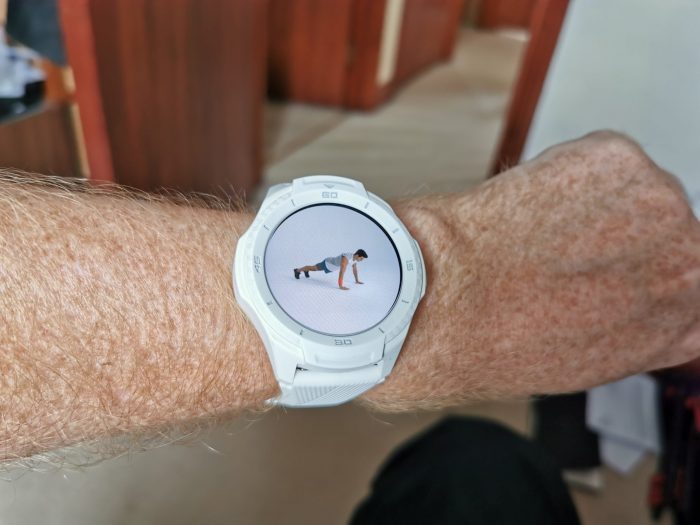 Software
Along with the watch's exercise functions all the other thing that you would expect from a smartwatch are present and correct on here such as Agenda, Alarm, Contacts, find my phone, Maps, media Controls (which trigger automatically when any media is being played back), Reminders, Stopwatch, Timer, Torch, Translate and Weather.. Now some of these will require the connection to your phone to function correctly as they will require a data connection. Some of them will work without this connection as long as you have a Wifi connection as the watch will also work on 2.4ghz Wifi as mentioned above in the specs.
The last big thing that we need to cover off is notifications and how they work with the phone. So if you get an email or a message on What's App (other IM clients are of course available), it would be helpful to be able to see them on the watch. Well, the good news is that thanks to the large resolution screen this is now possible. You can actually control what content is delivered through to your phone via the Wear OS app and I would recommend that you do this and limit what is coming through to the watch if you are at all concerned with preserving battery life. I have been running the watch with the following on.
With the watch set up like this and using a watch face that has not got a lot going on, I have been able to get through 1 and 3/4 days before having to recharge the watch.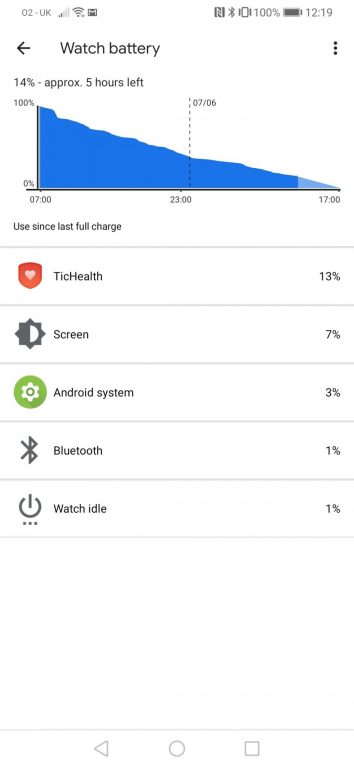 Now I am sure that if I wanted to I could stretch a bit more battery out of the watch if I were to say turn off some of the notifications and use a static watch face, maybe turning down the brightness or a few other things. I don't, however, want to have to do that with my watch as I want it to be useful and if I turn all these things off then I may as well have just bought a standard Casio G-Shock or similar. I want to be able to use the smart aspects of the phone so I have to make do with recharging the battery daily. This is not a major issue, to be honest as one of the things that I have used on previous devices that's missing here is sleep tracking. This would mean I would have to wear the watch overnight in order to get this data but as it is not a feature then I don't need to to worry about it. I just simply place the watch on the magnetic dock and then in the morning it is all ready to go for another day.
Don't get me wrong these two things are areas where I would consider the watch to be showing its weakness compared to say my Pebble Time. Now may be as good a time as ever to look at the other weaknesses I have come across.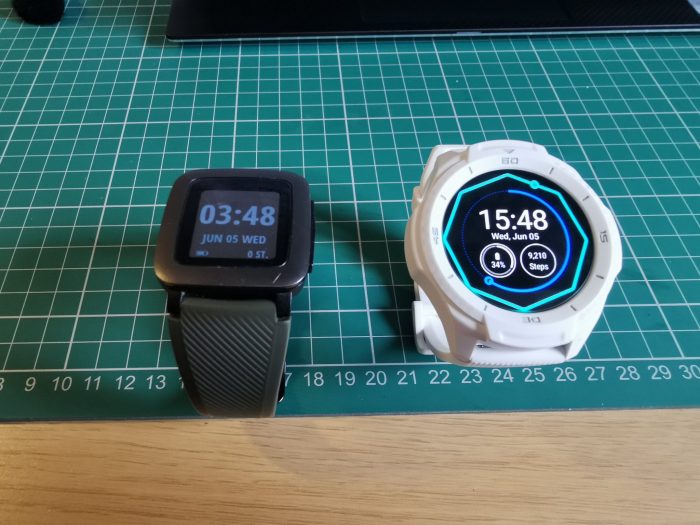 To be honest there are not that many. I do feel that the screen could be little brighter as when I was using the watch in the recent spell of sunshine I found it near impossible to see the screen unless I had the brightness maxed out. I have also found that at times the watch can feel that it is sluggish particularly when you are trying to connect to wifi for Play store downloads. I much preferred the older method of downloading the apps onto the phone then sideloading over to the watch. Incidentally, this is still the method used by Samsung on there watch and fitness line ups.
I have also found it is a shame that it does not have a speaker as getting the feedback from the Google Assistant would be hand in certain scenarios such as using to assist in translations
Apart from those relatively minor shortcomings, I found the watch to be very useful. It is comfortable to wear despite its size, I like that I don't have to worry about treating it with kids gloves and that it can be worn whilst swimming.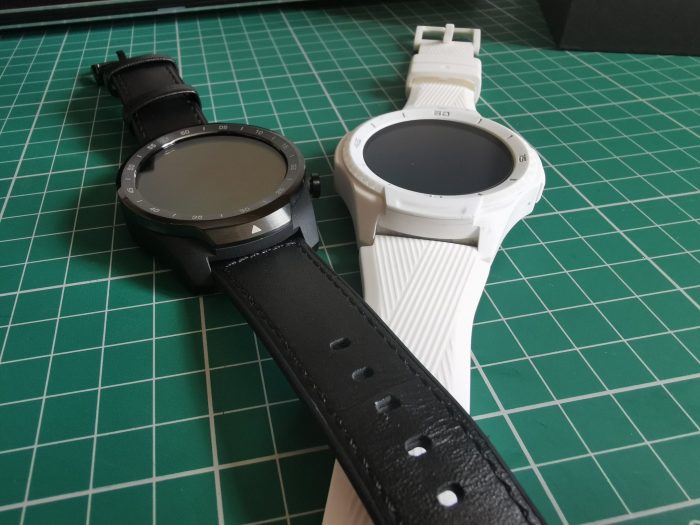 Summary
I have enjoyed testing the watch and it has made me reassess the validity of Wear OS as a solution for me as a Smartwatch. It is for this reason that I have managed to procure some more devices, including another TicWatch this time in the Pro variant. I am also going to be using a Huawei Watch 2 which we reviewed here last year. Hopefully one of these watches will fill the void that has been left by the death of my Pebble Time but only time will tell…..
Hardware and Design - 80%
Software - 85%
Ease of use - 79%
Value for money - 95%
A very good and rugged smartwatch option for those who don't need Google Pay. It is also one of the more affordable options out there