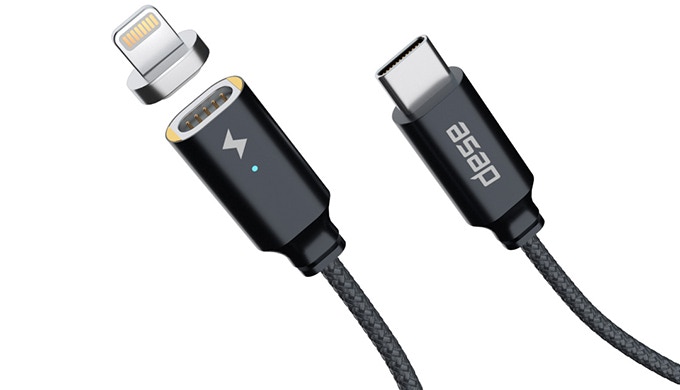 The Sydney-based consumer electronics brand ASAP technologies has sent me through the Uno USB type-C magnetic cable for review. This cable is currently on Kickstarter, and has apparently already reached and surpassed its funding goal with days still to go.
The beauty of this cable is its interchangeable magnetic tips including lightning connector Micro-USB and USB type-C giving the compatibility with all smart phones tablets and USB type devices.
Each Uno cable features two N52 grade Neodymium magnets, which are apparently the worlds strongest commercial grade magnet, and it is claimed that each cable is strong enough to hold an iPad Air (at 440g) without dropping the device.
Good Points:
Price
Well-designed braided cable
The ability to have one cable charge a multitude of different devices
The Uno supports quick charge three and four and apple fast charge, charging stand as well as data transfer
10 year guarantee
Reversible magnetic connector
Bad Points:
More than one cable is really needed, I want one everywhere in the house, in the car, and in my travel bag
The lower pledge level currently only supplies one magnetic tip
Design:
The cable feels real premium and high-quality in the hand. It's made from a braided material and according to ASAP technologies, has an improved anti-free neck – meaning the cable will have increased durability and less chance of snapping or fraying at its weakest point.
ASAP technologies are so confident in the build quality of the Uno cable, they are offering a premium 10 year warranty, which let's be honest, means it will outlive your next couple of smart phones.
In Use:
They say the best ideas are the simplest and this is where the Uno cable shines, I really enjoyed using this cable, I was supplied with 3 magnetic tips meaning I could leave one in my Note 9, my iPad and my Galaxy tab S2 and just attach the cable to whatever needed a charge or data transfer. I just want a tip in every device and several cables placed around the house and in the car.
The Uno cable is currently available on Kickstarter. If you fancy backing this project, head over quick as the offers are running out, but the £16 offer is still up for grabs.