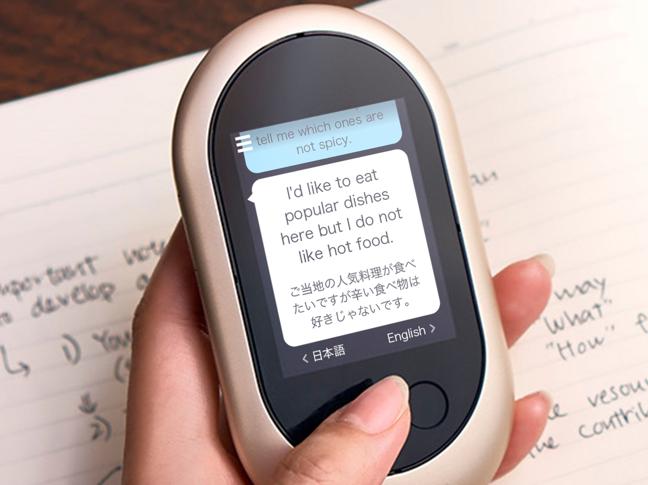 Today saw the launch of Pocketalk. It's a portable, AI-powered instant voice translation device which is able to seamlessly translate 74 (at present) languages bidirectionally in real time, making it easy for users to understand others and be understood by others. The Global SIM embedded, "Built-in Data" model is available with two years of all-you-can-use mobile data coverage in 128 countries and regions.
Unlike many smartphones, Pocketalk comes with dedicated dual noise-cancelling microphones to pick up every word, even in noisy environments and makes it perfect for use outdoors or in restaurants, train stations or airports. Additionally, whilst having no lag time and a simpler interface than a smartphone, users no longer have to waste the battery on their phone to use it. The Pocketalk has around seven hours of battery life while being used intermittently or around five hours if it is in constant use. The device combines the best speech-to-text, translation and text-to-speech engines from around the world. You're able to use Wi-Fi, mobile data or a personal hotspot to connect to the internet.
Noriyuki Matsuda, CEO and founder of master company Sourcenext, stated
The need to connect cultures and make the world feel a little smaller is stronger than ever and that's exactly our goal with this device. We developed Pocketalk to help people of all backgrounds providing them with an instant open line of communication and foster a mutual understanding and respect among different cultures. When you have the right tools, language is a gateway and not a barrier.

With its easy-to-use interface, Pocketalk is a great device for people who are constantly travelling, working with colleagues of different nationalities or those who wish to fully immerse themselves in a country's culture. The device is available in white, black and gold with its own global sim for two years so, unlike with mobile data on a phone, there are no hidden charges.
Pocketalk is not a device for everyone, but if you travel extensively of need to converse in other languages, this may be the handy device to have. It is currently available from Amazon for £259, and hopefully we will get a chance for a full review.