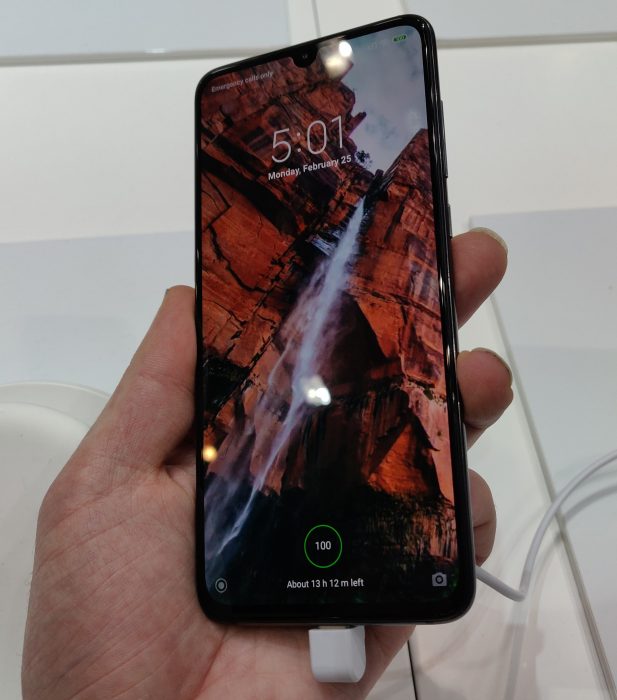 We took an up-close look at the Xiaomi Mi9 in February but now you can buy the thing. It's available right here on Vodafone UK with prices starting at £49 per month with a £9 upfront cost. That'll get you unlimited calls, unlimited texts and 25GB of data.
This being Voda, you can get a choice of Amazon Prime Video, Sky Sports Mobile TV, Spotify Premium or a NOW TV Entertainment Pass if you buy it on the Red Entertainment plan. You'll also get roaming in 77 destinations worldwide at no extra cost.
The Xiaomi Mi9 has a 20 megapixel front camera, a 6.39″ AMOLED (2340 x 1080) full screen display and a 20W wireless quick charger – that's a world first. Running MIUI 10.2 (Android Pie), it's powered by the Qualcomm Snapdragon 855 CPU and Voda are selling the 6GB RAM version with 128GB of storage.
The rear camera setup is three cameras – a 48 megapixel sensor (f/1.75), a 12 megapixel telephoto lens and a 16 megapixel 117° ultra wide-angle one. There's LED flash support and laser autofocus.
It has a 3330 mAh battery (with that Quick Charge), Bluetooth, NFC, WiFi, GPS and a 3.5mm audio jack.
I'm a little confused by the pricing though. Go to the official Xiaomi UK store and you can pick up the Mi9 for £499. That's for the 64GB version (which is less than the Voda model, but bear with me). It's £499 and you can get the 22GB Red Extra SIM-only deal (12 months) for £21 per month (unlimited everything else). That's around a £42 monthly cost for the SIM and the phone if you spread it over two years.
OK, so … now, if you go to places like Techinthebasket or eGlobal, you can get the 128GB global version for £388 and £368.59 respectively. Even better, if you hang around those sites you'll usually get a coupon pop-up to drop the price still further.
So that's the Mi9 for even less, which is good in my book. You don't even need to have stacks of money to get a quality smartphone now (although don't forget that you can try a genting casino promo code if you're having a little flutter).
Get more details on our earlier story or head to Vodafone UK.