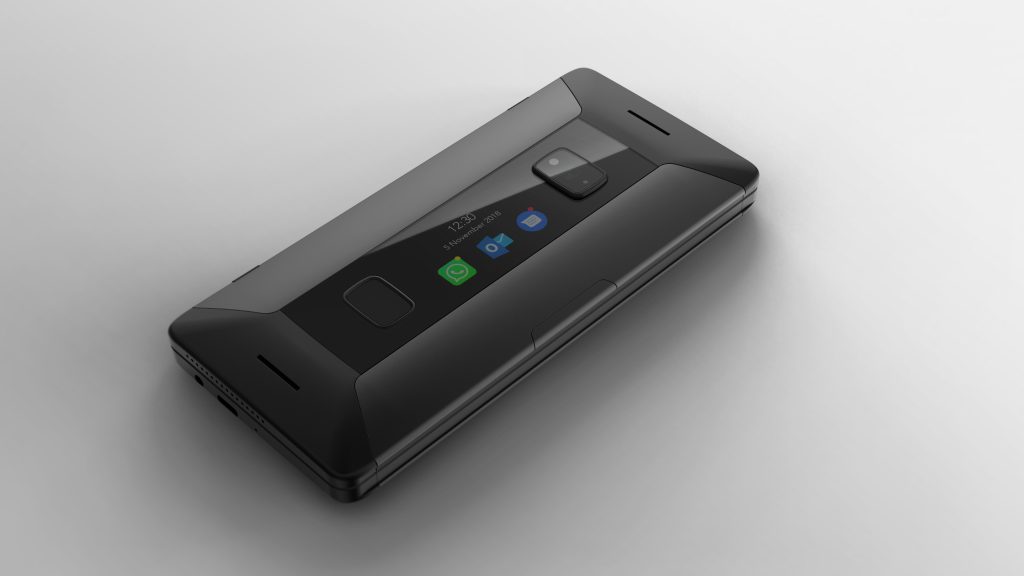 Last year we had the pleasure of being introduced a new device to the market in the form of the Gemini, which I was able to put through its paces in an extensive test for a few weeks. I was very impressed by it but unfortunately, with it being a Gen 1 device it had some problems that are often found in first products. This year Planet Computers the team behind the Gemini have been showing off their 2nd Generation device which is called the Cosmo Communicator.
It takes a lot of the areas where the Gemini was weak and improves upon them whilst also adding some new features to the device. the time has now come to have a look at the Cosmo and see if it ake up on the shortfalls of its predecessor. Having seen the specs I have high hopes for it too do this put without further ado lets dive in. The devices that I was able to see today were early prototypes so not all features were present and working. However, it did give me a very good idea of what to expect from the final device
One of the major issues I had with the device was that I could not see it ever being my daily driver as the notification method being utilised meant that for me it wouldn't be conducive to being my main phone for everyday use.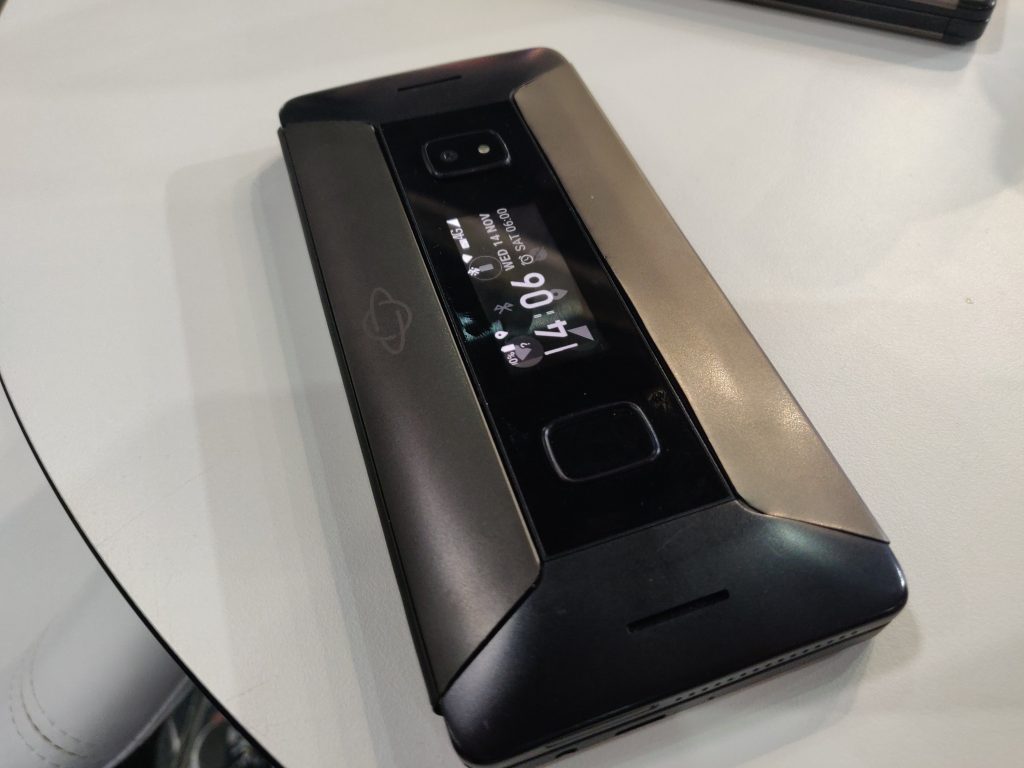 This has been addressed with the addition of a second 2″ OLED Touch display that is mounted on the outer casing. This allows you to interact with the device whilst it is closed and perform your more basic phone tasks. In addition to that second display, we also find an outward facing 24 MP camera as standard where it was an option previously. Another feature that I am happy to see is the fingerprint reader on the outer case making for a faster method to unlock the phone in a more secure manner. This fingerprint reader will also pull double duty a toggle switch to answer and initiate calls.
These are the main additions to the older design, the good news is that it has kept the feature that made the device unique the number one thing being the keyboard which as also been improved with the addition of a backlight. This is a great addition as it will allow me to work when I need to without having to work about not being in a bright room.  I also found that even on the prototypes I used that the keyboard has been developed and improved quite a bit from my previous experience which was nice to see.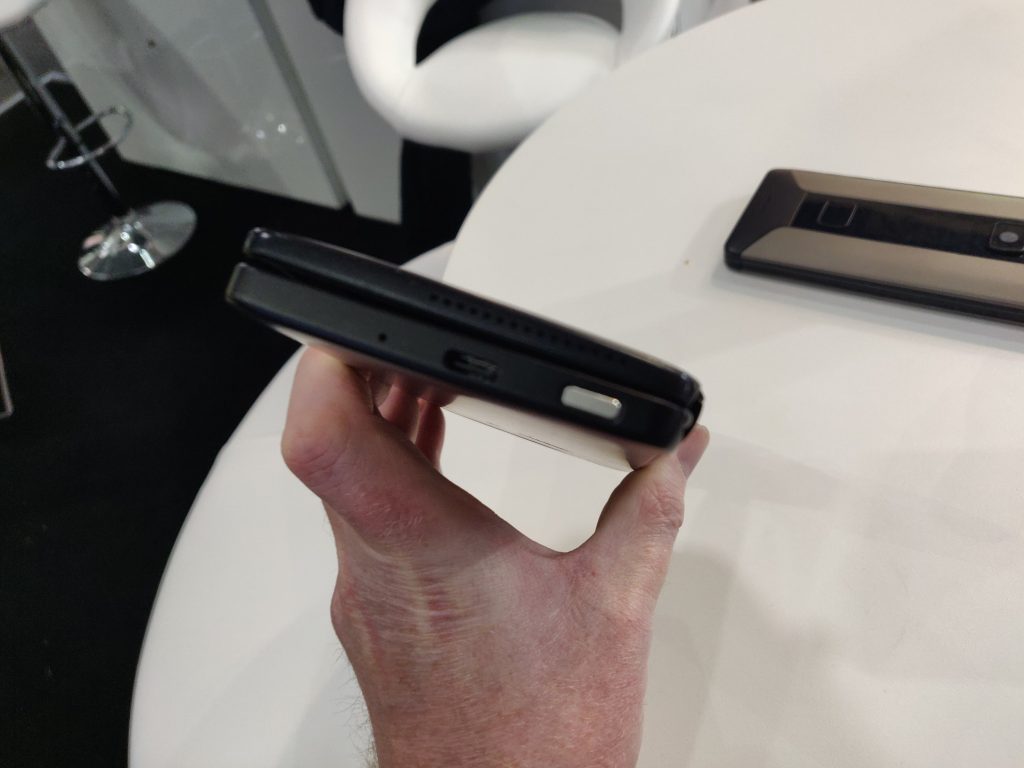 Still present are the two USB Type C ports which are incredibly handy as it allows for this to be used with multiple accessories simultaneously.
The other major updates are to found internally. The processor has been updated to now be the 8-Core Mediatek P70 processor which is assisted by 6GB  of Ram and double the storage to 128GB memory which can, of course, be expanded by a Micro SD card. Graphics wise we find an ARM Mali G72 graphics processor allow for great productivity on the device and when connected up to an external display.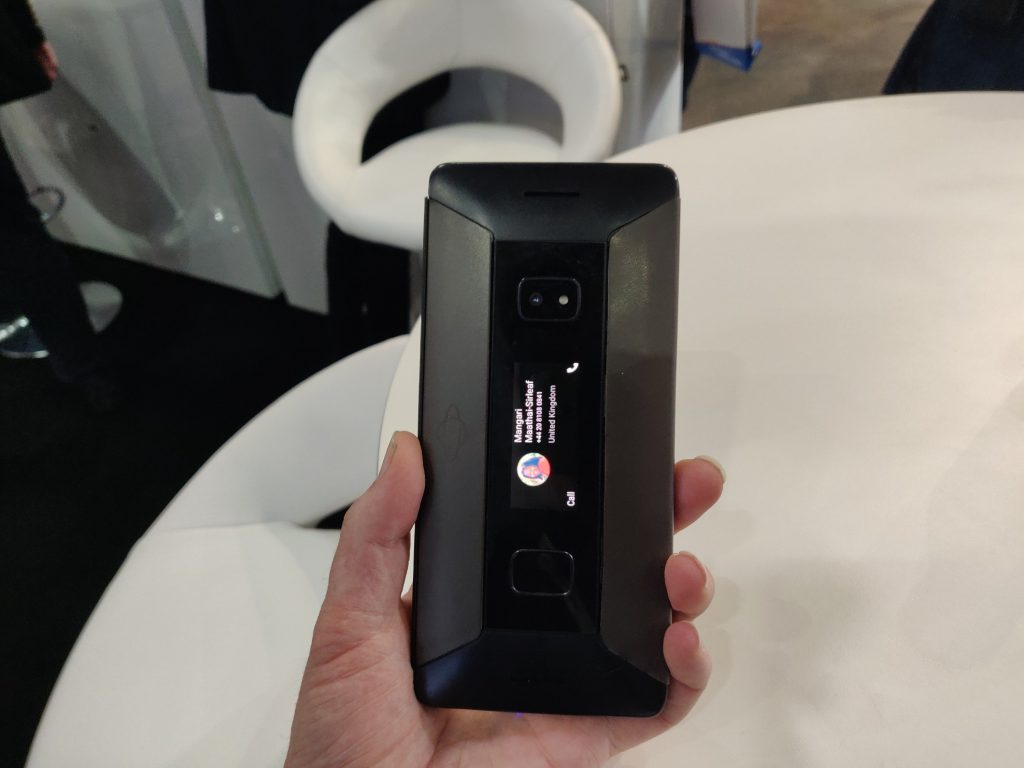 The device will also be running on Android 9.0 Pie allowing for you to ensure that you are running the latest and best possible version of Android. The OS is also accompanied by some pre-installed Planet Apps and the Planet taskbar for quick launching your regularly used apps.
Lastly, we now have the addition of NFC for use in contactless payment using Google Pay and this will also allow for fast and easy file transfers.
So that is about all I can say about the improvements as I mentioned the units I was able to use were all prototypes so I was not able to use all of the features but I was impressed by all the additions over the Gemini and it does make the Cosmo a viable option for use as a daily driver. Time will tell if I can actually do that and this is something that I hope to test once the device becomes available.
As for the Gemini device well things have not been standing still there either as Plant Computers have been developing the software and are now very close to having the green light in the rollout of Android 8 onto this device. That, however, is not all as it was announced yesterday (25/02/2109) that a new Desktop interface has been developed for the Gemini, it is called OXI.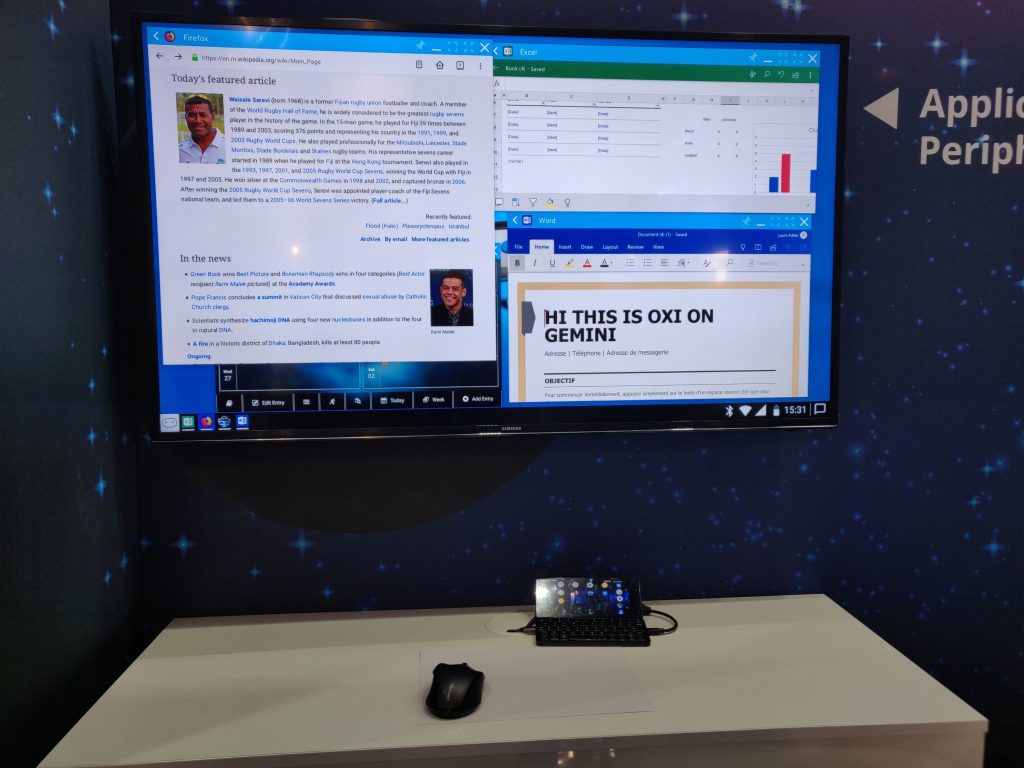 This will allow the user to plug into an external display and run all their existing app's in a desktop style environment allow enhanced multi Window mode and other benefits. OXI will be available as a subscription when you purchase the official HDMI cable (adaptor) from the Planet Store. OXI for the Gemini PDA will be available when purchasing official HDMI cable from the Planet store. By the looks of things, it will work in a similar manner to what we have seen from Samsung and Huawei in the form of DEX and Desktop Mode respectively. In addition to being able to run the apps on your device, you will also be able to run full apps via emulation if your setup to so. This opens a massive possibility of getting work done.
There is one more thing that has been announced and that is that the Gemini will now be able to run a new version of Sailfish called Sailfish X. This has been designed to take full advanatage of the hardware of the Gemini including the landscape 5.99″ display. you will also get full access to the Jolla App store along with OTA updates. You will be given end user support and full Microsoft Exchange services compatibility. The OS can be downloaded from  Gemini for the price of   €29.90 (incl. VAT)
So that about rounds up the latest developments from Planet Computers, Hopefully i will be able to revisit this when the new device goes into full production and we can answer my question of will it be suitable as my daily driver.