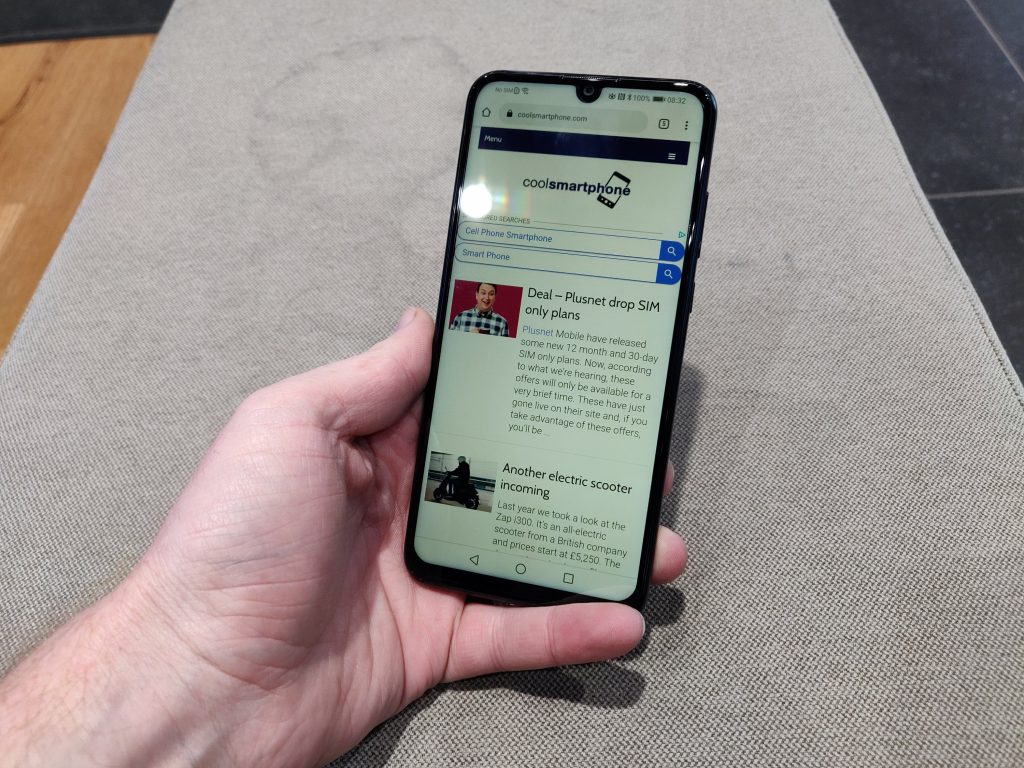 I have been using the Huawei P Smart 2019 for a few days now, and itis time for me to put pen to paper and give my opinions of the device.
The first thing I want to get out of the way is that this phone shares a remarkable amount of similarity to its sister phone, the Honor View 10 Lite. This is not accidental, as we know the phone is from the same company after all!
Honor and Huawei have for a long time shared their respective product lines, however normally the Huawei version is the better equipped one and therefore demands a higher price tag. Strangely though, this time around the price is not going to be the differentiator as this phone is in the same realm as the Honor devices. So what makes this device different from the Honor stablemate the Honor Lite 10? To find that out we will need to dig under the skin a bit.
Design and Hardware
As is normal for a phone review, I encourage you to have a look at the unboxing video that I made about a week ago.
The phone is clearly following the design language that was set in place by the P20 series from last year. This language is for the device to be in the form of a slender pebble-like design. There are a few noticeable changes from the P20 though.
The place I want to start is actually up front with the display and the area at the top of the phone. This is the area that will make it or break it for most people. I am, of course, talking about the notch. However, in the case of the P Smart, the notch is not an area that is to be hated and I actually quite like it on here. It is very reminiscent of the same style that has been used on the OnePlus 6T. This notch is known as the "teardrop"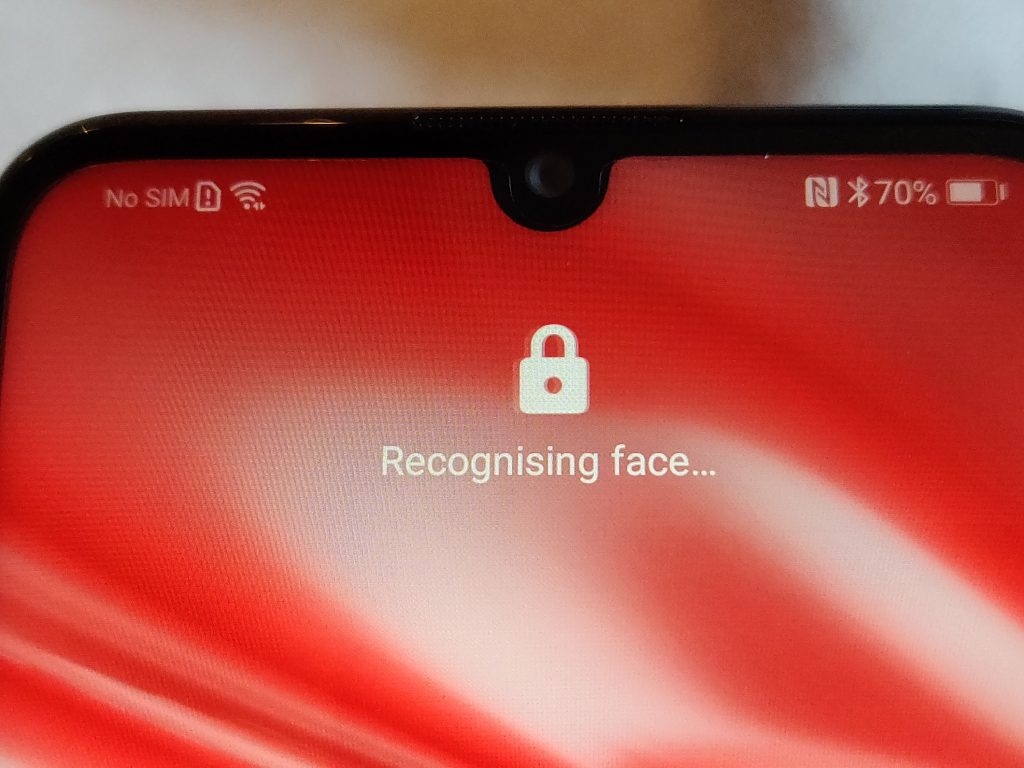 As you can see from this photo it is not really that bad to look at and it doesn't eat into the display real estate that much, so it is a happy compromise for me.
Next up; as we are up at the front of the phone is the earpiece which resides just above the "teardrop notch". It is a teeny sliver of a speaker and gives surprisingly clear sound from such a small aperture. I do appreciate the effort that has been taken to make this so seamless and integrated into the design.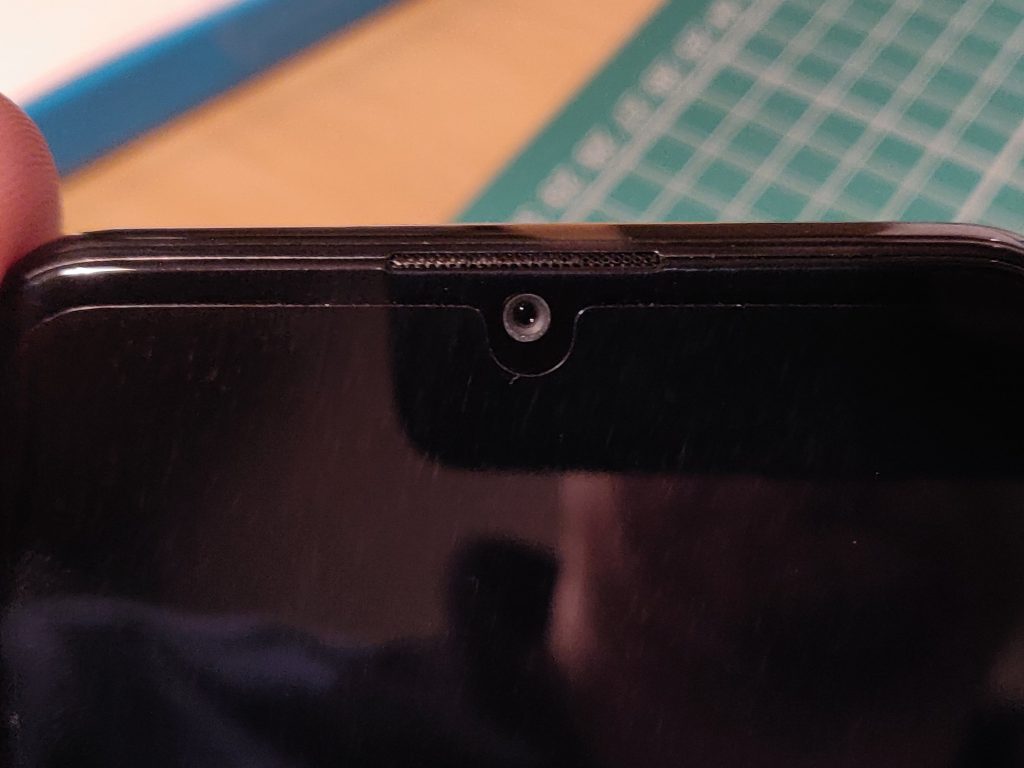 Moving right up to the top edge of the phone is where we can find the SIM (which can take 2 nano SIMs if needed) and micro SD card tray. This is accompanied by a pinhole mic for speakerphone and to assist in video recording.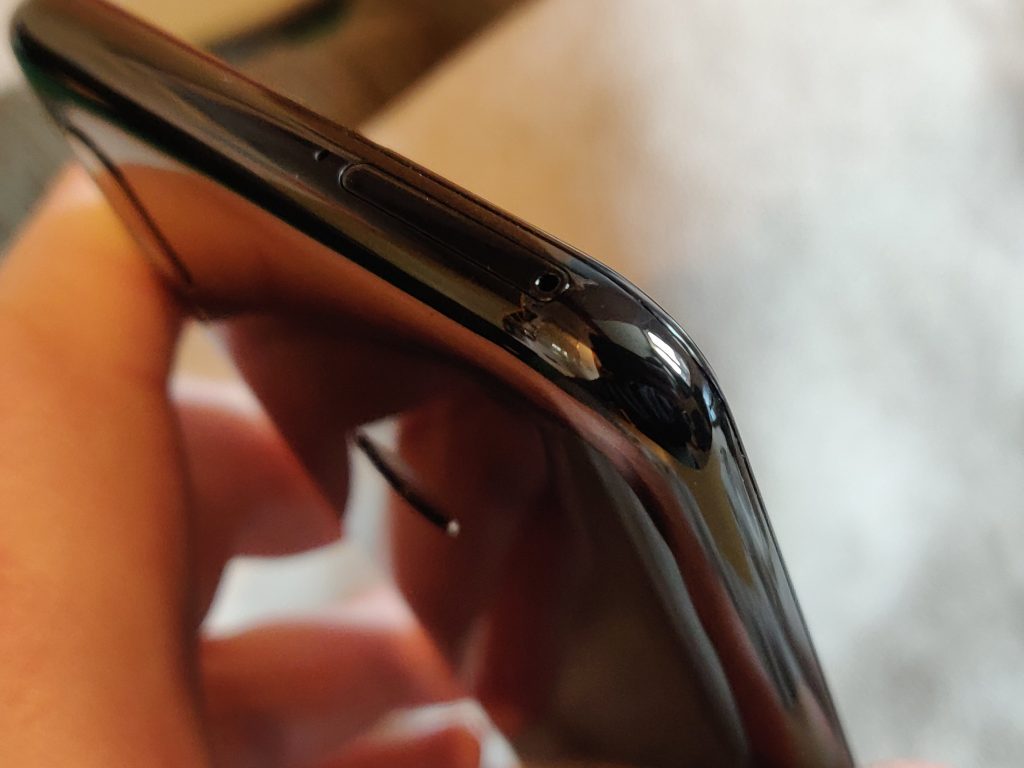 Following the flowing curves around the edge of the device, we move to the right-hand side where the volume and power keys are hanging out. There is nothing special about these as they are just the simple rocker for the volume and a single switch for the power/sleep/wake key. It would have been nice to have something to differentiate the buttons like has been seen on some other devices of late.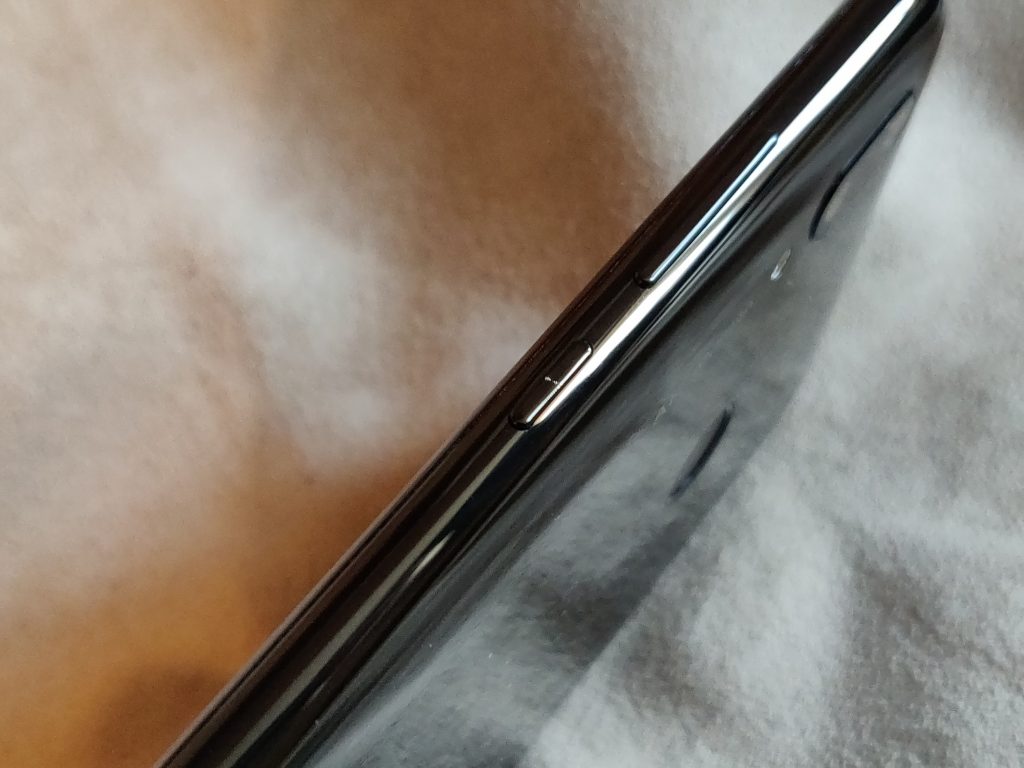 Around the base, things get a bit more interesting as this is where we can see the speaker output alongside the Micro USB port. Yes, you did read that correctly this phone uses a Micro USB port in 2019!  I know, ridiculous. I think that at this point in time, the difference between Micro USB and Type C is just too much of a jump in cost, as I see a lot of phones that are being aimed at the lower-end markets still sporting the older connector. It is not just Huawei that are guilty of this either as Samsung is doing the same!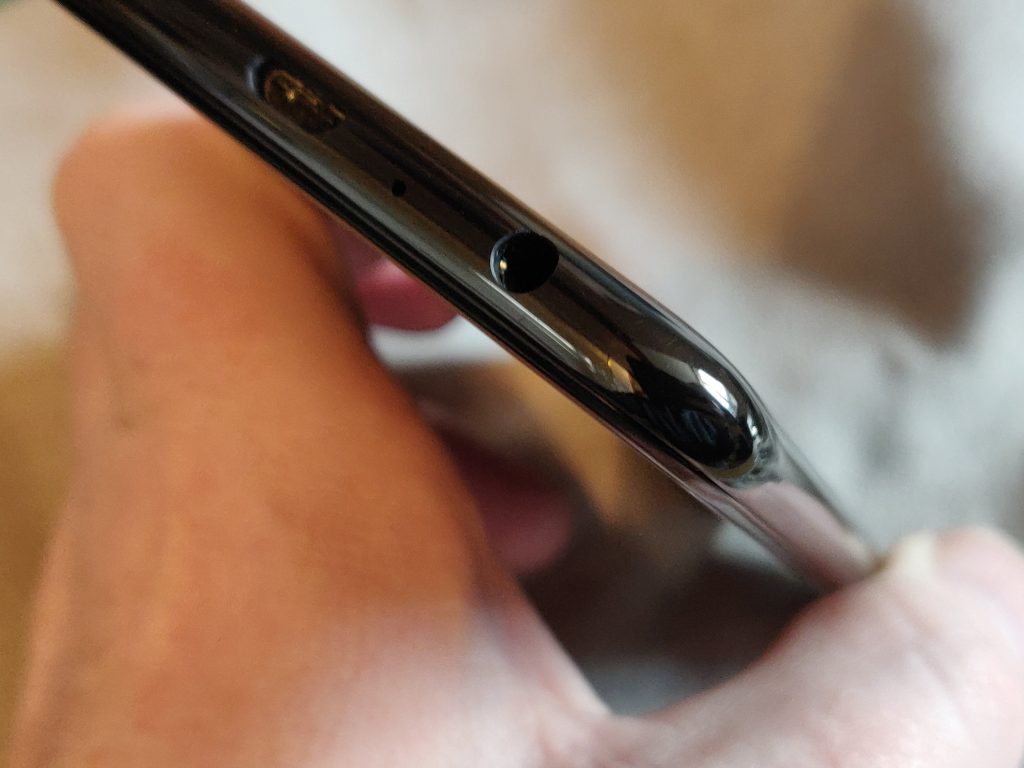 One thing I am glad to see is the 3.5 mm Headphone (Courage) port. It is not something that would bother me if it was not there, but a lot of the budget focused buyers like the inclusion of it so there is no harm in keeping on the phone especially as this phone has no aspirations to be water resistant. Obviously, if you have made the jump to a wire-free life then this will still work with your standard Bluetooth headphones. I have tested a few different makes and there were no issues with either quality or volume.
Continuing around the edges, we have the left-hand side which is completely bare of any features as has been that case with a lot of Huawei/Honor devices recently. Sometimes this has been where the SIM tray has been hiding out but in this instance, we are left with an empty space.
A small point of interest to be found at the base of the phone is the very small notification LED that is barely imperceptible at first glance. It is a bit of an odd placement but at least they have included one. This is something that cannot be said for the OnePlus 6T and I have to say it can be an annoyance. I must have grown used to depending on this little light too much on my Samsung devices, so now that it is not there I miss it. So well done to Huawei for including even if they have placed it in a strange place!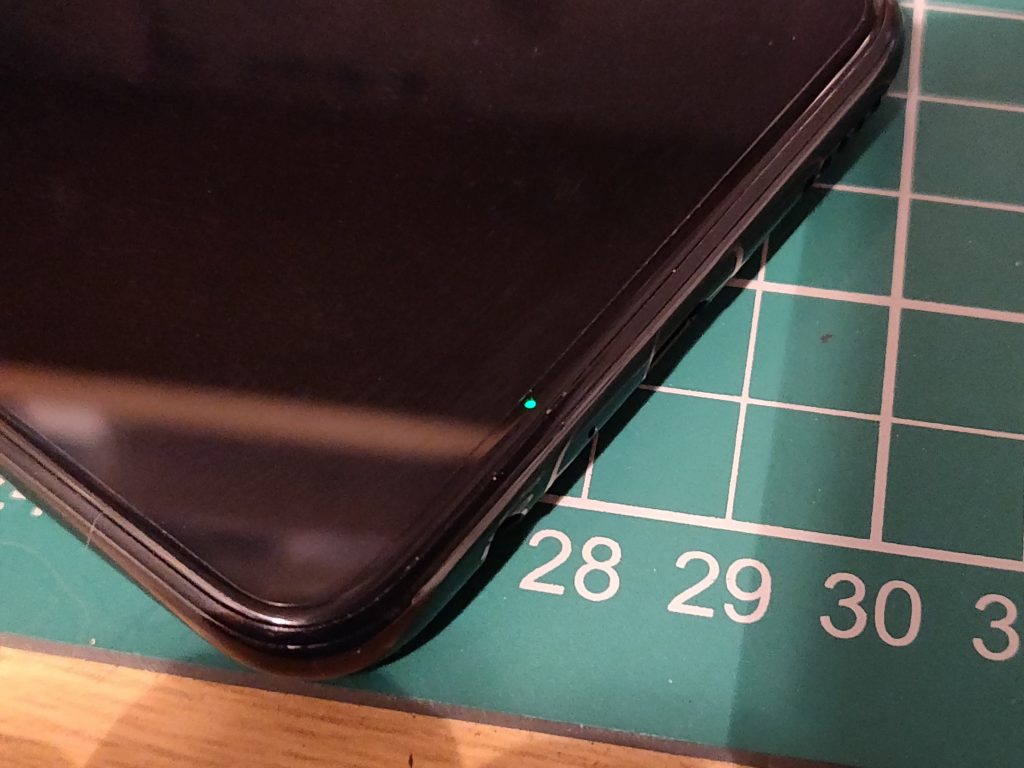 Now that we have been around the edges, let's have look at the back of the phone.
The biggest thing to notice is the fingerprint reader in the top half of the phone.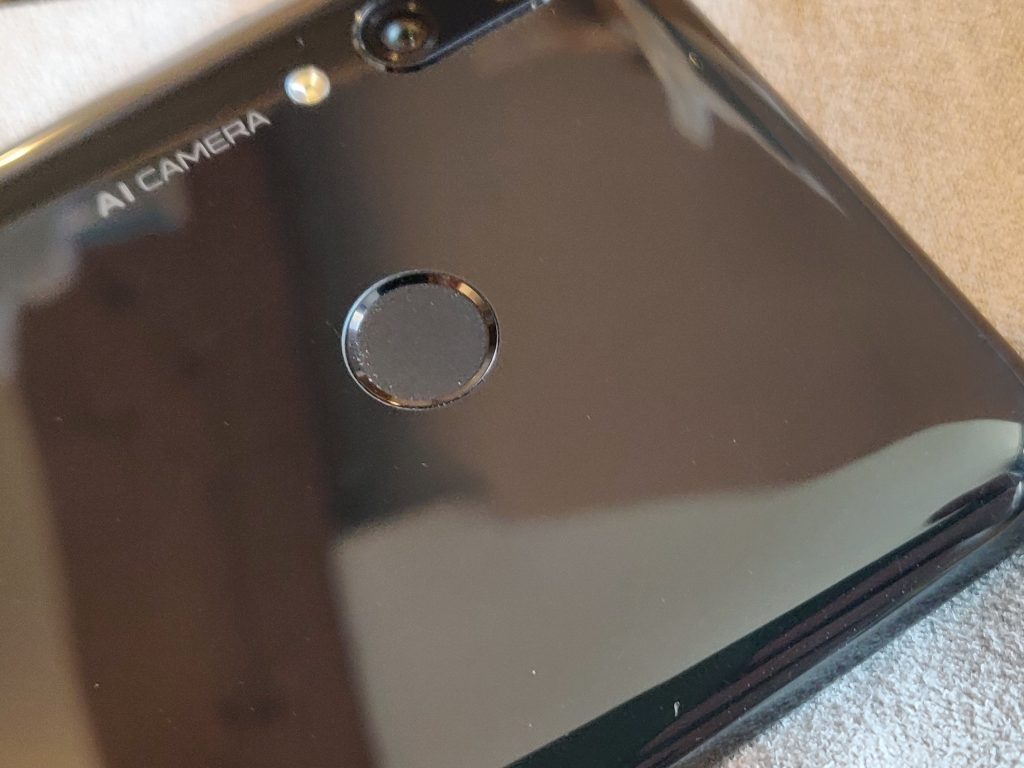 Now I have been lucky enough have played with all the of the current generation of fingerprint readers. I have tried side-mounted, front-mounted, rear-mounted and even under display ones. After having played around with all the different types, I would have to say that having the fingerprint reader on the rear is probably the best option for when it is being picked up or taken from your pocket/bag. That being said, the under display ones I have used have impressed, but they are still just that little bit more flakey than the other types.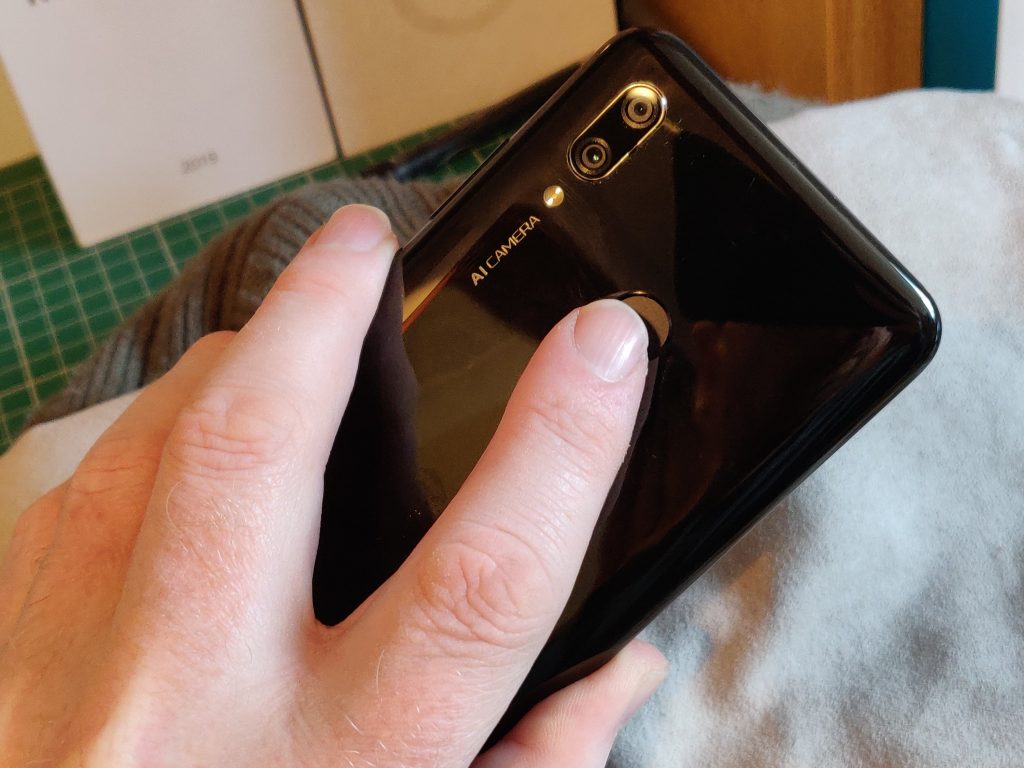 I appreciate that placing it on the rear is probably the best compromise that we can obtain with current tech. What this means is that the other method for unlocking the phone needs to be quick and easy and in this case, the face detect is fast, albeit not as secure.
The other area of interest on the back is the camera array.
Huawei has not been too skimpy with the camera here and has given us a 13 MP primary camera with a large f/1.8 aperture. Alongside this is a 2 MP lens for depth of field. The Camera also comes with PDAF and it has AI embedded thanks to the Kirin 710 chipset (more on that later). You can also see that there is a flash for when you really need to pump up the light levels. I have had a bit of play with the camera and been pretty impressed, but we will delve into that later on.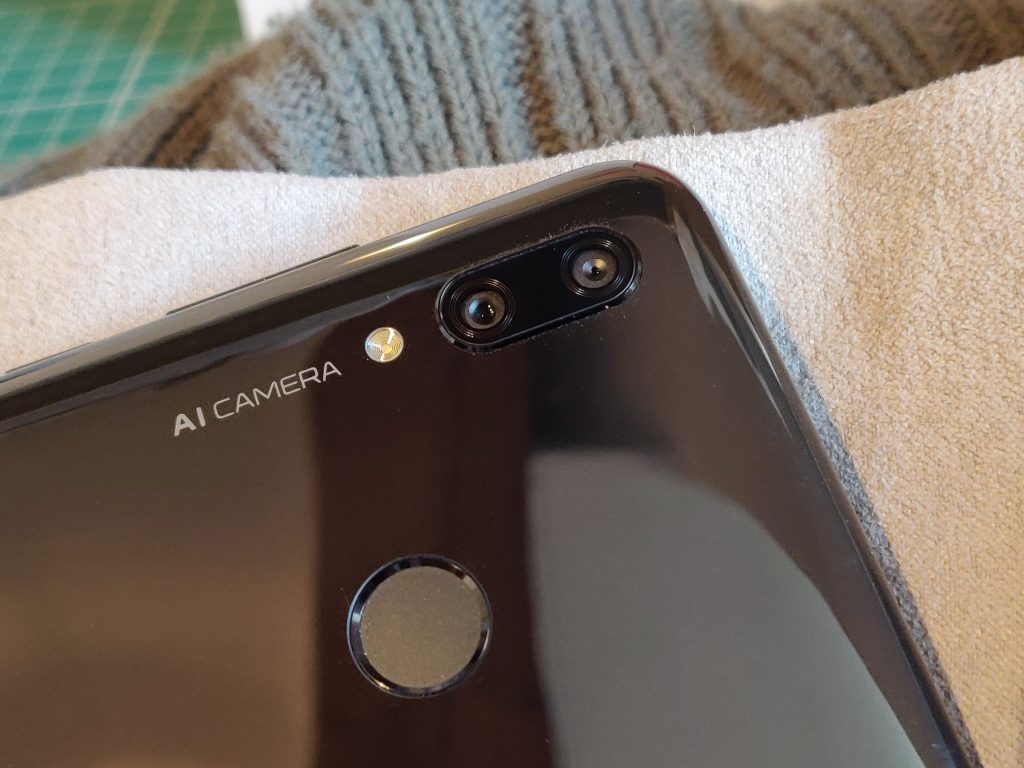 Finally, we come back to where we started up at the front at that "teardrop notch". What is hiding in there is an 8 MP camera which is more than serviceable for all your selfie needs, along with being able to use it for face unlock as I mentioned earlier. You will not be getting full 3D facial scanning like on its much bigger brother, the Mate 20 Pro. However, you are also getting a much smaller notch and a smaller hole in your bank account as well!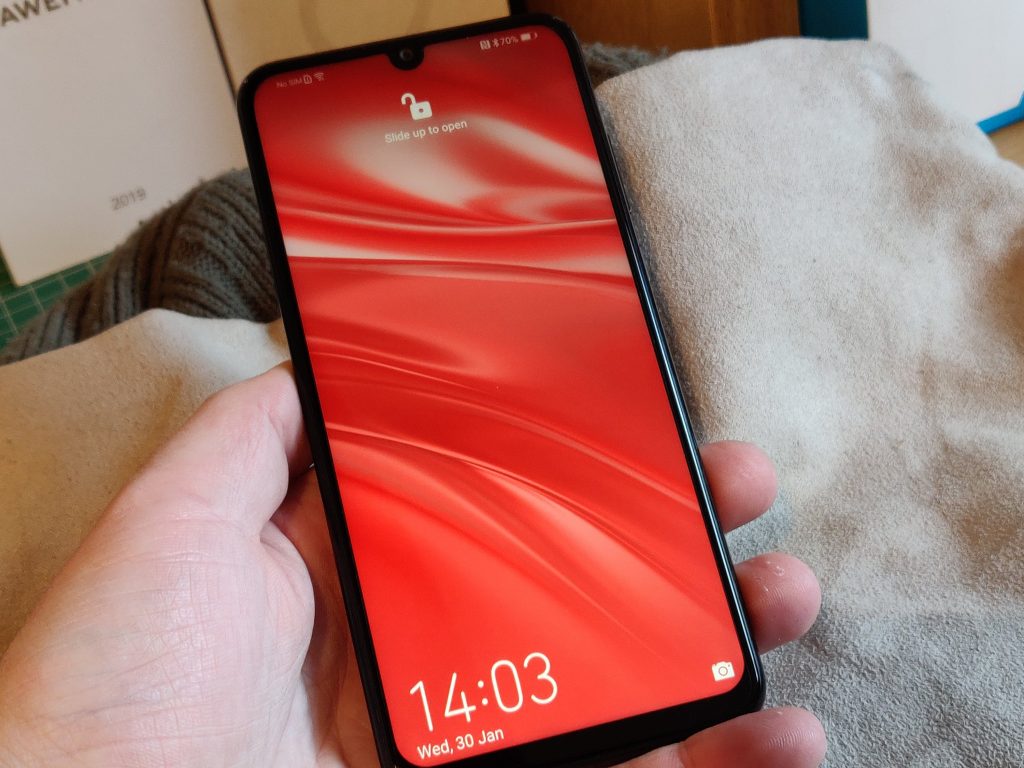 Last but by no means least, we have got the screen to discuss.
Measuring in at  6.21 inches with a resolution of 2340 x 1080 and an aspect ratio of 19.5:9, this is not a bad display. It is what Huawei has started to refer to as FullView and it does not disappoint for an LCD display. Again, you're just not going to get AMOLED at this price, but for all the days I have used it have not had any major issues with its clarity and crispness when displaying text. The Huawei P Smart copes with video pretty well, and does not ghost when playing fastish games. I have not attempted to play PUBG on this display, and I am sure that if I had then I would have seen some issues, but for the most part it is a good screen.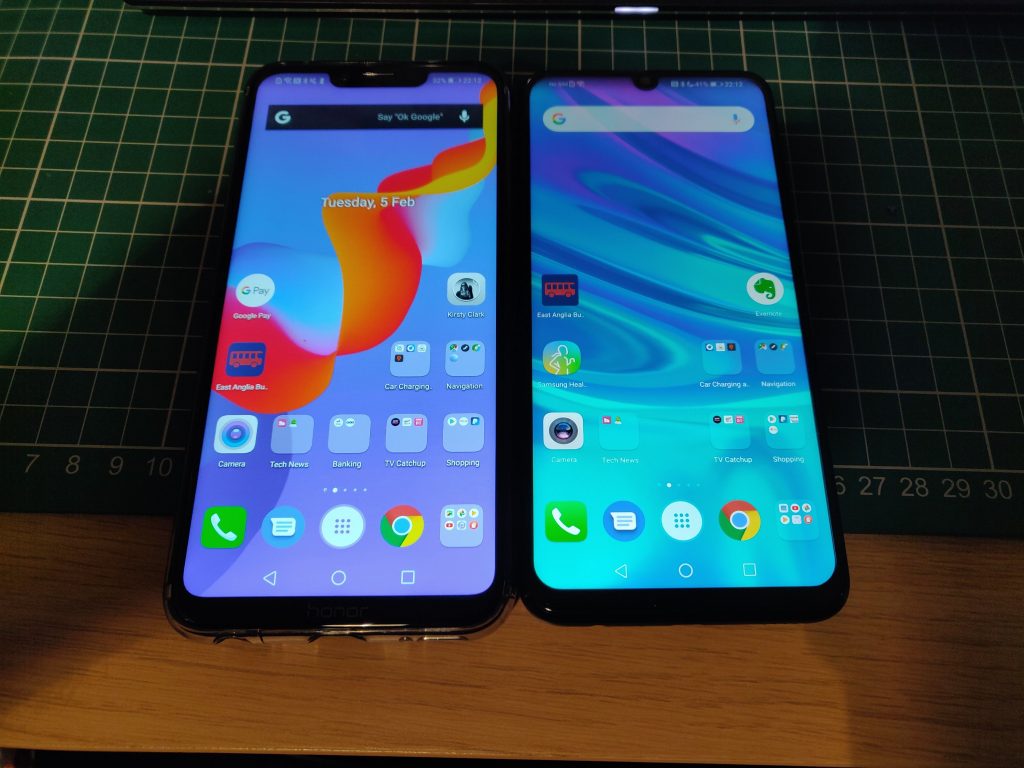 Specs
Body: Plastic body, 155.2 x 73.4 x 8.0 mm, 160g; Midnight Black, Aurora Blue, Sapphire Blue, and Coral Red colour schemes
Display: 6.21″ IPS LCD, 1,080 x 2,340px, 19.5:9 aspect ratio, 415ppi
Rear camera: Primary 20 MP, f/1.8 aperture, 26mm equiv. focal length; phase detect autofocus; secondary 2 MP depth sensor
Front camera: 8 MP, f/2.0 aperture, 26mm equiv. focal length; fixed focus lens
OS/Software: Android 9.0 Pie, EMUI 9
Chipset: Kirin 710: octa-core CPU (4×2.2GHz Cortex-A73 + 4×1.7GHz Cortex-A53); Mali-G51 MP4 GPU
Memory: 3GB of RAM; 32/64GB storage; microSD card slot (hybrid)
Battery: 3,400mAh (sealed), 5V/2A charging (no Huawei SuperCharge functionality)
Connectivity: Dual SIM; Wi-Fi a/b/g/n/ac, Bluetooth 4.2; micro USB 2.0, 3.5 mm jack
Misc: Rear-mounted fingerprint sensor, single, bottom-firing loudspeaker, dual microphones (noise reduction)
Hardware
So now that we have given the exterior a once over, it is now time to have a closer look at the inside.
As we can see from the specs list above, the phone is being powered by a Kirin 710 processor that is the same one that is being used by the phones stablemate, the Honor 10 Lite. It is also being used by the Huawei Mate 20 Lite (a phone with nearly double the price tag). What is really impressive is that the phone handles tasks as fast the other phones mentioned. The processor is also backed up by 3 GB of RAM and on the Dual Sim version that I am testing. 64 GB of storage is also onboard. I have never really found the phone to be left wanting in my daily use, however for those used to flagship phones there is a perceptible bit of lag every now and then.
Gaming-wise, this phone is never really going to be amongst the heavy hitters and it will be owned by the likes of the Honor Play as that is supporting the much more powerful Kirin 970 chipset with GPU turbo. It will, however, handle your more entry-level games with relative ease so the likes of Candy Crush and Tower Defense games will be fine.
An area where the P Smart 2019 will perform well is battery life, and this has become almost a trademark of the Huawei brand. This is down to the phone packing in a 3400mAh battery. I was very easily able to get through my day with plenty of power in reserve. It would nearly stretch out to what I was getting on my Huawei P20 Pro and it will outlast my Galaxy S9+ easily. Charging was a quick process thanks to the bundled fast charge, although I am now quite used to using DASH charge on my OnePlus6T and also having used SuperCharge on the Mate 20 Pro, the 3 to 4 hrs to full charge from empty does seem like a long time! I would like to have seen wireless charging, but it would have been prohibitive at this price point, so I can understand why it is not present.
As for connectivity the phone ticks all the necessary buttons, including Wi-Fi a/b/g/n/ac, Bluetooth 4.2, NFC and GPS. Alongside these staples, we also have a micro USB port and as mentioned earlier, the "courage" port or 3.5mm headphone jack. We also have support for most of the mainstream frequencies for your calling and data needs. I was using the phone with an O2 Sim and did not have any issues with signal, and it pretty much matched what I was getting with my Galaxy S9+.
Camera
This is an area where Huawei has always been strong, however, I have also noticed that whilst this is the case for the majority of devices, the lower end phones do suffer slightly when pitched against some of their competitors. Don't get me wrong, if are using this as a basic point and shoot then I think you will be very pleased with the results. The UI is what anyone with any experience of the Honor or Huawei lineup will be familiar with. It is not quite as refined as some of the newer interfaces and to an inexperienced user, it can be overwhelming. However, once you have grown accustomed to where things are then you can get some very good images.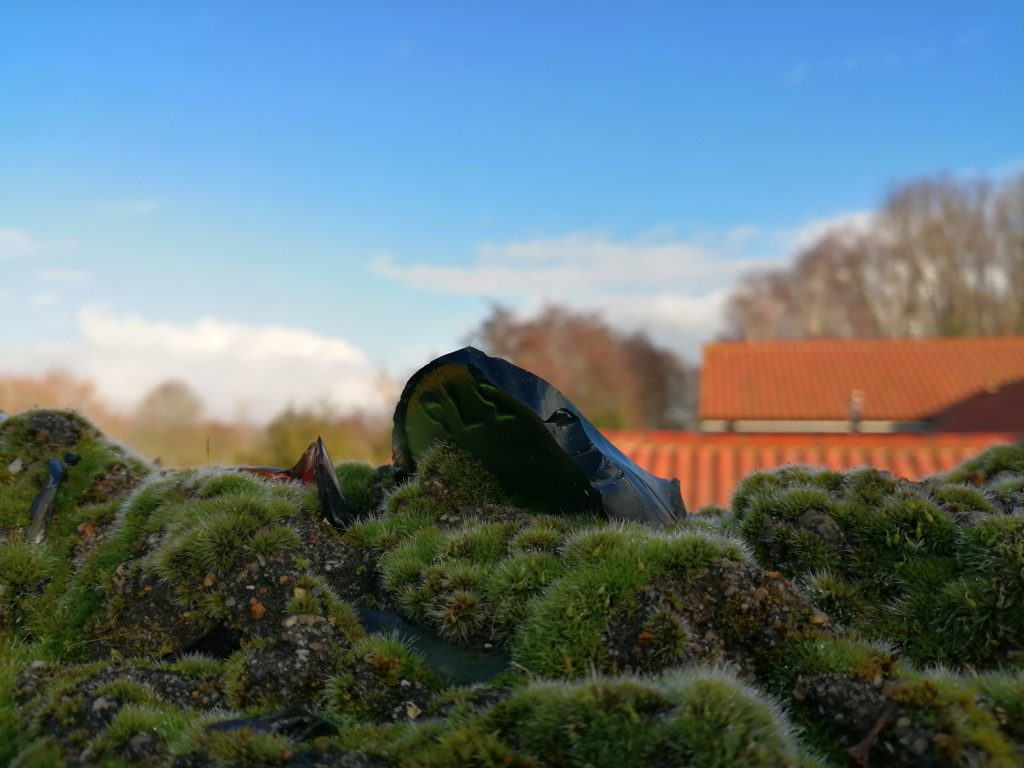 If you leave everything on auto, then you can get some nice shots which are of course ably assisted by the AI engine that is onboard. If your preference lies with the unassisted shot, this can be done of course both before or indeed after the shot has been taken. The AI will take advantage of scene recognition to allow it to determine up to 22 preset scenes. These scenes will then adjust your parameters to maximise the shot for you. If all this talk of AI makes you feel uneasy, then you can of course dive into Pro Mode and tweak things just the way you want. Honestly though, I found that the AI was capable of doing a better job than me most of the time.
I also have to give the guys at Huawei credit for managing to cram in the ability to have Aperture mode and Portrait mode, however like all the other AI assisted shots this will reduce your image size down to 8 MP instead of the full 13 MP. This for me is a sacrifice I am willing to make if it gets the shots that I want and again, for the most part, it did the job. Portrait Mode was on occasion a little rougher around the edges, but I am going to put that down to user error for the most part.
Onto darker times of the day and then the ability to take advantage of night mode. This is not using the super fast option that was seen on the P20 Pro as the power is just not there in terms of what the processor can do so you really will still need a stable hand to get a perfect shot but when you get it right. The result is fantastic in terms of what you can get. I also like other fun features such as Star Trails and Light Graffiti. These are always fun to play with.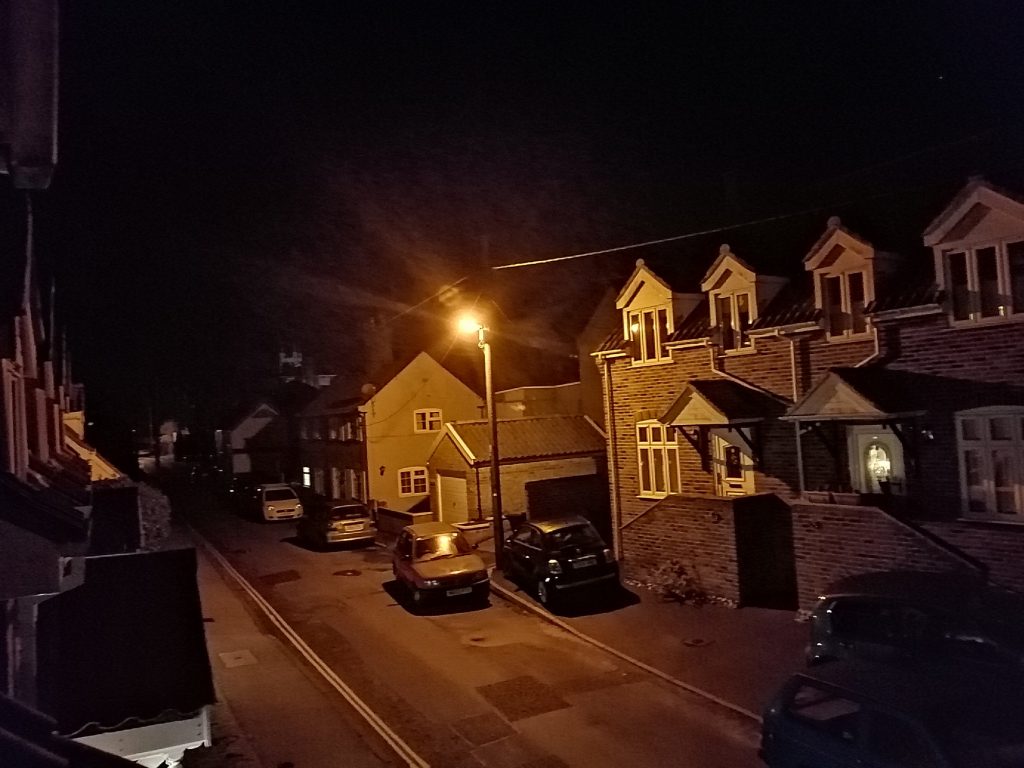 Lastly, onto the part of the camera that I use the least: the front-facing camera. Yes, I know I am in the minority on this 'front', as more and more people use the art of the selfie to express themselves, but for me, I just don't. I have for thoroughness taken some time to gather some shots of the selfie mode for your amusement, including the god awful AR mode. I will let the images do the talking here.
I apologise, they were truly horrible!
Now that we have got that out of the way, next up is video. Here is a quick clip from my car whilst I am on the way to work.
As you can see from the video, it is a bit jumpy and this is down to the lack of video stabilisation. The phone will max out at 1080p for video recording, which is what the above clip has been captured at. The phone also had some difficulty keeping the car in front in focus. This is, however, forgivable as there are a lot more expensive phones out there that would have struggled with this test just as much.
Overall I am pleased with the camera performance as this is again a very cheap phone – to have expectations higher than what can be achieved at this price point would be unfair. I do think that Huawei needs to clean up the UI of the camera app slightly to allow for ease of use, but that is a known issue across the entire range and not specific to the P Smart 2019.
Software
The last thing we need to have a look at is the software for the P Smart 2019. Again this is an area that has been a weakness for Huawei due to their insistence upon using EMUI.
Now whilst it is true that EMUI has grown better with time, it is still full of bloat and extra stuff that simply does not need to be there. At least you have now got the option to disable most of the surplus apps so that they don't get in the way too much. EMUI also has a lot of battery management processes in place to allow you to eek the maximum out of the battery. These can be a tad intrusive into the overall experience and to use them effectively either requires you to hunt out the process being nuked and then whitelist it, or just learn to live with it! I have taken the approach of keeping my most needed apps active to allow for instance my Gear S3 to work correctly.
As for the UI, once you have killed off the unnecessary apps then it seems to be quite clean and smooth. You have the option of using the App drawer or going with the more "iPhone" style of all apps being visible. I prefer the former, but that is just due to me being a bit eccentric!
You also have another option that concerns the infamous "notch". This can be hidden by software which adds a black bar on either side of the notch. I don't really see much point to this, but hey, each to their own. If you really can't stand the notch then this will solve the issue. I did find the notification area on the top of the phone to be a bit cramped, especially if you have a load of stuff in there. This can be a slight annoyance, but I can live with as I never really let them get too out of hand. Here are some pics of the notch being shown and also being hidden.
As for the rest the software, if you have used a Huawei or Honor recently then you will know what to expect, but in case you are not familiar then here are some screenshots for you to check out. Just click on the thumbnails to enlarge for a better view.
Summary
Now to wrap this up, guys.
The Huawei P Smart 2019 is a great option for the budget conscious and also for a first phone for a teenager. It ticks all the major boxes whilst not excelling at any one particular thing. I am impressed as to what Huawei has managed to cram into the phone.
However the phone has some very stiff competition from within its own house. This comes in the form of the Honor 10 Lite, which does have a better front camera, and dare I say it, has a slightly more appealing colourway, and it is also a touch shorter. With these phones being so similar, it is very difficult to recommend one over the other as they will both make for great options.
If you are not looking to take the risk of buying into a smaller brand then go with the Huawei and you will be happy as long as you're looking for a phone that does the basics well, and delivers a decent bang for your buck whilst doing so.
You can buy the P Smart 2019 from Amazon or from Carphone Warehouse now for £190 with some change to spare!
Huawei P Smart 2019 - Review
Design - 80%
Hardware - 85%
Camera - 65%
Battery Life - 83%
Software - 78%
Value for money - 90%
Very good option for a user that doesn't need the best of everything but does need a phone to be quick and reliable. The camera works well and surprises with feature although UI is a bit dated. Good job to Huawei for getting the price so low.