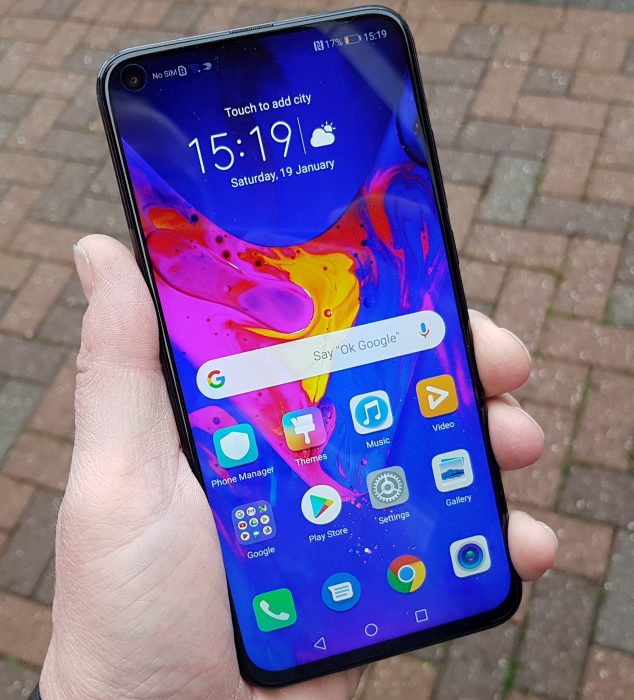 I'll be honest, Huawei and Honor seem to be cranking up the handset launches to a rate where I'm losing track slightly. Honor, let's not forget, is a sub-brand of Huawei. You get the same quality, the same Huawei processor and the same user interface, albeit with a slightly different name.
Announced here in Paris, we've used the View20 as our main handset for quite some time now, so we're able to deliver a full review of the device today. Those of you looking for the "instant hit" can view our full hands-on video below…
Yes, the (almost) unique selling point of this phone is that there's an in-display camera. It doesn't sit in an indent, it's actually positioned away from the edge and the screen goes around it. It's very cool.
Oh, and I say "almost unique" because there's a Samsung Galaxy A8s available in China with an in-display camera. However, that's China. We're in Europe, so if you want to show off with a phone that doesn't look like any other smartphone around, check this thing out.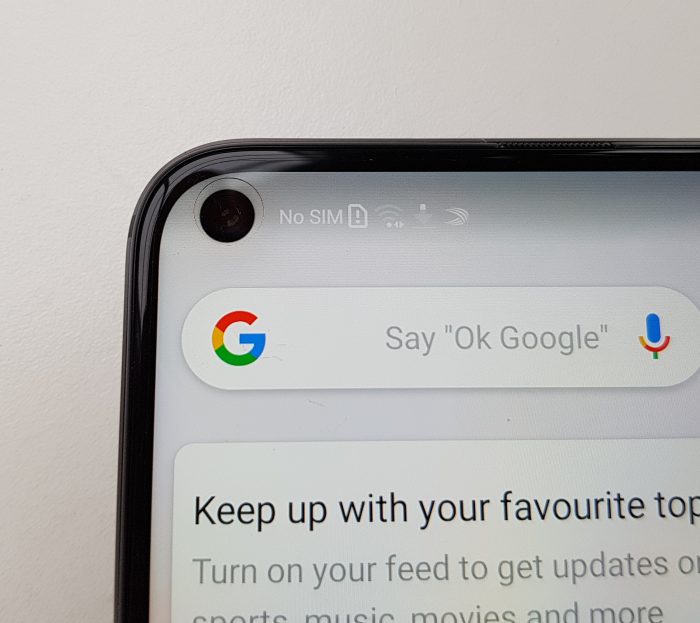 In recent years (although honestly it feels like months) there's been a big push towards having a notch on new smartphones. Some phones have fairly wide notches, others have "dewdrop" notches that are pretty small. Here though, there's just a 4.5mm diameter peephole. That's it. It means that other bits have gone. On the flat front panel you won't see anything else. Instead, the earpiece is somehow neatly slotted into the start of the curve as it heads towards the top of the phone, where you'll then see the rest of the sensors and – yes – a 3.5mm audio port.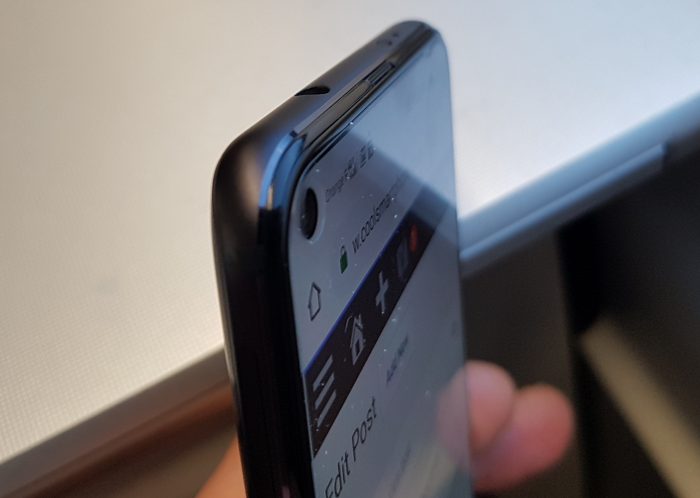 Very clever. When I made a call yesterday I did find that I had to re-position my ear slightly and the sound was slightly "narrow", but the call was clear and it only took a few seconds to learn the new location.
We need to just talk a bit more about that selfie shooter. It's a 25 megapixel unit for starters, and you can find yourself staring at it because, in a way, it all seems a bit bonkers.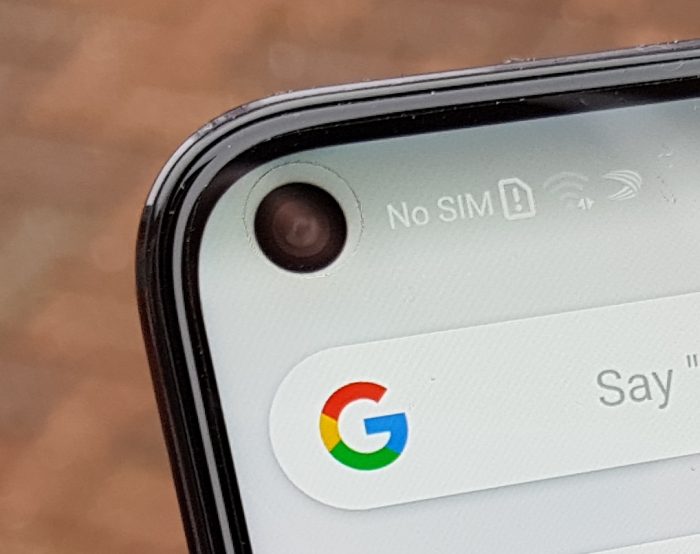 Think about it. They didn't really have to put the camera within the display. They could've just jammed it into the corner of the screen so that it touched the border of the screen. That would've done. We'd still be talking about it just because it's a new design idea.
But no, there's like.. a millimetre of screen above the hole and maybe 2-3mm to the left of it. They're just showing off now. That's a tiny, tiny amount of screen. They're being all clever with that and I love it.
You stare at it as the screen changes, thinking, "Wow, that's a bit mad that".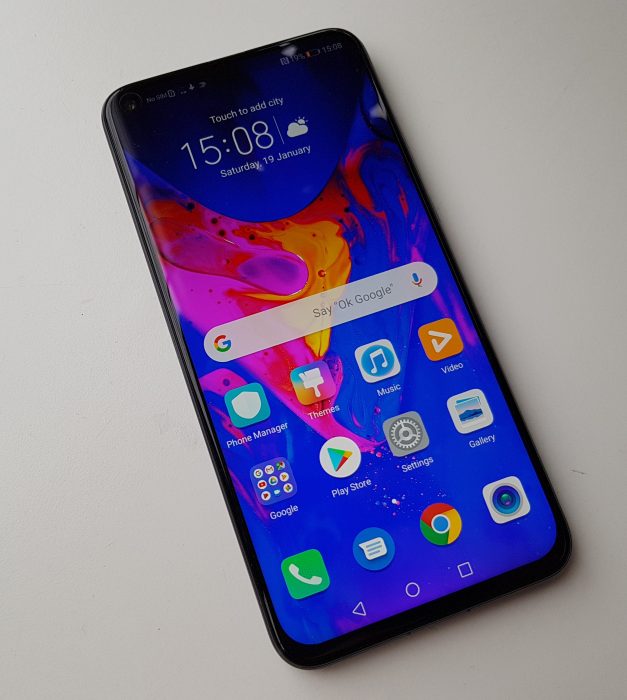 The screen itself is a 6.4″ 1080×2310 screen with a 398ppi density. In these photos you'll notice that I've still got the screen protector on. I've learned over the years to take care of phones that have been loaned to me, so it's staying on. Due to the screen protector the camera is slightly more noticeable. No notch though, and it achieves a near 92% screen-to-body ratio.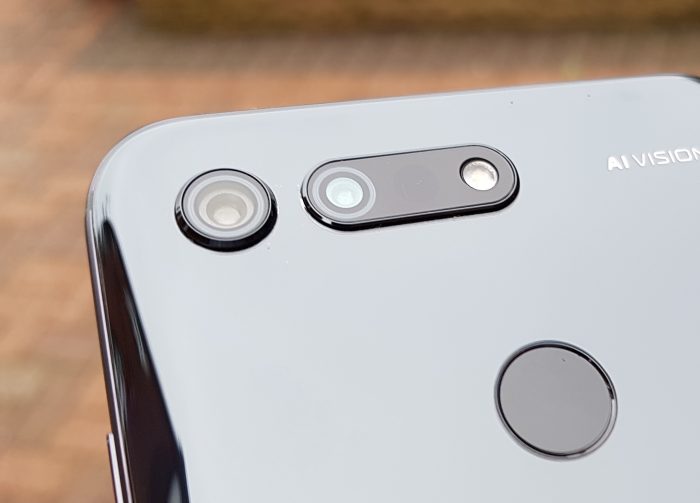 At the back is a dual-camera setup on a slightly pronounced base. There's a 48 megapixel Sony IMX586 sensor f/1.8 unit on the back. Yes, that's 48 megapixels and one of the highest megapixel counts on a smartphone. It's a great camera – great zoom and this is in part thanks to a secondary sensor for "Time of Flight" (ToF) to capture the depth of the shot.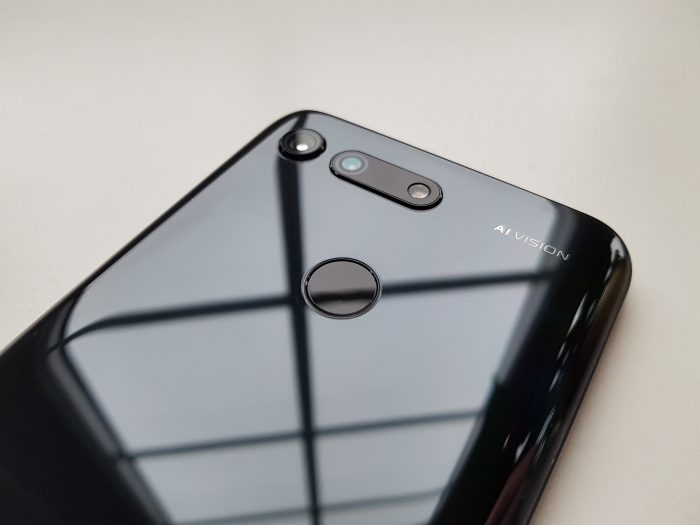 I'll have some example shots from this later on in the review, and I have to say that I was particularly impressed with the low-light images. On the back you'll also notice that fingerprint sensor. Nicely positioned this, and it works well.
The back panel also has a really nice "v shaped" reflection with shimmering colours. The gradient finish gleams and changes shade depending on the light and looks fantastic. Hard to capture on camera, but under spotlights or sunlight it looked fantastic. Great to see that it's made it out of China and you don't have to hide this either. They've put a free cover in the box which fits snugly onto the phone, albeit with a slight bit of "flappiness" at the top where the sensors are.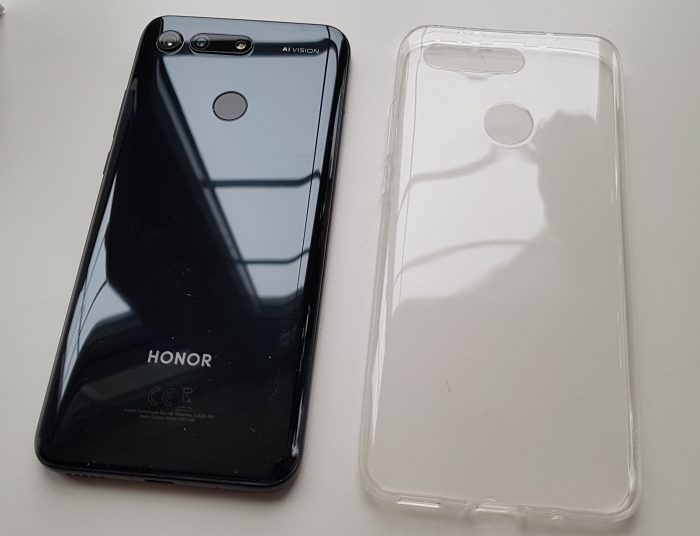 As you'd expect from a Honor-supplied case / cover, the cut-outs perfectly match all the various orifices and buttons..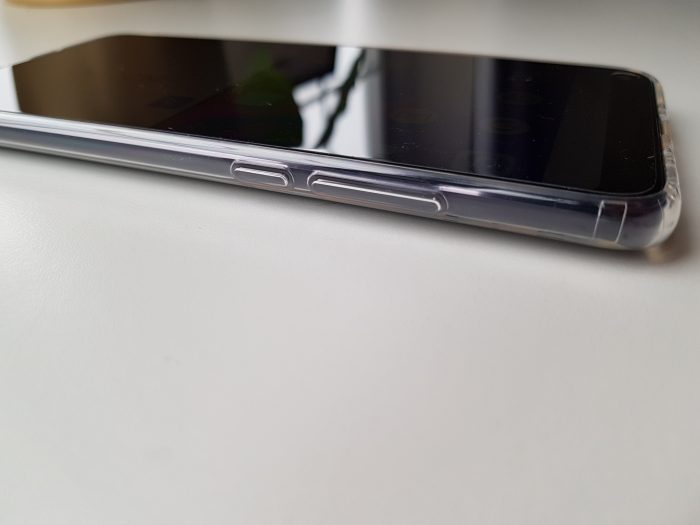 ..all the way down to the sensors up top. You can see the small slice here for that earpiece. As mentioned before, we've got that 3.5mm audio port up top, which is great, but you can of course still use Bluetooth headphones.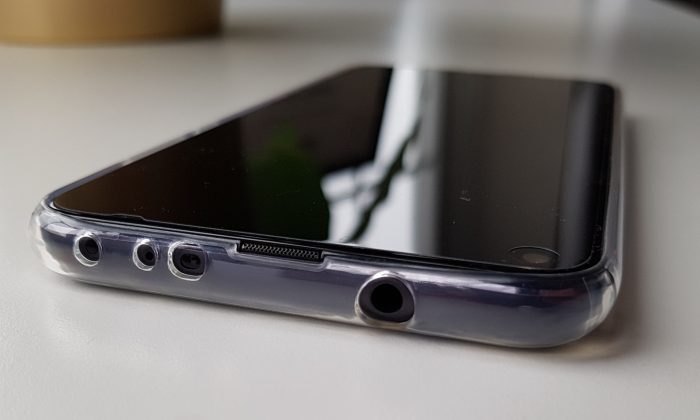 Nice bit of Honor branding…
Along the side, as you'll have seen from the case shots there, is an understated but easy-to-locate volume and power button for waking the device..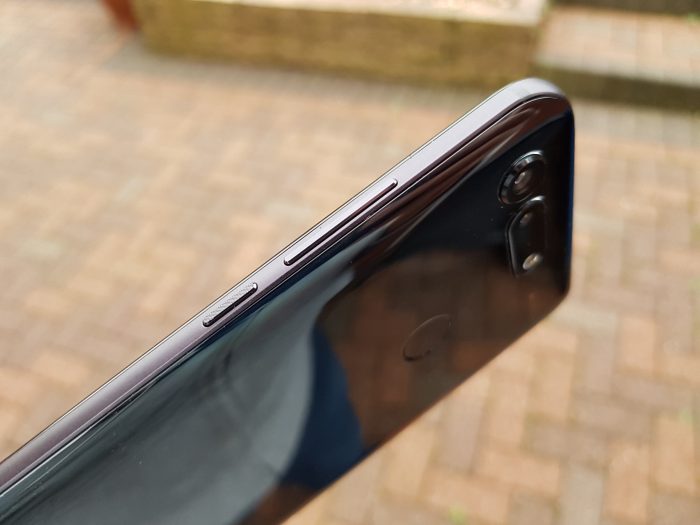 This sits on a beautifully curved brush-metal edging. On the other side is the double-SIM tray. No microSD card though, you're going to need to rely on the internal storage alone. On the photo below, look at that edge strip again. Note the subtle arched curve backwards near the top. These little tweaks definitely give it a classy and premium feel.

At the bottom, that external speaker and a USB-C charging point. There's obviously your microphone here too..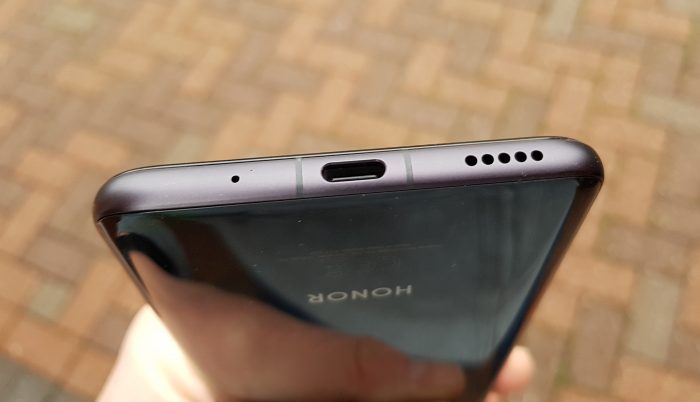 Oh, and I know I've already shown you the top, but here's another quick look. It's put together amazingly well.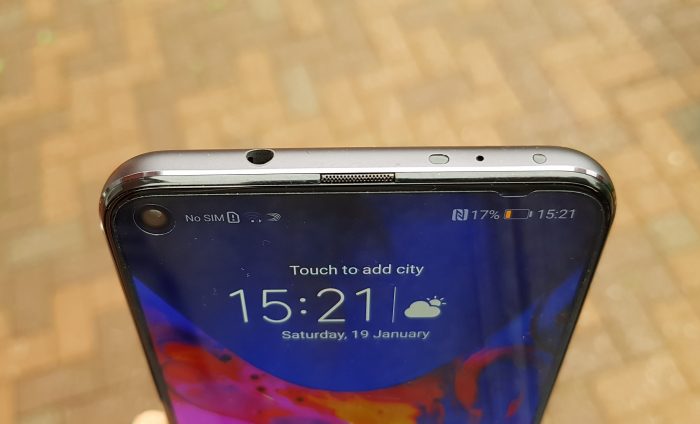 Inside the phone and we have Android 9.0 (Pie) with the "Magic UI" named after the Honor phone of the same name. It's basically a rebrand of the Huawei EMUI 9 though and you'll feel very at home if you've used a Huawei handset.
Specs then, and yes, I have got this far into the review without touching too much on them. It's powered by a Huawei Kirin 980 CPU, and this has 2 2.6GHz cores, 2 1.92Ghz cores and 4 x 1.8Ghz cores plus a Malu G76 MP10 GPU. It's fast and actually the same processor you'll see in the Huawei Mate 20 Pro. Add to that the 6GB RAM and 128GB of storage… it's no slouch. As I mentioned before, there's no microSD card slot.
It's powered by a great 4000mAh battery and the usual Huawei battery management keeps things ticking along for a hilariously long time. Honestly, a very long time. I normally use a smartphone quite heavily, so to see the phone showing a 72% charge remaining at 10PM is just unheard of. The. battery. life. is. amazeballs.
There's dual 4G with those double-SIMs, Bluetooth 5.0, NFC for your card payments, aGPS, dual-band WiFi and AI tech to make your photos look sharp and vivid.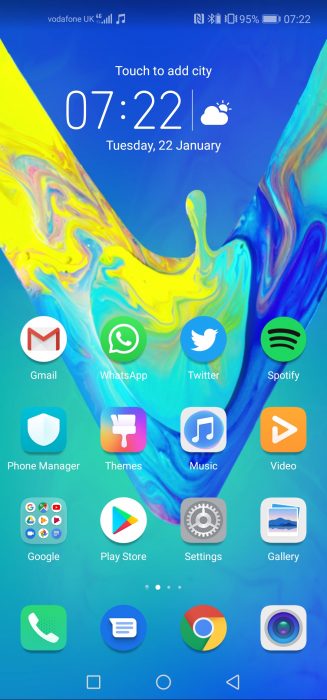 Aside from the GUI, a nice feature is the "Digital Balance" option in the settings. This shows just how much screen time you're using. You can also set app limits, time limits and when it's time for bed. When you set this up you'll need to choose if this is your own phone or your child's handset, setting time limits for usage which are only bypassed with your approval. If you have a Huawei ID, you can apparently do more with this, but when I clicked into the setting it went to the Chinese version of the website and I got a bit lost. That said, this is a pre-release handset so I'm hoping that there's going to be some sort of remote management for the phone, so that you can approve remotely (a bit like the Apple iPhones) – currently you have to enter a PIN on the phone itself from what I can see on this one.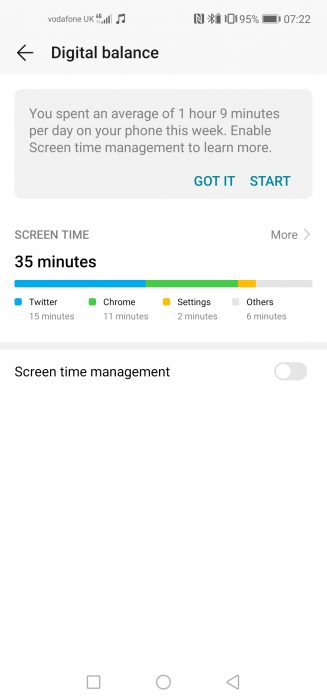 On some of these shots you may have noticed that the navigation buttons are slightly off-centre. This immediately triggered my OCD but, after fiddling around in the settings trying to centre them, I realised that perhaps the off-set nature is by design, and means that your thumb can reach down without you losing hold of the phone. I've seen other handsets with this centred though so it could be because I'm using an early device. You'll see a fourth button pop up in some parts of the GUI, and you can alter how many buttons you have and in which order they appear through the settings.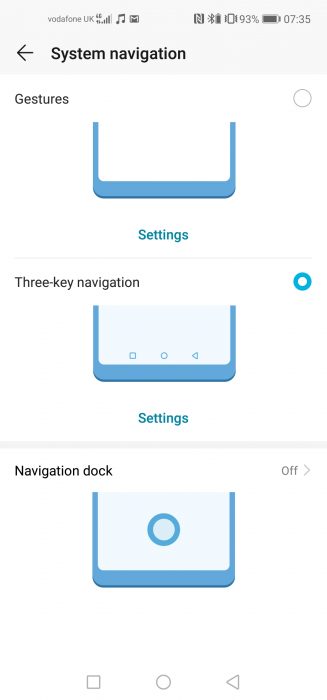 It's a big screen, but you can always reduce it down slightly and it works whether you're left or right-handed . Great for one-handed work and you won't need to stretch your fingers when you're running for a bus.
With the CPU and RAM in this phone, everything is extremely quick. No lag, no slow-down or anything like that. I installed all my usual apps, including Spotify, WhatsApp, Twitter, Plex, SoundCloud, iPlayer, Strava and LinkedIn etc. It all worked very well and you get nicely rounded icons for your apps for the most part.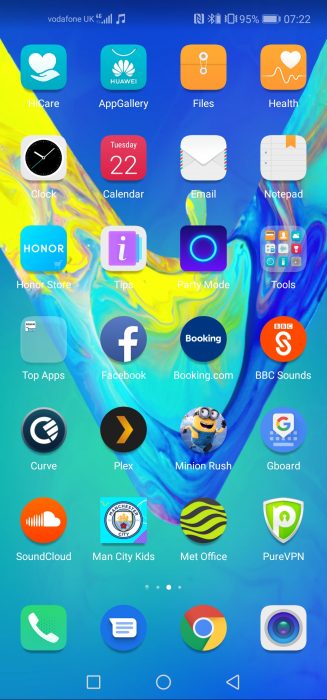 Add to that the fact that you can easily adjust the appearance of the phone by going into the Themes option. You'd be best here to sign up for a Huawei ID to browse the various themes available. They're all styled nicely so that you don't end up with a disjointed appearance, however you can of course adjust the background and so on to a personal picture or anything you download. The Huawei ID will also connect you to a Huawei Cloud system where you can backup various parts of your phone, including WiFi settings, Recordings, photos, calendar appointments, contacts and notes.
Huawei / Honor have also added a one-handed UI, motion control, voice control and a visual shopping application which integrates into the camera. This lets you point your phone at an item so that you can check for prices online. It'll identify the item and do all the magic.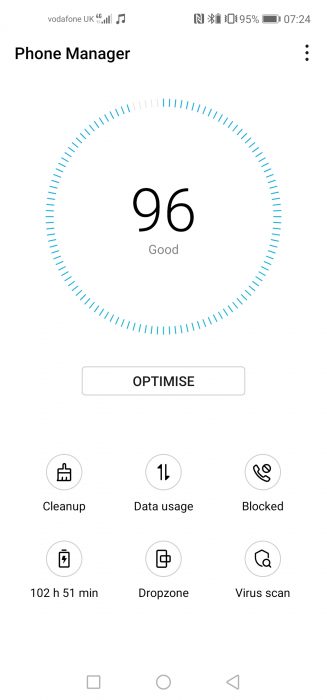 To keep everything running smoothly you'll find a Phone Manager which will let you manage your blocked numbers and block rules (you an immediately block "strangers" so that you won't receive any calls unless they're a contact).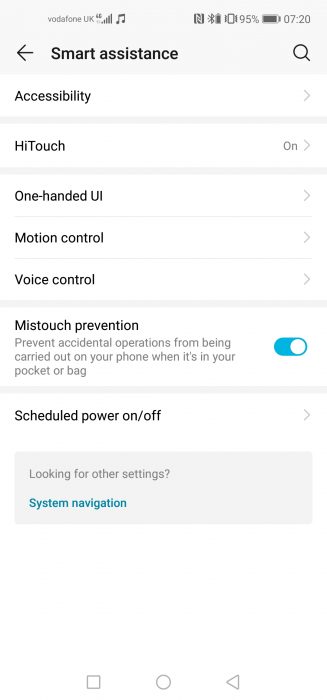 You can also keep an eye on data usage, battery usage (there's the option of switching to Power Saving or Ultra Power Saving here but believe me, you won't need it) and you can do a virus scan or clean up your phone to remove junk files.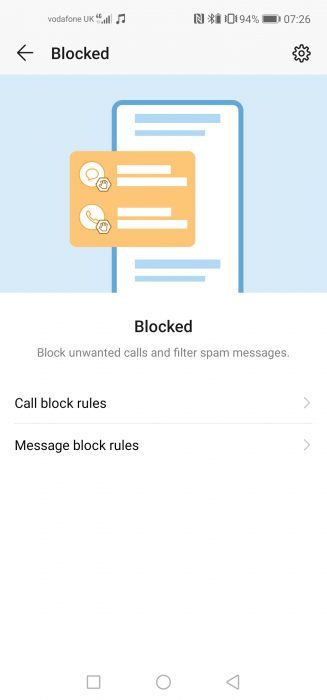 Other Huawei / Honor apps include HiCare for troubleshooting, updating, trading in and repair. This is your one-stop-shop for diagnosing any problems you may be having.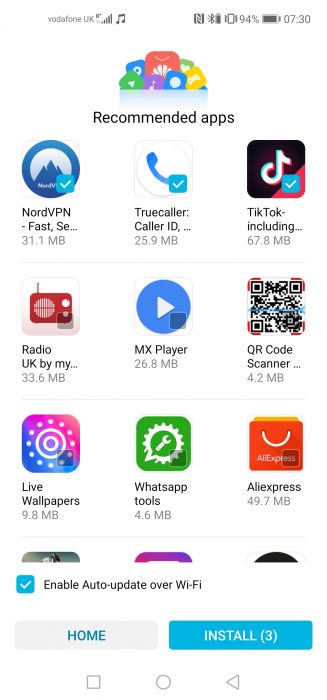 Here's a look around the UI. Open each shot by clicking on the preview image..
There's also the Huawei App Gallery, which I always tend to ignore (as it's just another app store really), Huawei Health for monitoring your sleep and activity (this will also sync with Huawei Smart Bands), a file manager and an Honor Store, which just takes you to a website. Other apps include a Tips section so that you can use your phone more effectively, and the "Party Mode" to let you play music across several phones on the same network.
You can adjust the screen resolution to prolong battery life (again, you won't need to, the battery life is just amazing) and there's also the option of adjusting the screen brightness and hue so there's less strain on your eyes.
GUI Video Walkthrough
Screen capture and screen recording is included on the Honor View20, so I figured I'd make use of the screen recording and show you around the phone properly…
Desktop Mode
If you liked the desktop mode on some of the Huawei phones, you'll find it here – now known as the "Magic Desktop". This converts the phone into a PC-like experience. Here's how it works…
You'll need an additional bit of kit for this. Here I'm using a USB-C hub from Inateck.
Camera
Carrying a lot of functionality from Huawei, the camera has an AI mode to detect scenes and objects. This will then adjust the camera settings so that you get the best possible shot. You can of course turn this off, but it did a great job of spotting what I was taking a photo of. Even in test shots, where I was pointing it at the keyboard I'm typing on right now, it spotted that it was a keyboard!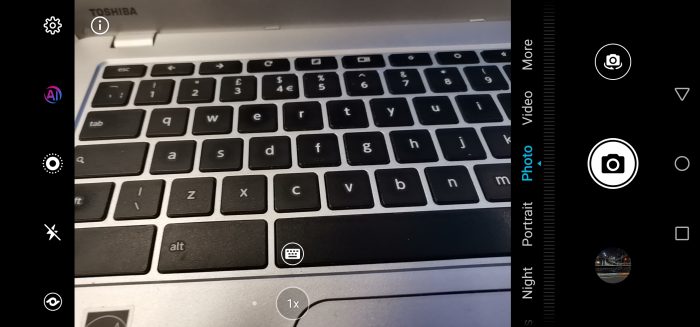 Options include "4D predictive focus" to show the focus points on moving objects in real-time and smile capture. There's also an array of other options, including GPS-tagging, a grid system so that you get shots straight, audio control, a timer and a watermark.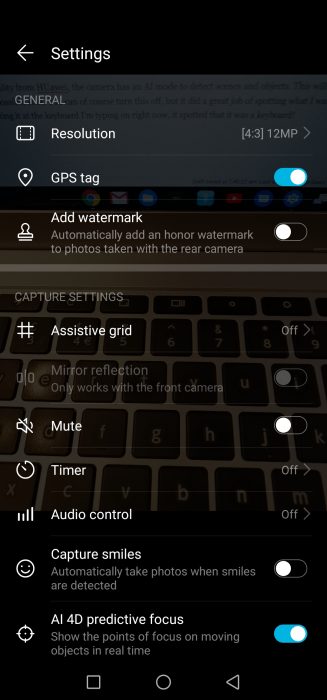 Head into the camera resolution settings and you'll notice that 4:3 12 megapixel is the default. This is a pretty standard thing for all Android phones – no matter how good that rear camera, the default option will be a 4:3 format photo which loses megapixels. That said, 12 megapixel is a quarter of what this camera can do, so switch it up when you get one. There's a 48 megapixel option and a 48 megapixel "AI Ultra Clarity" one. This mode is best for shooting stationary objects in good light.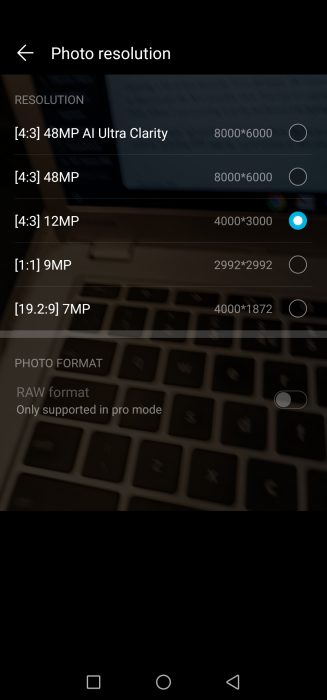 Wait, what is that 48 megapixel AI Ultra Clarity mode? Well, according to Honor, it will combine multiple 48 megapixel images into a single 48 megapixel photo, producing a "Super 48 megapixel" photo.
So why is it set to just 12 megapixels as default? Well, the answer basically is because you can't zoom in the 48 megapixel setting.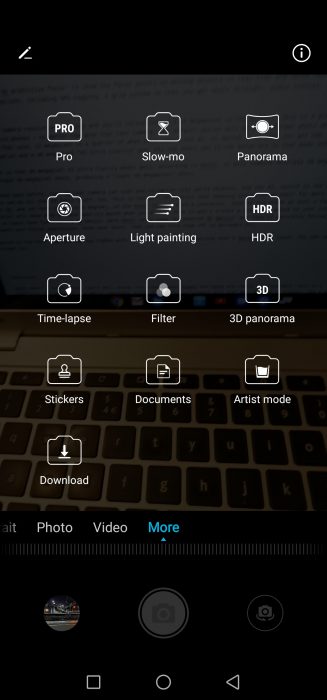 As touched upon before, that 3D rear camera can scan and recognise real world objects. Add the AI, switch to the front camera, and you can do all that AI Emoji stuff. Yes. This is the sort of feature that Samsung showed us on their far-more-expensive Galaxy S9, and yet here it is (to a degree), on the Honor View10.
Pick a character, look at the phone an pull a face – the character will move with you and open its mouth when you do etc. Here it won't create a character based on your looks, but you can at least have fun creating 3D Emojis. Here Honor calls them "AI-powered 3D Qmojis" and they'll basically follow, learn and animate your facial expressions. Even your voice. Then you can fire them off in messages etc.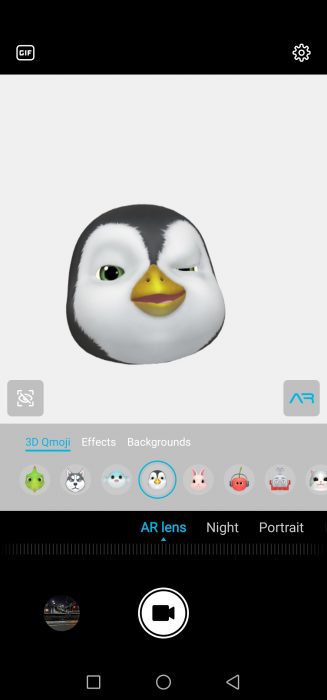 Switch to the "Pro" mode and you can fiddle with all those extra camera options that I daren't ever touch. You can save in RAW format too.
So, example photos below. Click them to get the original images..
Now for some shots with the resolution cranked right up – these are all 48 megapixel photos..
Well, for me that rear camera is fantastic. I'll be bringing you a little more about the tricks that the depth sensor can do later on in a separate piece. Highly recommended from me.
Conclusion
Honor equals a budget phone, right? Well, wrong. The lines between Huawei and Honor are really blurring here. This is a powerhouse of a phone for a properly reasonable price. The graphic performance with that Mali-G76 GPU is stellar, the 4,000 mAh quick-charge battery just goes on and on and that Kirin 980 chipset flies. It's 75% faster on a single core performance basis compared to the previous generation but it uses 58% less power. Shocking. Let's not forget, this is a CPU from Huawei. It's their own kit. Even when I was playing graphic-intensive games it felt like the phone wasn't breaking a sweat. Honor engineers have developed a trick bit of liquid cooling technology which dissipates heat incredibly well.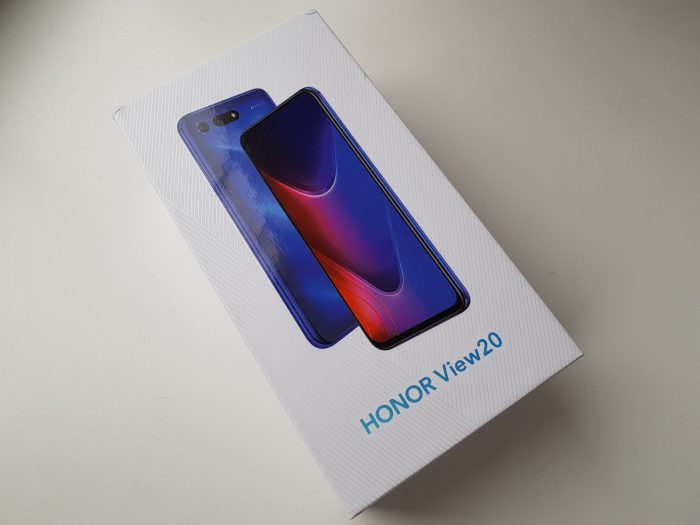 Sure, it lacks wireless charging, but there's a nippy fingerprint sensor, two SIM slots, 128GB of storage on-board, a blistering CPU, excellent hi-end gaming performance, a fantastic camera and bags of memory to keep everything bouncing along. We are now firmly in a world where a top-spec phone DOES NOT need to cost the earth. Sure, that in-display camera is showing off a bit, but why not? It looks great, it takes fantastic photos and there's a battery that'll last forever powering it all.
Ok sure, so there's no worries charging and, apparently according to the fact that the pinhole camera is there, no OLED screen, but again we're hiring that old argument of, "Should you pay another £300-400 just to get a phone with those bits?"
Get this. Get this phone now. Yeah, yeah, I know you might not have heard about the brand, but believe me, this has all the tech, all the performance and all the build quality you'd expect from Huawei – albeit with an Honor badge. Plus, as I type, there's loads of offers meaning you can get a watch thrown in with your purchase too.
One piece of advice though – if you like that shiny rear panel, go for the blue version as the black version doesn't shimmer quite as well.
So the price, for this flagship? Just £499 / €569. That's for 6GB RAM and 128GB storage. Get one from Honor direct. You can also purchase the device on O2 or Amazon.
Honor View20 Review
Battery life - 100%
Build quality - 96%
Value for money - 93%
Camera - 84%
Epic battery life, brilliant performance, beautiful design, fantastic cameras. What can I say? A+ !