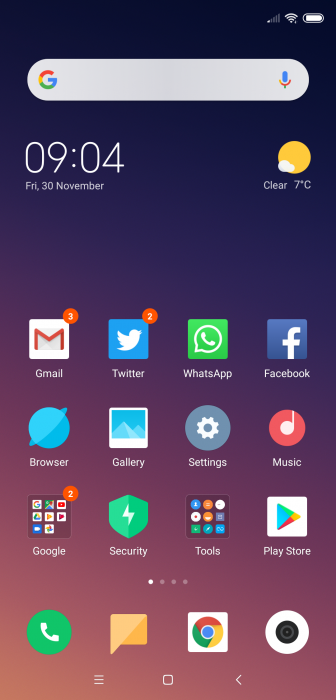 Morning all. So, I had a lovely intro to this third day with the Mi 8 Pro. You can see our story so far here. This morning though, I woke up to find that the Mi 8 Pro had received an update, and the GUI looked remarkably different. Not in a bad way, it's good. Very good.
Clean, concise, uncluttered and lovely to look at. All good in my book, but sadly it meant that I had to bin a lot of what I'd written and all of the screenshots. Doah!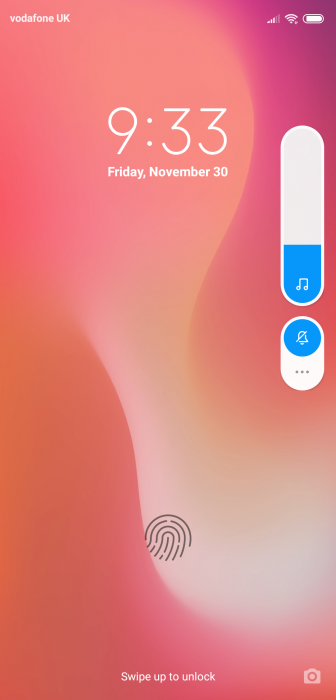 The speedy solution was to do a recording of the screen. It does tend to give you a better look at the interface any way, and you can see just how quickly everything operates on the hugely quick 2.8GHz octa-core CPU and 8GB of RAM.
The phone is relatively uncluttered and doesn't come with too many unnecessary additional apps, which was a relief. It's also very intelligent and clever at managing apps – so you'll have to be sure to remove the battery optimization from apps that you need to run in the background if you find they're closing or not working as expected.
Here's a look at the GUI in video…
All of this, of course, is to try and lengthen the amount of usage you get, and there's a set of performance, diagnostic and cleaning tools to help keep everything running smoothly. It's all very straightforward and you can also block spam messages, lock down apps and monitor data usage. There's an "app vault" for your most used apps – get to them quickly without searching all over the place. A "dual apps" option let's you sign into dual accounts for apps like WhatsApp and Facebook.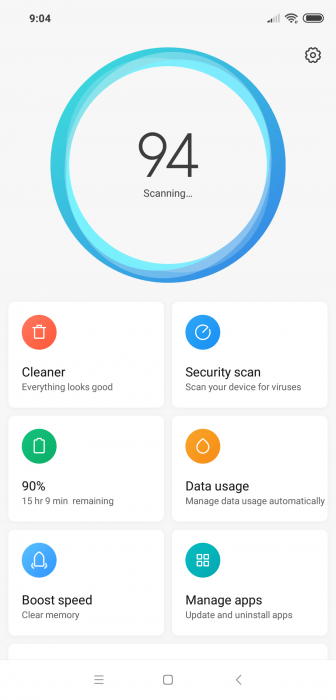 There's also a feature called "SecondSpace" which effectively lets you have a second separate profile with individual wallpapers, apps, files and photos. Ideal if you've got a Work and Personal SIM in here or if two people are using the phone… or if you're having an affair.. maybe.
The on-screen fingerprint reader, I will admit, isn't as accurate as a normal off-screen one. It works OK if you're in a warm office with a clean finger, but out in the cold or with a slightly greasy screen, you're in a bit of a pickle and you'll be using the PIN instead.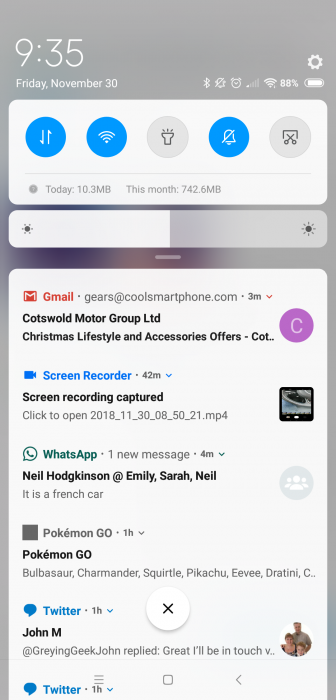 The new update, which arrived literally this morning, has now grouped notifications together – previously it was showing each and every email as a separate notification but now everything is clearer. The MIUI10 interface is very quick, with apps loading instantly. They've added some lovely natual notification sounds (from nature) and some equally lovely backgrounds.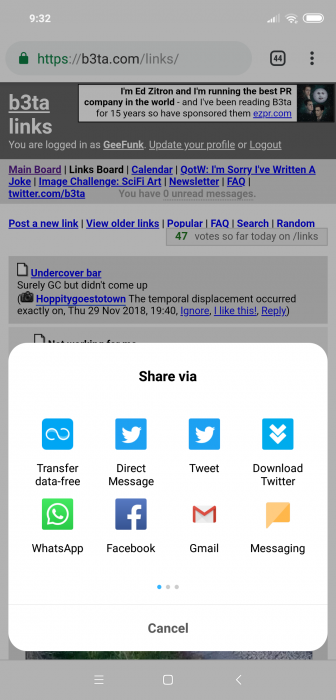 I have to say, the whole design of the interface just fits. It works well as a single offering – no disjointed feel – it's a phone and interface which connects and delivers. From the notification shade, to the settings, to the design elements that flow all the way through this phone – it's done with a style and an attention to detail that I really appreciated. Top job.