This morning I woke up. It was a bright, sunny day and the birds were gently tweeting their morning chorus. It made me feel lucky to be alive. I couldn't wake to spring out of bed and greet the day with big, open arms.
Ah well, no. Not really. None of that is true. This morning it was dark, foggy, cold and wet. Truth be told, apart from the fog lifting, it didn't get much better as the day went on. Yesterday was the same. It was raining sideways. Sideways. Still, I figured that this would all be a good test for a phone camera. After all, we don't all live in California, do we?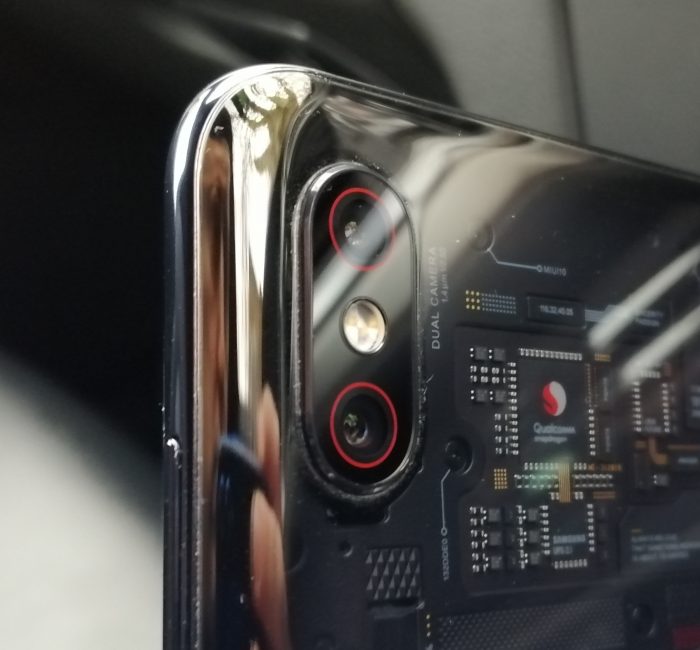 Truth be told, I'm properly impressed with the camera. I've taken lots of low-light shots and the image comes out in the exact way that your eyes see the scene. Fire up the camera app and the AI will kick in, recognising the scene and adjusting the camera settings to suit. It happens quickly and it'll add a touch of brightness if you're snapping a photo of a letter or something out of the paper. Likewise, if you're taking a photo of a person, a flower or the sky, it'll quickly adjust all the geeky bits of the camera to ensure that you get the best photo.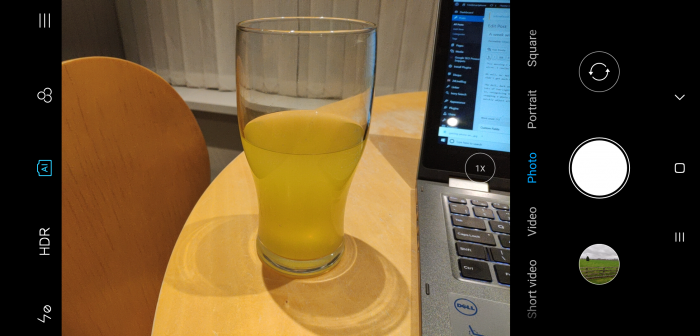 You can hit the menu in the corner and do some fun photo stuff like tilt-shift or a straightening option which stops your photos going off at a weird angle. This all happens extremely quickly thanks to the Snapdragon 845, the pots of memory and the Adreno 630 GPU.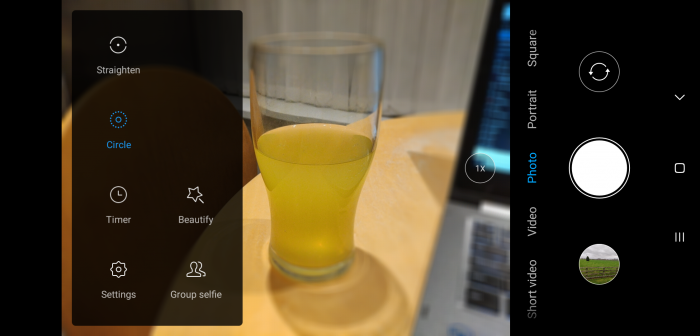 Now I'll admit that I've left the watermark on all these shots – you can turn it off. In addition, you can choose whether you want location info, the time stamp, gridlines, and you can adjust picture quality and whether the volume buttons act as a shutter or not. There's a Group selfie mode which takes a batch of photos so that you can select which looks best, a beautify mode, a timer and a stack of filters to play with.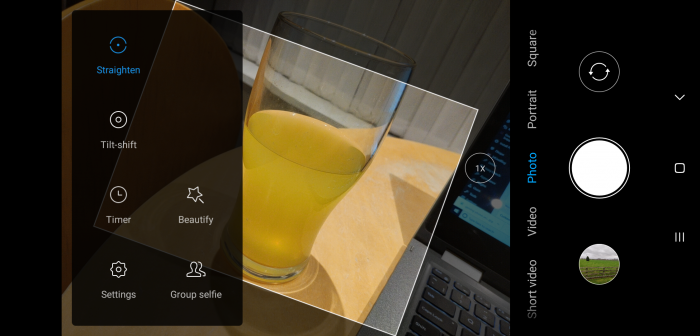 I couldn't find a tracking focus option, but I was glad to see HDR set to auto and I rarely used the flash because the low-light shots came out great.
Other options include a video mode, a short video mode and a portrait mode to let you blur the background. A panorama and a manual mode for the camera-geeks is also available and, whilst it might not quite have all the bells and whistles of other camera apps on top-end phones, I was really impressed with the fact that there actually weren't too many options. They've got the basics spot on. The camera shoots brilliant photos, even in the darkest and wettest of days at the very end of November.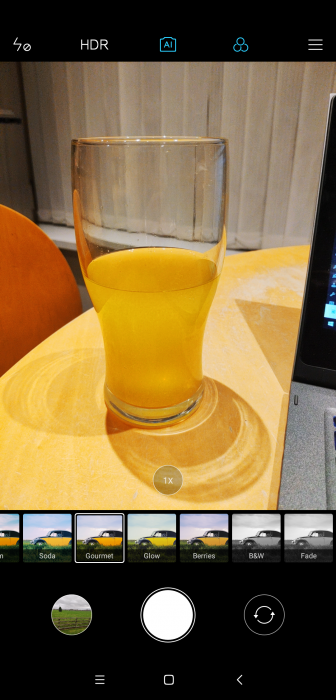 This, and I'm not over-selling it, is up there as one of the best camera setups I've ever used on a phone. The colours are brilliant and true to life. The low light shots are great and the performance of the camera app is nippy, simple and without too much bloat and unnecessary gubbins.
Here's a look at the UI…
First, here's a night shot of the Christmas tree being turned on near me. It was drizzling, there were car headlights coming into shot and it was pitch black, plus I blurred the lens with my greasy gloves (which caused the streaks on the upper right) but it still came out very well and it showed the small amounts of light in the sky too, which I loved.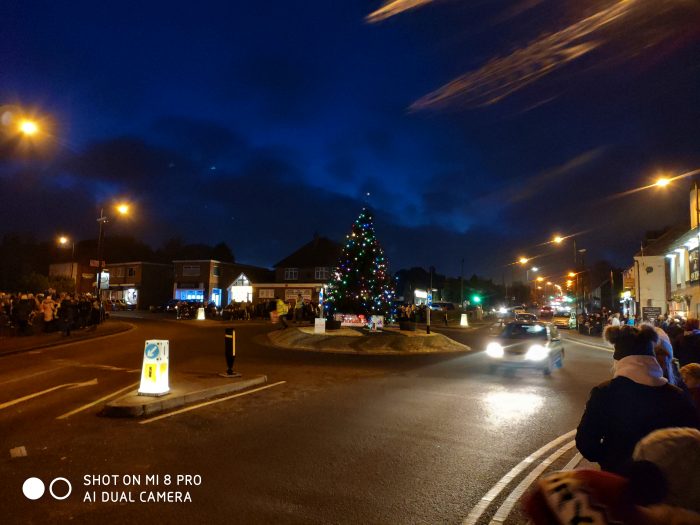 Anyways, onto the example shots 🙂 Here's some examples when the sun was out..
Here's a dull interior shot..
Now back outside and it's overcast, dark, raining in places. You can see the mist / fine rain in the distance on some of these photos. There really wasn't a great deal of light but it performed well.
Here's a comparison shot I took last night. First, the street on a Samsung Galaxy S7..
Pretty good, I'm sure you'll agree, but now let's see that same shot on the Xiaomi Mi 8 Pro.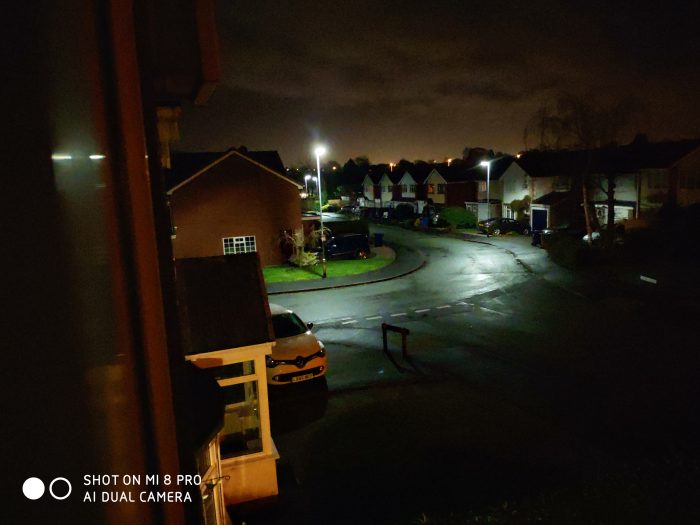 For me it just looks more natural. The colours are truer to those I was seeing with my own eyes. The light on the side of the house looked a bit paler and washed out on the Samsung shot, whereas it was more realistic on the Mi 8 Pro.
Here's full zoom..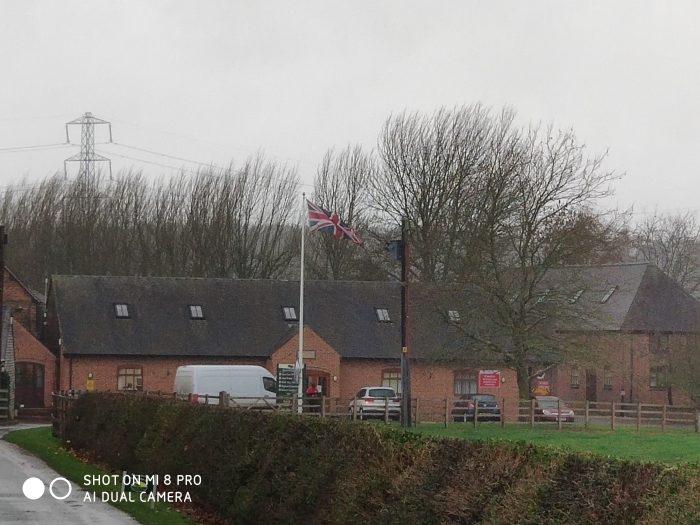 Here's another test of the zoom, from normal, to half, then full zoom.
Now for a video test, and I have given the zoom a bit of a try here too. It got a bit wobbly because I was at maximum zoom (not something you'd normally do in video) but there was a lot of image stabilization going on and it worked very well.
More to come on the Mi 8 Pro – keep tuned !