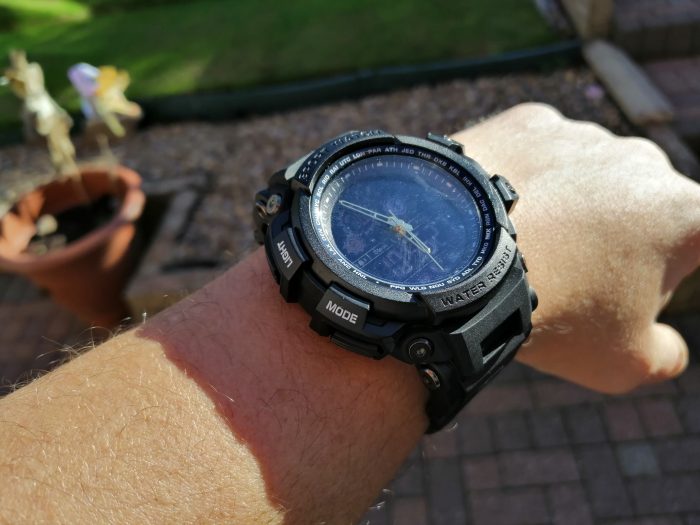 OK, so first impressions then, and this thing is big. I'm not overly sure why. I mean, in the past I've seen some budget-priced smart watches from China and they're usually chunky, but here we have a sports watch which doesn't need charging ever day, it doesn't have a flashy OLED screen and there's no GPS. Surely it should be a bit thinner?
Well, I'll give them this, they've made the most of the chunky size by giving it a massive battery life. It all runs from a button cell so you don't have to faff around with a regular charge. The people from GearBest tell me that it should last for a year with light use, or 8 months with "normal" use and 5 months with "frequent" use. Once it goes flat, you'll need to take it to a watch shop and get the battery replaced – just like a normal watch.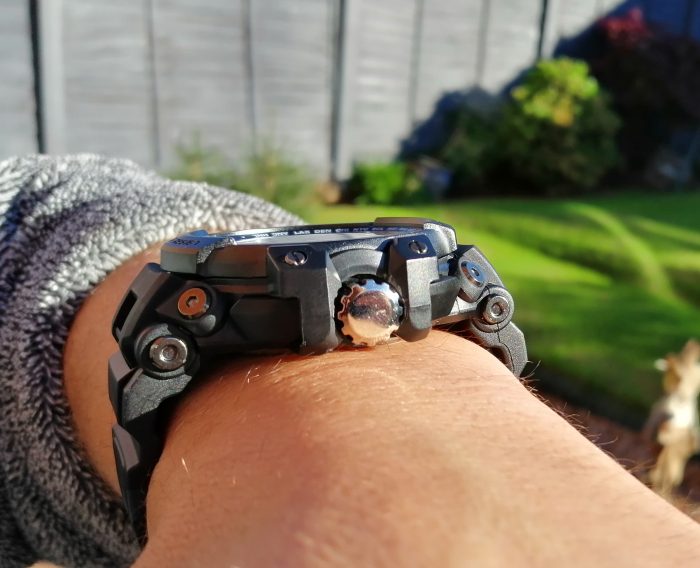 Indeed, when it arrives in the box and you find out how to turn the thing on (there's some really good start-up instructions in the box) you'll find that the display is actually and LCD and therefore doesn't sap that much power at all.
There's no GPS here but it will count your steps. From that it'll judge how many calories you've burned and how far you've walked. All of this is shown on the display and, if you hit the chunky upper-left button, a soft green glow will ensure that it's illuminated enough to see in low light.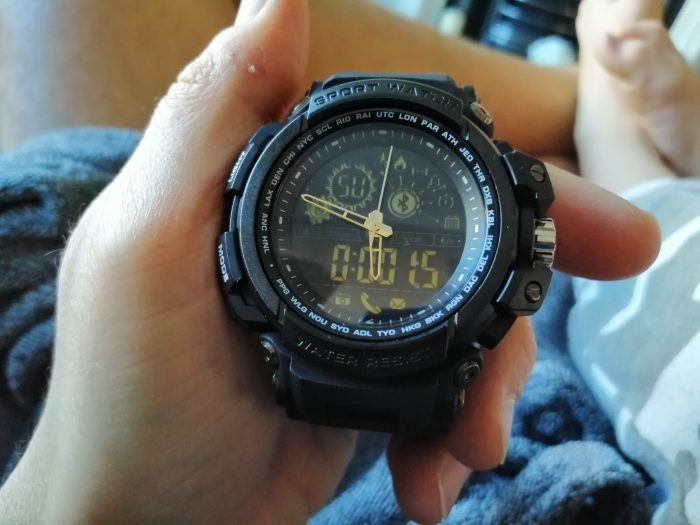 The lower-left button scrolls through the various modes that are available here. Press once and you can see the day and month, press again to see how many steps you've achieved, press again to see how many calories you've burned and then how far you've walked in kilometres. If you press again, you can then use the lower-right button to set an alarm, then the watch will wake you up at the preset time. Press that lower-left button once more and you'll get into the stopwatch – this is activated with the upper-right button to stop and start, then the lower right to reset.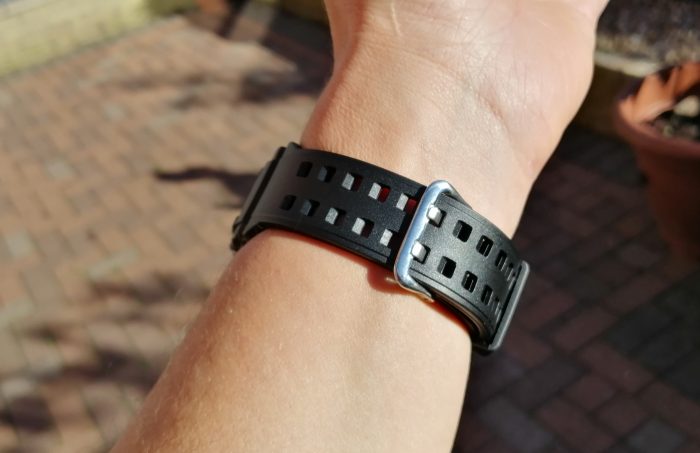 If this all sounds a bit complicated, it really isn't – the symbols on the upper-right show you exactly which mode you're in.
The watch connects to your phone via Bluetooth, and you'll need to download the Sports+ accompanying app to unlock the rest of the functionality of the phone. This will let you send notifications to the watch and – although the watch hasn't got the capability to show you your WhatsApp messages or the body of your texts, it can at least beep and flash the appropriate "Envelope" symbol to let you know that you've received a message on your phone.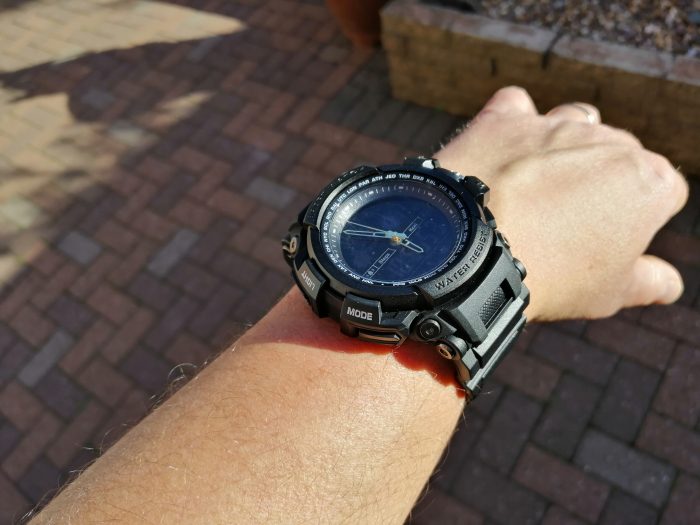 The app isn't the greatest, I must say. It's basic and isn't geared to the European market. Notifications are setup in an area which is inexplicably called "Caution" and you have to wade through options for "Wechat" and "QQ". I managed to get it to update me about texts and WhatsApp messages though, and you can also do Twitter and Facebook. It'll also let you know when a call is coming in.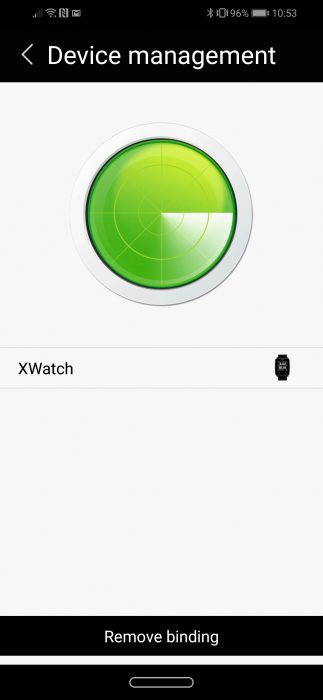 There's also an alternative method for setting alarms, which thankfully is much easier than pressing the "Mode" button. Once you've set an alarm in the app it'll instantly reflect on the phone.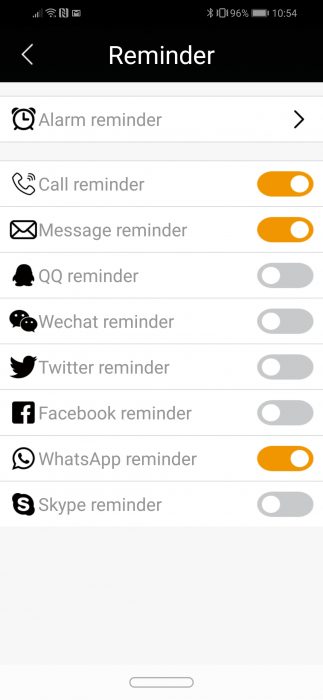 The app also has an on-board manual and you can connect to the watch here – you'll just need to press and hold the upper left button on the watch to get this bit done.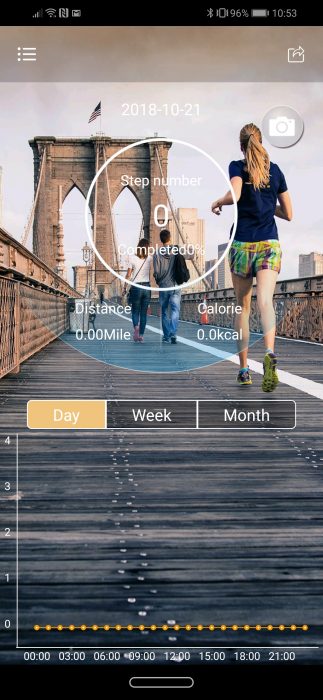 Inside the app you'll also find some limited fitness functionality. You can but your date of birth, height, weight and gender in then, as it collects information about how many steps you've done, it starts to plot daily, weekly and monthly stats for your movement and calories burned.
On the upper right of the app there's also a shutter button so that you can remotely take selfies. This worked well enough.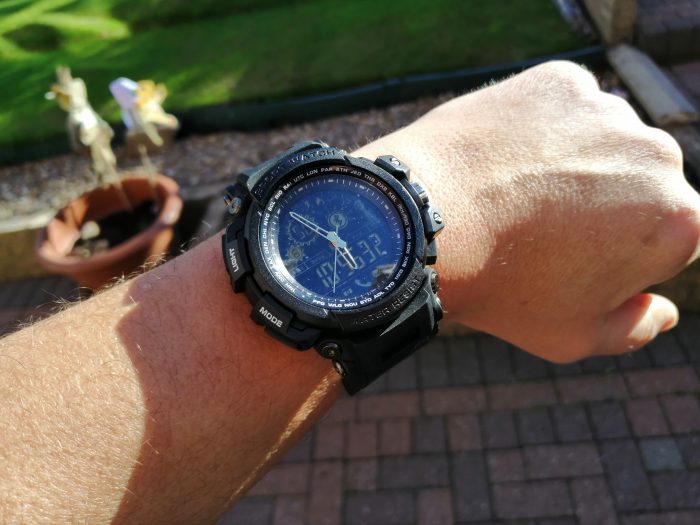 The listings you'll see relating to this watch seem to suggest that it can be worn when swimming (it can, it's waterproof), cycling and as a tracker. It can, to some extent. However, there's no GPS here, so it can't track how steep those hills were or where you ran. It can't tell you how fast you cycled and I'm a little unsure on the IP68 waterproof rating – one listing says it can go to 5 metres, another says 50. Perhaps stick to 5 just to be sure. Don't forget, this is a really cheap watch (less than £17 from GearBest here) so there's no heartbeat sensor or anything like that.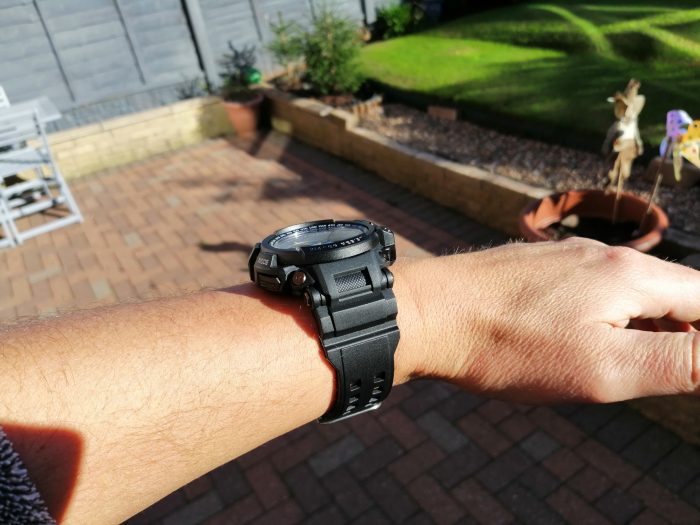 What I did like was the notification functions, the fact that there's analogue hands (which can be moved with the main crown and aren't sync'd to your phone time), plus the amount of time you can use this without needing a new battery. I also liked the sturdiness of the strap and the fact that there was two "pegs" holding the strap in place. It's a good build quality and very solid, but do bear in mind that the watch itself is nearly 2cm thick. This is a chunky monkey.
Head to GearBest.com for more details or to buy one.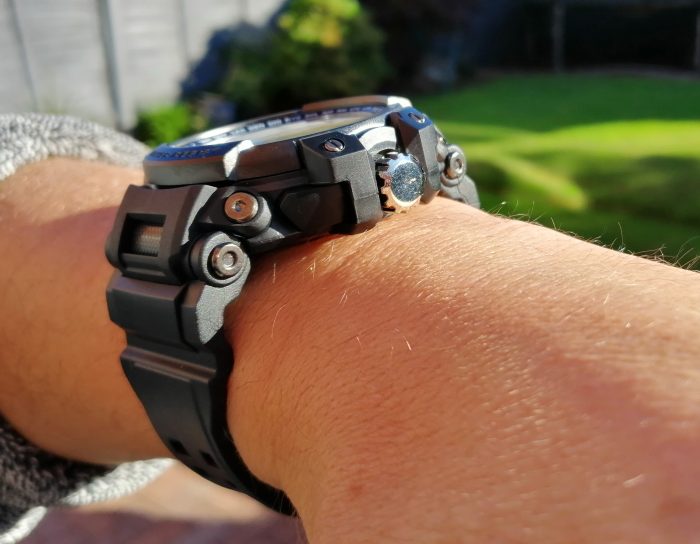 Diggro DI10 Smart Sports Watch Review
Build - 88%
Value for money - 90%
Functionality - 76%
Accompanying app - 52%
Cheap, but a decent build and a decent set of functions. She's a chunky one though.