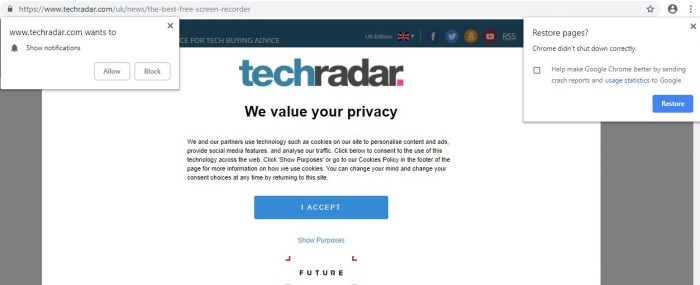 As you'll have no doubt noticed recently, websites are now being a little more honest with you. It's made the internet a sometimes quite frustrating place, with pop-ups telling you that a website wants to send updates, then notifications that the website is going to send you cookies, then a message asking you to accept some terms and conditions and – if you're really unlucky – a live-chat and a newsletter message too.
It's a sign that the internet isn't anywhere near as anonymous and risk-free as you think. On a phone things get even worse, because your location is usually passed through the browser and others can find your exact location just by you visiting a website. Other information includes your browsing history, your local and public IP, your hardware, your operating system, your browser, your screen size – even your battery level, whether your phone is charging, and what your gyroscope is doing too.
Deep down, it's not adverts that make the most money on the internet now – it's your personal data. Your ISP (Internet Service Provider) is already able to see all of your online activity, including the messages you send, videos you watch, and the apps you download. Now websites are doing it too, and this information can be sold on to third parties, who use the logs for targeted advertising.
Of course, this information can be used for other things too. Your location and IP is grabbed by online video content to stop you watching video and television content outside of a certain geographical area – often due to strict licensing agreements and broadcasting rights. Without a VPN, you're restricted to the content available in your specific area, and all of that juicy personal information flows to and from your device unencrypted – free to be intercepted and exploited.
A VPN encrypts your internet connection and replaces your IP address, making it impossible for ISPs to snoop on your activity. If you choose the right provider, it can also unblock this restricted content, allowing you to watch the shows you'd like without hassle or disruption.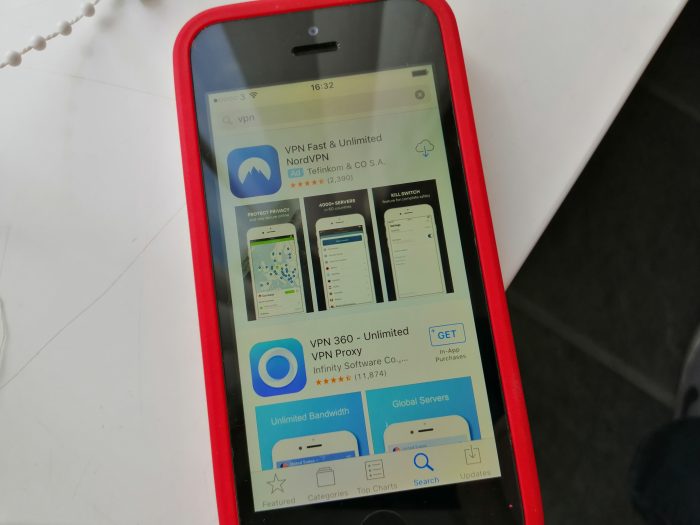 How to pick the best VPNs for iPhone
When it comes to choosing the right VPN to use on your phone, there are a few important things to consider. Most VPN providers offer custom apps for iPhone users, but they aren't all of the same standard – some of the less reliable options can even put your data at risk. You've probably seen the "free" ones out there, but they might also be grabbing your data for other reasons, so it's important to get the right provider. Top choices should offer high-quality native iPhone apps, excellent performance, minimal logging, and first-rate security features.
The right provider will allow you to browse privately on a secure, encrypted connection and still be able to access your favorite sites and apps. You should also probably only look at VPN providers who charge a fee. So, before you buy, make sure to ask yourself the following questions:
Do I want to use a VPN on any other devices?
If you want to protect all of your other devices – including laptops and games consoles – you'll want a VPN that is fully compatible and capable of connecting to multiple devices at the same time. Most providers have custom apps for Windows, Mac, iOS and Android, but only a few offer simple solutions for other systems. Some also only allow a certain amount of concurrent connections under your account, so be sure to check.
Does the company have a good reputation?
Sadly, it's often necessary to disregard a lot of claims made by VPN apps. There are many companies willing to be less than completely honest. Due to the nature of the product, they can make false claims that are difficult to prove otherwise; most consumers will have no way to check whether their data is actually being encrypted or not. Instead, look for reviews from industry experts. Find out which providers are reputed to be credible, and then take a look for yourself.
Does the provider offer a native app for iPhone users? Is it easy to use?
To make your life simpler, you should look for a VPN that offers a user-friendly native app that you can download directly from the App Store. This will allow you to set up your VPN without the hassle of manual configuration. Two of the most popular providers with native apps for iPhone are ExpressVPN and NordVPN.
How much will it cost?
As mentioned before, "Free VPNs" are rarely the solution. These services are much more likely to be insecure, unreliable, or even dangerous. Many will give you technical issues and lacklustre customer support – if any. The worthwhile free VPNs are typically limited versions of paid services; they'll work fine, but will typically come with a bandwidth cap, which might not last you long. Ultimately, it's unlikely you'll be paying more than £10 per month for the higher-quality options. If you go for lengthier plans it's possible to pay a lot less, and there are usually offers to be found online.
Is performance fast enough for HD streaming?
While using a VPN comes with a huge range of benefits, it can slow down performance. Make sure to pick a provider that boasts quick speeds and a variety of server locations, so you can connect to your chosen area. Anything above 20Mbps will be fast enough for HD streaming, but some providers offer up to 200Mbps. You can test out the speeds using a free trial or money-back guarantee period, or use a comparison site to research different VPNs beforehand.
Can I still access my favourite services?
Streaming services like Netflix and BBC iPlayer have recently cracked down on VPN usage, so not every provider will work with these sites. A select few still offer unfettered access to this kind of content, so if you're concerned about streaming, check for providers that offer dedicated streaming servers.
Does the provider collect user data?
Many VPN providers will claim to be 'zero-logs', meaning they don't monitor or store any user data. Unfortunately, this isn't necessarily the truth. You'll need to take a look at their privacy policy or check a review site to find out exactly what they do with your data. A good provider won't collect any personally-identifiable information like browsing history or your original IP address, but might collect basic connection metadata, such as your timestamp or server location.
Conclusion
Using a VPN can improve your experience dramatically, allowing you to access a wide range of new content quickly and securely. That being said, you need to be specific in the VPN you choose for your iPhone. Don't go for the first one that you see; do some research and make the commitment to invest in your security.