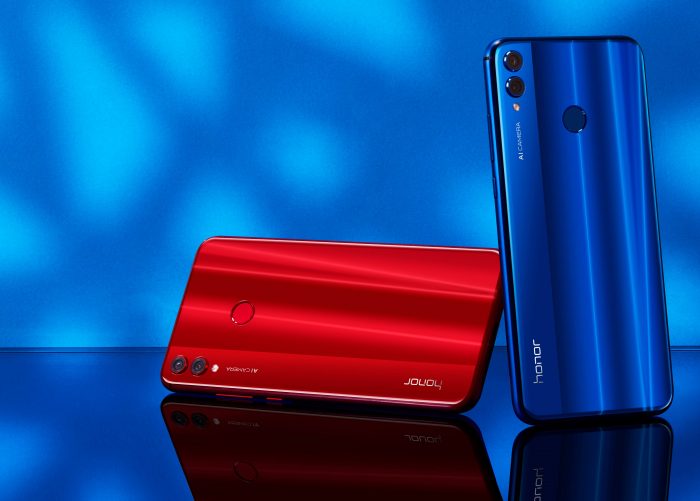 Admit it, £229.99 is an amazing price for a smartphone like this. You can go ahead and buy one right now in either blue or black. It's also going to be available from Three, Amazon, JLP, Very, Argos, AO and Carphone Warehouse.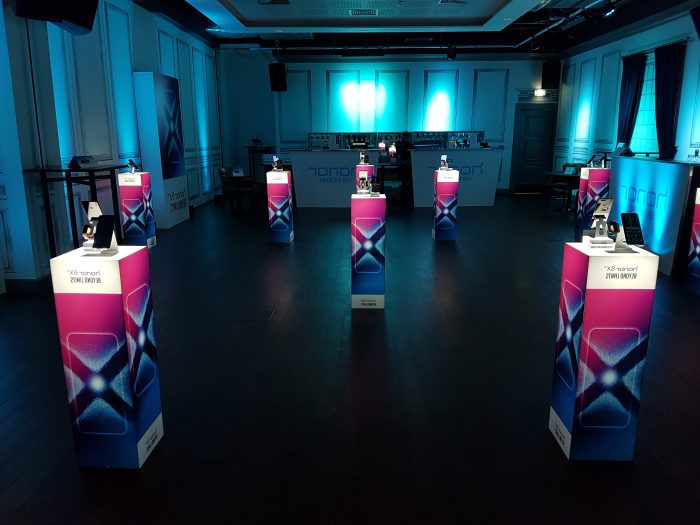 Specs-wise, you're getting a 6.5″ 1080×2340 19.5:9 ratio screen (396 ppi), a dual-camera arrangement at the back (20 megapixel f/1.8 camera and 2 megapixel depth sensor) and a 16 megapixel selfie shooter up front. It's powered by Android 8.1 (Oreo) on a Huawei-made Hisilicon Kirin 710 octa-core CPU, so that pumps out 4 x 2.2 GHz and 4 x 1.7 GHz…. not too shabby at all. In the UK we're getting 4GB RAM and 64GB storage with a microSD card slot, and provided you gloss over the fact that it's apparently "old fashioned things" like a microUSB port (instead of USB-C) and a 3.5mm audio port, this is a lot of bang for your.. err.. pound.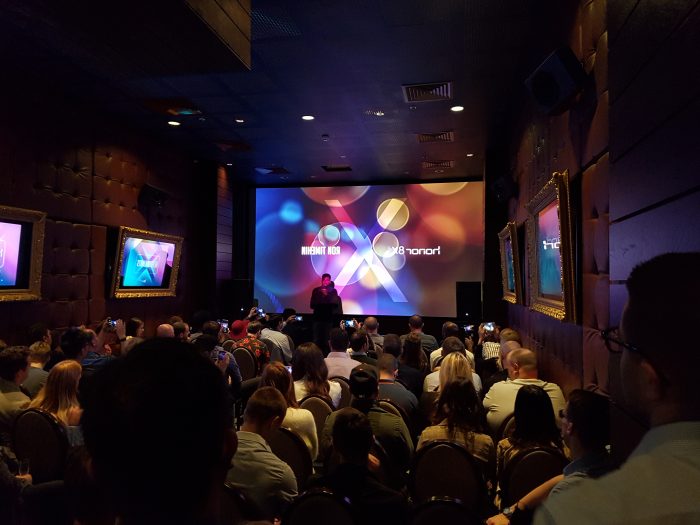 At the launch event we were shown the "elite battery performance" courtesy of the 3750mAh battery, which helps keep you looking at that gorgeous almost border-less screen for longer without charging. That screen, by the way, has an amazing 91% screen-to-body ratio. Fantastic.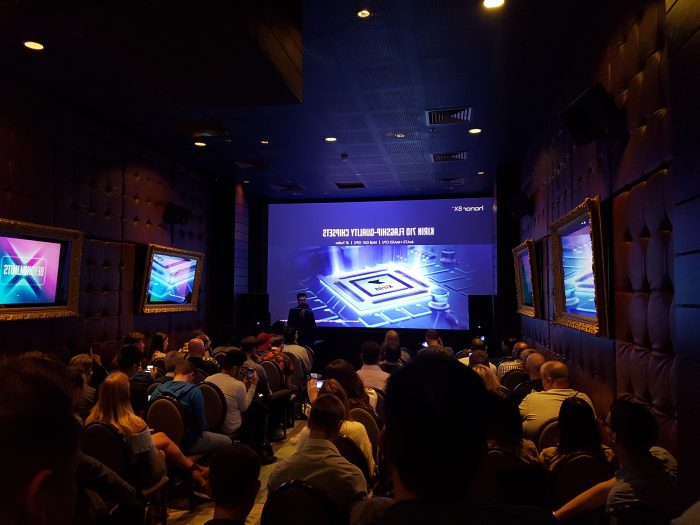 It also has a really eye-catching design thanks to some clever antenna and chip technology sitting alongside the double texture aurora glass body. This has a really beautiful coloured effect and I'd probably go for the blue one if I had the chance of getting one. There's a black one too, but outside of the UK you'll also be able to hunt down a red model.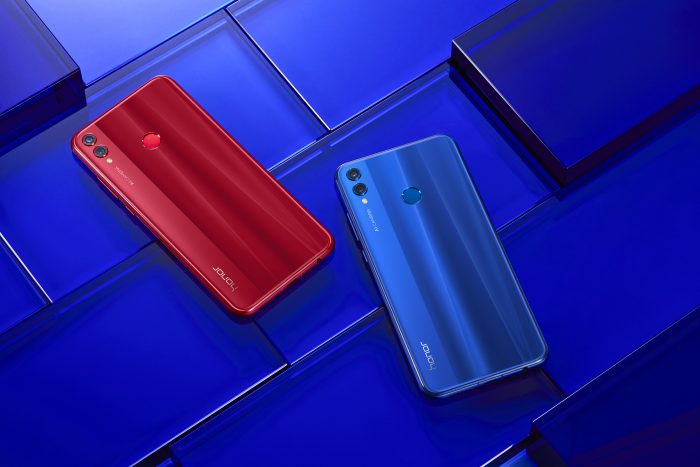 Now, as we've mentioned here at Coolsmartphone, smartphones are great but – like chocolate bars – if you abuse them, you're going to end up in trouble. With the Honor 8X they've added a new generation eye comfort mode which has been properly certified by TüV Rheinland. This means that it'll reduce blue light radiation and won't cause quite so much eye strain.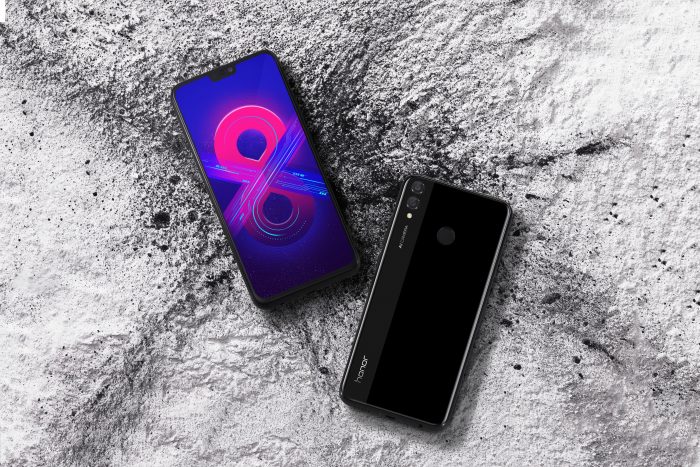 Also, and as is now the norm with Huawei and Honor, there's a clever artificial intelligence which will recognise the category and scenario of photos so that you get better shots. This will then alter the camera options and settings to ensure that subsequent photographs come out as well as possible.
The octa-core Kirin 710 CPU is a big performance boost on the previous generation too, with each core now operating 75% faster. Plus, as Hisilicon / Huawei / Honor make the chips and the phones, you benefit from a lengthy battery life as the CPU can optimise the experience and handle power loading better. Honor promise me that even I will get more than a day of battery life on a single charge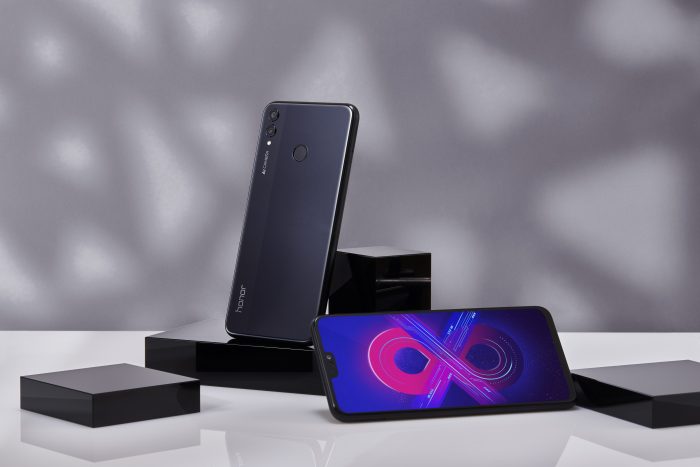 The Honor 8X also has the EMUI 8.2 interface, which can do facial recognition under dim light. There's also some of that funky augmented reality fun that you might've seen on more expensive handsets.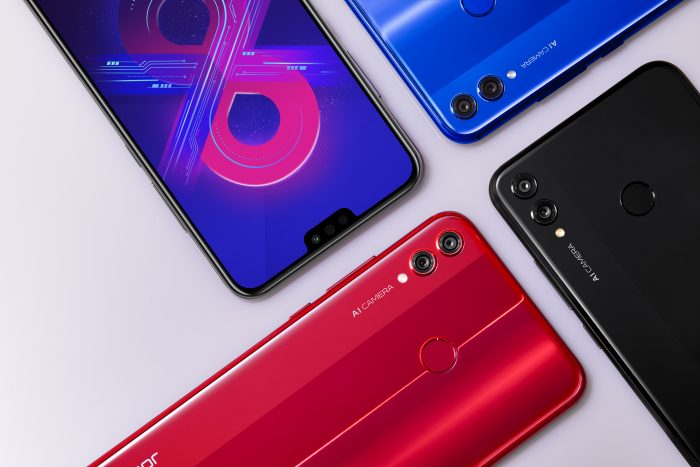 Again, and as we've seen on Huawei handsets, Honor have added tech which automatically recognises weak phone signals or strong interference. The Honor 8X will then adjust the signal and voice quality, adding noise cancellation when needed. It's also got "blazing fast" 4G reconnection so you get back onto 4G quicker when reconnecting to a mast.
George Zhao, President of Honor, told us at the launch that…
The Honor 8X doesn't just meet the needs of our customers, it represents a stunning leap forward in smartphone technology, tearing down old conventions on what is possible, while keeping a strong focus on design aesthetics. The Honor 8X is a beautiful embodiment of minimalism, an eye-catching example of achievement and ingenuity that demands attention. It's a trailblazer which demonstrates that flagship features do not require comprise.
Get yourself for £229.99 from hihonor.com