Introduction
It only felt like 5 minutes ago I was pressing the publish button on my XZ2 review for CoolSmartPhone, and now we already have its replacement on sale here in the UK, complete with hefty price tag.
So the question I asked myself is, why did Sony replace the XZ2 so quickly?
Hopefully the two weeks I've had with the all-new XZ3 will answer this question.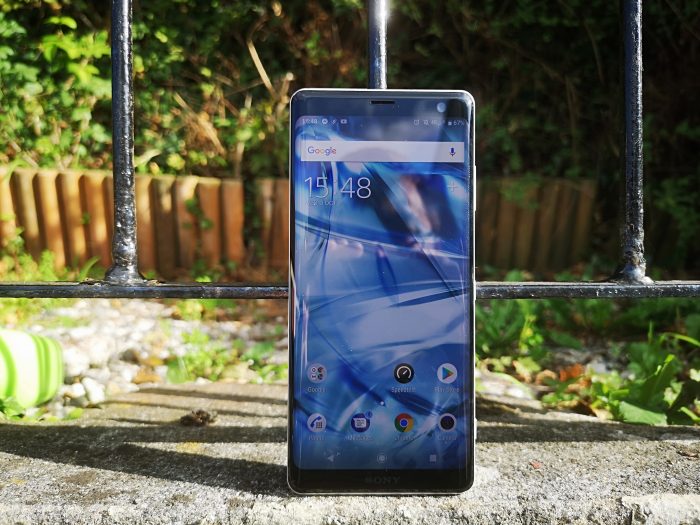 Weighing in at 193 grams, the XZ3 is not a light phone, but it is comfortable to hold in the hand thanks to the curved back. However, just like the older XZ2, it is prone to sliding around a table, so could drop off if you're not careful. Annoying and potentially very expensive if you damage the glass. A case is recommended for sure to add that extra protection.
Sony also keep their impressive IP68 rating for water resistance up to 1.5 meters in 30 minutes of fresh water. No taking for a swim in the sea though.
---
Design and display
Looking at the front of the phone there's a new 6 inch OLED display with taller 18 x 9 aspect ratio bringing it up with a lot of competitors in 2018.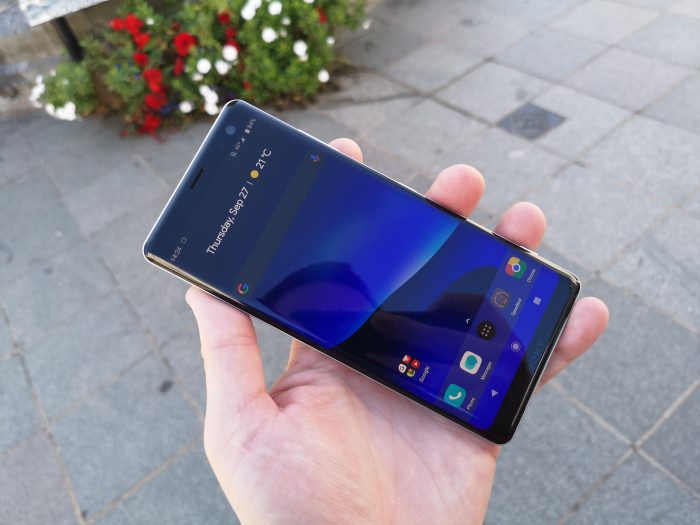 This is the star feature of the XZ3 and will be talked about in more detail later on, spoiler alert… the screen is amazing!
Up top is the speaker used for voice calls and the audio quality was exceptionally good in testing. Calls were clear and crisp even at full volume. At the top there's also the new 13 megapixel front facing camera, which is used for video calling as well as selfies if you are into apps such as Snapchat and Instagram.
This is up this is up from the 8 megapixel camera found on the old model, which was the still very decent indeed. It's nice to see it improved upon here in the newer model.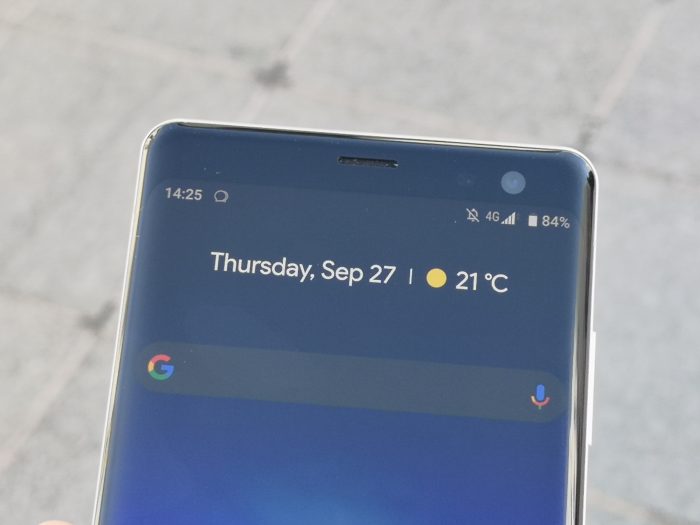 Sony decided to stay clear of a notch which was an interesting decision, a lot of people are now used to it and it would mean smaller top bezels, but instead the top of the display is sliced off fully.
You then have one of the best new features on the device – the gorgeous 6 inch OLED display. This really stands out and has to be one of the best displays I have used so far on any smartphone.
Sony got a lot of stick for having tall bezels on the top and the bottom on their older devices, and whilst the top one is still quite big, the bottom one does seem a lot smaller than devices of the past. It's nice to see feedback being taken into account.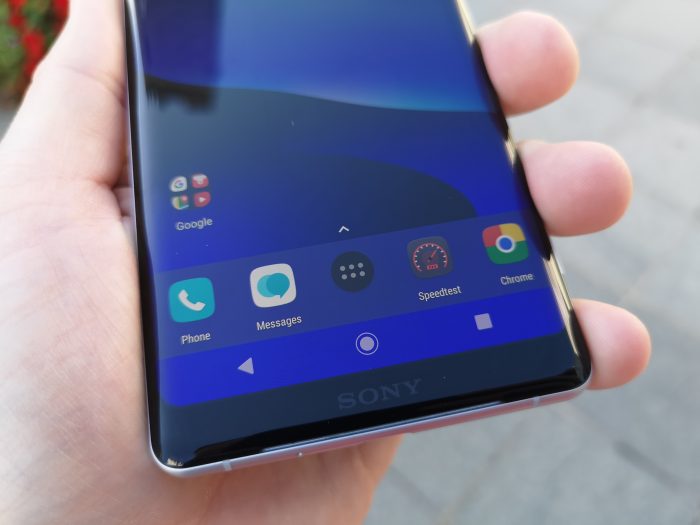 Below the screen you have that smaller bezel with the Sony logo, but there's also another speaker which, when used in landscape mode, really does blast out the audio at an impressive quality.
Looking at the top you have one of the two microphones used for capturing audio in video, as well as noise cancellation. There's also the SIM tray. Thankfully this one does not need a PIN to remove it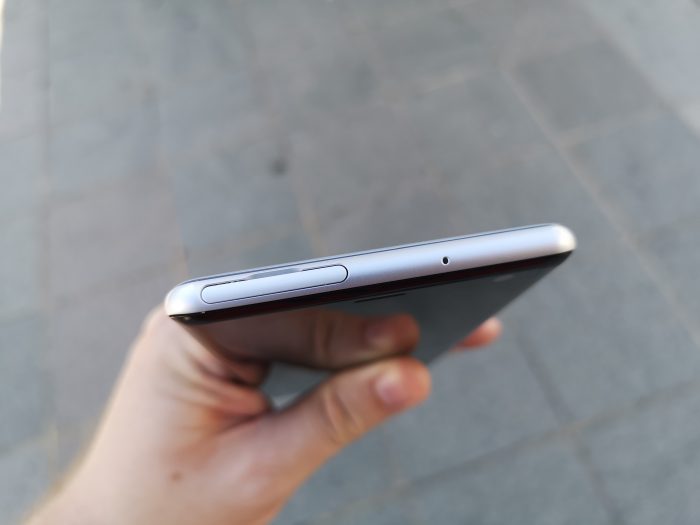 Sony have gone with a slide-out tray which can be pulled out using your finger alone. This is nice because you don't always have a pin with you when you want to remove that tray. Of course, you'll still have the annoying reboot when you take out the SIM card as the phone automatically restarts itself. This can be a tad irritating.
Looking at the bottom of the phone there's the other microphone, which is used for video recording. There's also the USB-C charging port. Again, pretty standard now apart from Apple who still (for now) use their own Lightning port.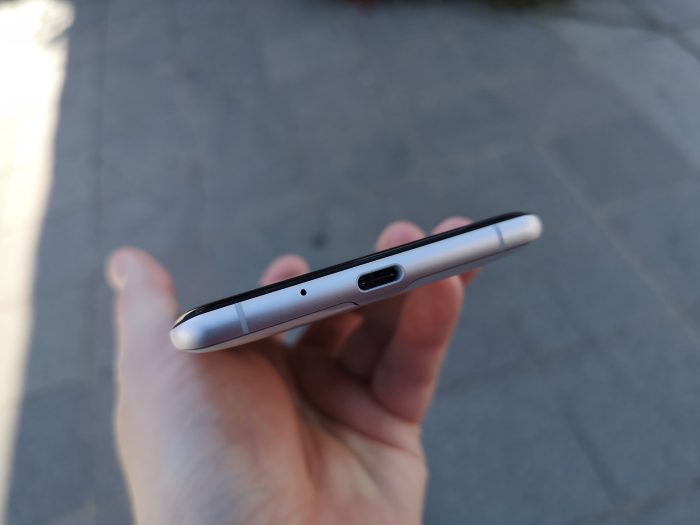 Not only do you get wireless charging, but the XZ3 also supports quick charge. This is via the traditional method  and is handy for the odd battery boost.
The unfortunate trend recently seems to be the removal of the well-used headset port for your own wired headset. That infamous 3.5mm hole. The XZ3 is no different and has no dedicated headphone port in sight. Instead you need to rely on the USB-C headset, but that also means no charging and listening at the same time.
There are many great Bluetooth headsets out there now, and some are priced really well. Although I was initially reluctant to move over from the normal wired setup, I was pleased when I did. Still, there's still many who just prefer the good old wired headphone connection port without any dongle nonsense.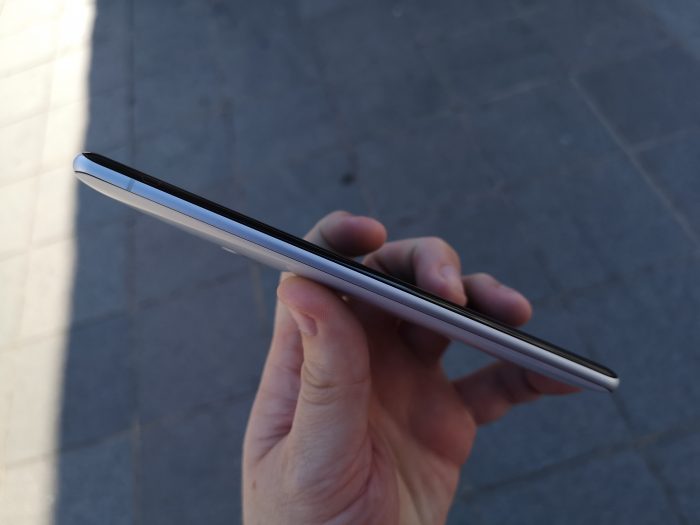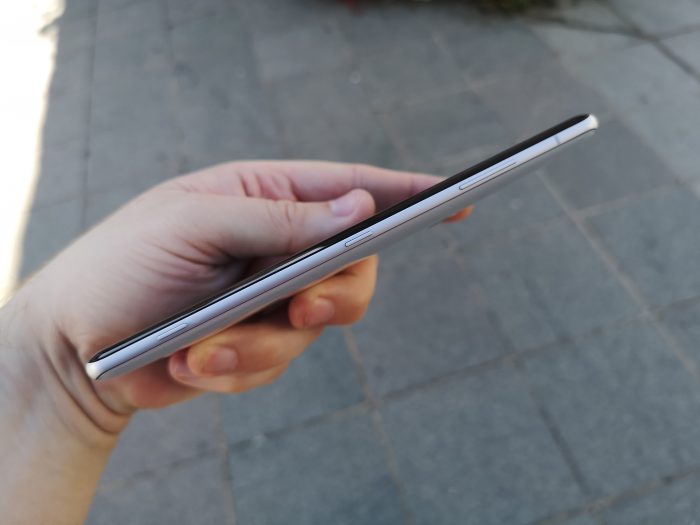 The left side is actually pretty bare. All you get up top is one of the antenna lines to help improve signal. There's nothing else on the left-hand side because everything is on the right.
On the right side this is where you'll find all the buttons – with the traditional volume up and down at the top, the power key in the middle and the dedicated camera shutter key down below.
The power button also opens Google Assistant, so double tap that at any time. This is really handy and something I use quite a lot as I rely on the assistant for lots of daily tasks. It just feels like the best way to use the assistant without pressing on the screen and holding.
Speaking of buttons, it was nice to have the dedicated camera shutter key. This is something Sony use on a lot of their high-end phones but not a lot of other manufacturers choose to include them.
This helps me capture photos fast. Quick half-presses will focuses and a full-press takes the picture, it just feels more comfortable.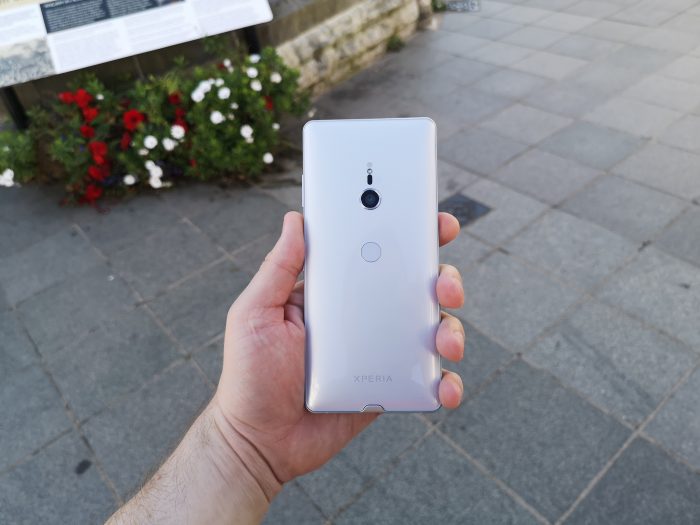 Over on the back you have the LED flash to help boost brightness in poor conditions. You also have the laser autofocus which helps capture images really quickly. It should lead to less blur in moving situations like at a sports event or if you are moving.
Below that you have the 19 megapixel camera which is the same model used on the previous handset, however it looks like some software improvements have helped improved the overall image quality in daytime conditions.
Below this is the really annoying location of the fingerprint sensor. It's far too low and actually gets in the way of you trying to unlock the phone a lot of the time. When you you try to unlock the phone you actually start fiddling around where the camera is as this is the more natural position. This is frustrating as it means you start smudging the lens.
This is not the first time we have seen this either. It was the same on the older version and a lot of reviewers picked up this same complaint as I did.
Cameras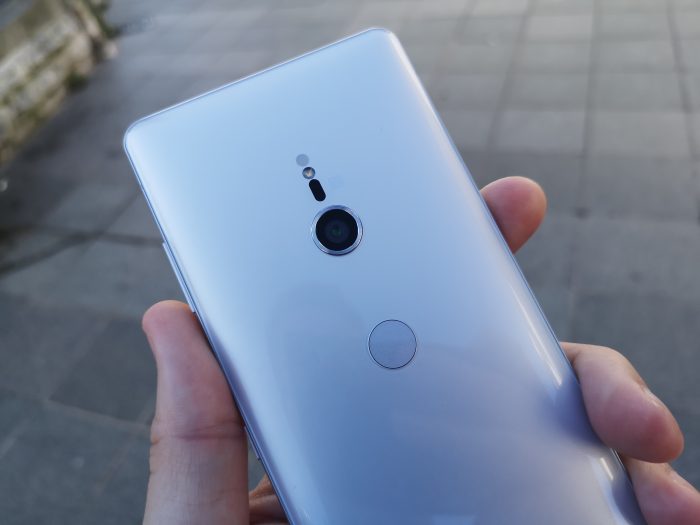 Sony should have a great advantage when it comes to their camera technology, after all they have been making standalone cameras for years and are often considered one of the best there is for image performance.
When it comes to the XZ3 they decided to stick with the same lens used on the XZ2 which, although decent, did struggle in low light conditions. It was a shame to see Sony did not take the dual camera approach seen on the XZ2 Premium. That had a great camera and allowed for some fantastic shots in any condition.
With many devices these days using two – if not three lenses – for all different camera tricks, it was a surprise to see the XZ3 go with a single shooter. Sure, the Pixel handsets used to do the same, but  it would've been a nice addition.
The camera on the XZ3 is a 19 megapixel lens with lots of fancy technology allowing for bokeh photos from that single lens. It captures great daylight photos and can capture 3D models of an object – including people. That's quite fun, although not really useful.
It is low light performance that once again really hits the XZ3 when it matters. Overall image quality is just not up to par with a lot of other flagships out there, and at £699 this is a real shame.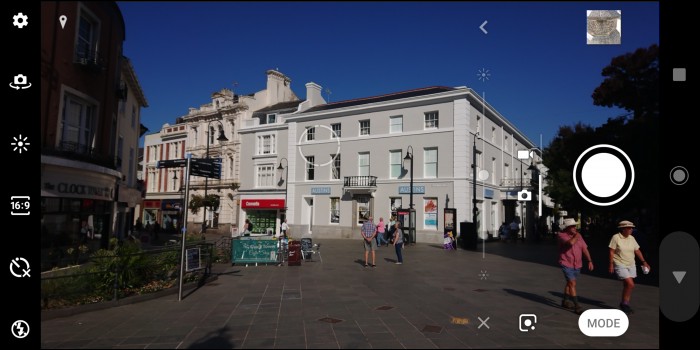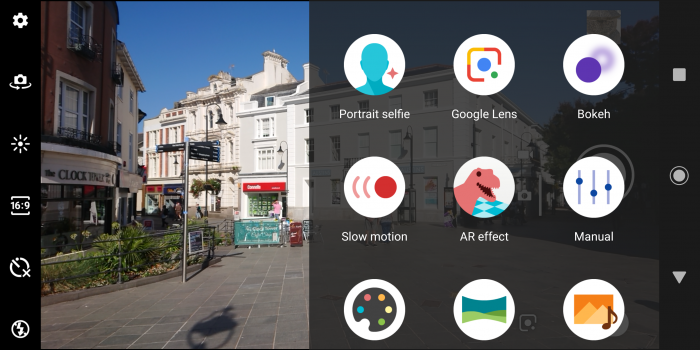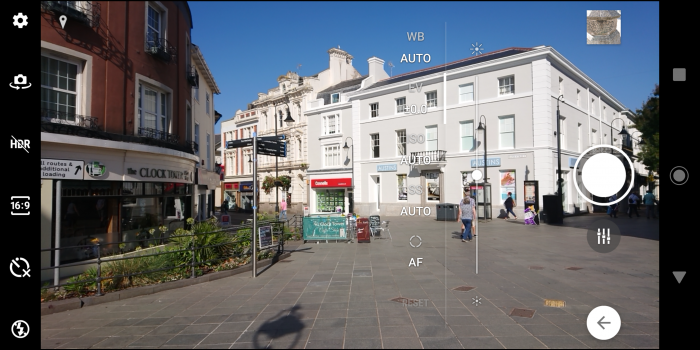 The camera UI is something Sony have been working on for a while and continue to improve where needed, it is at times quite complicated with all the different modes available under different options, so this will take anyone buying one a little while to get used too.
With the Superior Auto mode switched on as default, this will be enough for most people to just point and shoot. You can usually get a good photo most of the time with this.
Video is something Sony are great at. They are always pushing the most out of their camera tech and were the first to do super slow-mo at 960 frames a second. Here on the XZ3 they push that to 1080p resolution with the same 960fps, which is higher than any other phone on the market today.
Sony also excel with HDR performance, and the XZ3 can capture 4K video with HDR. This really does impress and stands out against the competition. I must say that the quality is simply superb and really does show the best that is possible from a great mobile camera.
The front facing camera is 13 megapixels and captures some very intricate details in photos – even in bokeh selfies – but these are not at detailed as you find from the Pixel range. The Google phones are still "king of selfies" with a single lens (now two lenses on the Pixel 3).
Video on the selfie camera has also improved over the XZ2 and this is thanks to the better camera sensor plus some software improvements.
Performance and battery
Performance is very speedy thanks to the Snapdragon 845 processor and 4GB of RAM. This means it will go through most games and heavy applications in day-to-day use with ease.
Storage comes in at 64GB built in with MicroSD card expandable should you need extra storage space. Personally I use Google Photos to backup all my photos and videos which then frees up the internal storage for other things.
The battery seems pretty decent as well at 3,330mAh capacity, but let's not forget that it also supports wireless charging. Nice to see as there are a lot of high end phones missing this.
I tested it as a daily driver. I used social media, web browsing, YouTube, Netflix and took lots of photos. It got me through a day without needing a topup charge, however it was close at times, often being around the 10% mark by bedtime – a little close for comfort.
Sony do a great job with power management and their 'Stamina Mode' option cuts down background tasks to improve battery performance.
Anyone wanting to prioritise calls and texts over anything else can enable the ultra power saving mode and get that little bit extra if needed, however I'd advise investing in a wireless charger, just top topup easily.
When it comes to the audio experience, this is an area Sony do really well at. There's Dolby Atmos sound and superb front facing speakers – you get an excellent range of volume and bass. Couple this with that beautiful display and watching a movie on here is something everyone will enjoy!
Connectivity from Sony is always top of the line, especially when it comes to LTE network support. This time it features CAT18 for speeds up to 1.2Gbps (if your network supports it). You also get Bluetooth 5, NFC, WiFi, and GPS – as you would expect from a device in 2018.
The most annoying part of the XZ3 has to be the location of that fingerprint reader on the back. As mentioned before, it is far too low and many will find they put their finger on the camera by accident.
Software
Sony in the past had an issue when it came to keeping up to date with software improvements. They often lagged behind the latest Android OS versions.
It was a real surprise to see the XZ3 launching on the very latest version of Android. Here you get 9 Pie, which is still only only on a handful of devices right now, including the Pixel range which always get it right at the start.
Sony include their own skin on top of Android, just like they have on previous devices. Whilst it is not the most 'in your face' as something like EMUI from Huawei, it does have its annoyances. Thankfully on Android you can install a custom launcher such as Nova and get any look you want, including a stock Pixel style if you so want.
There is a strange new addition to the XZ3 called Side Sense. This allows you to tap the side of the phone to load some shortcuts if you want, however using it in reality was a bit of a pain and often meant accidental presses. I quickly switched it off, Google did it right with the Pixel, unfortunately Sony didn't do as well with the XZ3.
Bloatware is also a real issue here, why Sony insist on adding apps you are not allowed to remove is a real bugbear for many customers. On the XZ3, not only do you get apps like Kobo Books and AVG Antivirus installed, you also get four camera options that should just sit in the camera app –  not as separate options on the app screen. You're presented with 3D Creator, AR Effect, Bokeh and the normal Camera app.
If Sony could tone down on the bloat, or at least give you the option to install or remove when needed, it would be much better and less annoying.
Something else Sony have done is with video playback, you now get the option of having a small vibration in time with the video, this was seen on the XZ2 and I have mixed feelings on it. Whilst it can add a new way to enjoy content such as an action movie, having your phone vibrate at parts of a YouTube video just feels strange and I turned it off after a few tries.
Conclusion
Having reviewed the XZ2 not long ago, I was interested to see what changes there were on the XZ3 considering how quickly it replaced the older model.
In fact at the announcement I originally was not interested in this new flagship as it really didn't seem all that different to me. The screen is the only exception really.
Thankfully I was wrong and the XZ3 has proved to be a very good flagship in late 2018, with a great design and specs to back it up.
The display has impressed me the most – that large 6 inch OLED screen was a real joy to use. The picture quality was superb thanks to the Quad HD resolution and HDR capabilities.
The camera was one area of the Xperia line I have had issues with, especially when it comes to getting decent low-light performance against the competition. I often found the overall quality was not there. Whilst the sensor is still the same as the one in the older XZ2, there might have been some software improvements to help with the image quality here. I found, when in good lighting, the camera did very well, however low light is still lacking unfortunately.
The XZ3 is not cheap, at £699 SIM-free it is up there with the price of the Galaxy S9 and Huawei P20 Pro. That puts it in a really tricky area.
Whilst the screen impresses, the camera is still the same as before which has mixed results. Plus that placement of the fingerprint sensor is so annoying it really does take away from the overall experience.
If you are a Sony fan or on a much older handset then do definitely take a look at the XZ3, the screen is really good, one of the best out there. The other specs included are definitely 2018 flagship material too. It is just a shame it came out so soon after the XZ2 and lacks the dual camera feature on the XZ2 Premium.
Get more detail on the Sony website.
Device Gallery
Sony Xperia XZ3
Screen - 95%
Camera - 87%
Software - 87%
Performance - 92%
A good phone with amazing screen, let down by a poor low light camera and a strange fingerprint placement