This weekend I was stood in a mobile phone store. It was an EE shop and, I'll be honest, I was really surprised about how many customers were coming in with support issues. There was a lot less selling going on than I expected, so I've definitely got a different view of just what workload comes into shop staff.
But there, front and centre, was a Nokia. It was good to see it back and presented in a prime spot. Now the company behind Nokia Android phones, HMD Global, has announced that the Nokia 2.1 will be available in the UK too. You'll be able to pick it up from Carphone Warehouse, Amazon, Argos and other selected e-tailers today, and it'll only cost you £99.99.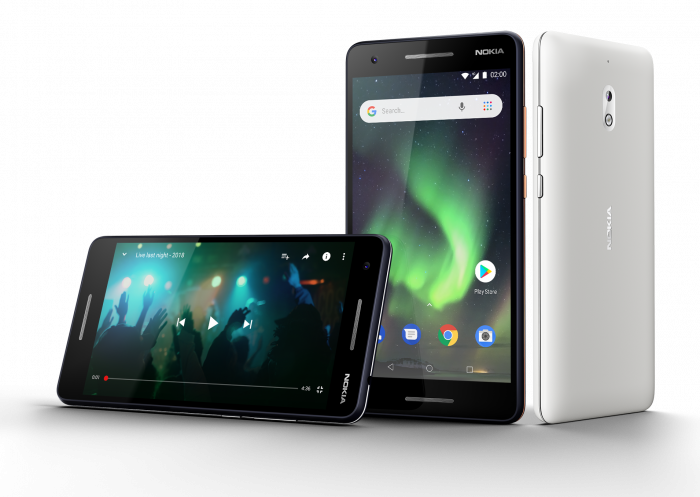 Call it entry-level, call it what you will, for less than £100 you're getting a fairly good package here. A 5.5″ 720×1280 16:9 screen, Android Oreo 7.1 (Go Edition / Android One), dual front speakers, an 8 megapixel rear auto-focus camera, a 5 megapixel selfie shooter and a 4000mAh battery to keep things ticking over for quite some time.
It has a Qualcomm MSM8917 Snapdragon 425 CPU, which delivers quad-core 1.4 GHz power, and 8GB of interneal storage plus 1GB RAM. You can also put a microSD card in. WiFi (single band), Bluetooth 4.2, a 3.5mm audio jack and a microUSB port also feature.
Sarah Edge, General Manager, UK and Ireland, HMD Global, said:
It wasn't so long ago that you were able to leave the house without worrying if you remembered your portable phone charger. Life is full of ups and downs and we believe that phone battery anxiety shouldn't add to your woes. The Nokia 2, with its two-day battery, has been one of the most welcome devices in our portfolio and we've made improved it by including a faster processor, bigger screen and Android Oreo (Go edition) which works better for smartphones at this price point.
So if you want a decent, cheap and long-lasting smartphone, take a look at this. The "Go" edition of the Android OS means that there's plenty of Google apps which will run better with the slightly smaller RAM whilst also consuming less data. Also, as there's less app-bloat, you get more available storage out of the box.
Have a look at it in action below or head to the Nokia website to find out more.
If you want something a bit higher-end, try the Nokia 7.1.