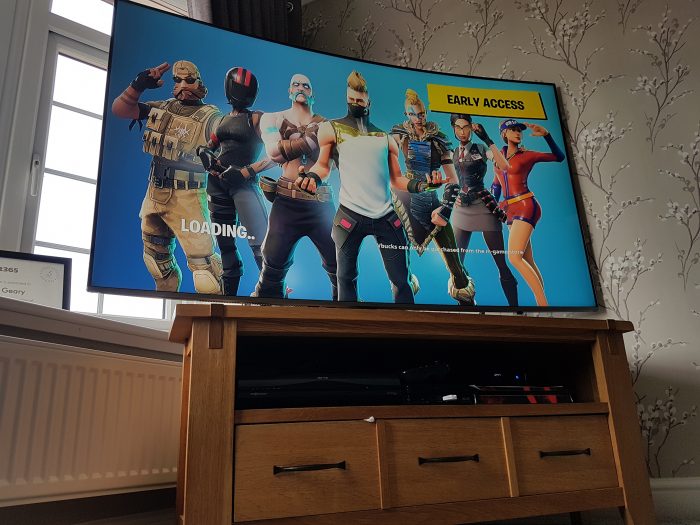 Can I just take two paragraphs, two entire paragraphs, to detail just how large this thing is?!
In all honesty I messed up after being a little too jet-lagged and it's resulted in this monstrous-but-beautiful 65 inch set being delivered. IT. IS. HUGE.
From the moment that the delivery guys huffed and puffed it into our lounge, to the minute I put it in place – this is a TV that you really need a big room for. It's like having Screen 10 at the local cinema, right there in your front room.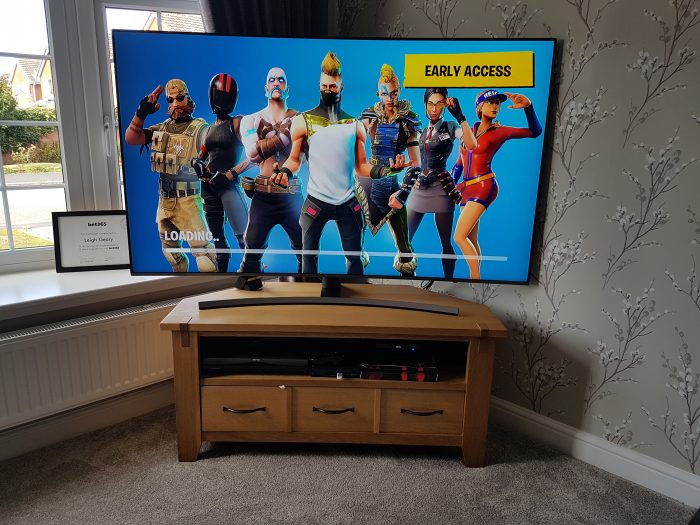 But by GOD it's stunning. It's got brains too. Far more brains than our existing (and still fairly new) Samsung. There's no slowness in the GUI and it spotted my Samsung phone instantly. Believe me, if you've got a Samsung phone and you buy this, you're all set from the get-go. It works so, so well with the phone.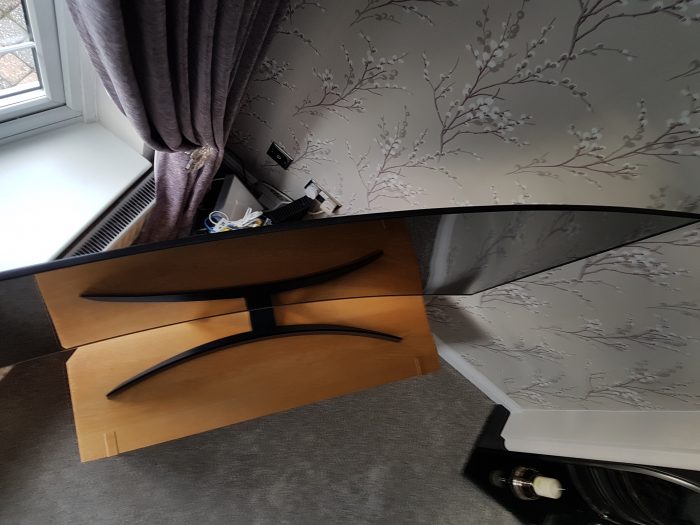 First though, let's put the thing together. You can whack it on the wall if you want – this one would dwarf our fireplace though and I doubt it would even fit between the fireplace and the ceiling. Did I mention it was big? There is a 55″ version, if you prefer.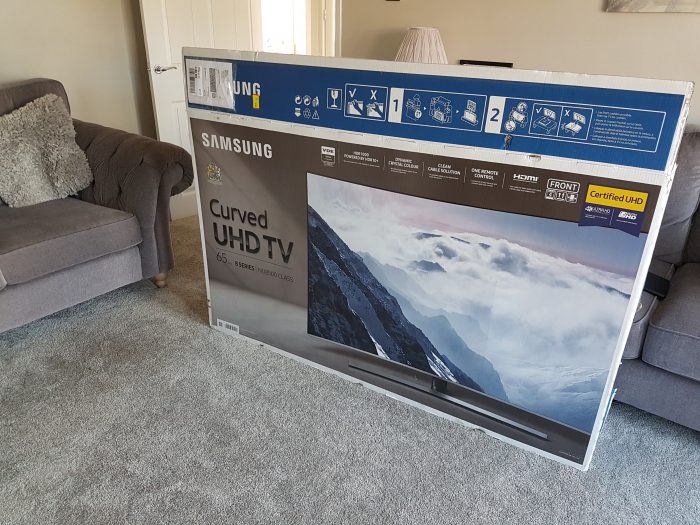 Here's the video of me and my son putting it together. When you get it out of the box you'll notice that there's some protective strips on the edge of the screen which, once you've stood it up, you can remove. As is usual with my unboxing and setup experiences, I didn't read any of the instructions, but this is clearly to stop you damaging the edges of the screen when you're putting it in place. This is all a two-man job, believe me.
At the back, 4 HDMI 2.0 ports and 2 USB ports. There's also an optical output and Ethernet port. It does WIFi too, and Bluetooth and.. and … check it out. It does Freesat too! No need for a separate set-top box. Just whack your satellite cables in and you're away. You can also stick a normal "old school" digital coax in and get terrestrial TV if you want.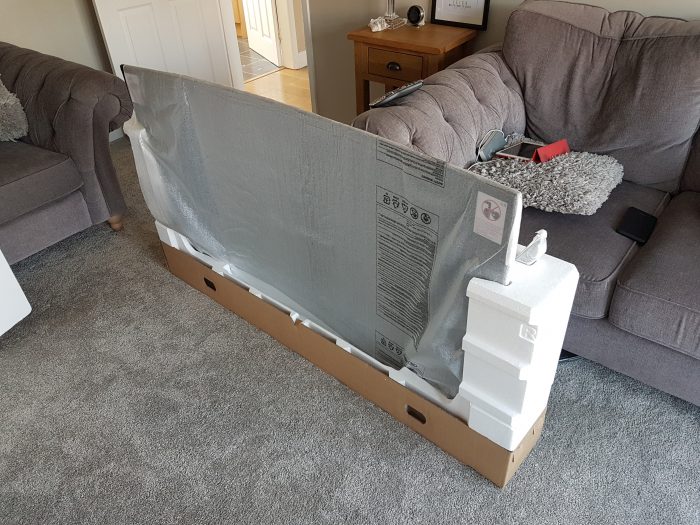 Oh, and Chromecast? You don't need one. Your phone will simply connect to the thing, at least it has been doing on my Samsung.
Now wait. I've just plugged it in. WOAH! WOOAHHHHHHHH!!! WOAH WOAH WOAH!!!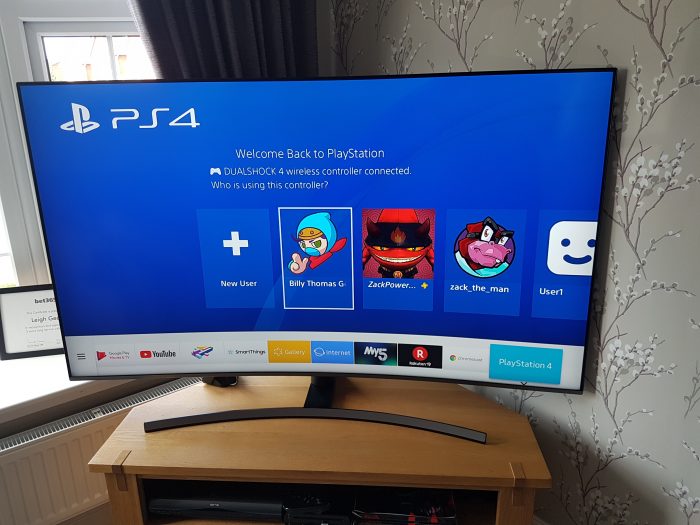 Y'know when you go to a big electrical store and you're somehow sucked in by the insanely massive and high resolution screens? That's me, right now, in my lounge. People on the screen are huge, but it sucks you in. It really involves you.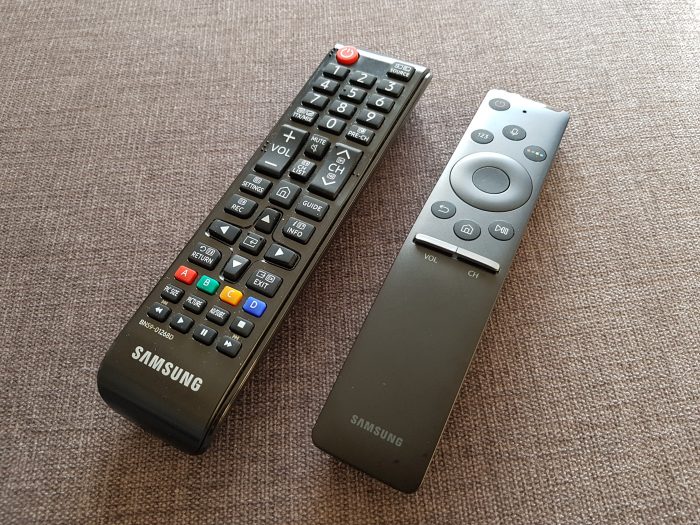 Suddenly, my phone pops up. Samsung SmartThings has spotted the TV and says, "Hey man, I'm going to be a remote control if you want. Oh, and I can also replicate the TV image here if you want to pop and get a cup of tea mid-way through a show". I must admit, that is so cool. You don't need any clever box, no silly subscriptions, you just head into the SmartThings app, then click "View TV on your phone". BAM – whatever is on your big Samsung TV is now on your phone. You can head to the kitchen, pop to the loo, answer the door, and you won't miss a thing. Oh, and if you're watching a music TV channel like MTV, KISS, Clubland or whatever, you can pump the audio (and just the audio) to your phone. That way you can perhaps go in the shower and have the music follow you – blasting out of your phone or via a Bluetooth speaker. Sweet. I like this.
Here's some of the screenshots from my phone as I navigate around the TV…
Of course, as I touched upon earlier, you can do it the other way too. You can do screen mirroring and put your smartphone screen or content on the big, curvy monster in seconds. It's so easy, it's so fluid. Here's a look at how your smartphone interacts with this Samsung Series 8 TV..
Remember those "Smart TV's" of old where you'd be swearing at the clunky slow interface, the overbearing interface and the crazy menu system ? None of that here. None of that. It connected to my WiFi somehow. I've no idea how. It just did it. I love that. I LOVE that. I presume, somehow, that it spoke to my phone via Bluetooth and then did it. Either that or, quite possibly, I did it when I first turned it on. I can't remember, and that's a good thing. It was painless. I just turned it on and it just did it. It just got going.
Oh, and you know that annoying moment when you've plugged in your PS4, your Android TV box, your Nintendo Wii and your Sky TV box, but you can't remember which HDMI port each one uses? Yeah?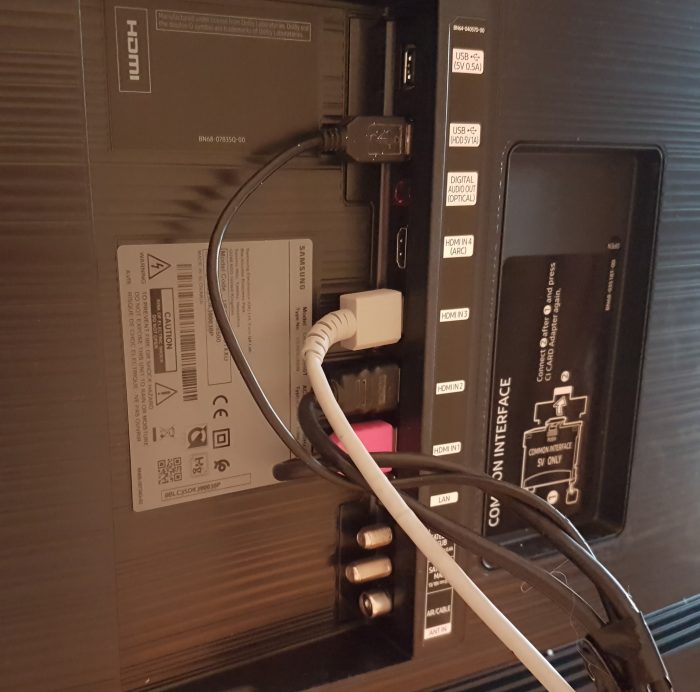 No need to worry. No need at all. It detected and named our PS4 somehow. I presume (again, I don't really want to know how – the fact that someone has done this so I don't worry about it is great).. I presume that it's some cleverness over that HDMI 2.0a spec, which allows High Dynamic Range content and Metadata exchange, but who cares. It popped up and told me that it was a PS4 and then it switched to "Game Mode" and made everything all bright and shiny with HDR. This is a TV with brains that actually, finally, doesn't wind me up. It doesn't ram daft apps down my throat (don't get me wrong, they ARE there but they're not force upon you) and it doesn't do stuff unless it actually makes sense.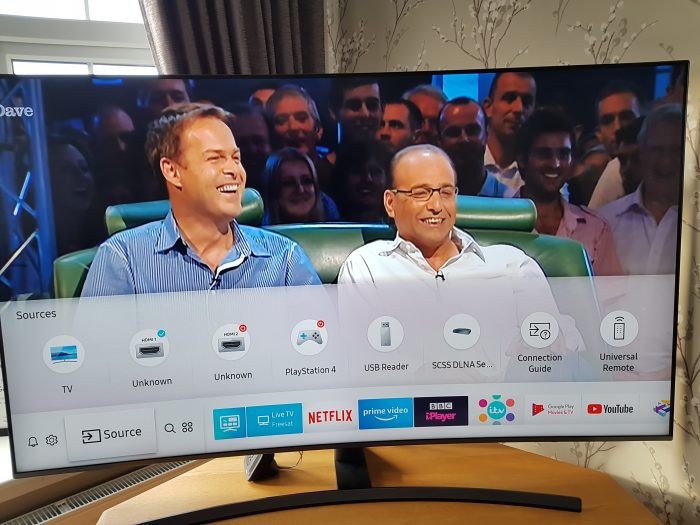 Switching between inputs is just ….. intelligent. I can't put it any better than that. On my regular Samsung TV, which really isn't that old, I have to switch inputs manually. Here, it moves across.
Specs then. That screen is a 3840 x 2160 pixel LED edgelit unit. It has HDR10+ (HDR 1000) technology with a 2700 PQI processing rate, UHD dimming and is 4K Ultra HD compatible.
One massive bugbear for me with my current Samsung TV is the fact that I simply have to get a soundbar. Without, it's pretty quiet and wimpy. Here, if you flip it over (which I wouldn't advise), there's a pipe which helps to boost the bass. This has a 40 W output and comes with Dolby Digital Plus. The sound easily fills a room.
OK, so the whole curved screen thing. Personally I'm not totally sure what this brings. It has meant that I can push the TV further into the corner of a room, so I've perhaps squeezed a bit more real estate into the corner of my room, but I can't say how the curve has benefited things really.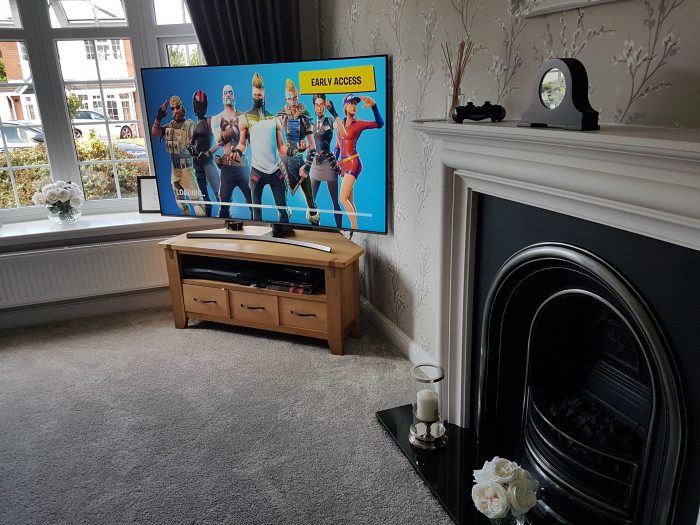 If you don't already have a box delivering all the Smart TV stuff, this delivers in spades. The apps aren't the nightmarish individually-written TV-specific apps either. The BBC iPlayer, ITV Hub, All 4, My5, Netflix (it's 4K), Prime Video (that's 4K too), NOW TV and other apps are all from the Samsung App Store and, let me tell you, they're very good indeed. There's plenty to choose from here and, if you're going to hook in a normal terrestrial aerial or via a satellite feed (there's an electronic programme guide here too), you can a huge choice of entertainment when the live TV and the big range of apps is combined.
Actually, I should go into that satellite TV feature in more detail. I'm paying Sky TV a fortune for their basic range of channels but, the fact is, a lot of channels are free to air and available on Freesat. With this TV, you just plug in the two feeds from your satellite. This clever Samsung TV will download the appropriate guide, tune in all the free channels, sort them out and – with the aid of a USB stick in the back – you get to pause and record satellite TV. I'm paying Sky for the privilege of doing that right now.
On the back you can see those inputs. A cable / terrestrial connector at the bottom for your normal digital TV and two satellite feeds to hook up a minidish. Just cancel your Sky subscription, remove the box and connect the cables here…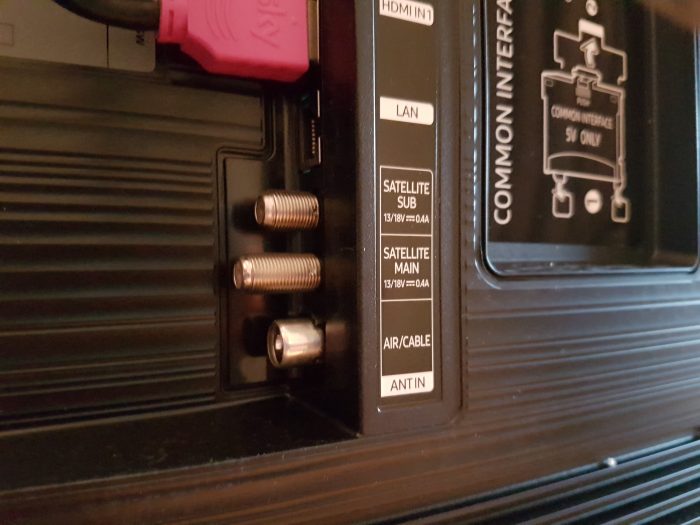 I should mention again that you can put a cable feed in here too, so in theory a Virgin cable connector could go in, but I'm not overly sure if anything is delivered over their network if you're not paying the bill. Anyhow, the next step is to go into the scan screen..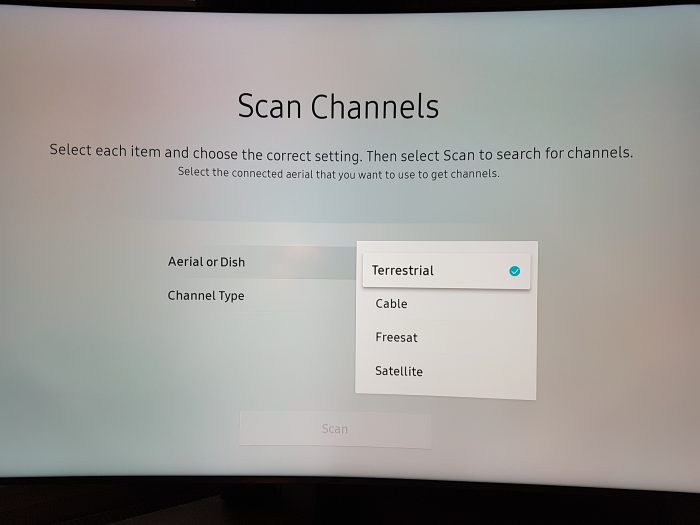 It's pretty obvious which one you should choose. I've already scanned my digital terrestrial channels (those that come down the TV aerial on your roof) but now I'm going to select Freesat and off it goes. You can fiddle about and choose "Satellite" if you want and tweak the LNB stuff but I wanted to have an easy ride..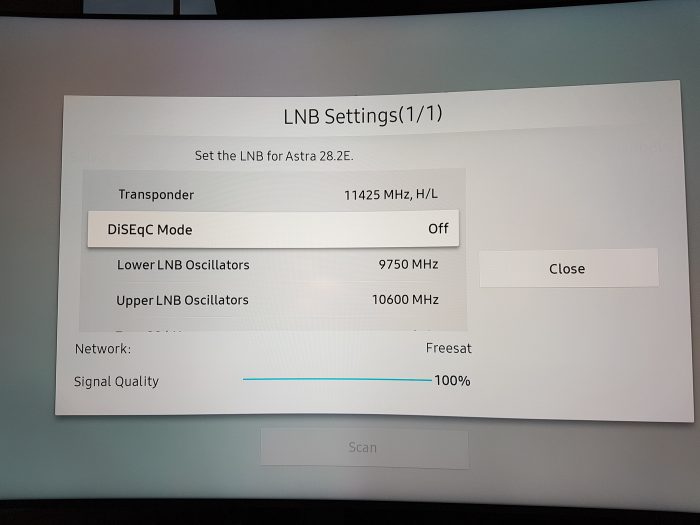 The bits above were a bit complex, so I just went ahead and chose "Freesat". It then scans and finds 192 channels. Not bad for free huh? Granted, 37 of those are radio stations, but still good to get 154 TV channels.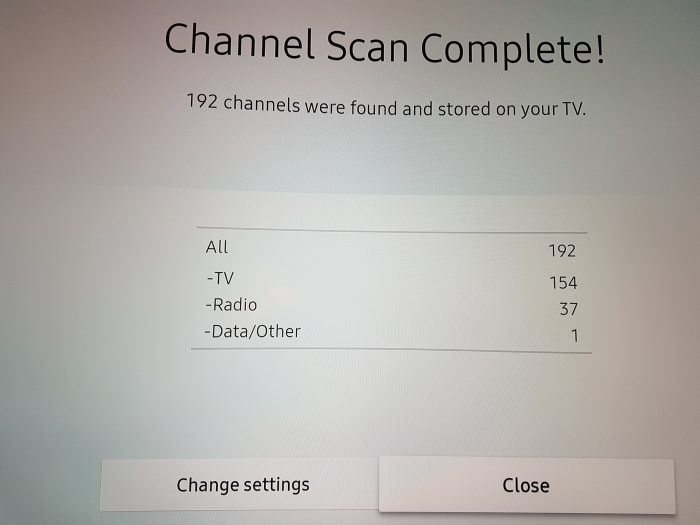 As you'll see on these thumbnails (just click each one to see for yourself), the TV guide is easy to operate, control and navigate…
But wait. I'm paying Sky for all that clever pause and record stuff. Here I can get exactly the same functionality just by putting a USB stick into the back of the TV.
First, you need to get a good one. One with a good enough read and write rate. Plug it in and the TV will do a test. Here I've literally just grabbed one from a box of sticks..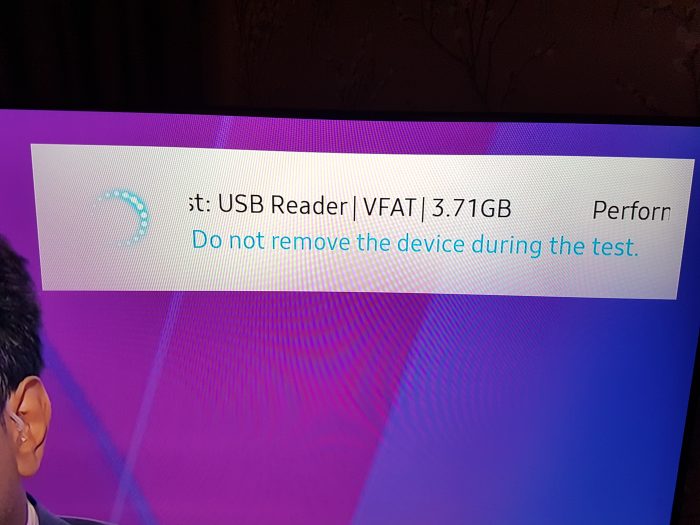 Once it's tested and passed, you now get to pause TV, record shows and navigate the guide to select what you'd like to watch and keep. Here I've paused it on some completely innocent Russian tourists….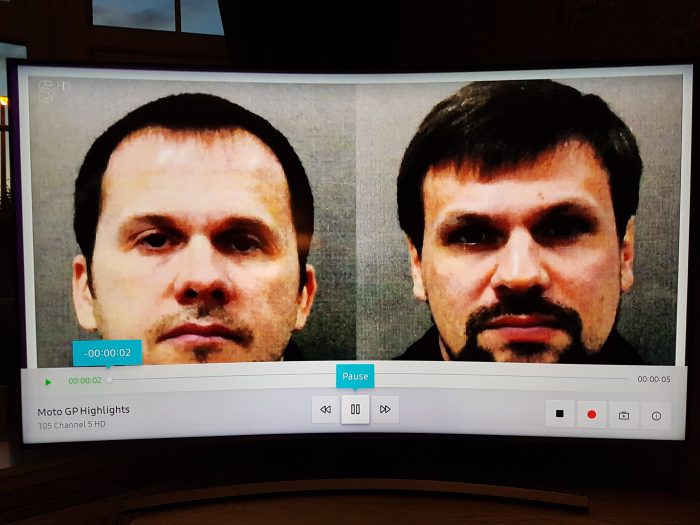 Here's the TV Guide, as you can see it's pretty obvious how to work it. All these channels are provided via satellite but there's additional content and channels provided fairly seamlessly via the internet. Select a programme and either schedule viewing or record it onto your USB stick or portable drive…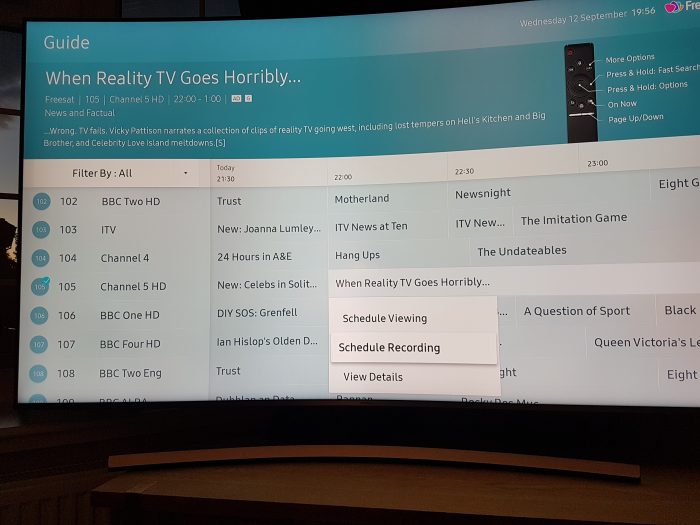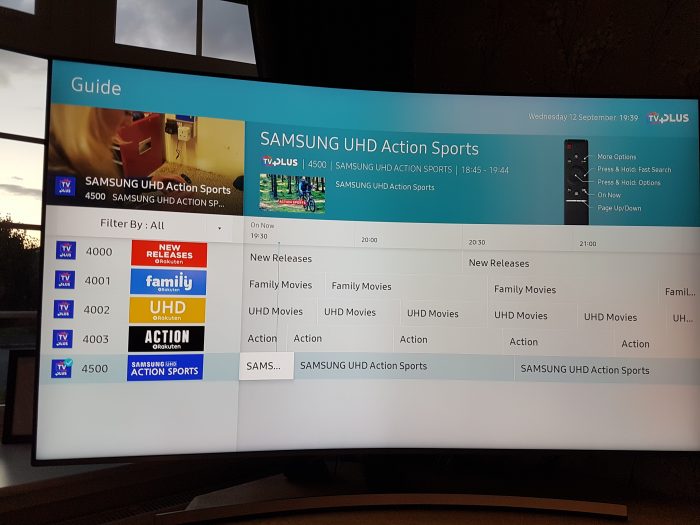 You get to see more information about the show too..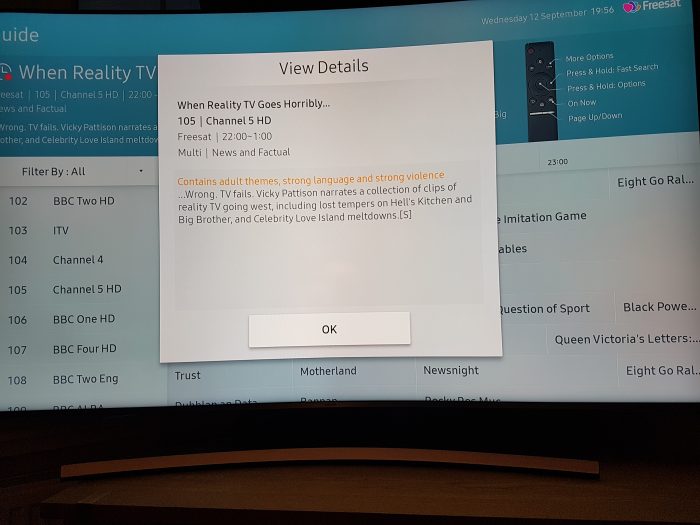 Once you've set it to record, a little symbol pops up to let you know it's set to record..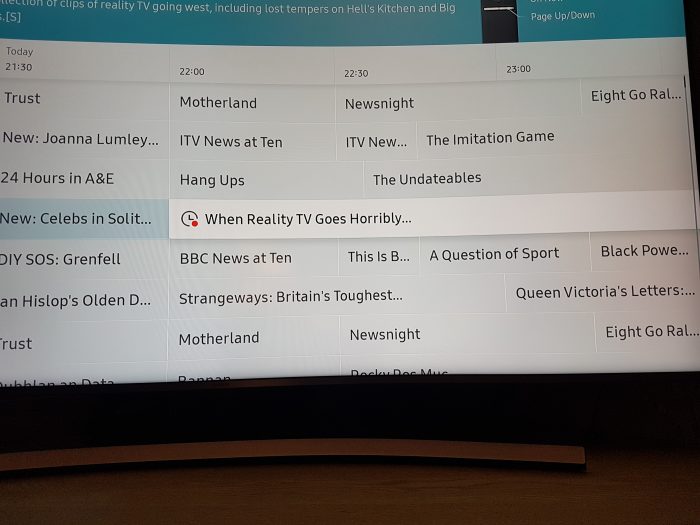 What else do we have here? Well, as you've seen in the video demo, whatever your smartphone, you're sorted. Android or iPhone – screen mirroring is fine. On the TV itself you've got a full internet browser and YouTube too.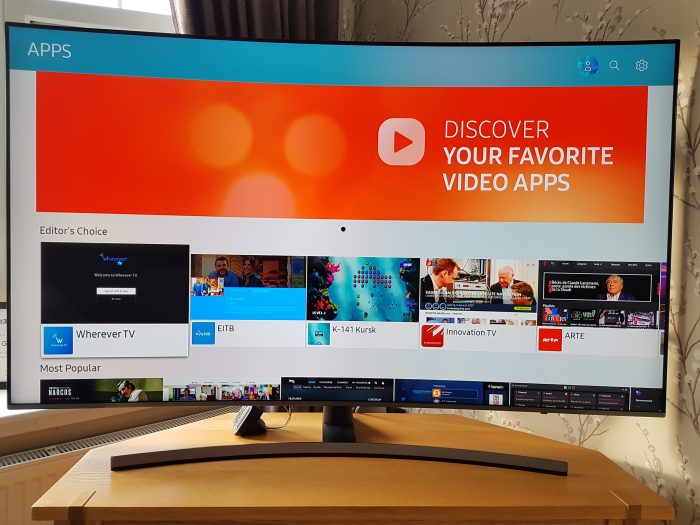 I am, let me tell you, shocked at how good this thing is. Again, I'm comparing this to my existing Samsung TV. My 40″ screen is still pretty new, but the clunky apps and menu system is something I've worked around for the last year or two. Now, with this new Samsung Smart 4K Ultra HD HDR Curved unit, it's like night and day. The experience is smooth, the little touches – like the way that the sound fades and the screen closes up when you power down. They're nice, they're welcomed. The way you navigate, the way it operates and the brains behind this are beneficial instead of annoying. It's refreshing to see and I properly loved my time with this TV.
It'll connect to your Bluetooth speaker in seconds (the inbuilt speakers are very good though, so no real need for a sound bar from what I could see) and you can tweak the sound via an equaliser too..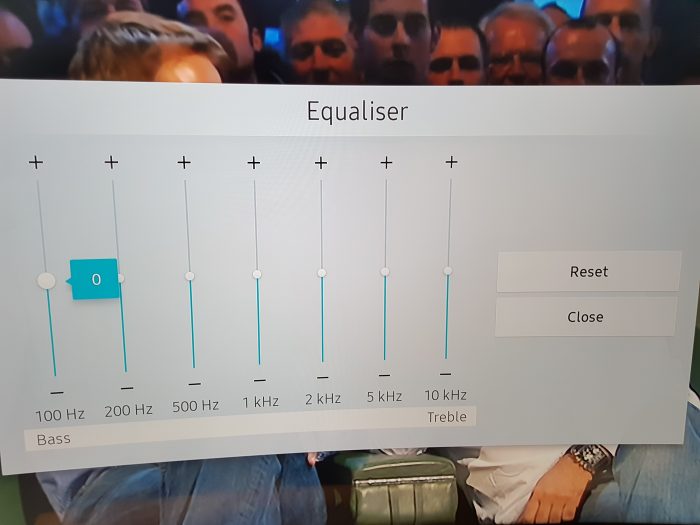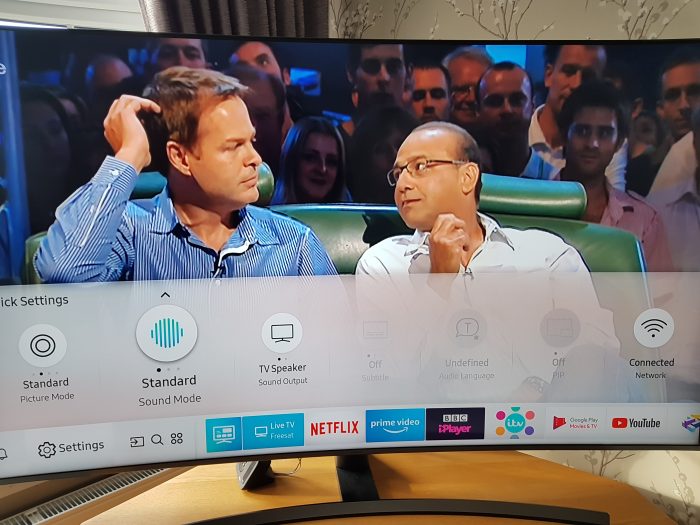 Bad things? Well, I must say that an SD picture looks terrible. If the channel you're watching isn't HD then – at 65″ – you're suddenly aware at how crummy a standard definition picture looks. Some of the lower bitrates are painfully apparent. It's not the fault of the TV, it's the fact that it's meant for HD and 4K. Pictures, streams and channels which are delivered in HD and 4K are absolutely amazing to look at. This is really like having a cinema in your home and it's so enjoyable.
The price, right now at Currys is £1,699. This is a lot of money, but this is by far and away a different class to those screens you'll see in Aldi or Asda for £300 – £500. Intelligence, quality, a stunning picture quality and great sound. When coupled with a good HD or 4K input, this really sings.
Samsung UE65NU8500 65" Smart 4K Ultra HD HDR Curved Led TV Review
Picture quality - 96%
Build quality and design - 98%
Sound quality - 92%
Value for money - 82%
Smart functionality - 100%
Forget clunky, slow smart TV's of the past. This Series 8 Samsung model is intelligent, quick and easy to use.