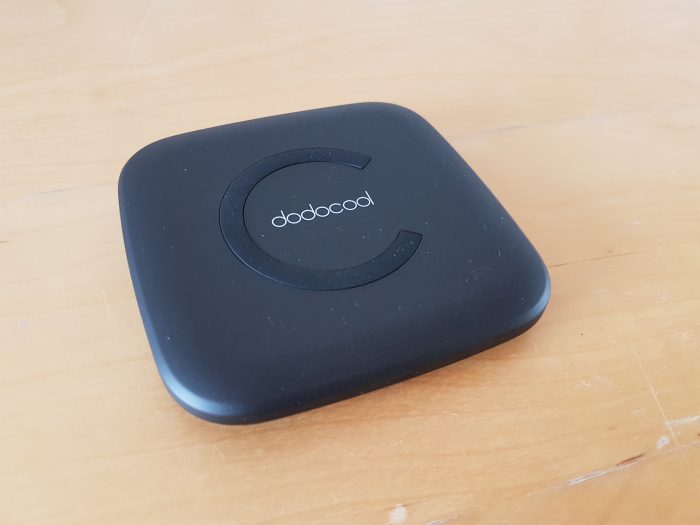 I've literally just unpacked this one. It's a slim, pebble-like wireless charger which will top up your smartphone quickly.
It's $14.99 from Amazon US and now just £11.79 from Amazon UK, if you've got a compatible handset, it'll charge supported devices up to 1.5 times faster than a standard wireless charging pad. This means that it'll charge your Samsung Galaxy S8+ or your S8, the S7 edge, S7, Note5, S6 edge+ and the latest S9's in about two and a half hours, 3 hours tops. That's about 50 minutes quicker.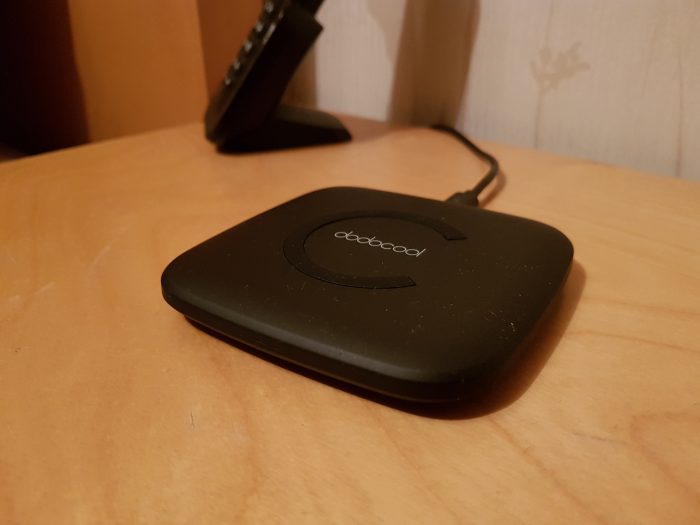 This isn't available on the Amazon UK page right now but you can get it from Amazon USA and they'll ship to the UK. Wireless charging means no cables, but there's still one at the very top which you'll need to plug into a USB port of some description. This can either be your existing charger or another type of multi-port USB charger that we've covered here before.
There's a supplied cable for plugging the base to your charger / USB port but there's no actual power brick in the box, so you need to have one.
At the bottom of the base there's a rubber foot and holes to allow airflow, then at the top, on the large letter "C" is a rubberised finish so that your device does slide off. It's pretty relaxed on position – you can place the phone on top without too much accuracy but you need to be fairly sure that it's in position.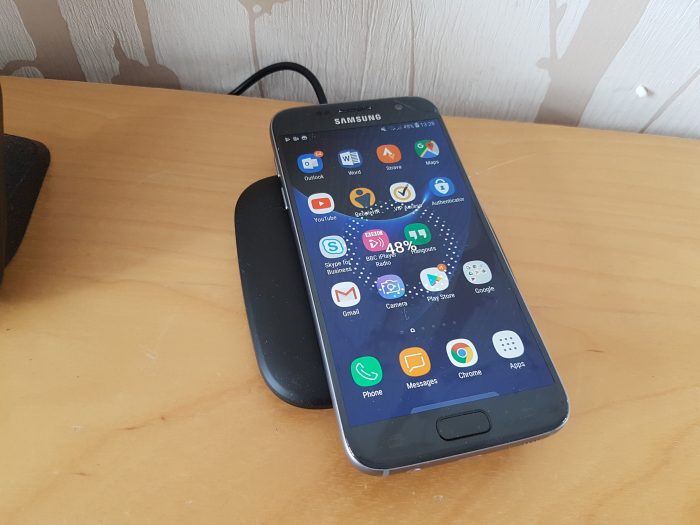 It's well made and is only 10mm thick, which is only a bit more than your average smartphone. There's heating protection, short circuit protection plus "foreign object detection" too. An LED indicator light shows if it's charging (blue) or ready (green).
Check whether your phone is compatible with this one. A lot of the Samsung Galaxy handsets are, but you'll also find that the Nexus 7, the Lumia 950/920/930, the LG G2 / G3 / G4 and the iPhone handset of course.
It's now available at Amazon UK and you can get it from Amazon USA. The Dodocool website also details other places where you can get it.
.
Dodocool Slim Fast Wireless Charger Review
Build quality - 90%
Value for money - 87%
Solid, quick and thin. Great wireless charger.