Here is something a little bit different for us to review, especially on a site originally dedicated to smartphones. It is a review of a laptop. Not just any laptop though, this is a laptop that hides behind a diminutive form factor (at least for its size). That being said, it also packs a mighty punch and will be capable as both a mobile workstation and a desktop replacement for about 90% of users.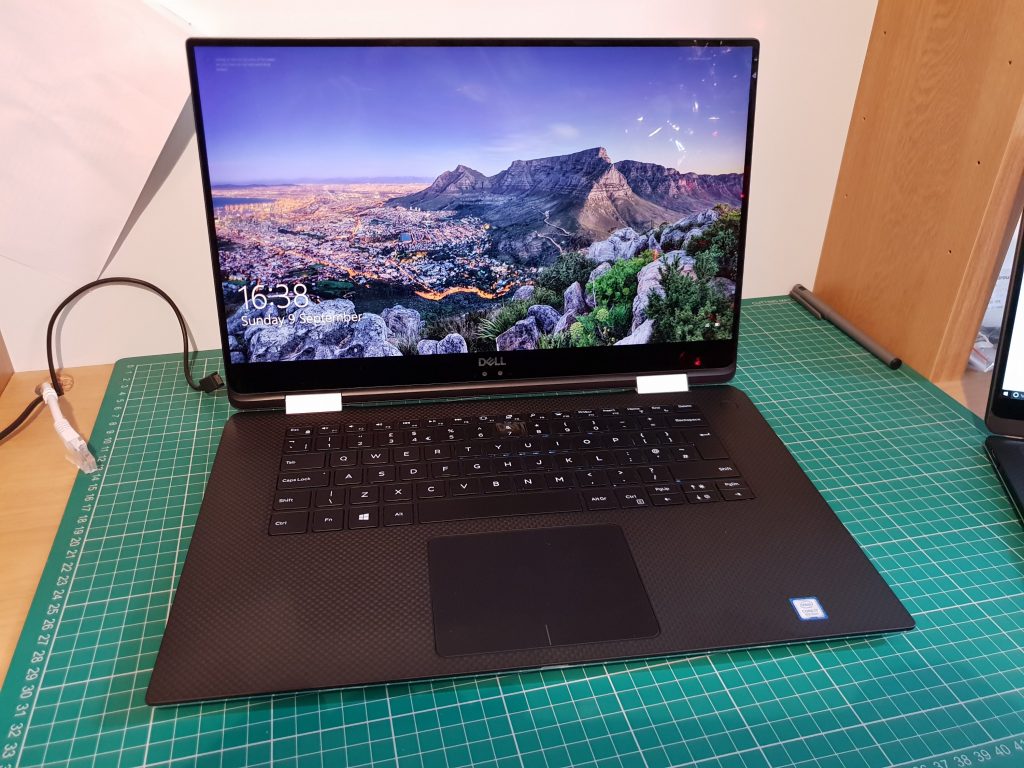 I had the pleasure of using this laptop for my time at IFA earlier this month and it was carried along with my usual gear with very little problem. For those who have a 15″ laptop at home that is forever tethered to a plug socket, it may be hard to believe that carrying around a 15″ laptop for nearly 8 hours a day can be pleasant. But trust me, it can.
Let's have a look at why this thing is so portable, then we will dive into its tech-laden core and dig a bit deeper.
Design and Display
I will say this right away, the XPS 15 2 in 1 is a stunning piece of hardware. There's a beautiful silver and black finish along with a black carbon fibre keyboard deck. The laptop just oozes a premium feeling that makes you appreciate the extra money you've paid. For a 15″ laptop this thing does not feel huge or ponderous. Instead it feels sleek and fast whist also looking very subtle. It's not a machine like the various gaming devices that used to be branded under the XPS moniker. It is fact the closest thing that I have seen to compare with the MacBook Pro. The silver aluminium exterior body has the Dell logo embedded; its all very minimal but also very effective.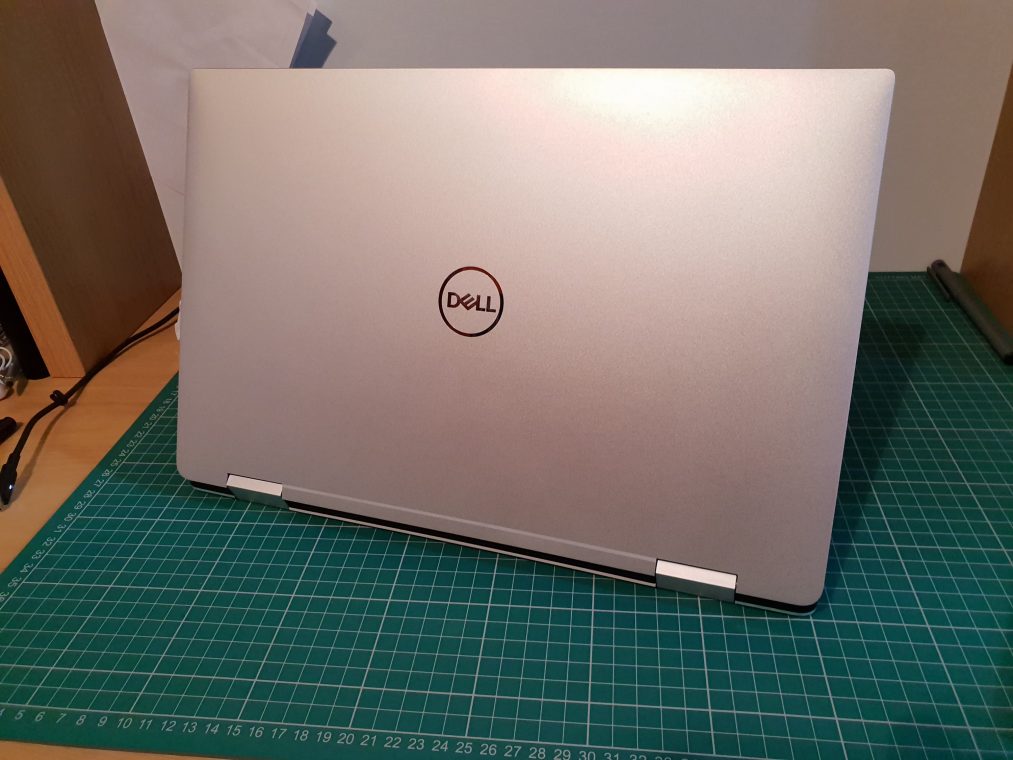 The hinges on the back of the machine are strong and solid, and play a vital role in making the laptop into a 2 in 1. They also hide a vital part of the cooling system for the laptop – a neat design trick that I love. In addition to the vents mounted inside the hinges, there is a grill that runs along the back of the laptop to allow for all the warm to escape. After all, this laptop has some beefy internals that I will come back to later on.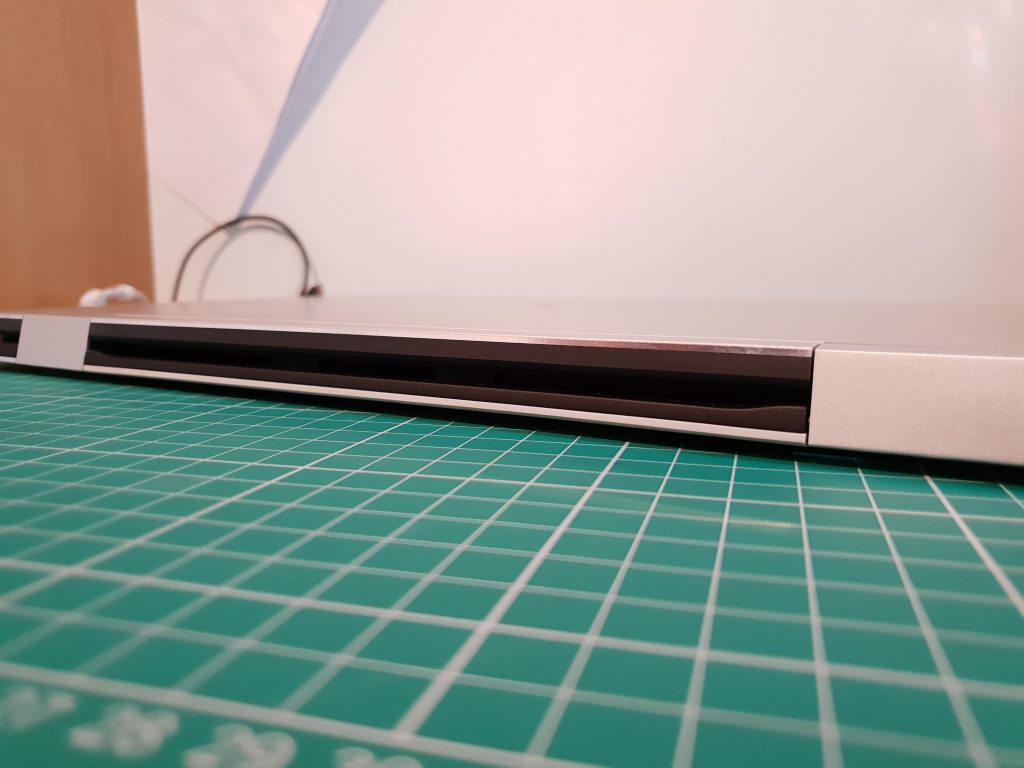 The display is an impressive 15.6-inch touchscreen panel at 3200 x 1800 pixels with great sensitivity and colours. This is referred to by Dell as an "UltraSharp 4K Ultra HD screen," which is a very long-winded way of saying very high res and great colour reproduction. The good news is that it does exactly what it says on the tin. I absolutely loved using the display and having that extra footprint allowed me to really optimise it for multi-window viewing.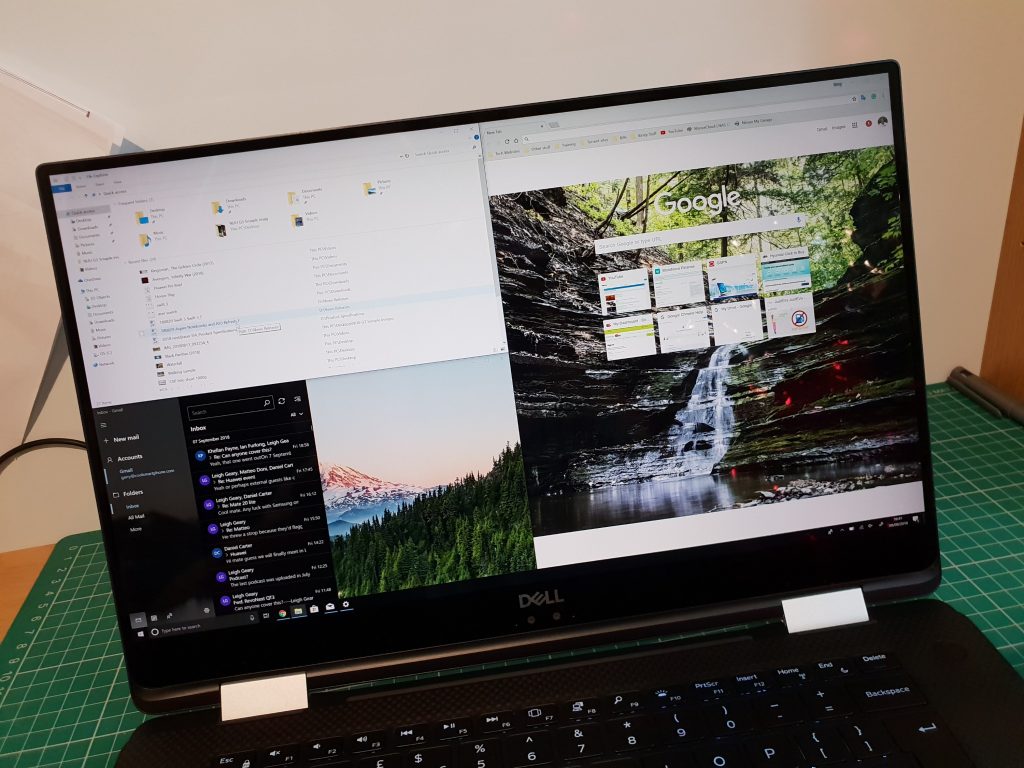 I was able to have two web browsers sitting side by side on 100% scaling whilst working on them at the same time. This was incredibly useful when I was trying to pull together a story from some specs and notes that I had taken. On that note (pun intended) the screen will also support the Dell Stylus which I happened to have from my own XPS 13. This, combined with Windows Inking, could prove very useful if I didn't have the handwriting of a two-year-old! I did, however, find the Stylus very useful for cropping images quickly and easily.
One thing that is a slightly questionable design feature that I cannot overlook. It is located on the front and underneath the screen. I want to say it is the front-facing camera but that is not really the best name for it. Nostril-facing camera is a really a more accurate term!.

There's not just one camera – instead here you'll find an array which features the Windows Hello system too. This utilises a camera and another separate IR camera to scan your facial features and unlock your PC. Thankfully, this is not the only system way to unlock the Dell, as the power button also doubles as a fingerprint reader, which is a nice touch.
I mentioned earlier that the hinges on the back of the laptop allow this to become a 2 in 1. Now, while this is most certainly the case, it is not something that you will find yourself doing all that often.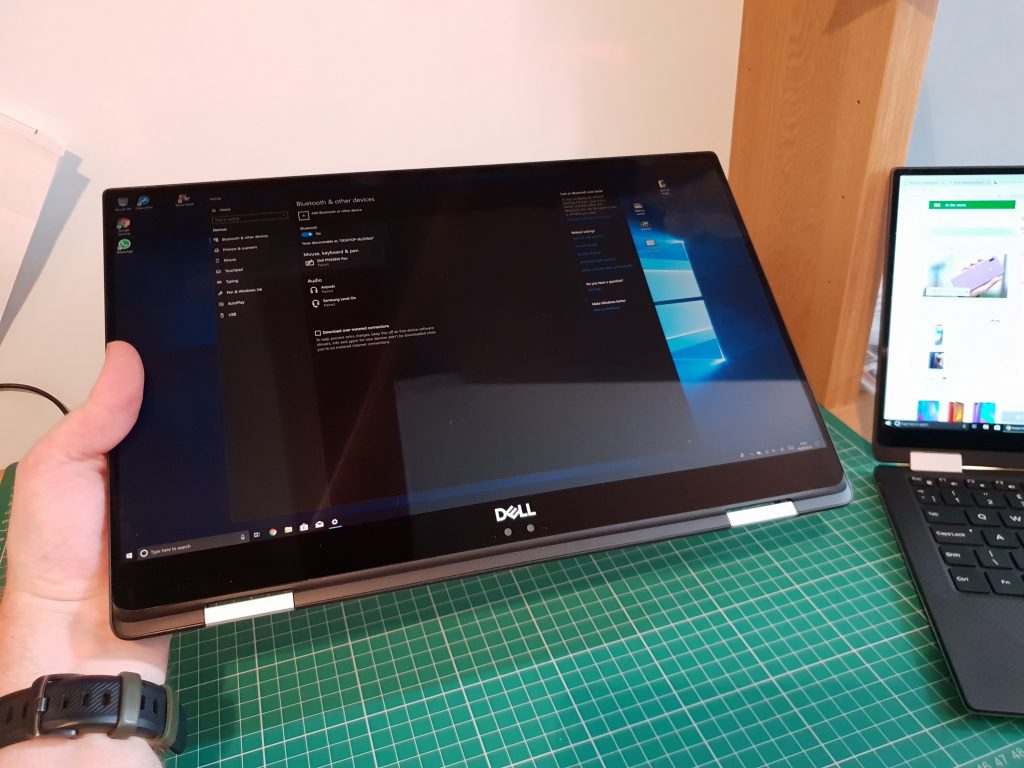 That is at least the case for using this as a tablet. Even though for a 15.6″ laptop this is on the light side, for a tablet on the other hand, the system is a bit of a brute. One way that I did find myself using the XPS 15″ a lot was in what I refer to as easel/viewing mode (see below). This was great for the plane as the laptop fitted onto the seat back tray table easily and watching a film on that screen was a fully immersive experience.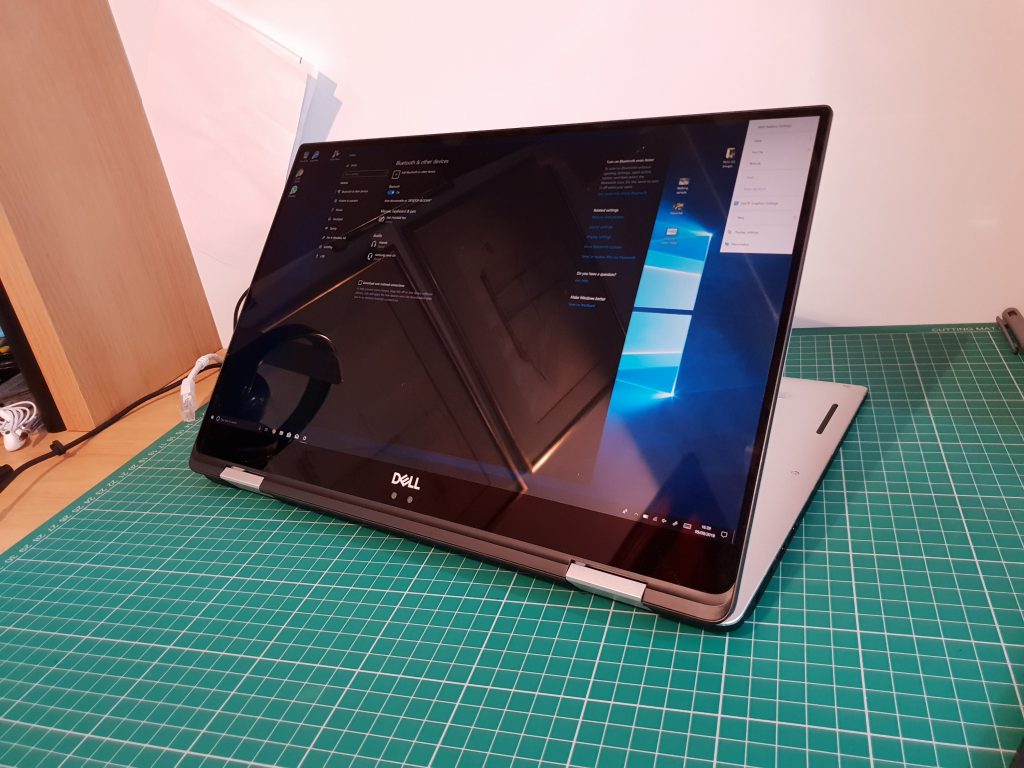 On the right side are two USB Type-C ports, a headphone jack and a Kensington slot for security. The USB Type-C ports are capable of support for USB 3.1 so you can expect nice and speedy data transfers, and they can also both be used for charging and DisplayPort output.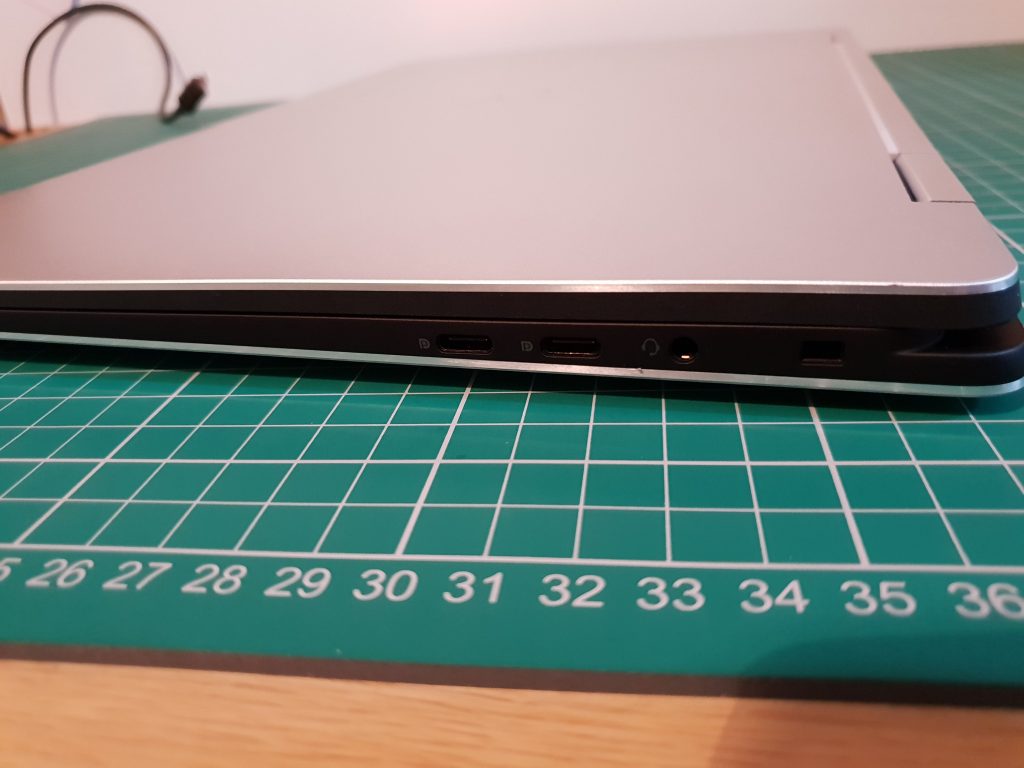 On the left-hand side,  you have another two ports, this time being a Thunderbolt 3 and a microSD card slot. I used this slot with a Class 10 200 GB card, and it was both as flawless and fast as you could want. I was unable to test the Thunderbolt ports capability but I am reliably informed by the chaps on the Dell Stand at IFA that they are awesome. A single Thunderbolt 3 port supports data transfer speeds of 40 Gbps, and can power two 4K monitors or a single 5K monitor.

Another item that needs to be mentioned is the power button. This is not on the side which is a strange thing for a 2in 1 laptop. Speaking of which, you'll really be impressed by just how fast this laptop boots up. We are talking seconds here, thanks to the 16GB  of RAM and a very fast NVMe SSD drive.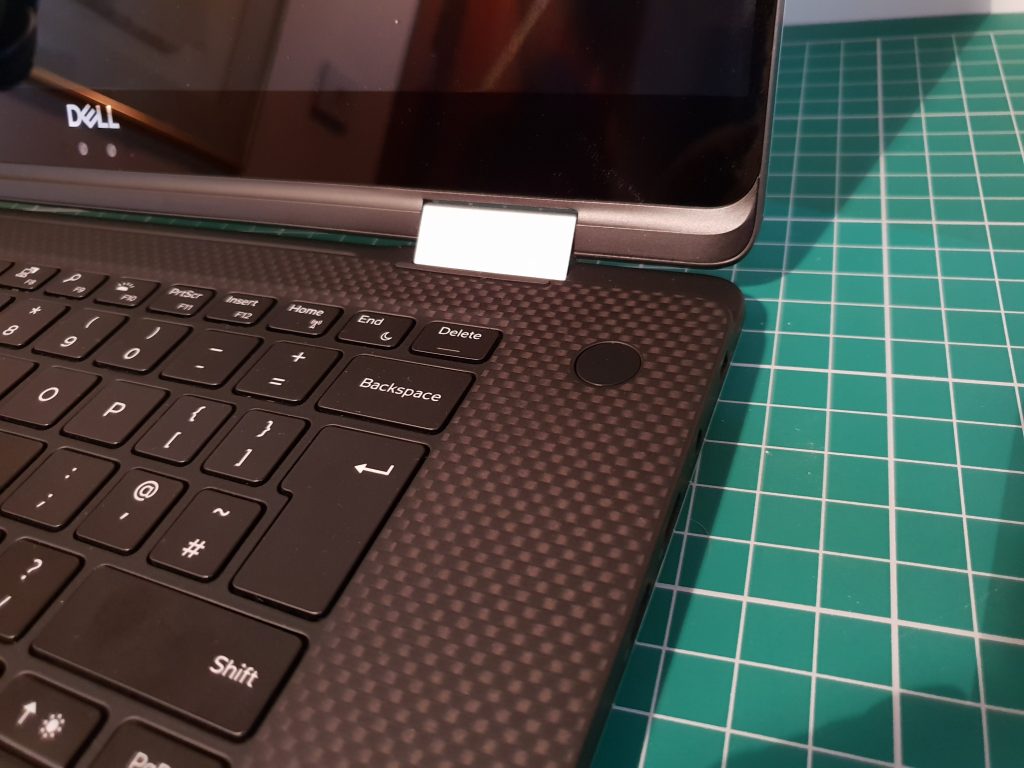 I have also not discussed the volume buttons as these are also absent from the side. A shame really as it did make controlling the volume in viewing mode tricky.
Next up is the keyboard and this is probably the most interesting change on the outside of the laptop. The new keyboard uses a new technology called MagLev and this was the launch device for this new tech. The reason for this is to reduce the overall depth of the keyboard and to afford a similar level of travel to other keyboards.  The keyboard has been reduced in depth by 24% over the previous generation and as a result, you now have 07.mm of travel on the keys. The bounceback of the keys is actually orchestrated by magnets that push back on the key at the end of the keystroke.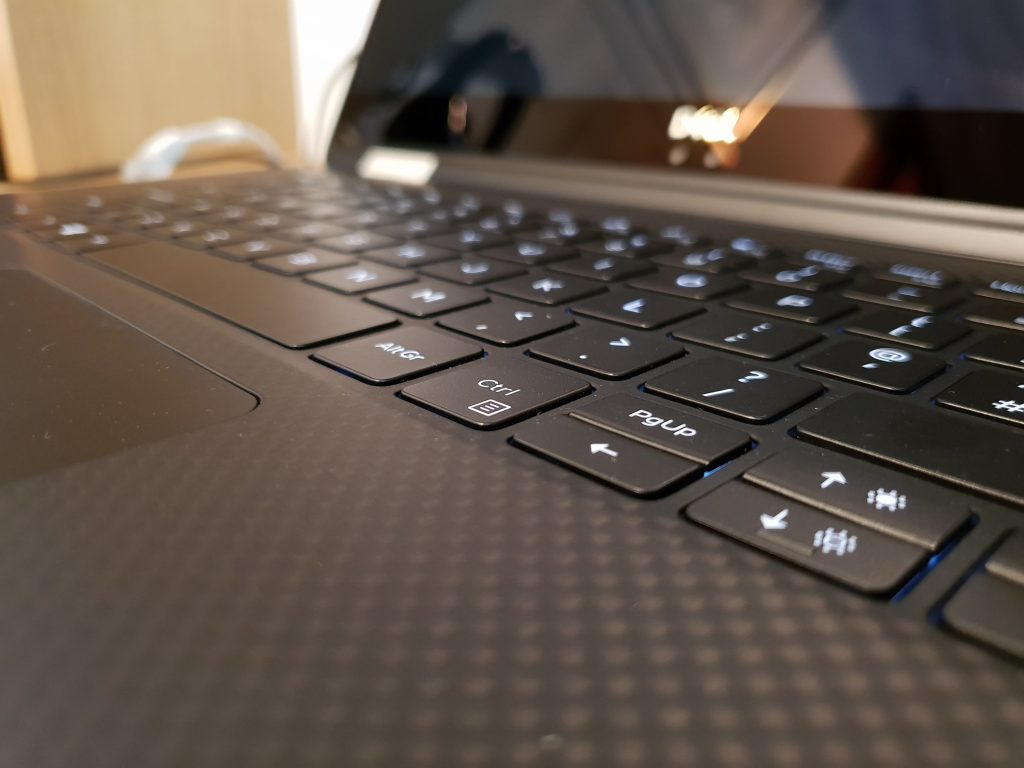 There is nothing wrong with the keyboard as such, it just takes a bit of time getting used to it. Fortunately for me, I am not actually a touch typist and that was actually a benefit to me in this instance. It meant that I didn't have to take that much time to adjust to the new style of board. After about an hour of usage, I was typing away just as efficiently as I was on my older XPS 13 2 in 1 laptop.  It is just something to be aware of when you are making your decisions. I would definitely try and test drive this one in the shop if you can.
I feel that we should take some to talk about the screen on this puppy. Dell has introduced some newfangled tech into their displays for this season. They call it "Dell Cinema" and it is a combination of 3 elements to give the best cinema-like viewing experience.
So what are these elements? Well we have CinemaColour, CinemaSound and CinemaStream. THe CinemaColour works with a variety of HDR standards to give the best possible image. CinemaSound utilises the superb Waves MaxxAudio system for louder and clearer sound. Lastly, CinemaStream uses Killer Wireless to prioritize the incoming network traffic in order to reduce buffering whilst streaming movies. This is similar way to how high-end gaming systems work with 100-gigabit Ethernet connections.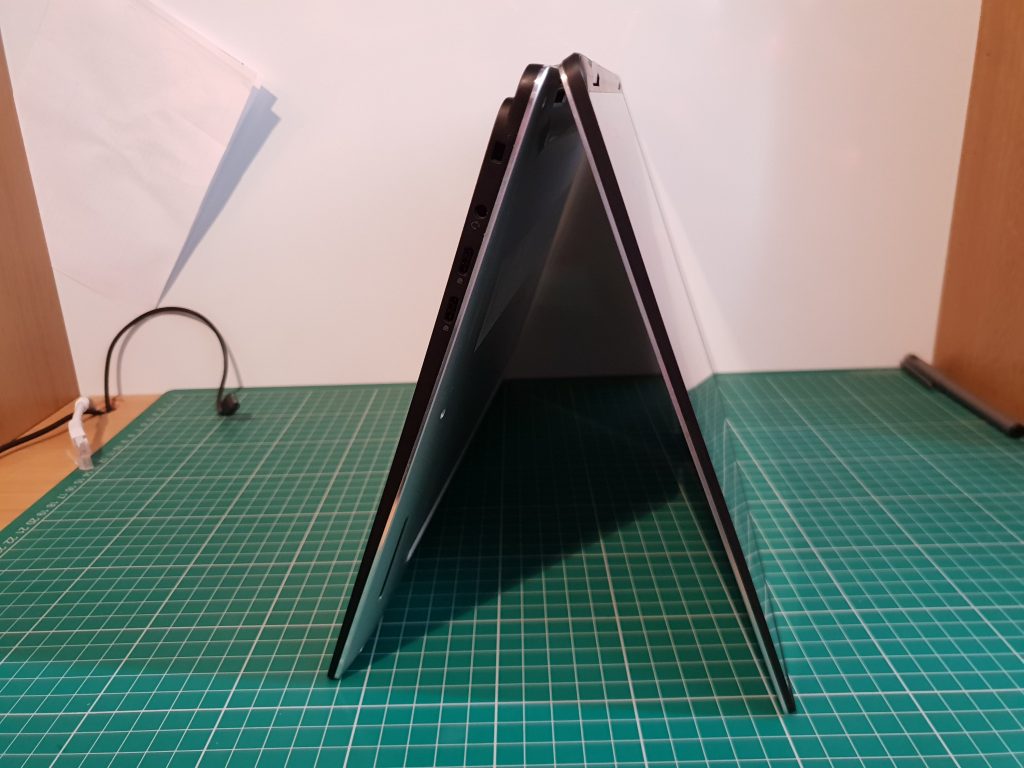 The screen has a 178-degree viewing angle when viewed from the front and then this reduces to 89-degrees when viewed from the sides. Brightness levels are around 400 nits and have a 1500:1 contrast ratio which is about as good as most LCD panels get these days. Colours are bright and clear and punchy. I have got the UHD screen and it gives an output of 4k which is great as I can now get an extra couple of hundred pixels over my XPS 13 (the 1080p model). It means that I can't see any pixelation on the screen , even I was to get right up close to it. What it does do, however, is reduce the battery life by a smidge. Again, if you are looking to get the best longevity out of your laptop this is something to bear in mind when buying.
Here the specs for you to have look at before we get into the battery life and the internals of the system.
CPU
Intel Core i7-8705G (8MB cache, up to 4.1GHz)
GPU
Radeon RX Vega M GL graphics with 4GB HBM2 RAM
Display
15.6-inch UltraSharp 4K Ultra HD (3840×2160) InfinityEdge touch display; 100% Adobe RGB (min)
Body
13.9×9.2×0.36-0.63in (354x235x9-16mm), 4.36 pounds (2kg)
Storage
512GB PCIe NVMe
RAM
16GB 2400MHz DDR4
Battery
75Wh
Ports
(2) Thunderbolt 3
(2) USB 3.1 Type-C
Micro-SD
3.5mm audio
Noble lock
Material
CNC machined aluminium in platinum silver with carbon fibre composite palm rest in black Edge-to-edge Corning Gorilla® Glass 4 Steel hinges wrapped in aluminum
Windows Hello
Facial recognition, fingerprint
Price
£2199.00
Now onto battery life, I am not using any specific metrics here as they don't really reflect how the laptop is used in my daily life. What I will say is that this system was able to get through the very busy days that I had out on the show floors at IFA with very little concern. I was even able to watch a movie one night without having to dig out the power supply (well most of it!)
I think if I was to use the system for contrast use then I would say I could probably get 6 to 7 hrs of battery only running time. This is about on par with what I can get from my XPS 13 which is great. Connected Standby was something that existed on some laptops back in the Windows 8 days, however, this is now called Modern Standby. Essentially what it is here for is to allow the laptop to sleep but still maintain a connection to the web to get emails and calendar invites etc. It also allows for a much faster wake-up from sleeping when you lift the lid or press the power key. I love this feature and it allows me to keep my laptop in my bag and pull it out when needed. I then know that it will have power for a brief working session. Obviously, if it was a longer work session then I would plug it into the PSU.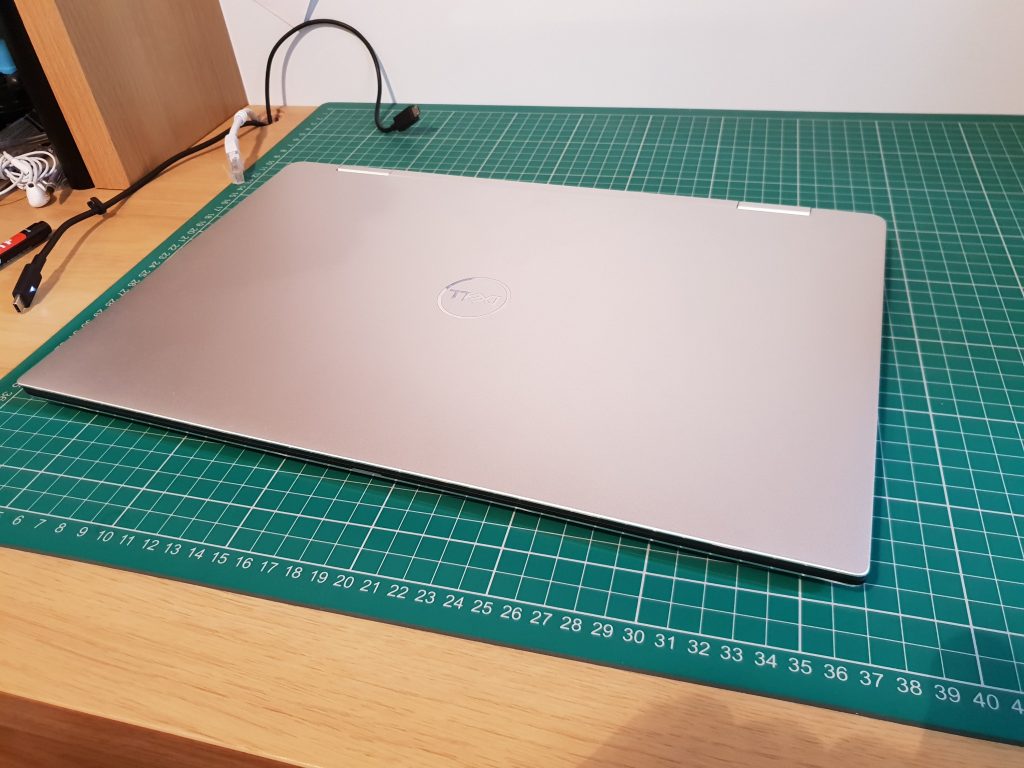 The actual battery size comes in at 75Wh which is a bit of beast but I am glad it is in there as it means I can just get on with stuff. Combine this with the fact that the laptop can be charged from a Power Delivery external battery pack and you are not really going to have many problems with the laptop going the distance.
Performance and Powaaar
This where the XPS 15 2 in 1 unveils its real party piece and it is down the silicon being used. Inside we have got the latest gen Kaby Lake G 8th Gen Intel chips. I have been lucky enough to have got a laptop equipped with an Intel Core i7 and I am thrilled about it. The processor in my current laptop is a very considerate and fanless CPU from the previous generation of i5 7th Gen.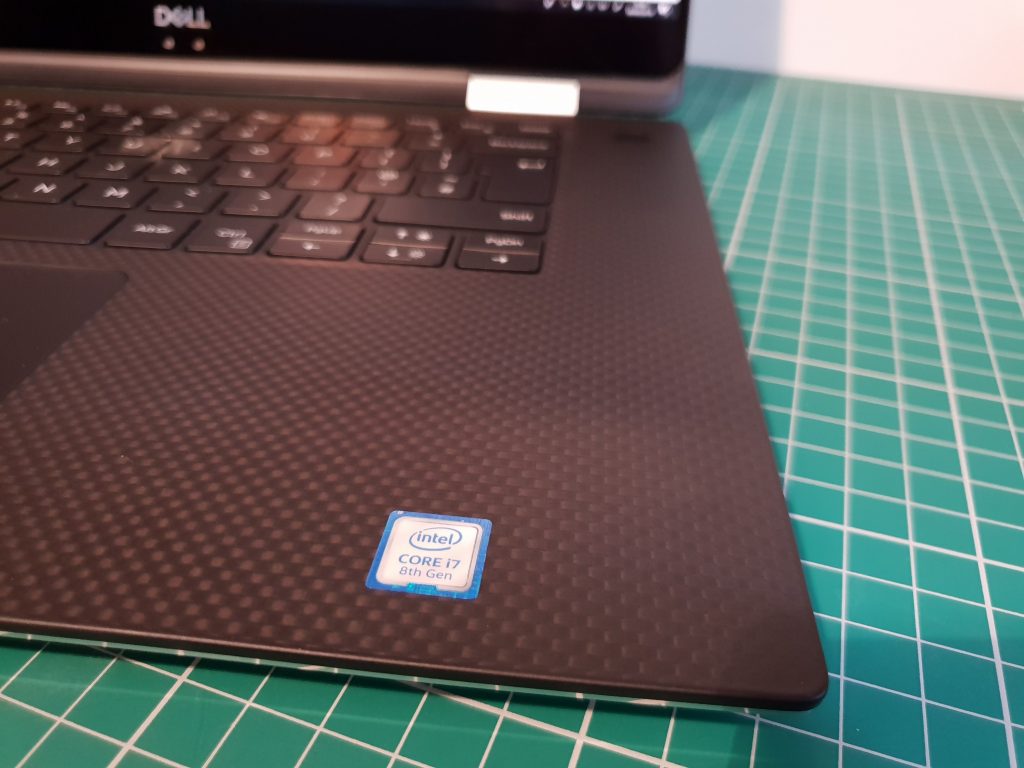 The CPU will favour longevity over high performance, at 15W for normal running. The G series processors are still working on a 7th gen architecture. However, Intel has added a Radeon GPU into the mix as well, which is actually built into the chip much like mobile phone chipsets. The CPU is still a Quad core and should not to be confused with the higher-power Hexa Core of the H series chips.
Phew! That was a bit heavy geek speak there!
Alongside this extremely powerful processor is a massive 16GB of RAM and 512GB via an NVMe PCI Express SSD, which will make for extremely fast booting and load times. I was never left wanting on speed here which was a really nice thing to experience on a Windows system.
What does this all mean for the actual user experience? Well the main thing is plenty of power and great performance. The only area where this will stumble is during high-intensity gaming such as top-end extremely power-hungry games, but unless you're getting a real gaming laptop then this is fairly par for the course. I have not encountered any sort of issues with performance in my time with the laptop.
That about concludes the hardware lets take a small video break and see me using the machine.
https://youtu.be/LYNJPOIeisg
Software
First things first, I was running on the latest version of Windows 10 which performed as well as any normal Windows 10 system does. I am happy with Windows 10 now and everything just worked. I am pleased to say that there was very minimal bloatware preloaded onto the device too, which is a refreshing change. A few things that have been built in are some Dell applications, one of which makes this worth testing on a smartphone blog!
-Dell Mobile Connect
This is essentially a way for you take control of your phone without having to actually use it! How is this done, magic witchcraft or pixies, sadly not anything that elaborate. it is still quite a cool thing so let's take a look.
The software is rather imaginatively titled Dell Mobile Connect.
I was able to get it to hook up to my S9+ with very little faff and it is really cool kit if I am honest. It will allow you to see your smartphone notifications in the Windows notification area, which is nice and it builds into your normal workflow. As I am writing this article the phone is by my side and I am not having to check it as I get messages coming in on the XPS secreen. If I get a message then I can easily reply to it on the laptop.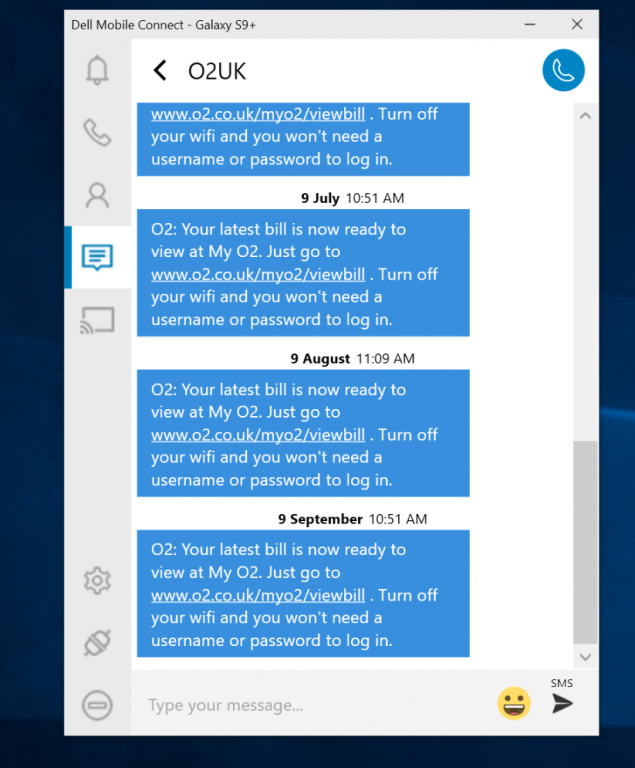 I am also able to get and make phone calls from the laptop as well – awesome. I don't even need to start the program up as it will be loaded when I load up Windows. I can even go through my call list!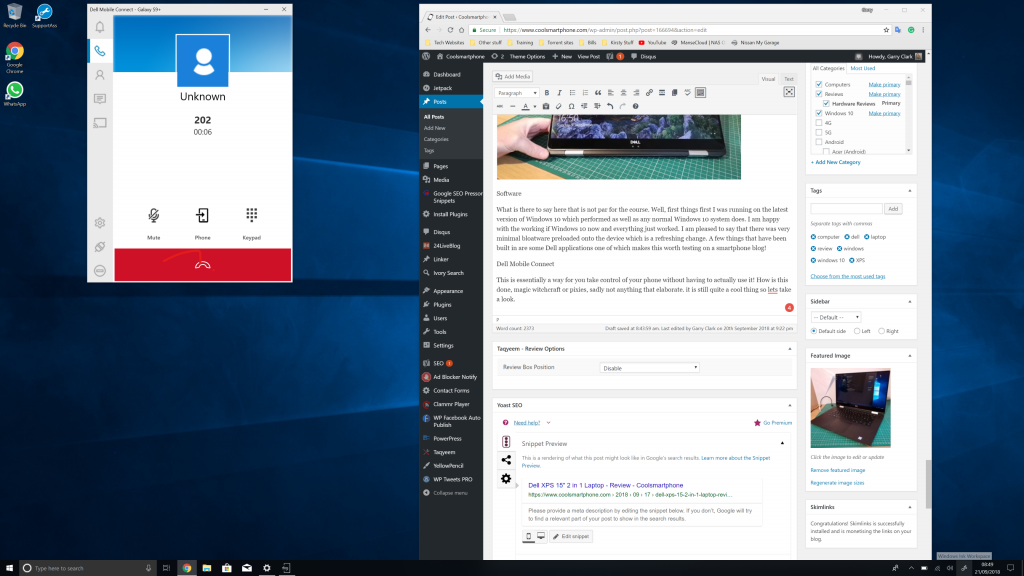 This is a really nice feature and I was very pleased to find that I had this functionality built into the laptop. It really does enhance my experience.
It does, at the moment, have some fairly limited functionality, but Dell is committed to working on this software and will continue to develop it. One thing I would really like to see is the ability to use a file transfer protocol. I could then transfer files from the phone and vice versa.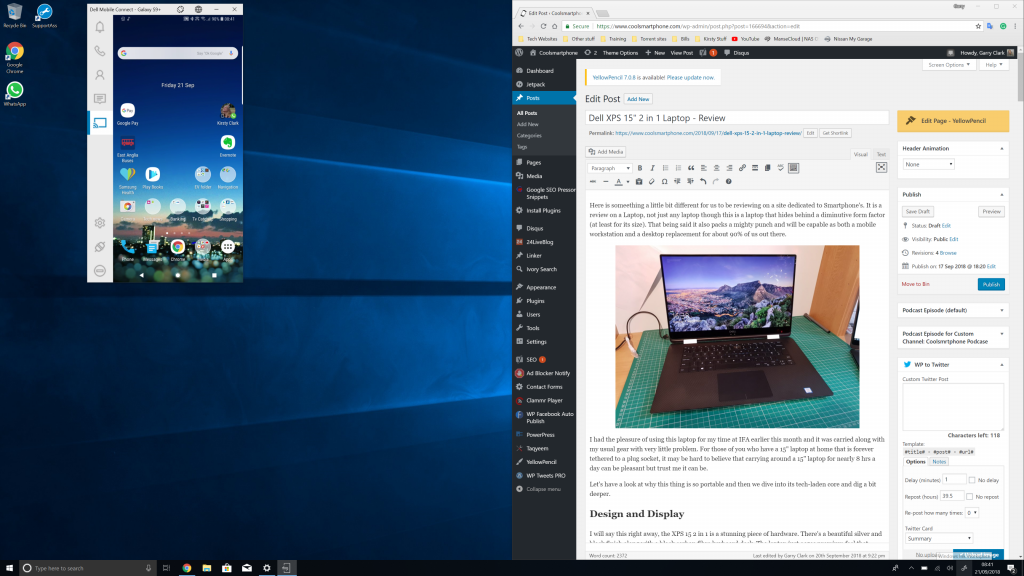 It is really nice to see PC builders taking note of the fact that customers want to allow their phones to be connected to their PC's for ease of use and multitasking. It makes for a much more efficient use of the screen and makes it easier to keep on top of things.
Here are some screenshots of the laptop and phone working in unison.
Conclusion
I have been very impressed with the Dell XPS 15 2 in 1, however, I would not be looking to buy one of these for my own use. A bit of a shocking result I know, but let me explain why.
There are two reasons for this decision and they are quite simple if am honest.
The price. The system that I have here on the test is £2199.00 after a recent discount (incidentally you can buy it here). That is a hell of a lot of cash for me to spend on a computer which I probably wouldn't use to its full potential. You see I am not into gaming in any way – even light gaming is not something that I have time or energy to indulge in. I am not using the enhanced graphics chip in any way and although the keyboard is lovely, I prefer the older style found on my smaller 13″ model. If you are someone who is going to be taking advantage of the enhanced chip and wants to partake in some light gaming or medium scale video editing, then this may be up your street. For me though, it is overkill. I can actually get by with a Chromebook (I ran an Asus Chromebook C302a exclusively for nearly 2 years).
The size and weight. Now don't get me wrong, the physicality of this system is amazing given that you are getting a 15.62 screen in something with the same form factor of a 14″ laptop. It can also be carried around all day without being that much of a hindrance. This system is awesome for travelling but, as I stated above I don't need the extra horsepower that the increase in size and weight affords, so why would I take on the extra weight if I don't need it? I really like the diminishing form factor of my XPS 13 2 in 1. It can be in my bag and it is hardly noticeable whereas with the 15″.6″ variant I do notice it is there. I have been jumping between the two systems whilst I write this review and have had no problem in doing so at all.
So that is where I sit, but at the end of the day your opinion will differ from mine. If you do end up going for this laptop then I can honestly say that you will not be disappointed. It is something I am sure you will be able to enjoy for a good few years to come.
I think that Dell has done an amazing job with this laptop an I can honestly say that some of my blogging colleagues where genuinely envious, which is always exciting to see. Normally have the worst system at the party so to speak! Dare I say it there were even a few MacBook pro users that I caught looking on wistfully at this machine especially when I was using it in viewing mode to watch films etc.
Head to the Dell website to get one.
A great workhorse of a laptop if you can afford it would be ideal for someone looking do to a bit more than just browsing the web and checking email. This is a multitasker's dream especially with Dells Mobile Connect solution built into the system Well done Dell.