Apologies in advance. I'm wearing my "sarcasm" hat writing this story.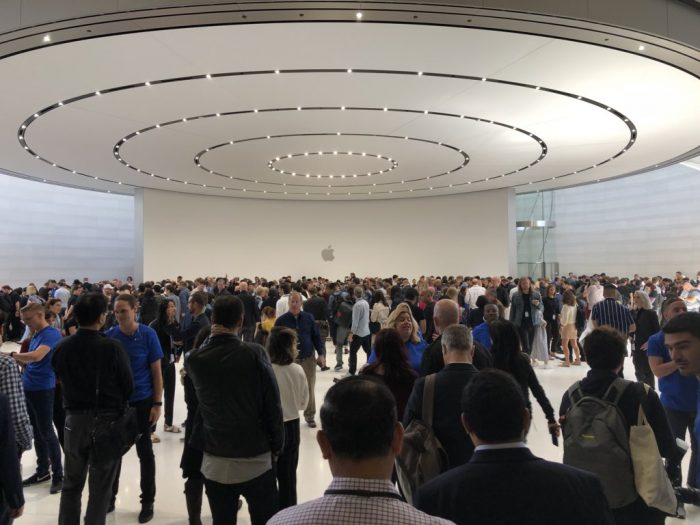 Want an even bigger screen? Want a phone with a name that sounds a bit like a sporty car? Want to be pushed, without thinking about it, away from the iPhone 8 and those "regular" iPhone models and into the world of "X"? Want a new "entry level" iPhone which is crazy expensive?
Now you can have it!
Sorry, sorry. I'll try to remain neutral. I'll try to be calm.
Apple have announced the iPhone XS and the XR. You might think that they'd sit alongside the existing X, but as I type it has vanished from the Apple website. Oh dear… You bought one of those old iPhone X things didn't you? You spent a fortune on that thing.
Sucker!
Sorry…. I did it again, didn't I?
First up, we'll have a look at the iPhone XR, because it's the cheapest at £749 (for the 64GB version) and you can pre-order it from October 19th.
Available in either 64GB, 128GB (£799) or 256GB (£899) and an array of colours (blue, yellow, coral, red, black and white), it's basically the lower-end model of the new X range and it's where Apple are hoping that those poorer, impoverished, destitute, cheapskate customers will enter into the world of iPhone.
"What? You've ONLY got £749? You don't have a grand for the same capacity in the XS model? Oh, you poor thing. Still, it'll be a pretty colour, even though the screen is a bit rubbish."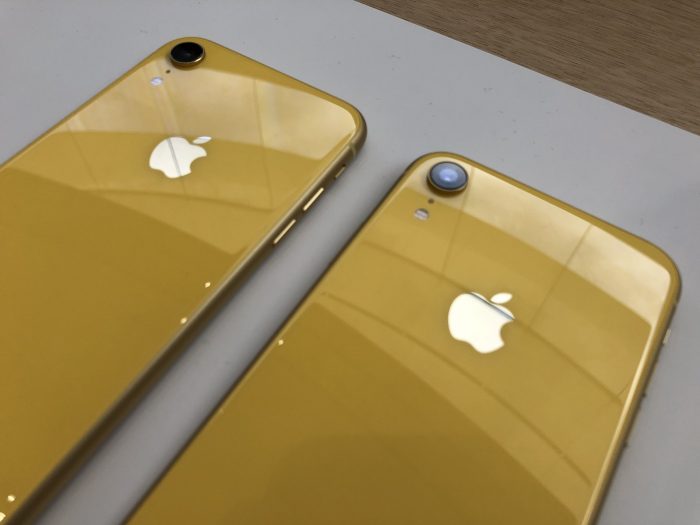 The XR is 8.3mm thick and weighs in at 194 grams. If I was writing about any other phone I'd say it's a bit thick and a bit heavy, but I can't. It's an iPhone, so I have to say, "well made" with a "presence".
The screen here is a 6.1″ LCD … Yes, LCD. It also has a lower resolution than the XS models – more on those in a minute. It's a 1792×828 panel with a 326ppi resolution, which isn't as good as some Android phones costing half the amount.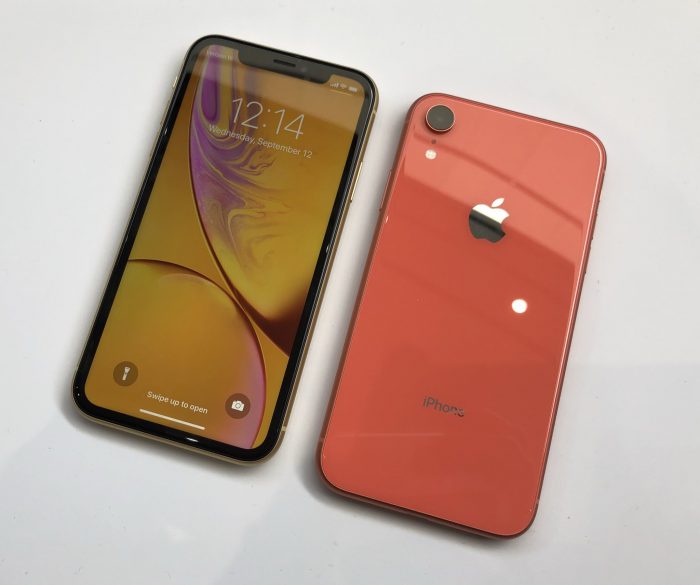 It's got the A12 Bionic Chip and a 12 megapixel wide-angle camera (f/1.8) with OIS, a six-element lens and Smart HDR. Up front is a 7 megapixel f/2.2 aperture with retina flash and Face ID.
Connectivity is 4G, WiFi, Bluetooth 5.0, NFC and you get GPS plus Siri of course.
But, if you want to properly buy into the brand you'll need the iPhone XS, which comes in two screen sizes. Choose between the iPhone XS Max with a 6.5″ display or the iPhone XS with the same 5.8″ panel as the iPhone X. In all honesty I won't bore you with the tiny and relatively insignificant differences between the iPhone X from last year and the new iPhone XS, because nobody cares.
There's less pretty colours than the iPhone XR though, you can choose only between gold, space grey and silver. All very business-like and high-end shades. Capacity-wise you can plumb for the 64GB, 256GB or 512GB versions.
The pricing, oh the pricing…(deep breath)….
iPhone XS 64GB – 5.8″ – £999
iPhone XS 256GB – 5.8″ – £1,149
iPhone XS 512GB – 5.8″ – £1,349
iPhone XS Max 64GB – 6.5″ – £1,099
iPhone XS Max 256GB – 6.5″ – £1,249
iPhone XS Max 512GB – 6.5″ – £1,449
Just.. I'm sorry but.. I'm lost for words on the pricing. I've written about smartphones for 16 years and, to charge £1,349 for a smartphone with 512GB ? Even a relatively pricey Samsung Galaxy S9 can be purchased for £929 with 256GB of storage. You can then spend less than £70 on a SanDisk 256GB microSD card to knock it up to 512GB. To spend £350 more? Why? For an Apple logo?
OK, perhaps I should admit that you're getting an excellent and well-supported eco system. You're getting the backing of a ger-zillion accessory retailers, developers and the like.. but is it really worth spending so much more for that?
Yes, I know that the older iPhone 8 is still available, but the 5.5″ screen and the £849 price-tag for the 256GB model is a bit mad considering that it's a year old now.
On September 12th 2016 we saw the iPhone 7. Last year, it was the iPhone 8 and the iPhone X. Now, in my mind, we're seeing the death of that "traditional" iPhone shape. No iPhone 9 alongside the X range. The old design is toast. If you've got one of those, you're going to be pushed out of the Cool iPhone Gang.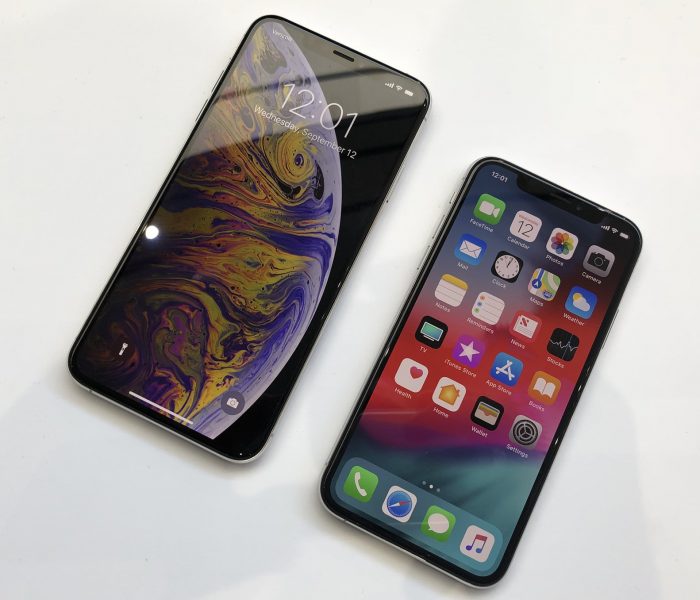 Apologies. I went off on a tangent again.
So, both of the XS models are thinner than the XR. This time they're only 7.7mm thick. The 6.5″ model has a 77.4mm width and is 157.5mm tall at 208 grams.
Screen wise, the XS has a Super Retina 2436×1125 pixel resolution at 458 ppi in the 5.8″ panel, whilst the XS Max gets a 2688×1242 pixel resolution 6.5″ unit at the same ppi. Both are OLED compared to the LCD panel on the XR.
Whilst the XR has IP67 (up to 1 metre of water for 30 minutes), the XS models get IP68, which means you get another metre of depth.
Again, these are powered by the A12 Bionic chip, but here you get dual 12 megapixel wide-angle and telephoto lenses (f/1.8 plus f/2.4), rather than the single rear shooter on the XR. Up front is a 7 megapixel selfie shooter with f/2.2. Face ID, with facial recognition is here, as is WiFi, GPS, Voice over 4G, NFC and Bluetooth 5.0.
The iPhone XS and XS Max go on sale next Friday – September 21st.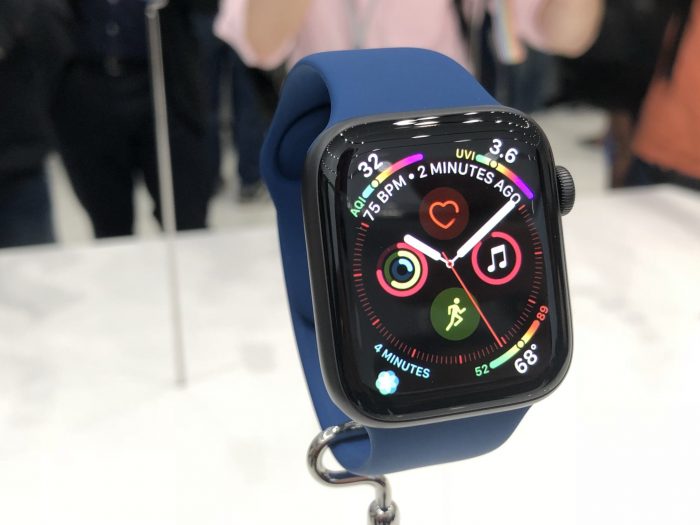 Apple also unveiled a new smartwatch – the Apple Watch Series 4. The screen goes closer to the edges of the panel and can detect if you fall over. This is a step into a new area, and will mean that Apple can offer welfare services alongside the health-tracking benefits. Prices start at £399 and go all the way up to an eye-watering £1499.
Where to get everything
We've been contacted by BT, Sky Mobile, Virgin Mobile, Vodafone, EE, O2 and Three. All will be ranging. You can buy direct from Apple too. Given how widely available Apple make their products, expect all major networks to be selling ! From October 2018 the iPhone XS, XS Max and XR will also be available on VOXI – the youth mobile brand from Vodafone.
All photos in this piece are courtesy of @benwood