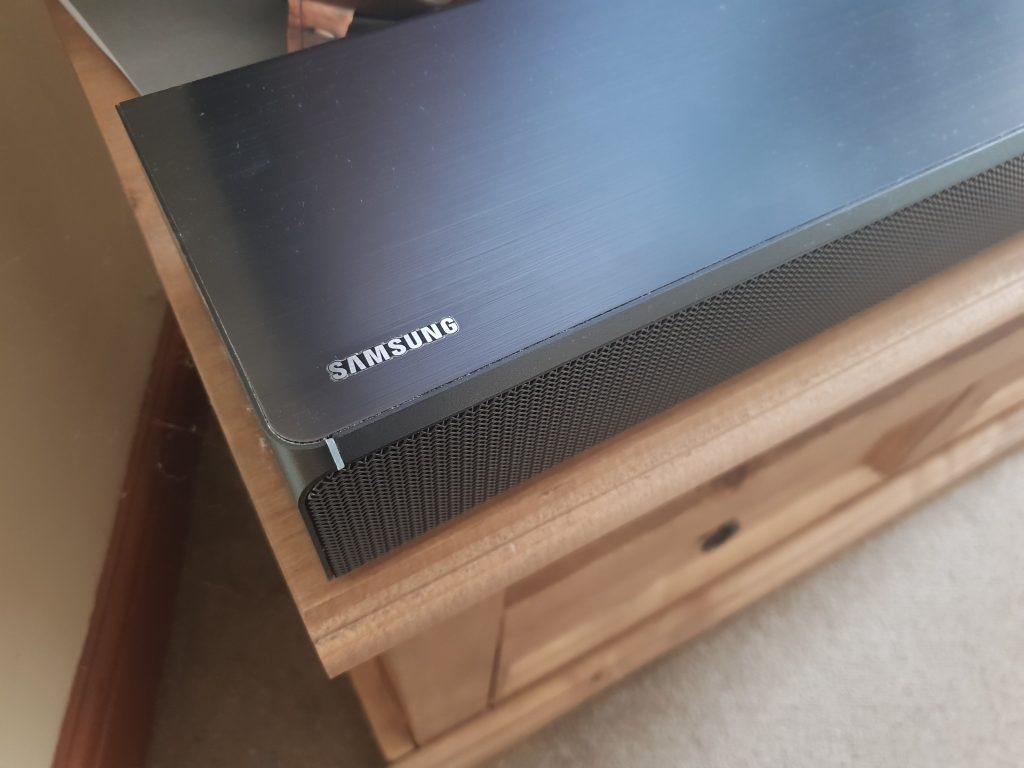 I am not an audiophile by any means – I don't have a finely tuned ear, and I couldn't tell you what a chord was if it slapped me in the face! However, I do like to listen to music, and anything that makes that easier and better is appealing to me. So when I was given the opportunity to test a Samsung Sound+ HW-MS650 Wireless Smart Soundbar, I jumped at the chance.
Now, these soundbars are really meant to be partnered with one Samsung's excellent TV line-up instead of my crappy old LG box from 8 years ago. Whilst I could not test the system with a shiny TV, I was able to give it a good run for its money with my Galaxy S9+. This is something to take particular note of – although it is not strictly necessary to have a Samsung device, it will make it easier to use the Soundbar sans TV (I was able to set up the system to work with my Lenovo YogaBook successfully). This soundbar would be a perfect addition to any home theater setup (more on this here).
Let's have a look at the unit first of all.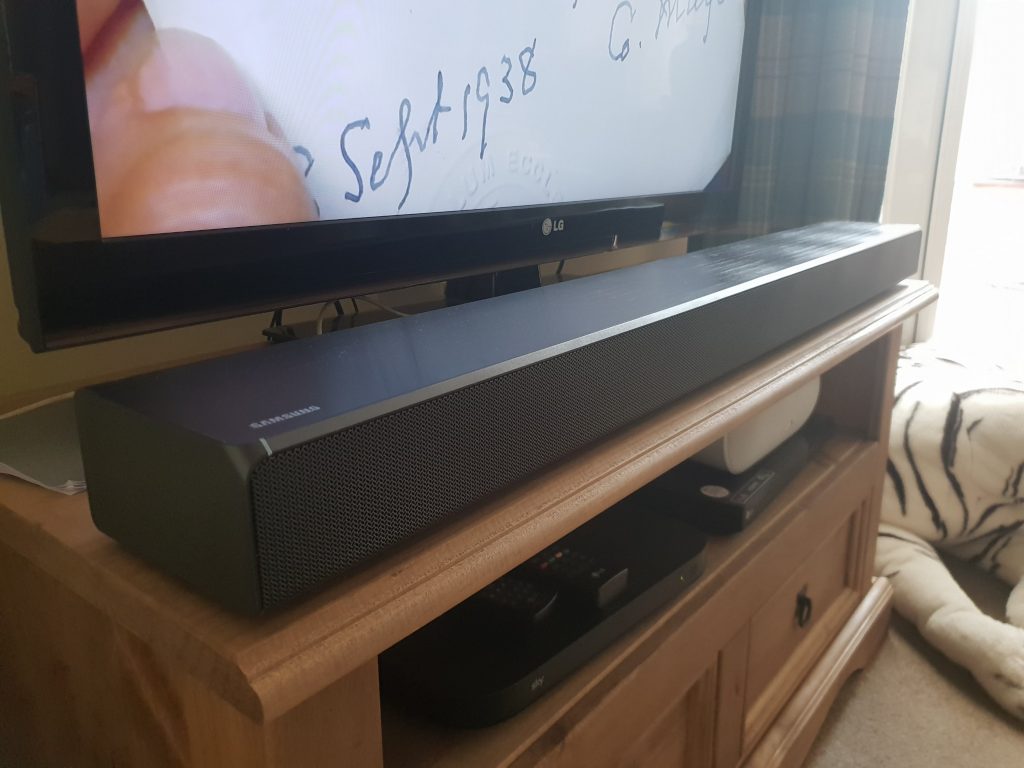 The Soundbar is just over a metre long, measuring 1060 x 78 x 130.5 mm, and it weighs in at 6.2kg. This thing is a large bit of kit, but that being said it is not too imposing on the TV area as a whole. I have not mounted the speaker to the TV, however the option is there. In the box, there are some brackets for wall mounting if you so desire.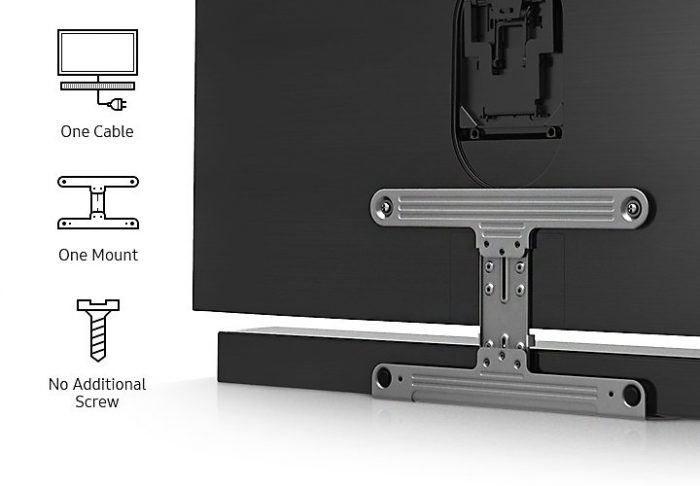 The Soundbar itself offers a massive 9 speakers shrouded inside the sleek black aluminium exterior. The setup comprises of two mid-sized speakers and one tweeter spread over 3 channels.


This allows for very nice dispersion of sound over a large area which is exactly what you want from a Soundbar. When I compared it to a smaller JBL PowerCore speaker, I found that the sound was spread much wider than the JBL, whilst still retaining all the fidelity (at least I think that is what you call it!)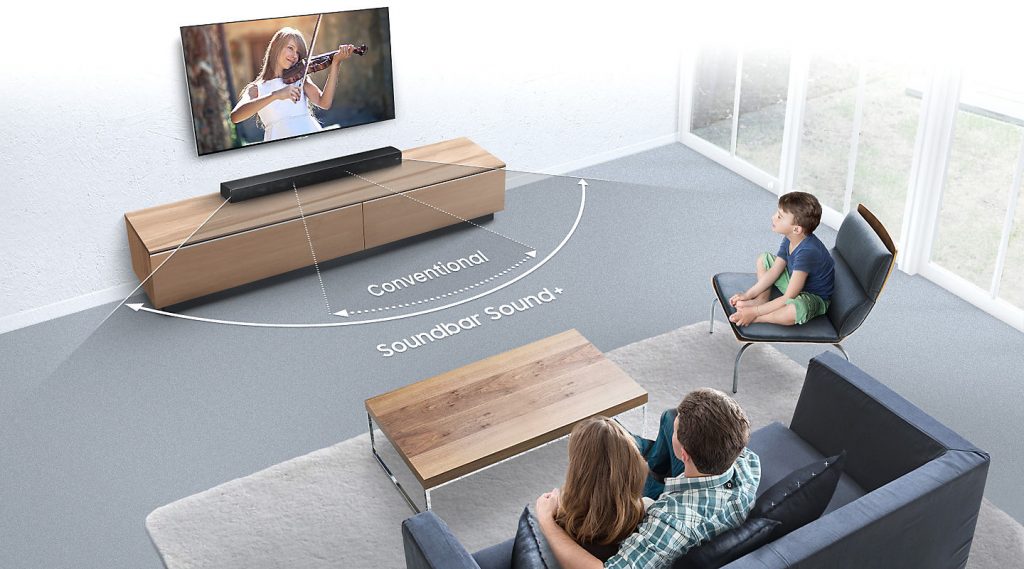 The hardware on this Soundbar is really nicely done. I like the way that all the cables go into a small space on the back, which is sufficiently recessed so that the Soundbar sits flat with ease. In this recess you will find a lot going on. We have got power input and also power pass through to the TV, HDMI input and output, AUX input and Digital Audio In (Optical).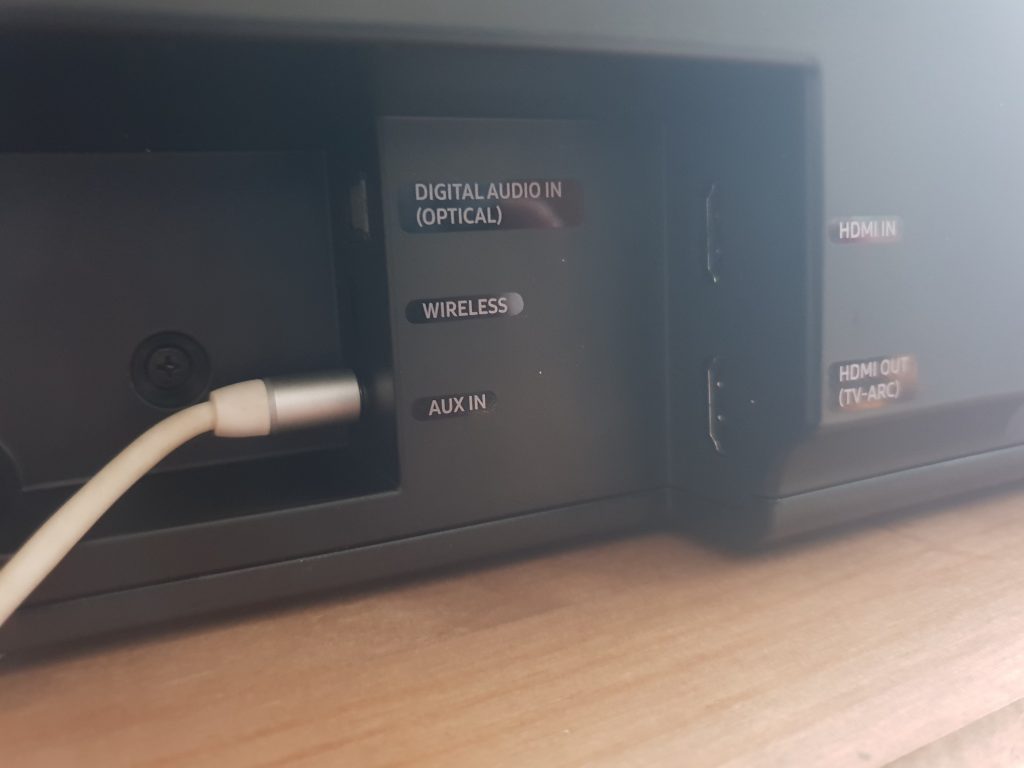 The really clever part of the Soundbar for me though is that it will support WiFi streaming which makes for a really cool experience. Up until now, I have only been able to use Bluetooth streaming for my music and have never been able to try WiFi Streaming. This is where the Samsung MultiRoom App comes into its own.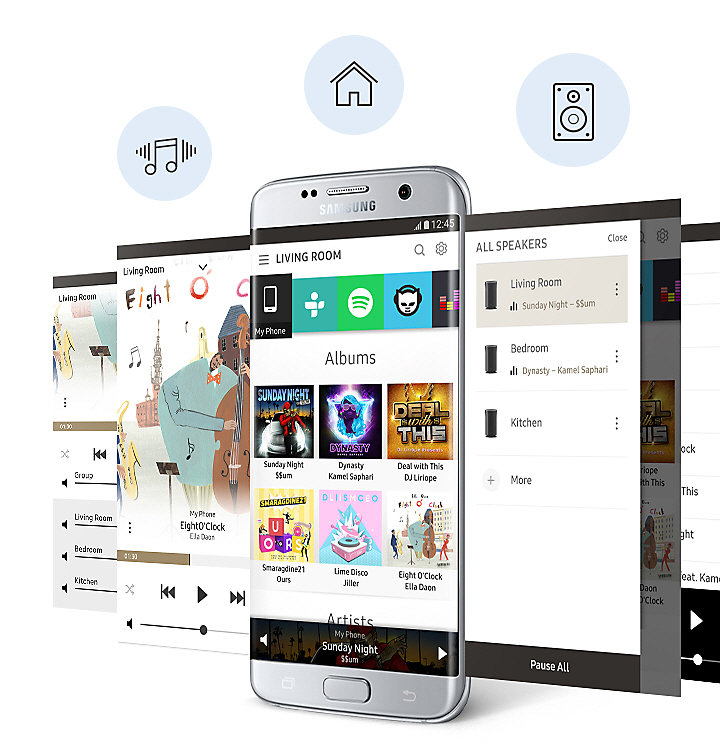 This allows you to use the app to throw content to your Soundbar from anywhere within your home WiFi network. If you have multiple speakers in one room, the App will allow you to spread the audio over all of them or send it to just one.
The app will also allow you to control the volume of the speaker instead of having to use the excellent included remote. This is the feature that I used the most and really enjoyed its functionality. Admittedly yes I could have done this via Bluetooth, however by doing this I couldn't adjust the volume and play with the equalizer etc. I also believe that the sound quality was being reduced when being sent via Bluetooth, but then again it could just be me.
The app will also allow you to stream music from a vast array of streaming services such as Spotify, Napster, Deezer etc. I am not a subscriber to any of these services, so I just use the media from my phone with no problem at all.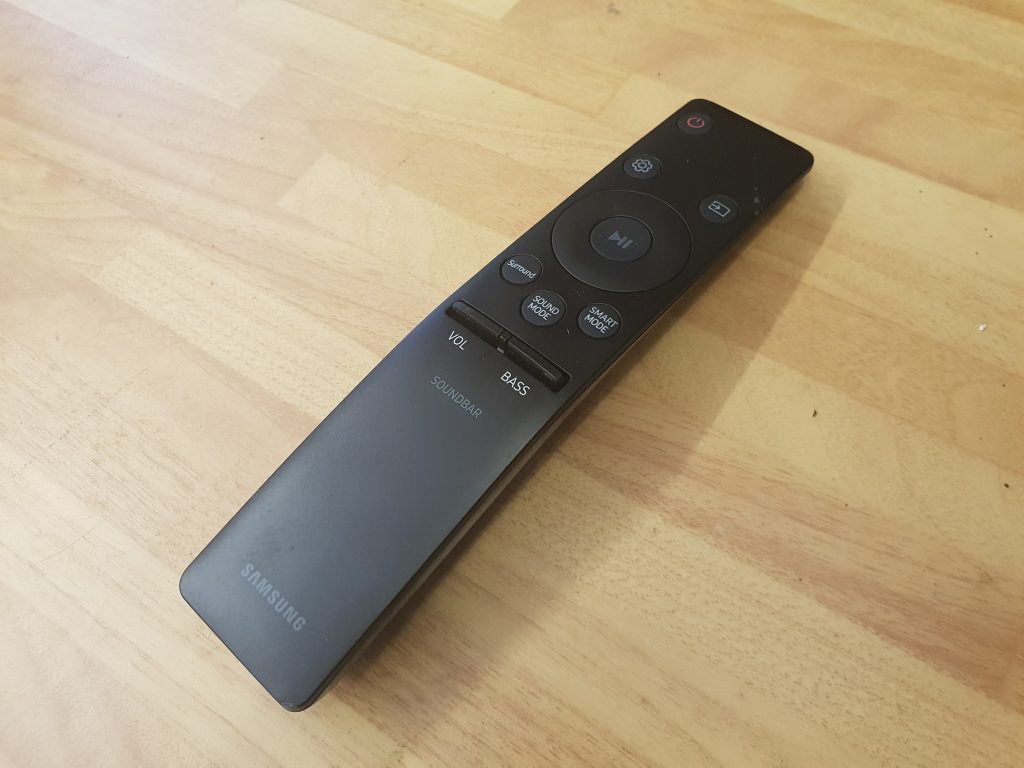 Hardware controls come in the form of the bundled remote or physical buttons which are mounted on the far left end of the speaker when looking at it from the front.  It is also possible to use the remote for your Samsung branded TV when the two are connected via HDMI. A lot of the setup is much like a normal Bluetooth Speaker if using a device that is not of Samsung origin. If you are using a Samsung device then you can use the SmartConnect app to assist you in setting the Soundbar up.
I am not going to bore you with all the specs and features of the Soundbar, as most of them are well over my head anyway. If you wish to find out about them then you can find them all here. What I will say is that if you are keen on things sounding great, then this may well tick your boxes. How can I say that, given that I have stated that I have no expertise in sound quality assessment whatsoever?
Well, it all comes down to how the sound from this thing makes you feel. The Soundbar makes me feel good: it makes me feel like I am involved in the music, or in the action that is being shown on the TV (I have seen one set up with a TV before). It gives you a sense of depth and immersion that is just better than other soundbars that I have listened to before.
Is it worth the asking price of £699? Well, that is something that at only you can answer. For me, it is a bit too pricey for the value I get from it, but if you demand more refined and deeper sound than your standard TV or Bluetooth system can provide, then it may be worth you having a look. If you want o experience this Soundbar then you can see them in the Samsung Experience Stores up and down the country, and also in most John Lewis and Richer Sounds stores. Head to the official site for more information.
Design - 75%
Sound - 85%
Coonectivity - 95%
Value for money - 70%
A seriously impressive sound from a well designed and subtle Soundbar. It is a bit pricey but for those demanding high quality, it is worth it. WiFi enabled features add value as well.