The pace of new mobile phone announcements and releases is quite bewildering at the moment, but lest we forget about other IFA and related announcements here is a round-up of the most recent smartwatch developments:
Casio WSD-F30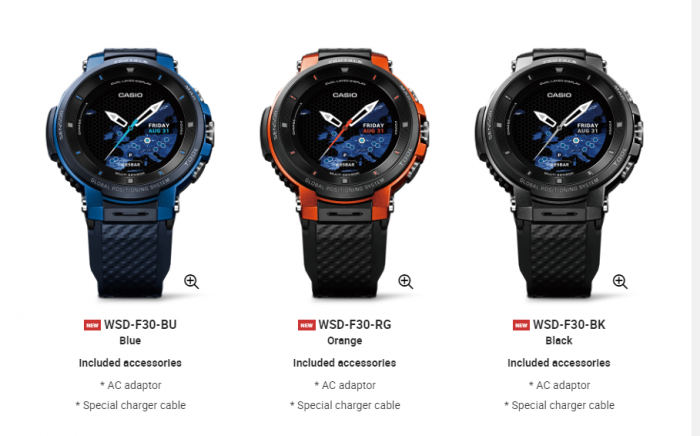 There are smartwatches that look rugged, such as the Gear S3 Frontier, and those that are truly rugged.  Leading the pack, certainly as far as Wear OS is concerned, have been the Nixon Mission and the Casio ProTrek WSD-F10 and F20 models.  Announced at IFA a few days is the latest upgrade to these, the WSD-F30.
The previous generations were gigantic watches. The WSD-F30 is hardly svelte, but it does offer a slightly slimmer version of the previous models.  Gone, too, is the 'flat tyre' of previous models, while the resolution and battery saving features have been updated.  It'll be available from January 2019 and available in black, blue and orange.  UK pricing isn't available yet, but it's likely to be around the £500 mark given the previous models' cost.  If you can't wait until then, the WSD-F20 has been reduced is now on sale at £350 here.  For more details on the WSD-F30, see the Casio website.
Diesel Full Guard 2.5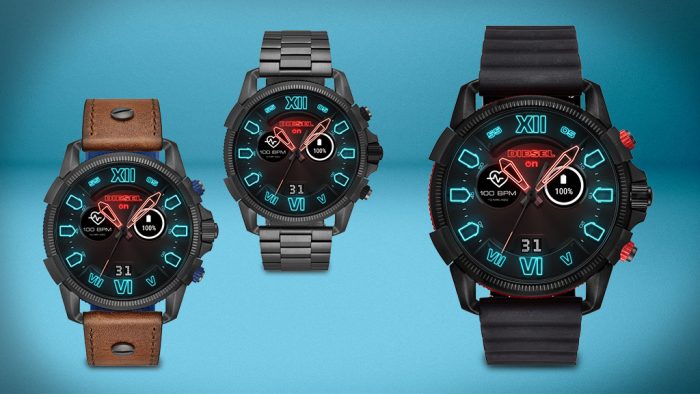 Part of the Fossil group of smartwatches is the newly announced Diesel Full Guard 2.5.  A rugged looking watch (without the military-grade certifications of the Casio) the Full Guard can boast to being the largest Wear OS device around.  The case is a ginormous 56mm across, part of which houses a larger battery which Diesel promise will offer 2 days' of use.  Other than that it offers the usual slew of fitness features, NFC, Google Pay etc. Available in grey with a brown strap, black with a grey strap, and black with a black strap it's due to go on sale in October. Pricing is yet to be confirmed but its predecessor was around the £350 mark, so expect something similar.
Garmin Vivomove HR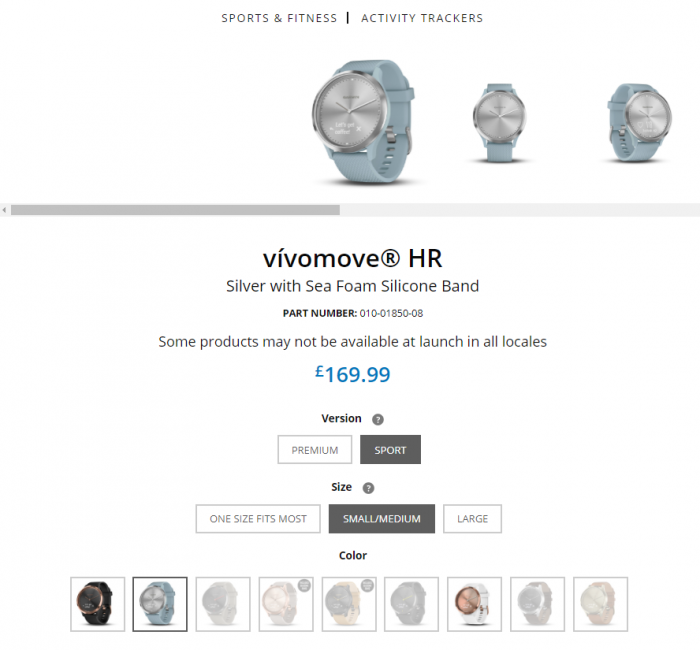 Technically not a new watch as Garmin's hybrid has been out for some time, but a variety of new colours have now been released, including:
Rose gold bezel and case with grey suede band, and includes additional granite blue silicone band (Premium, £249.99)
Onyx black bezel and case with tan suede band, and includes additional black silicone band (Premium, £249.99)
Stainless bezel with sea foam case and silicone band (Sport, £169.99) [the one pictured above]
Slate bezel with sandstone case and silicone band (Sport, £169.99)
These are great watches for those wanting fitness trackers and smart functionality whilst retaining the look and feel of a 'real' watch.  More details and colours are on the Garmin website.
Still to come…
If these aren't enough, we still have the launch of the Apple Watch 4 to come on 12 September.  If the rumours are to be believed it will feature a similar design but with a larger screen and slimmed down bezel.  There is some speculation that Huawei will release a new watch; whilst there is also talk about a new Google-branded Pixel watch to be released to coincide with the updates to Wear OS.  We'll keep you updated as soon as we know more!